2014 California Speedway News
2014 Speedway World Cup Team USA News -- Americans Racing in Europe
Ventura Raceway will host the 2014 AMA National Series 1 on June 28.
2014 AMA Press Release
AMA Speedway Regulations -- AMA Letter of Intent -- AMA Long Track Regulations
2014 Longtrack - Press Release from The PAS (Perris Auto Speedway) #1
2014 Longtrack - Press Release from The PAS (Perris Auto Speedway) #2
2014 Longtrack - Press Release from The PAS (Perris Auto Speedway) #3
2014 Longtrack - Press Release from The PAS (Perris Auto Speedway) #4
2014 News and Views -- 2014 Zechner Road Trip
2015 - 150cc Mini Speedway Class Standards
---
Perris
Thanks to everyone who came out Saturday! The event ran well!
We have been informed by our landlord that the track is not available to us on March 21st, as previously agreed, so this race will now be brought forward a week to March 14th.
Also, due to various logistical factors, I am considering bringing the Jan 24 race forward 2 weeks to January 10th. I want to make a final decision on this by the weekend, but wanted to consult the loyal rider base first before making the change.
So the schedule as it stands;
January 10th or 24th, to be finalized in next few days
March 14th (moved forward from 21st)
There are two practice sessions at Perris Raceway before years end, scheduled Saturday 13th is RAINED OUT
next is 27 December 2-7pm.
These are flat track and speedway combined, arranged by the Flat Track club / Track Owners.
$40 adults, $25 kids. NOTE: Be advised to check with the club if the weather is questionable.
Steve Evans dreamteamspeedway@sbcglobal.net (December 8, 2014)
---
Perris Times and Info for Dec 6
Here is the info for Saturday's race:
10:30am - Gates Open
11:30-2 - Optional Open Practice
2:30-3:30pm - Meeting for riders interested in 2015 Dream Team Tour to England and Sweden.
4:15pm - Riders Meeting
4:50pm - National Anthem
5pm - Races start
There will be 2 Winter League Team matches that will run simultaneously (Heat 1 Vikings Vs Aces, then Heat 1 Eagles V Rebels, then Heat 2 Vikings and Aces, etc). This will give riders more time between races.
There will be three breaks in the team action for Races for Juniors, Mini's, Pee Wee's and Support Class.
$15 for everyone at the gate, whether a rider, mechanic, or fan. Pits are open to all.
$20 is additional fee for practice
$25 is additional fee to race
No additional charge for mechanics outside of gate fee.
You may just come for practice if you don't want to race.
Snack bar at track open from 1pm. Bring your own refreshments, NO GLASS PLEASE!!
Event is an AMA off season Clubman / Amateur race. AMA memberships can be obtained on the day if needed.
We are monitoring weather situation both at present and the on the day forecast and will advise early if a cancellation occurs but the track is doing well at present!
Lets hope for kind weather and a much overdue pre Christmas fun day at the races!!!!
---
Perris Raceway Practice
I'm glad to inform you that Perris Raceway will stage a 2.5 hour practice session between 11:30am and 2pm on race day, 6th December. The cost will be $20 per rider, in addition to race fee ($25), and the $15 per person gate fee that applies to all riders, mechanics and spectators (open pits).
Races begin at 5pm.
There will also be a 1 hour meeting at 2:30pm for those who are interested in the 2015 Dream Team tour in April, where we will give an update on planning, fund-raising, information on the visa requirements and application all riders will need, answer questions as well as accepting applications.
Thanks and hope to see you all out there!
Steve Evans dreamteamspeedway@sbcglobal.net (November 20, 2014)
---
Perris Winter League Team Draft
The Team Manager's were convened to a top secret location last night, where the following draft was completed. Manager's may make trades pending league approval.
Steve Evans dreamteamspeedway@sbcglobal.net (November 17, 2014)
---
Perris Winter League Deadline / Draft Info
Firstly, thanks to everyone who has signed up for the races; I am really thrilled with the sign ups.
Below is the latest rider list. Myself and the team managers (Steve Graham, Peter Davenport, Philip Harmatiuk and Tori Hubbert) will likely be meeting the weekend after this and we will do a draft to divide the riders on 500s between teams.
It is important that if you are on the 500cc list, unless stated next to your name, you have signed up for all 3 dates; Dec 6, Jan 24 and March 21. For team racing and the draft to work, we need to double check that each rider signed up intends to do the full series. If you will miss a date, let me know before the deadline so we can take this into account when we do the draft.
We had asked Perris Flat Track if they would run a speedway practice on Nov 22. The track is available that weekend, but the track owners want to rent the track at its going rate ($1200 + EMT) for 5 hours. Therefore, the only way to make a pre series practice work would be to get enough attendees who are willing the split this cost.
The current rider list is here. If you want to be in the draft, please add your name by MONDAY NOV 10.
If you are not 100% committed to the full dates but your name is on the list, please let me know so we can plan accordingly.
Also, need more 250s!!
Steve Evans dreamteamspeedway@sbcglobal.net (November 8, 2014)
---
Pirate remaining schedule: Weather permitting
Pirate Speedway will be running open practice this Saturday Nov 8th. 10:00-3:00. Everyone welcome.
Speedway, sidecars, minis, Karts, etc. $40.00. $30.00 for those with 2014 Pirate Speedway license.
Shawn McConnell will be offering lessons on Nov 15th. Please let us know asap if you are interested. We will be running our final practice later in the day.
Final blow out-Practice and Pirate Speedway farewell get together continues into the evening.
Everyone welcome
---
---
Perris Raceway Winter Schedule Update
The first Perris Raceway Winter series race is just 6 weeks away. The schedule as of now is below (note March date, due to a schedule conflict, has changed)
Dec 6
Jan 24
March 21
All races start at 5pm, gates open around 2.
As previously posted, if enough riders are willing to commit to all dates, I am considering running this, for the 500cc riders, as a team racing league.
The league would work as follows; 28 riders needed, to be divided between four 7 rider teams. Each event has two 15 heat British style team races for the 500's. Your team will race a different opposing team at each event and after the last round, the team with most league points, after each team has raced every other team, are the champions. Trophies and awards for league champions!
There will also be races for 250 Junior, 150 Mini, and Pee Wee's and possibly 500's beyond the team program that will ride during various breaks in the program.
At this stage we are interested in sign ups from riders who want to do all 3 events and are committed to the league concept. Note, if you have interest but will miss a race due to genuine reason (Broc Nicol in Australia, for example), you can still sign up for the other events and we will try to find someone you can share a team place who also cannot do the full schedule.
Division 1, Division 2 and Division 3 can ride the team races - the new 2014 Elite League race format is perfect, as it will keep riders racing within division so no Division 1 vs Division 3 heats.
Like I said, the purpose of initial sign ups is to gauge interest in running a full on league - if its is not sufficient, the race dates as scheduled will go ahead, just that we will run a variety of race formats including teams and others.
Regardless, we already know of 4 new 500cc riders who will do these races, graduated from 250s, so there will be much interest as our next generation moves up!
As per last year, these are AMA Clubman races - all attendees, riders, mechanics, fans, pay $15 gate fee and riders pay an additional $25 once inside. These are winter races, aimed at the young rider who wants bigger track experience and anyone else who wants some fun, so more for fun and education, no purse is planned.
So, if you want to do team league racing, send me an email, text or Facebook message. In 2 weeks I'll gauge interest and give you a final word on this. I'd love to do this but it needs sufficient support but either way it will be a blast because that's how we roll.
Steve Evans dreamteamspeedway@sbcglobal.net (October 21, 2014)
---
Dixon Practice Track
Dixon Practice Track is getting closer and closer to opening. I will update things as more information is available.
RC Jones (October 20, 2014)
---
Pirate Speedway
1st Open Practice at Pirate Speedway is this Sunday Oct 19, 2014.
Everyone welcome. $40.00. $30.00 for those with 2014 Pirate Speedway license.
Hours 10-3. Time is ticking.....See you there
Shawn and Robynn McConnell - dogynn@aol.com (October 15, 2014)
---
Pirate Speedway
Shawn and I would like to take this moment and thank all the Staff, Riders, Sponsors, Volunteers, Friends, Family, and Fans who have supported us over the years. We have definitely had our ups and downs over the last 6 years, but we really have enjoyed our time at IMS/Pirate Speedway. It has been a huge part of our lives, but a chapter that is ending.
After meeting with the fairgrounds, it has been determined that Pirate Speedway is definitely closing. It is with great sadness and heavy hearts that we must announce that Pirate must be 100% gone by December 1st 2014. Unfortunately, we have been unable to generate the much needed support to allow the track to be self-sufficient, let alone handle the necessary rent increases. While the fairgrounds have done their best to work with us over the years, it is no longer feasible for them to do so.
We have approximately 5 weeks left, so we plan to accommodate as many people as we can. Shawn will be conducting one more school; we will be having open practice, and some other activities. We are planning a very full schedule during the time we have left. We will post the schedule ASAP. We will very much miss our track.
Thank you again, Shawn and Robynn McConnell - dogynn@aol.com (October 13, 2014)
---
Pomona Half-Mile Saturday, October 11
All riders and staff will have their name on Gate 17 for entering the Fairplex. If your mechanic(s) are travelling separately, let me know so I can get their names on list too.
Pits Open 1pm. You can sign in from noon and will need to be banded with your crew before you can drive into pits. $35 entries for riders, $25 for mechanics.
You should be pitted no later than 220pm to play it safe - practice starts for Flat Track at 3 but may come forward to 230. If you arrive after practice has started you will have to wait for a break to enter pits.
Speedway Bikes will get 20 minutes practice at 430. Races start at 7:00pm.
Spectators can enter from 3pm if they wish to watch practice.
Also Gabe Price has scratched so I have one spot open on the program. $2500 payout!
Steve Evans dreamteamspeedway@sbcglobal.net (October 8, 2014)
I can't begin to express how excited I am for this Saturday's race at Pomona!
12 D1 riders, 7 heats + the Finals of AMA Pro Flat Track!
Hamill Versus Janniro at over 100 mph will be an event you'll never forget, especially following their many epic Wednesday night duels this season at Industry!
But what a line up after;
Austin Novratil - AMA Long Track National Champion
Max Ruml - AMA Under 21 National Champ / Team USA SWC star
Broc Nicol - 2014 Rookie of the Year
Eddie Castro - He's best when its fast!
Jason Ramirez - Costa Mesa winner 2014
Neil Facchini - Pirate Main Event winner 2014
Rocco Scopellite - Big track specialist
Justin Boyle
Gabe Price - Scratch
Archie Perez - Former Big Track Flat Tracker out to spoil
This may be the last ever bike race at Pomona. We hope not, but don't miss it!
Tickets - www.FlatTrackFinals.com
Steve Evans dreamteamspeedway@sbcglobal.net (October 7, 2014)
---
Ventura
Thanks to everyone who came out to Ventura last night. The event worked really well considering sign ups, though given this was a very late addition to the 2014 schedule, it wasn't so bad at all! The vintage class is growing, 9 entries last night and a few regulars absent.
The good news is the promoters were very very happy last night, so we can expect more opportunities to race there in 2015. No other facility we have approximates a UK track like this does and the young uns who came out last night definitely got much out of it.
Dillon Ruml, by the way raced a 500 and was very much on the pace. Given it was on such a big track first time out west we kept this on the low down, but he did really really well!
See you all at Pomona and of course the Perris Winter League Series starting December where you'll see quite a few 500cc debuts!
Steve Evans dreamteamspeedway@sbcglobal.net (October 5, 2014)
---
Epic Speedway Battle and Full 12-Rider Field to Hit The Famed Pomona Half-Mile Saturday, October 11
Former World Champion Hamill & National Champion Janniro Battle a Host of Other World Class Riders at the Super Speedway Invitational at Pomona October 11 as Part of the AMA Law Tigers Flat Track Finals
From: Charlie Frank
After a thrilling debut of speedway bike racing at the 2013 AMA Law Tigers Flat Track Finals, the speedway bikes roar back into the monster Pomona Half-Mile with a full field of riders and a full speedway program for 2014.
Former world speedway bike champion Billy Hamill, last year's winner of the Speedway Invitational at the AMA Law Tigers Flat Track Finals Presented by Pomona Valley Harley-Davidson and Glendale Harley-Davidson, will have his work cut out for him this year as five-time speedway national champion Billy Janniro will join a full field of speedway riders ready to strip the crown from Hamill.
"I think the speedway community is excited to see me compete against Hamill and the other riders on the big track," said five-time speedway national champion Billy Janniro with a smile.
Janniro, a resident of Lake Berryessa, California near Napa Valley, is relishing riding the 5/8 mile. An altercation at last year's U.S. National Championships at Orange County Fairgrounds led to a ban on Janniro competing at that facility. This ban has only fueled the fire for the big show-down between Hamill and Janniro at Pomona on Saturday, October 11. The other major factor is that the speedway riders do not normally compete on a giant half-mail oval like Pomona. Most domestic speedway races take place on much smaller tracks of 1/8 to 1/4 of a mile.
AMA Law Tigers Flat Track Finals promoters Chris Morgan and Charlie Frank have brought in veteran speedway racing promoter Steve Evans to produce this portion of the night of racing. "The 2014 Super Long Track at Pomona breaks new ground once more. We have the best two domestic based riders who are even on the 1/8 mile bullring tracks, even on the 1/4 mile Euro tracks, racing each other at 120mph for the first time on a 5/8 mile long track. This literally is the speedway duel of the year and the two Billy's will put on a great show," commented speedway promoter Steve Evans.
There is a whole host of other world-class speedway riders wishing to spoil the Hamill/Janniro showdown, including Max Ruml, 2013/ 2014 Under 21 National Champion, Austin Novratil, 2014 AMA Long Track National Champion, veteran Eddie Castro - former Arizona State Champion, 16 year old rookie sensation Broc Nicol, and a number of other top Pro riders!
The AMA Law Tigers Flat Track Finals presented locally by Pomona Valley Harley-Davidson and Harley-Davidson of Glendale boasts an incredible night of motorcycle racing and events. Along with the much anticipated speedway program, both the 750 and 450 AMA National Champions will be crowned at Pomona on October 11. There are many other motorcycle events built around these races including the Ascot Reunion where fans can see the motorcycles and riders that made this track world famous, the Legends Autograph Session where 40 of the most famous names in motorcycle racing will be present to meet and greet the fans, a live performance by the Rock-a-billy band the Loveless is on tap for 4 30 pm, the Miss Flat Track Finals Pin-Up Girl top three will be in person and interacting with fans from 4 30-6 pm and the Gasser Customs Vintage Motorcycle Rally featuring vintage bikes and café racers takes place from 3-6 pm. For those who own either vintage bikes or café racers and want to take part in the Gasser Customs Vintage Motorcycle Rally, please contact Gasser Customs at (213) 437-6316.
Ride the Pomona Half-Mile racetrack right before the races on Saturday, October 11. If you ride a motorcycle to the event, have a valid ticket to the race and are lined up by the turn four entrance by 6 pm with a waiver signed, you can do one slow speed lap as part of the "Lap Of Honor" at Pomona immediately before the track goes hot for the race. 18 years of age or older only.
The AMA Law Tigers Flat Track Finals on Saturday, October 11 is one of the biggest and most diverse nights of motorcycle racing and events ever scheduled. For more information please visit the event website at www.FlatTrackFinals.com
---
Billy Hamill and Billy Janniro will race for the first time together on a 5/8 mile Long Track at Pomona! That's going to be something else!
Race is coming up, Saturday 11 October 2014.
Of course its also the Final round of the AMA Flat Track National Series! One not to miss!
Updated rider list (room for 2 more)
1 Billy Janniro
14 Eddie Castro
18 Justin Boyle
27 Austin Novratil
34 Archie Perez
66 Jason Ramirez
86 Neil Facchini
100 Broc Nicol
104 Billy Hamill
126 Rocco Scopellite
Tickets - http://www.flattrackfinals.com/
Steve Evans dreamteamspeedway@sbcglobal.net (September 28, 2014)
---
Ventura October 4th
Update
The main season has been completed but the next two weeks have events up North and down South to provide some end of season fun.
Ventura races next Saturday, October 4th. Its a mix of Speedway and Flat Track, probably will be 50/50 of each.
Rider gates open at noon. Rider meeting 2:45pm, practice right after and races 5:30. Program will be set by 3, so be signed in by then please.
We will be running a team event. As we can print race cards at the track likely selections will be done late, even as late as on the day. We will also likely use the current British Elite League race format which essentially runs 7 man teams, you can have ALL divisions in your 1-7 without mixing Division 3 and Division 1.
Also Support Class (if teams are over booked), 250 / 150 (If demand) and Vintage (Malcolm has 6-8 guys I believe).
Lots of track time - 4 rides each is plan. $35 to race, $25 pit passes, $15 Adults to spectate. Clubman fun event but we'll about $1,000 minimally for purse.
Message me by Thursday if you want to ride please. Big Time Speedway runs Saturday also so NorCal guys should support that please.
Rider list (excluding Vintage) so far.
Jim Naylor has been kind enough to include Speedway on his October 4th Motorcycle show.
Its a fun, Clubman event. We'll run a team race for the top 14 guys, keeping the divisions separate.
There will be about $1000 in purse which usually goes far in a Clubman race.
Also we will run Vintage, Support, and, if enough sign ups, Juniors.
This is for SoCal riders only as Big Time also runs up north that night.
Gates open around 1, you can spin practice laps at 330 and races from 530.
Steve Evans dreamteamspeedway@sbcglobal.net (September 22, 2014)
---
AMA National Grand Final
Rider start positions (draw) For AMA National Grand Final in Auburn this Friday.
Link to complete program (PDF)
---
Ventura October 4th
Once more there is an opportunity to race at Ventura on October 4th.
If we can get 14 riders I would like to stage a team race. If we go above 14, then we'd stage a Support Class for those others.
Also we can run 250 and 150 Junior Classes if 4 or more sign up per Division. I am sure the Malcolm Roe and his Vintage crew will also have a division.
Purse details are being finalized, I will post when I have them.
Note, the 2014 British Elite League format would allow all divisions to be in a team race without D1 racing Support riders as positions 1, 3 and 5 do not race 6 and 7.
Let me know as soon as you can if you want to ride.
Steve Evans dreamteamspeedway@sbcglobal.net (September 10, 2014)
---
Team USA Stars and Stripes Club Gift Packs

All of the valuable Stars and Stripes Club members will be delighted to know that the 2014 gift packs should be ready within a week or so.
This years packs are the best ever, thanks to our friends at BSI (GP / SWC Organizer), Wolverhampton Wolves and Edinburgh Monarchs, who have donated some really cool swag to the cause, and not just race programs either!
Thanks again to all who donated to the cause - it does make a massive difference and our success this last three years would not be possible without 'fan power!'
Steve Evans dreamteamspeedway@sbcglobal.net (September 10, 2014)
---
AMA Grand National Flat Track
Speedway Bikes will return the 5/8 Pomona track on Saturday October 11, 2014.
Once more we be racing alongside the AMA Grand National Flat Trackers at the Series Finale!
Up to 12 riders are invited, with a minimum $2500 purse. Sign ups are OPEN!
Tickets are on sale and can be bought online at www.flattrackfinals.com
This event is something else!
Steve Evans (September 4, 2014)
---
2014 AMA California State Championship
Line up at Industry Racing Wednesday night August 27, 2014
Kelly Inman (August 25, 2014)
---
Pirate Speedway
Due to heavy rains and track flooding on Wednesday we are disappointed to announce that tomorrow nights race at Pirate Speedway (August 22) is unfortunately cancelled.
Pumping began this morning at 2:00 am, and Benny and Shawn have been working hard today to try and save it, but it is just too wet. The boys are sinking in mud as they work, and the entire place is just a wet muddy mess.
We are also dark next week for Labor Day weekend. We will be back with big smiles Friday September 5th so we hope to see everyone there.
PLEASE help us pass the word. Hopefully we catch everyone and no one shows up. Sorry everyone, see you in 2 weeks.
-Robynn (August 21, 2014)
---
Perris Raceway Winter Schedule and 2015 Spring Touring Team Tour Press Release
April 2015 will see the return to Europe for the USA Touring Team, in what will be the 10th Anniversary of the original ground breaking and pioneering Tour of 2005, and the 10th actual tour. The work that developed from this project is the foundation of much progress since, including aspects of the National Team's resurgence in the Speedway World Cup (SWC), riders breaking into the British League, and improved riders for the domestic program.
More details will be announced at a later date, but the tentative plans include an intense 17 day trip that will for the first time take in races in two of speedway's biggest countries, Britain & Sweden. For week 1 the plans are to include 4 events in the UK at National League level. Week two will see the team travel to Sweden to race a 2 day, 12 team tournament in Vetlanda. The Vetlanda event uses the SWC 4 team race format and each day there are three 20 heat events. The Dream Team will be one of the 12 taking part. The current crop of new young first division riders will be invited as the nucleus of the squad, though any rider may apply.
As a prelude the tour, there will be several pre tour 'Test Matches' in the off season at Perris Raceway. The Test Matches are designed to give prospective tour riders experience on a track similar to a European one, as well as well as familiarizing them with European racing formats. At this stage we have 3 dates tentatively scheduled, it is possible a 4th may be added.
Saturday December 6, 2014
Saturday January 24, 2014
Saturday March 7, 2015
The race formats for these events at this stage will likely be varied – we are provisionally looking at 1 using the British League Team Format, 1 using the SWC 4 team format, and one Best Pairs. I have kicked around the idea of running a 4 team 'mini league' as was done at Victorville back in 2005, but for that we would need riders committed to do all events and we would need to add a 4th for Play Off Final. The current Elite League format would allow riders of all divisions to be involved as races in the EL essentially are grouped by Divisions. A mini league would have 4 seven man teams and the opposition would change at each event on a round robin basis.
The Perris events will be AMA sanctioned and are off season Clubman races. Any 250cc riders who are stepping up to 500cc for the 2015 season are welcome to use these races to get their first adult laps, as Broc Nicol and Dalton Leedy did last year. The events have a provisional start time of 5pm. Note the Perris events will run races for all divisions and whilst slanted for the younger rider, EVERYONE of any age is welcome to join in and ride. All Divisions including 250cc Junior, 150cc Mini and Pee Wee can sign up.
As for the tour itself, riders are encouraged to get in touch to register interest. Final selection for tour spots will be made early in 2015. Rider packs will be made available in early October with full estimated turn-key budgets including flights, bike rental or shipping, and accommodations.
After essentially a 3 year break in touring, the emergence of several young riders and the USA's Success in the SWC, along with the necessity to strengthen the squad for the long term has made it the right time to reintroduce the project. It is still 8 months away but now is a good time to start planning.
For enquiries on the tour and / or The Perris events, please contact dreamteamspeedway@sbcglobal.net
Steve Evans dreamteamspeedway@sbcglobal.net (Aug 19, 2014)
---
Speedway - Ventura - August 30th
Anyone who wants to ride Ventura on 30 Aug, let me know ASAP.
I appreciate this race is late notice at the end of a long season, and that some may already be out of town for the holiday. That said, its a great chance, especially for the young 'uns with ambitions to race in Europe. We don't need massive entries due to the co-headlining with Flat Track, but its been a quiet on the sign ups.
Let me know ASAP please, the more support, the more speedway by the beach! Division 1 will pay $1,000 if enough riders as per old skool Victorville. Also the chance of much bigger race on Oct 4.
Steve Evans dreamteamspeedway@sbcglobal.net (Aug 18, 2014)
Speedway Back at Ventura on Sat 30 August, Due to popular demand!
Ventura Raceway has announced, following the success the AMA National Round in June, that it's event on Saturday August 30th will now be a double headline show of Speedway Bikes and Flat Track.
First Division will pay a projected $1,000 purse (entries permitting).
Also there will be Support Class, Vintage and a 250cc Class if enough riders sign up.
There is also some possibility of a much bigger Speedway event on October 4th to wrap the season up, news on that later!
Entries are $35 to race, $25 pits. Practice at 3pm, races 530. Spectators welcome.
I will not be in town when this event occurs, though I am handling sign ups. It is likely some key staff from my own races will run the speedway portion of the show that night.
Message me to sign up!
Steve Evans dreamteamspeedway@sbcglobal.net (Aug 14, 2014)
---
2014 AMA / FIM Junior and Mini Speedway Silver Cup Championship
Sunday Aug. 10th - Industry Racing
Spectator gates open 11:30 Races start 12:30
Spectator admission = FREE Webcast on Livestream - FREE
RIDERS: Gate open at 8:30am Sign ups at 9am Tech 9:30 - 11am Practice 11:15 - 11:45 Races start at 12:30
It is a closed pit. Tech immediately following last race. Awards presentation following tech.
Methanol will be provided for 250cc. 91 pump gas will be provided for 150cc.
Smiles and good times are mandatory.

Thanks,
Hope to see everyone there supporting the kids!
Kelly
Anyone needing a hotel:
Pacific Palms Resort (on site)
One Industry Hills Parkway
City of Industry, CA 91744
626-854-2486 ask for Lizette Castaneda for Expo Center Discount
Comfort Suites
626-330-0030
753 Glendora Ave
La Puente, CA 91744
**ask for Expo Center discount
Start letting me know, and spread the word to all Junior / Mini Speedway racers
I also need a good head shot of any participants for the program.
Thanks!!
Kelly@IndustryRacing
SpeedwayKelly@yahoo.com (July 22, 2014)
---
Draw Order and Times for AMA Long Track
Support Class will be Teams - Draw done on day. All entry fees for Support will go into a purse fund divided by winning team.
Back Gate 3-5pm
Front Gate 5pm
Practice 5:15-6pm
Parade 7pm
Races 7:30pm
---
North VS South Teams
North VS South Teams this Friday night! Auburn, California.
Dave Joiner fastfriday@aol.com (July 15, 2014)
---
AMA National Speedway Series Round 2
The draw has been conducted for AMA National Speedway Series Round 2. Riders who wish to race other divisions need to confirm by Sunday for program.
Steve Evans dreamteamspeedway@sbcglobal.net (June 19, 2014)

---
Legends of Speedway
Industry Racing"Legends of Speedway" this Wednesday June 11th.
I am excited and proud to present to you the list of Legends that will be in attendance signing autographs ... with a few more in the works. Spread the word ... lets give these legends the reception they deserve!
Share the post, its such a good time! ... and about a 16 page color program with all their photos!
Thanks, Kelly Inman (June 8, 2014)
---
Gino Manzares to race Ventura!
Team USA World Cup and Ipswich Witches star Gino Manzares is returning home for one night to race AMA National Series Round 2 at Ventura Raceway on June 28th. Manzares has been racing in England full time since March and has put in some impressive performances for the Witches. He also became the first American rider in many years to qualify for the World Under 21 Championship Final, a 3 round Grand Prix series that commences in July in Italy, Poland and Czech Republic. Manzares is further expected to feature once again in the USA World Cup team that begins its 2014 campaign at Kings Lynn, England on July 26th.
It was Ventura last year where Manzares' career took a huge upswing. He placed 2nd on the night and gave winner and eventual series champion Billy Janniro a close run in on the line in the final in the spectacular 1/5 mile European style race track. He then took this form to Perris Auto Speedway a month later where he won the AMA National Long Track title. These results led to a contract offer in the off season to fulfill a life ambition of racing in the British League. Manzares was 3rd overall in the AMA National Speedway Series in 2013 and his homecoming will be a highly anticipated event as he goes to battle with Janniro, fast rising Max Ruml and the top ranked US riders.
Manzares said of his return, "It feels great knowing I'm coming home to race at Ventura, a meeting I wanted to do again this year. And seeing my family is worth it all and more! I am really looking forward to it!"
The AMA National Speedway Series kicks off this Saturday 7th June at 730pm when the world famous Costa Mesa Speedway hosts Round 1. After the Ventura round on June 28th it will be over to the state of the art Industry Racing for Round 3 on August 9th, with round 4 at Fast Fridays Speedway, Auburn on September 19th.
The series uses the same race format as the FIM Speedway Grand Prix Series, which decides the World Champion and was very well received by fans and riders in its first season under this system in 2013.
Steve Evans dreamteamspeedway@sbcglobal.net (June 2, 2014)
---
Ventura and Perris Long Track
Ventura and Perris Long Track Race Info:
Ventura is just 4 weeks away and PAS Long Track 7. Rider Sign Ups are officially OPEN! Here is the race info for both.
Ventura – AMA National Speedway Series Round 2
Divisions
AMA National Series (Top 14 riders from Round 1)
AMA Series Wild Card Qualifying (Division 1 riders can enter run offs for last 2 spots)
Support Class
Vintage Class
250 Juniors
And SIDECARS!
Gates will open noon. There will be a 1 hour practice 3-4pm. Wild Card Qualifying and Support Heats 5:30pm, AMA Series and Main Events 7pm.
$35 to race, $25 pits. Top 14 from Round 1 have entry waived.
---
PERRIS AUTO SPEEDWAY LONG TRACK 19 July
Divisions
AMA Speedway Long Track National Championship (Up to 18 riders)
Support Class (we will pay a purse if enough entries)
250cc Junior
Sidecars
Gates will open 330pm. Practice from 5-6pm, Races 7:30pm.
$35 to race, $25 pits (All Divisions)
The Long Track National is a one night championship for an AMA #1 plate. This is not part of the AMA Series so riders outside of 'seeded 14' for Series are very very welcome and likely we will not have to run qualifying heats. Note for Ventura the top the 14 after this round in AMA Series are seeded in for Round 3. So, if you did not get on for Costa Mesa, enter the qualifiers, get in, score some points and mark your turf!
Riders signed up so far for both events
Steve Evans dreamteamspeedway@sbcglobal.net (May 30, 2014)
---
AMA Series Round 1
Draw for AMA Series Round 1 at Costa Mesa. Promotion has chosen to nominate its wild card versus a run off.
Supplementary Regulations are here: https://www.speedwaybikes.com/AMA/2014AMA-SpeedwaySeriesSR-1.pdf
Steve Evans dreamteamspeedway@sbcglobal.net (May 29, 2014)
---
Pirate Speedway Team Race
Pirate Speedway Team Race on Friday 16th May.
I wanted to let you all know that my staff and I will be assisting the Pirate Speedway Promotion a week from Friday in staging a night of British Style Team Racing for the First Division part of their weekly race program.
Shawn, Robynn, Roger and Jerry have been very good to let us use their track the last three off seasons for winter team races. These races have been a lot of fun and helped Team USA to begin to develop our future World Cup stars under team racing conditions. As a thank you, myself, Chris Ackerman and experienced team managers Steve Graham and Peter Davenport will be assisting showcasing team racing at a much higher level than we ever have. D1 will pay its normal purse for this part of the show based on the points each rider scores.
The other divisions will race as usual in individual competition but the D1 part of the program will run using the British League race format – 2 teams, 15 heats, 1 winner!
All of the unique thrills of team racing will make this a night not to miss – watch as riders look out for their team mate and race in formation to score maximum points. Teams will wear race bibs and the top riders from each will be nominated by their team managers for the final race of the evening, which could well decide which team is the victor. Teams who fall behind can nominate a rider for a tactical double points joker to get points back!
We will decide how the riders are divided into teams once sign ups close – It might be the 'Veterans' Vs 'Young Hot Shots' but we'll work out the format when we know the riders we have. Please only sign up if you are going to attend – team racing works best this way.
The season so far has produced some great entertainment at Pirate and the likes of Max Ruml and Broc Nicol love this kind of racing. It will blow you away.
Signs ups for this should be done in the usual ways through the promotion and its designated staff. There are only 14 team spots available and the promotion has the final say on who gets these. I would be happy for forward any interest along to Shawn and Robynn. Be sure to sign up early, these races are very popular.
If the team racing concept is not familiar to you, don't worry – just come along and enjoy the races as usual at 8pm on Friday 16th.
Again, this is not my promoted race, we will simply be on hand as needed but the promotion and its regular race crew will run the show on the night. The team race will be a novel and different race format for many – be sure to attend! This is how 90% of speedway races run in Europe!
This Friday the 9th of course is Harley Night, be sure to attend for that, and Costa Mesa on Sat!
Steve Evans dreamteamspeedway@sbcglobal.net (May 7, 2014)
---
Bobby 'Boogaloo' Schwartz to be Ventura Grand Marshall!
USA Speedway Legend and former World Champion Bobby Schwartz will return to his local roots as the 2014 Grand Marshall at Round 2 of the AMA National Speedway Series on June 28th at Ventura Raceway.
Schwartz, who at age 57 still competes and wins main events, is embarking on his 41st season of racing this year. His list of titles is too long to fully name out, but they include 3 World Championships (Pairs 1981/82 and Team 1982), 2 National Titles and 2 State titles. His achievements also include being Captain of the USA Test match in the glory years if the 1980s which set standards that many, including the rising the new generation of youngsters can only hope to emulate. He was unbeaten as USA won its first ever World Cup in 1982.
For me personally, Bobby Schwartz was a superstar in the great days of British League racing. He and '82 World Pairs team mate Dennis Sigalos were the class of the field in the first speedway meeting I went to in 1984, and his last full year in England he was the captain of my hometown Wolverhampton Wolves in 1985. When I moved to America in 1998 it was great to see him win on the small tracks. My late father, on his visits to California loved seeing Bobby win the LCQ and then Main event more than once on our trips to Costa Mesa. And my mom always got an autograph after!
It will be a pleasure to have him as Grand Marshall on a track he has ridden many times and it will be a great chance to salute an incredible rider and ambassador of American Speedway.
Steve Evans dreamteamspeedway@sbcglobal.net (May 7, 2014)
---
BIGTIME Speedway Practice
This coming Saturday, May 3rd, BIGTIME Speedway is having a weekend of open practice and speedway school at Prairie City SVRA.
4 time US National Champion Billy Janniro will be conducting school Saturday from 9am to 12:30. If you want to improve your abilities and results immediately this school is for you. Cost is $250.00.
We will be having pre series sign ups from 2 to 4pm. Open/organized practice for all series participants on a prepared track surface (Quads mowers, karts, speedway and juniors, peewee's, etc.) from 4PM to 8PM.
There will be additional practice on Sunday from 11AM to 4PM as well.
Practice cost is $25.00 per day. See you all there.
Steve Elstins racesteve5150@yahoo.com (Updated April 28, 2014)
---
Golden State Speedway Series

May 10, July 26, August 16, September 13, October 4
Heats
Pro's 4 heats, Amateur's 3 heats. Racer with most points in class win's the Round.
Points
1st – 4 points, 2nd – 3 points, 3rd – 2 points. 4th – 1 point. per heat. All 4th place and further earn 1 point. 5th round is a DOUBLE POINTS meeting. Any tie for CHAMPIONSHIP will be decided by a race off/sudden death finish in 1 heat, winner taking all at round 5 if needed.
Starting and Qualifying
All motorcycle classes are 4 lap heats. All 4 wheel classes are 6 lap heats. Karts and mowers will use a rolling start. All other classes will use starting tapes (speedway style). All starting positions determined by draw (numbered) ping pong balls drawn by rider.
Any and all 1st division speedway riders are eligible to participate, however current champions or past (last 5 years) will be considered non comp. Meaning they can take points and money but are excluded from placing in this championship series.
This series is open for anyone currently NOT a 1st Division Speedway Champion. All other division or class champions are eligible to compete. The winner from the Billy Janniro adult mini challenge is seeded into the next round with their entry COMPED. The winner from the Billy J. challenge also earns $100.00.
Steve Elstins racesteve5150@yahoo.com (Updated April 28, 2014)
---
Ventura AMA US Nationals
The Ventura AMA Round is just 10 weeks on Sat - June 28th. We aim to make it even better this year!
Riders who want to sign up may contact me early again. We will be running the following Classes;
1. AMA Series Round
2. Wild card run off for last two spots in round
3. Support
4. Vintage
5. 250cc Junior
There will a practice session around 3pm but just 1 hour this time as last year we needed extended session due to first race in 13 years. Qualifying at 530, Main show 7.
Riders who wish to do full series need to fill out an AMA Letter of Intent. myself or any other promoter of individual rounds can supply. They can be sent back to AMA via fax, mail or email. If you need one please email me and I will send on.
The AMA themselves will release full series details and supplementary regulations shortly.
Note also the 1 night AMA Long Track National is 3 weeks later, July 19 at PAS. I am also taking advance bookings but those who have signed up via LOI are already noted.
Steve Evans dreamteamspeedway@sbcglobal.net (April 15, 2014)
---
Pirate Speedway
OK everyone ..... it's that time. Opening night is exactly one week away! Time for rider sign ups!!! We need a lot of support this year so sign up ASAP and bring your friends! Lets put on a GREAT show and fill the stands!!!! Look forward to seeing EVERYONE Friday April 18th.
Sign up by Monday 7pm, and please make sure you have your paperwork done.
Sign up through email dogynn@aol.com, office (714) 255-0088, or the Pirate Speedway Facebook site. Thank you
Shawn McConnell - dogynn@aol.com (April 11, 2014)
---
Saturday Night Speedway this weekend at Perris Raceway
As a reminder for all competitors and fans, this Saturdays race at Perris Raceway will have a 6pm start time. Last nights event was successful but at this time of year a daytime race is going to create a dusty, slick track and a slow moving program. Night time races will more approximate Europe and it will be good to see these young chargers haul it under lights!
Gates open at 3pm and riders need to be signed in by 515pm latest as the program will be modified at 520 based on arrivals and no shows.
We have room for riders in all divisions and a few more additions would be ideal.
We have enough as it stands to run Pairs in the Division 1 and Support Classes. Need 1 more 250 and 3 more in 150. Otherwise these Divisions will run individual. Need more Pee Wee's too.
Note anyone needing press credentials should contact myself ahead. I have to clear any comped passes with the landlord so don't assume you are on any list based off of past events I have promoted elsewhere.
If you can, please come along and lend your support. The first event worked out well but the issue over the years at Perris has been keeping that going. What is being built here is a long term off season training facility which can stage races if the turn out is viable for the landlord, the Southern California Flat Track Association. There are ideas being kicked around for a few races next off season to be held between November and March but Saturday's support both rider and crowd wise will determine how many events will be workable.
Thanks to all who have signed up and those who supported event 1. These events are for our future SWC and National Champions to learn bigger track speedway and anyone who wants to have some fun. If you have a minute, help us spread the word and come out Saturday if you can!
Steve Evans dreamteamspeedway@sbcglobal.net (April 7, 2014)
---
---
Americans Racing in Europe for 2014
We have a new column to go along with the Team USA page now. It is Americans Racing in Europe and it will give information about the riders who are currently in Europe, when and where they will race and TV coverage if available. This will be updated monthly and as accurate as we can make it. Spearheading this effort is Steve Graham, long time speedway supporter... Thanks Steve !!!!
---
AMA CLUBMAN SPEEDWAY SERIES FOR PERRIS RACEWAY THIS SPRING
Perris Raceway and Elite Speedway Promotions will co-promote 2 events this spring aimed at giving vital big track time to the growing army of Youth and Under 21 Speedway Riders in the USA.
The races will be staged at Perris Raceway, which has not staged a Speedway Event in almost two years. The venue has however been the home of Team USA off season training camps for the past three years. The Perris track measures like a small European track and the competitive races will give priceless track time for those riders who want to follow the likes of Greg Hancock, Ryan Fisher and Ricky Wells into Europe and the SWC team in the future. They will also prove as training races for riders who wish to go to Europe with the American Touring Team in spring 2015 for its 10th Anniversary Tour.
The races are not just open to young riders but any rider of any Division. They will be sanctioned by the AMA whom have been extremely active in the USA Speedway World Cup renaissance. The events will be on Saturday March 22nd and April 12th with a 1pm start time, gates opening at 10am.
Due to the nature of Perris Raceway, pricing and logistics will be based on its Flat Track Program. All people entering the facility aside from staff with pay a $15 gate fee (under 5 free). Riders will then go to a sign up table and pay an additional $25 entrance fee. Mechanics do not pay in addition to the gate fee and the pits are open to all. Food and non alcoholic beverages will be sold on site.
Riders will also need a valid AMA Membership and can go online to www.americanmotorcyclist.com to sign up or renew as needed, or take out a $20 day membership. The annual membership is the recommended option as this will also cover all Perris Raceway events, Ventura, PAS, Youth Silver Cup, Fast Fridays, Youth and Under 21 Nationals and any other AMA events that get announced or added. No track membership is required.
The events are off season Clubman Events aimed for those who want track time and development. There are no rider purses and a lot has been sacrificed organizationally and by the track owners to make these races happen. They are part of a long term vision for the growth of our sport.
The race formats for both events will take a slant towards Europe. March 22nd will see a 15 heat team race for the Division 1 / Upper Division 2 riders, along with regular heats for Support, 250 Junior, 150 Mini and Pee Wee. April 12th will have a Best Pairs Program.
We will need volunteers to help us with logistics such as flagging, sign ups, scoring etc. and you can let me know if you would like to help.
This is a grass roots effort which if successful should give 4-6 off season per year long term. It can only succeed with rider and fan support so please attend if you can.
To sign up or for more details call (310) 309-9418 or email dreamteamspeedway@sbcglobal.net
Steve Evans (February 28, 2014)
---
Update: Ventura Raceway scheduled for Saturday March 1st - CANCELLED RAIN
Due to the heavy rain due this weekend Saturday's event at Ventura is OFF. It will not be restaged, next bike event there is AMA National Series June 28th.
Next SoCal Speedway Event is Perris Raceway, Saturday 22 March 1pm, information soon to follow. (February 26, 2014)
---
We are aware that there is currently rain forecast. Having checked in with Jim Naylor, a decision will made Wednesday on whether we can go ahead. I will let you know when I know.
Assuming its does go ahead, here is some vital information:
Pit gates open noon
Riders meeting 2:30pm
Practice 3pm
Races from 5:30pm
3 races per Division, 4 for Division 1.
$35 entry, $25 pits
It is an amateur Clubman event on the back of Flat Track. Note track owner will lay out DG just for speedway.
We want to build something here step by step. (February 25, 2014)
---
Having liaised with the event promoter (this is a Flat Track race with speedway classes invited), I have the following information:
1. This is not a purse event - it should be viewed as 'advanced practice' or a Clubman race.
Depending on its success they may offer a purse at later events in the year.
(June 28th is my own co-promoted Speedway event so that will pay a purse)
2. Entry fees are $35, mechanics $25.
3. There will be practice for all riders.
4. Four classes will offered - Division 1, Support, Vintage and 250 Junior.
5. There are 3 races per rider, 3-4 for Division 1.
6. There will be a starting gate.
Entries close next Wednesday (February 26) at noon.
Steve Evans dreamteamspeedway@sbcglobal.net (February 17, 2014)
---
Speedway returns to Perris Raceway
Speedway will return to Perris Raceway (Flat Track at Moto C park) with two races scheduled this Spring on Saturday March 22nd, with a 2nd date provisionally scheduled on April 12th pending enough support for the first date. Races will be held in the daytime with a 1pm start.
The events are a joint venture between Elite Speedway Promotions (Steve Evans / Chris Ackerman) and Perris Raceway.
It is hoped these two races are the catalyst to a regular Winter Series of 4-6 races per off season. They will be Clubman / Amateur Events aimed at the growing pool of Youth and Under 21 riders on 500cc bikes, though anyone and everyone is welcome to sign up. There are no plans to run races during the main May-September season.
Perris Raceway has been the unofficial training ground for Team USA since the 2012 World Cup campaign began. Billy Hamill trained intensively there with Greg Hancock for the 2012 SWC comeback campaign and it has progressed into mini off season training camps for squad members more recently.
The track is vital for rider development, being the size of a small British venue. For all of our young riders who harbor ambition of GPs, SWC, British League or being the US National Champion, racing on such a track is quite a milestone in their development. Also the American Touring Team is planning a big 10th anniversary tour in Spring 2015 and riders who wish to be considered would do well by riding such a track as much as possible. Rider interest and club interest in the UK for the tour is already huge!
Such events continuing depend solely and only on rider support – the overhead for such winter races is quite large and the best way to keep it is to support it. Sponsors are welcome though we aren't formally selling heats, but anyone wishing to partner up is appreciated.
Perris Raceway are thanked for sharing this vision with us. It is a much needed missing piece in the Team USA future production line. I can't wait till March 22nd and to see the youngsters and oldsters alike duke it out at Perris!
Race formats for these events will be announced later. Also remember Ventura is putting on full speedway classes on March 1st which is the last chance to race it ahead of the AMA Series Round on June 28th.
Steve Evans dreamteamspeedway@sbcglobal.net (January 12, 2014)
---
2014 Aaron Fox Golf Tournament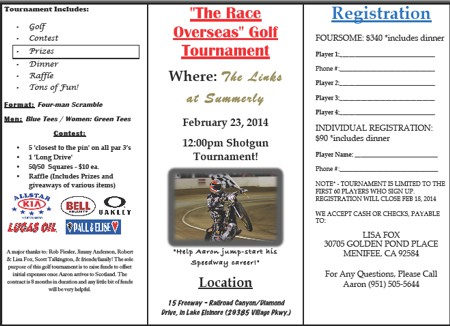 ---
2014 Speedway World Cup - Team USA
Huge thanks to Mike Phipps who came out to Perris about 10 days back where 8 Team USA potential squad members partook in a practice and training session.
Video interviews about the 2014 season, SWC and future SWC goals of some of our younger riders are here - they are quite inspiring and a good listen. Greg Hancock, Billy Hamill, Ricky Wells, Gino Manzares, Aaron Fox, Rocco Scopellite and Broc Nicol feature. Also a very nice media release is there.
Enjoy and thanks again to Mike for a stellar production!
http://www.msd-photographyandvideography.com/Media-Press-Publications
Steve Evans dreamteamspeedway@sbcglobal.net (January 12, 2014)
---
Pirate Speedway Practice
Pirate Speedway will be "ATTEMPTING" to have a practice this Sunday, February 16th, 10:00-3:00, $35.00 for each rider.
No charge spectators, mechanics etc.
• Some construction issues will be the determinant as to if the practice will happen. We will have a confirmed answer by Friday night/Saturday morning.
• PLEASE be sure to check Facebook, speedway message board, or call the office phone (714) 255-0088 to confirm before driving out to the track.
• We are unsure of any future practices so please be sure to take advantage of this opportunity.
• This is the best we can do at this time.
-Thank you for supporting Pirate Speedway
Shawn McConnell dogynn@aol.com
---
Ventura Raceway Saturday March 1st - 2014 Season Opener
Speedway Bikes will be back at Ventura on Saturday March 1st as part of the 2014 Season Opener. Flat Track cycles have featured at the tracks motor cycle events for the past few years - plans are to streamline the classes and add a Clubman Speedway Program for the season opener which if well supported, will also lead to Speedway classes being run on August 30 and October 4th events. The showpiece AMA Series Round will be held as previously announced on June 28th.
The plans for March 1st will be to run these classes;
- Team Race (top 14 riders signed up, D1 and 2)
- Support Class
- 250cc Junior
- Vintage Class
4 riders minimum needed to make a class. Races start 5:30pm and all riders can practice around 3pm. The track will have DG similar to the AMA Round.
Entry fees will be confirmed after weekend but likely in line with most events I'm involved with. At this stage the races are planned as out of season Clubman events, though the track will let me know in due course if any purse will be offered.
Ventura is keen to run more speedway events but is taking a steady approach so support for such a race like this will be a good yardstick.
Sign ups open, 1st come 1st served and there will be a limit on spots due to combined program. More info next week.
Steve Evans dreamteamspeedway@sbcglobal.net (January 8, 2014)
---
British Style Team Racing at Pirate Speedway January 11th
I just got word that we can restage the washed out team race from earlier this month at Pirate Speedway, Saturday January 11th.
British Style Team Racing - Start Time is at Noon
$35 to race, $25 pits, $10 for stands. Amateur races, for fun, all Divisions welcome!
Text me at (310) 309-9418 to sign up!
All Divisions - 1st, 2nd, 3rd. Youth 250, 150 Mini, Pee Wee's are all welcome!
Merry Christmas, Happy Holidays.
Steve Evans dreamteamspeedway@sbcglobal.net (December 23, 2013)