2014 Speedway New and Views
Saugus Speedway Reunion 11/16/14 – by Howie Zechner
Bench racing was the order of the day for seventy five racers, mechanics, sponsors, family and friends who attended the Saugus Speedway Reunion in Chatsworth Ca.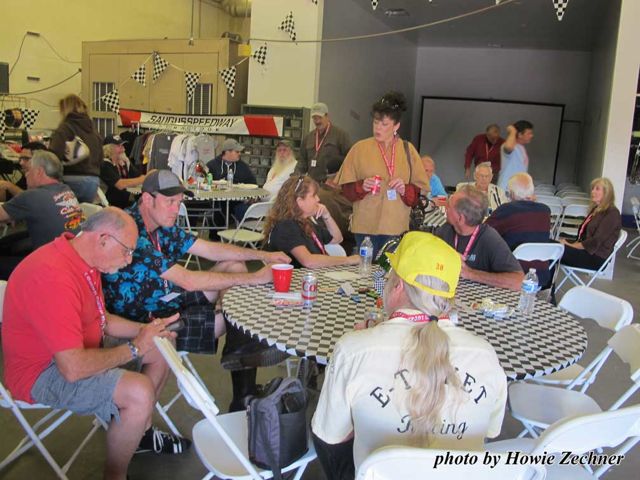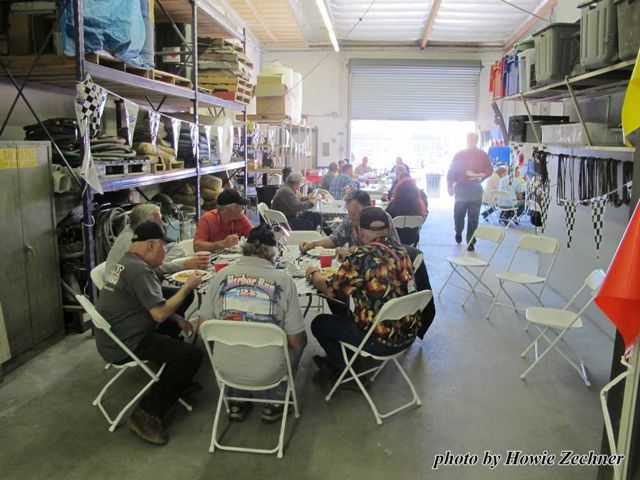 Organized by Saugus Speedway Scrapbook author Harold Osmer much work had been invested into the gathering that was held at Andrews Powder Coating.
Everyone who works here chipped in owner Scott Andrews relayed. It showed, the place was spotless. Chairs and tables had replaced the powder coating racks. Covered with checkered flag tablecloths, model cars, decals and party favorites number two in charge Sandee Andrews showed off her hidden talent of party organization.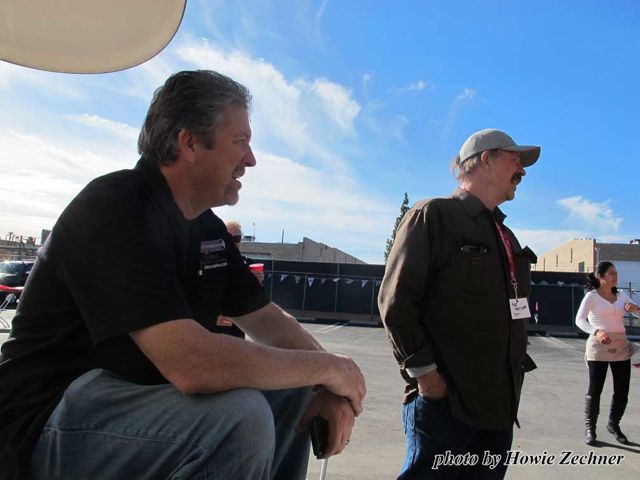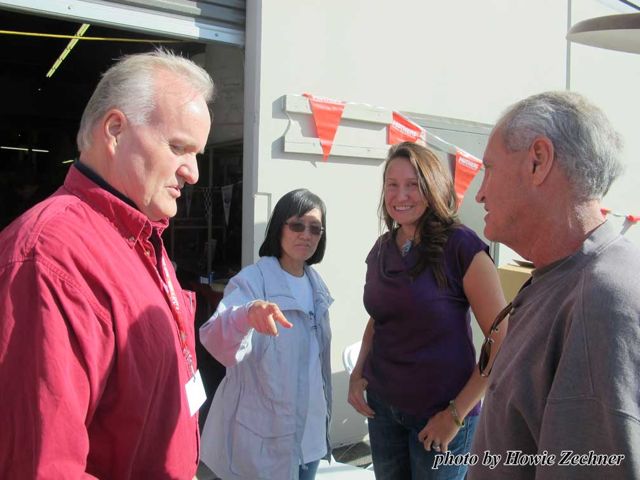 Another part of the shop was converted into a movie theater and media content played on a giant screen. I'm using my new MAC Harold mentioned. It worked flawlessly.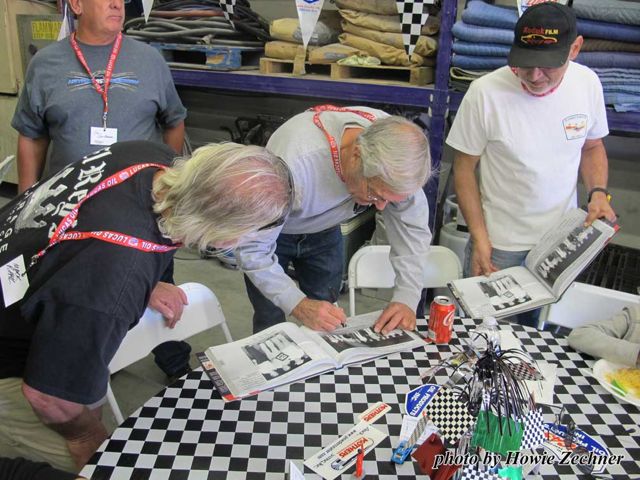 Mexican food was prepared fresh and there was plenty. A keg of beer, drinks, coffee with real wiped cream, even bad stuff like doughnuts and cake. For sure no one went away hungry at this shindig.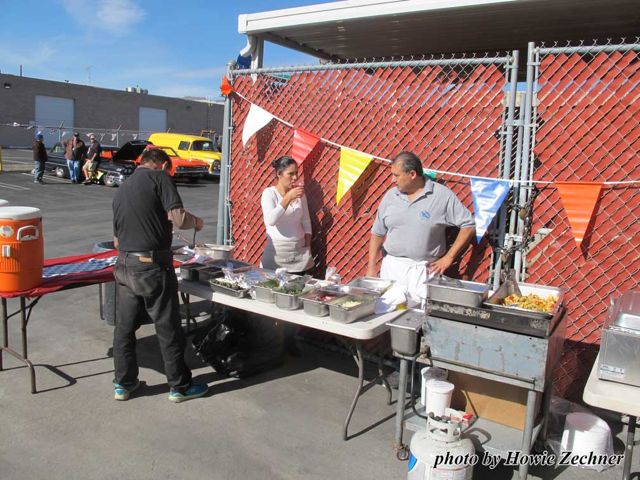 The afternoon came and went. All who attended left with smiles on their face and goodies from Mothers Car Care. It could not have been more perfect.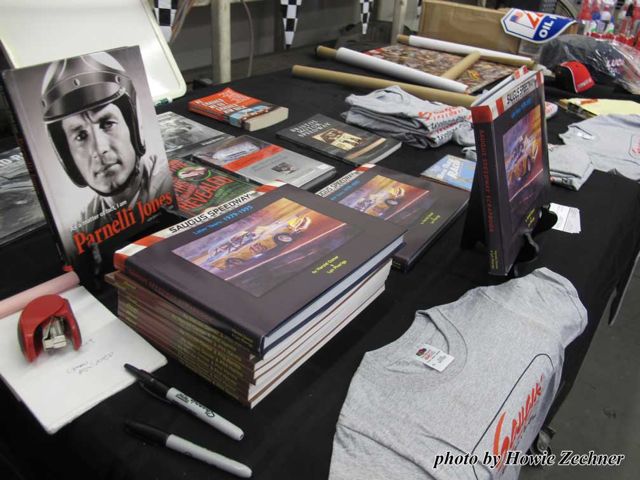 Will the Saugus Speedway Reunion become an annual tradition? It's to soon to say but most certainly all the makings of become a tradition are there.
Howie Zechner
---
Sammy Tanners 75th Birthday bash – by Howie Zechner
Hosted by Southern California Motorcycles in Brea CA. it was a birthday party not to be missed. Seventy five years in the making, the motorcycle faithful gathered. Competitors, fans, sponsors and promoters from every motorcycle discipline all wanting to pay their respects to a living legend. Skip VanLeeuwen, Keith Mashburn, Robert Morrison, Peter Star, Rick Goudy, Chuck Palmgren, Wally Pankratz, Richard Cordsen and a host of others. Speedway was well represented. Dangerous Dub Farrell, Shawn McConnell, Kenny Hansen Stu Morley, Jack Crone just to name a few. Jaw jacking and bench racing was the order of the night. The way-back-days were visited at every corner. Joy and tears would celebrate Sammy Tanner May 23, 1939 birth.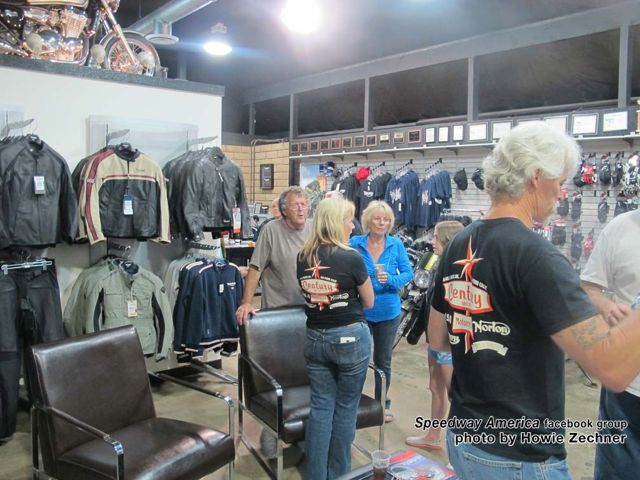 The entire Triumph section was transformed into party central. One room had tables and chairs from one end to the other. In another room a large rollaway door was open and two barbecues were running at full speed. Shredded pork and beef (tri tip) with coleslaw. The food was outstanding and plentiful. My compliments to the cook Jason.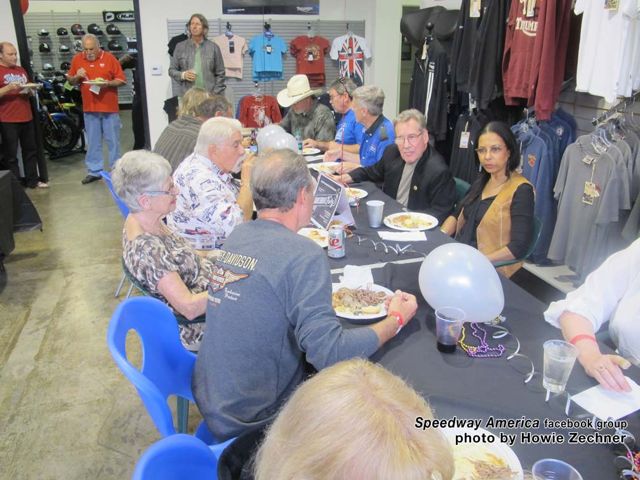 Pictures, posters, even Sammy's old leathers were on display. A huge card hung in the center and a sharpie encouraged all to sign and leave short comments. The next room had a full bar. Jammed wall to wall with people telling tales and living today and yesterday.
"Look how many came tonight" an excited Sammy said. I can't believe they have followed my career all these years. And to think I was hesitant about coming out here from Texas. What was I thinking?" The Birthday boy was of course referring to his younger days living, racing and winning in Texas. Offers to compete on the west coast came but never worked out. Then a 1959 call to JC Agajanian changed the whole deal. Sammy was in Daytona and thought he could sell himself to the Ascot promoter for big bucks. "I'll come for $300." Sammy offered. Well how did you do at Daytona JC asked, I fell Sammy replied. Long story short Sammy soon learned that JC was the master promoter. Still, they reached a deal. Sammy would be 'The Flying Flea' and receive $200. for two weeks and $50 for week three.
"It was 1959 and I was a 14 years old Ascot spectator" Sonny Nutter chimed in Sammy won the 1st Ascot 20 lap 8th mile National title. He was my hero. Little did I know that we would become competitors and lifelong friends. "Sammy was fast" Sonny continued. "When I started racing he could always best me on the half-mile but revenge was sweet when we both started racing speedway in 1968." "Then it was my turn to win." "One of my best recollections was when we raced the LA Coliseum in 1970. Irwindale promoter Pete Palmer and his 'Great Bear Racing Team' were doing a Speedway exhibition and I beat Sammy clean," Sonny boasted. No way, it was only a exhibition race Sammy jokingly replied.
Sammy where are you the band P51 was calling. Come let your guests sing happy birthday to you. So started a hour of thanks and stories. Former racers and guest speakers were called to the microphone to talk of yesterdays glory or tomorrows deeds. One was Speedway Star Courtney Crone. Her talent is well know and Tanners been helping her lots. Claiming a announcement will be released in a couple of weeks, I see big things for this lady. When given the microphone to address the crowd the young racer was shy. Giving advice Sonny Nutter gave the words of wisdom that can help any racer. Run toward the cameras, not away and always smile.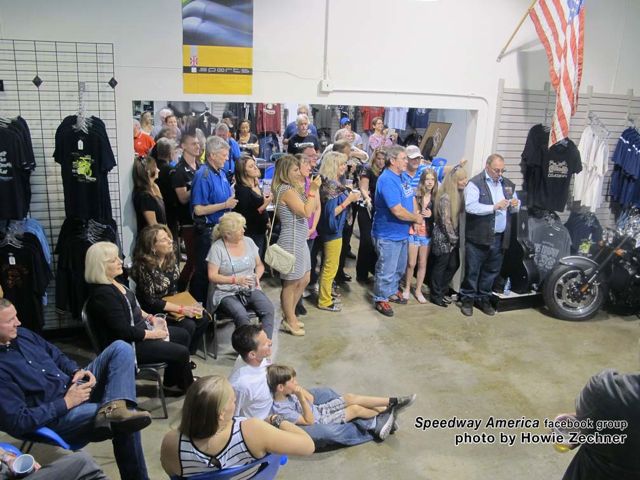 One of the nights highlights was Sammy Tanner lip singing the 'Flying Flea' song with band members Mason Robinson and Ducati, Triumph, Victory, and Royal Enfield dealership owner Tom Hicks. The place went wild as the crowd joined in. it was followed by a roaring version of Happy Birthday and the cutting of a huge delicious Birthday cake.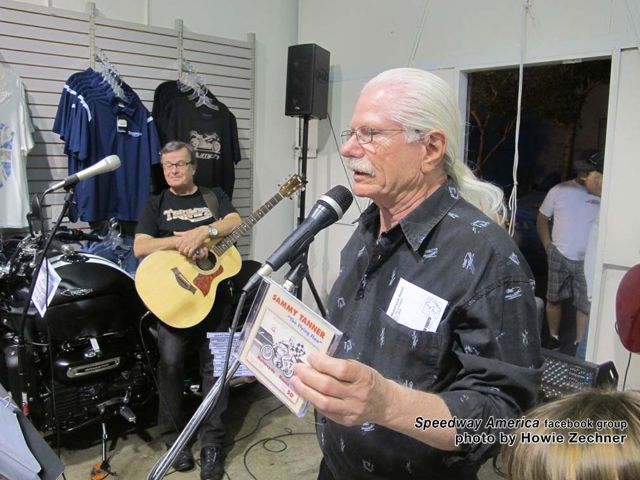 A night with friends and family. It was special.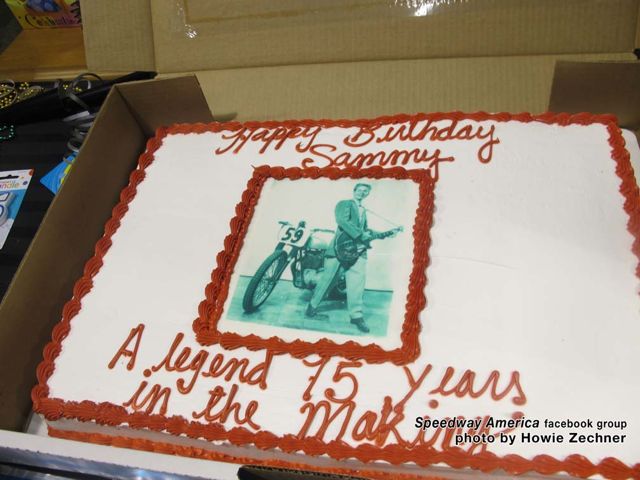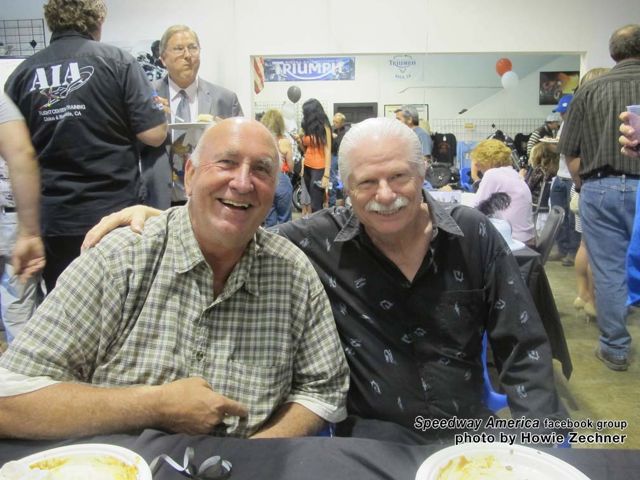 Howie Zechner
---
Cody's the name and Speedways the game – by Howie Zechner
They called him "Wild Bill" and he was one of the best to race the 2nd generation American resurgence of those wild 500cc, alcohol powered, brakeless beasts we call Speedway Motorcycles.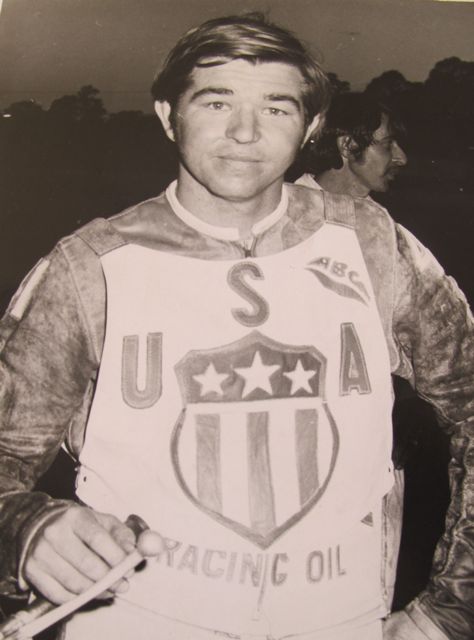 A California local Bill Cody was born in Orange County and grew up in Laguna Beach. A good student he attended Orange Coast Collage after graduating from Laguna Beach High School in 1965. "I wanted to become a teacher," Bill told me. I could have done it but Speedway racing paid really well. Over a thousand dollars a night at Costa Mesa.
So how did this polite, well-educated young man from middle class parents turn into "Wild Bill Cody?"
A product of a good childhood Bill's biggest teenage challenge was not being allowed to own a motorcycle. Mom and dad were dead set against it. So he did what many of us did. He bought a bike and kept it at a friend's house.
A 250cc Honda Scrambler and no drivers license Cody converted the bike into a Flat tracker. He took it out to his local track and felt the thrill that would become a lifetime obsession. From there on young Bill rode scrambles every weekend. El Toro became his home track. If not there it was Trojan or Prado, or Elsinore or Perris.
"I got good" Bill is proud to boast. Of course racing against other youngsters like the late Rick Woods have a way of sharpening up that learning curve. Racing, and winning the die was cast. Cody would pursue becoming a professional motorcycle racer.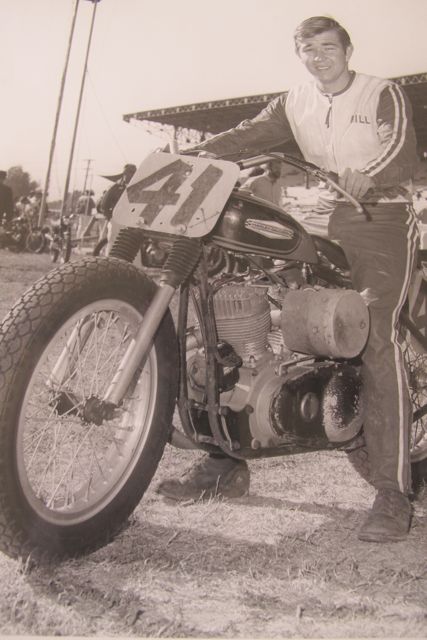 Racing both the 250 and 650cc class Cody loved large tracks and going fast. The bigger the better he tried his hand Road Racing at Carlsbad and Orange County Raceway. But dirt was the thrill that made the grin. In 1967 Cody turned pro and raced the weekly half-mile and monthly TT races at Ascot Park in Gardena California.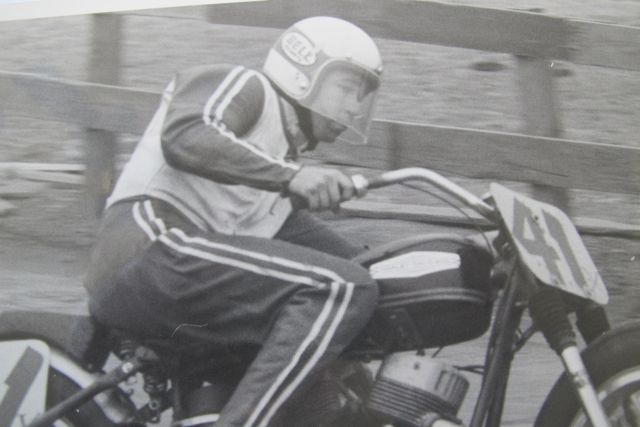 "I sold Cody his first set of one piece leathers" fellow competitor Sonny Nutter told me. "We shared the same sponsor and sometimes the same bike. I an expert and Bill a novice meant I would get his machine to race in the 250cc short track program. He learned quickly. Cody was a dam good Ascot rider."
The following year Bill stepped up to a 750cc Harley Davidson and competed on the National Circuit. A 2nd place finish at the Houston Astrodome short track National, a 3rd on the Portland and Santa Rosa mile along with a 4th at the Sacramento mile earned Bill a National top 10 Class C amateur spot.
The off-season brought changes. Cody was introduced to Class A Speedway and liked it. The following 1968 season he gave up the National Circuit so he could split his time racing expert class C on the Ascot 1/2 mile and Speedway at the new Whiteman Stadium in Pacoima CA. Racing two totally different motorcycle styles and circuits and working full time as a motorcycle mechanic at years end Cody made the decision to give up Class C and only race Class A Speedway.
Speedway was hot and the 1969 season saw 5000+ fans every Friday night at the new Costa Mesa venue. The sport was growing at a rapid pace. More tracks, more prize money. In 1971 Cody quit his mechanics job and racing the five weekly tracks became his only source of income.
Those were the golden years for speedway in the Golden State. Tuesday in Ventura, Wednesday it was Bakersfield then Irwindale on Thursday, Costa Mesa on Friday and Indio on Saturday.
Costa Mesa announcer Larry 'Supermouth" Huffman gave Cody his nickname. "I just said it one night and the sellout crowd of over ten thousand spectators went wild" Larry relayed. "Even though Bill's one of the nicest down to earth people you would ever meet the name stuck and he has been "Wild Bill Cody" ever since."
The riders shared a percentage of the spectator gate so money flowed. "I remember the Reno promoter would give me a $250. guarantee and fly me to the track. I usually won or placed high so in one night you could easily earn enough to buy a new motorcycle."
Speedway was everywhere in the early 70s. The Houston Astrodome in Texas, Daytona Beach, Florida and Sacramento, California plus over 100 race meetings per season at five or six different local tracks. A member of every USA vs. The World team that raced against an International field led by World Champions Ivan Mauger and Barry Briggs, Bill Cody to this day jokes "Most people think of me as a Speedway racer but flat track is really where I started. I loved racing those mile tracks."
"I'll never forget that 1972 World Tour to Australia and New Zealand" Mike Konle told me. "I was there with Bill Cody, Mike and Steve Bast, Dewayne Keeter and Sonny Nutter. We were the first ever American Test Team and Cody was heat leader. Now Bill's a clean rider but things happen and in Christchurch he ran me into the crashwall. I had a concussion so they had to keep me awake for a couple of days. Bill stayed with me the entire time. We are close friends to this day."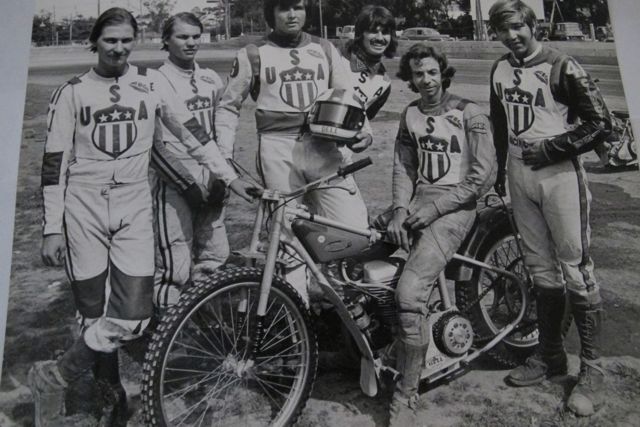 That year on tour in Australia and New Zealand Cody was the high point scorer overall and beat out Ole Olsen on his home track in Liverpool, a suburb of Sydney. "I could have stayed in Australia and raced the big tracks but the promoters offered me less money than I was making at Costa Mesa. So I came back to America but to this day I regret not staying there with Scott Autry and Greg Haserot."
"I went around the world with Bill Cody stated seven time National Speedway Champion Mike Bast. Bill and I were very competitive but we never got along. It was ugly, even our wife's did not like each other. It took years after both of us stopped racing before we all became friends. Dee Anna and I were very honored with Bill's invitation to sit at his table for Cody's induction into the Trailblazers Hall of Fame. He is a much better friend than rival."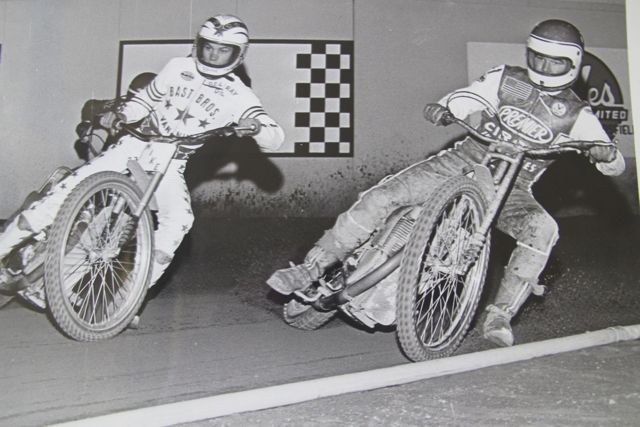 In his best years Cody won 30% of all his races. Bill was high point Champion and top money earner in 1970-71 and was in the top five every year till 1975.
"He was a clean rider who would never crash you on purpose. I highly respect Cody's race and work ethics" "Lightning" Larry Shaw chimed in.
A winner of the first Costa Mesa Fair Derby and undefeated for a entire season in the "King of the Hill" match races, during his racing career "Wild Bill Cody" earned a start position in every United States Speedway National. Time, age, and a promoters strike all took their toll and in 1978 Bill retired from competition and opened Cody Racing products.
"Cody knows these race bikes as well as any living person so opening a business that would cater exclusively to Speedway motorcycles was a smart move" "The voice of Speedway" Bruce Flanders told me. "Proper setup and making them go fast helped Bill win races for all those years. Plus he had a large following of fellow competitors and students from his Speedway schools that he maintained and built bikes for."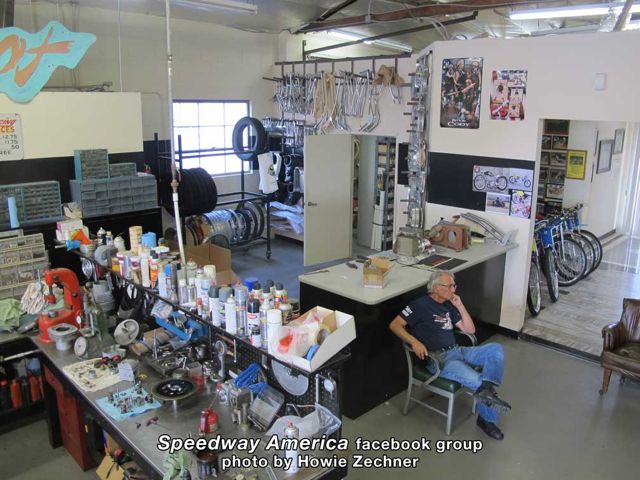 "Cody sponsored me with a bike for years stated fellow racer "Big" Mike Konle. His machines were always fast and very desirable on the racing circuit."
Specialized parts, engine rebuilding, bike setup and accessories, Bill was soon selling complete Speedway bikes. They had all the trick parts and were fast. Demand for the machines was high and business was good so in 1980 Bill bought out the U.S. distributor for Jawa. Fair prices, keeping your word and teaching the new bees has led to a business that flourishes to this day. An authorized Jawa dealer Cody Racing Products is world known and respected.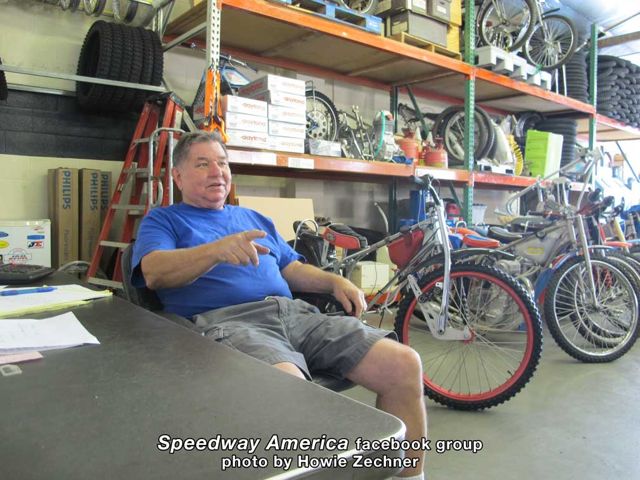 When asked what secret made this man so successful Bill is quick to credit his wife Fran. "My life's partner, Fran has been with me every step of the way. Fact be told, I would not be the person I am without the love and devotion we have for each other."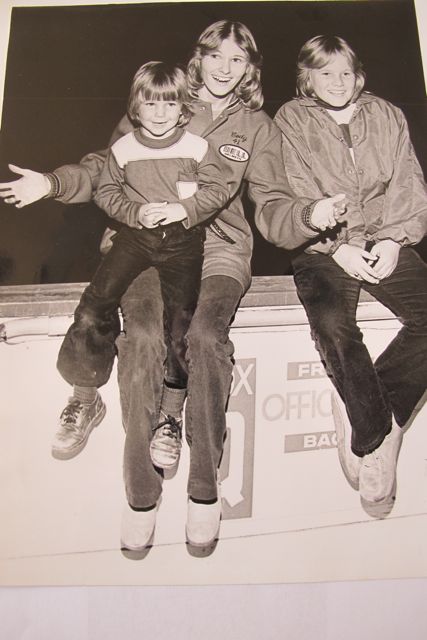 Like me you're getting a little long in the tooth. Is retirement in the future or do you plan to die behind the desk I mentioned. Bill gave me that classic Cody look as he debated the answer. "I do enjoy going out on my 30' sport fisher and getting away from the phone but come on. I love what I do. I love meeting people. I love Speedway."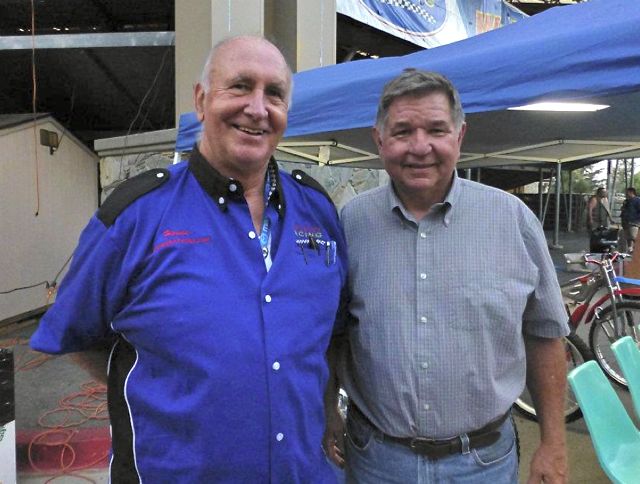 So drop in and say hello to a living legend: Cody Racing Products is located at 13821 West Street in Garden Grove, California
Howie Zechner
howie@razvideo.com (all photos provided by Bill Cody)
---
Billy Gray
Billy Gray has quadruple bypass surgery by Howie Zechner
I almost died the former "Father Knows Best" star told me as he relayed his life-threatening journey of these last two months.
An exercise and healthy eating fanatic who's only food vice was being a Haagen-Dazs ice cream the former speedway star was unaccustomed to being tied and fatigued but shrugged it off to being 76 years old. Still deep in his gut he knew something was not right.
Then the pain came. At first it was bearable and would soon go away. But each time it got more intense and lasted longer. On the 3rd of January ignoring the pain ended with a 911 call and a trip to the Santa Monica emergency room.
It was a heart attack and it was serious. Close to death the doctors immediately inserted a stent to get blood flowing. Only a stopgap measure Gray was moved to the UCLA Medical Center where doctors performed quadruple bypass surgery. The operation went well and 22 days later weak and frail he was discharged from the hospital.
Once home Billy did not get better. Down to 108 pounds he could not walk more than a few feet and was having a difficult time breathing. Three days later it was back into intensive care.
Fluid buildup around the lungs was the culprit and doctors drained almost a gallon of liquid from his chest cavity.
Now back home Billy tells me he is well on the way to recovering. Although still weak he is walking and almost able to breath properly.
When asked what he had to say about this experience the former #99 was blunt.
If it happened to me it can happen to you so don't be stupid like I was. If you have no energy see your doctor. If he says there is nothing wrong see another doctor. Your body will tell you when something's not right. All you have to do is listen.
Howie Zechner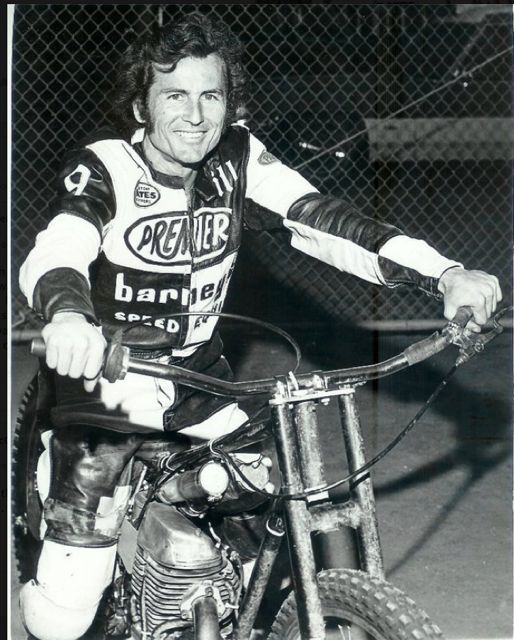 Photos courtesy of Billy Gray
---
Larry Huffman
Foot amputation appears to have been diverted after Larry Huffman underwent a complete rebuilding of his left foot last week. The surgery required two surgeons and took over 3 1/2 hours. He now has an "external fixator" affixed to his foot by four surgical steel pins in holes drilled thru the bone, which will remain attached for at least four weeks. Then, according to his surgeon, Larry will be able to walk again.
"It's been very difficult and painful for the past twenty months," Huffman told me. "Plus I've had to use a wheelchair and, right now, the doctor has forbidden me to drive. That will hopefully change in the next week or two. I'm sure my wife, KC, will happily give up the job of chauffeur" he joked.
Fortunately, Larry's medical problems have not caused any damage to his voice so "Supermouth" continues to voice commercials at his studio in Big Bear. Huffman is in the running to be the voice of Harbor Freight Tools on an upcoming video project.
Messages of support can be sent to production@larryhuffman.com
Howie Zechner howie@razvideo.com

Picture compliments of Larry Huffman
---
Announcer Larry Huffman's infectious disease specialist yesterday confirmed his MRSA staph infection has cleared up. With the staph under control Larry's surgeon will operate on a complete rebuilding of the foot next Tuesday January 14th.
Staph infections must be carefully watched because they are very susceptible to returning. "They are going to shoot me full of antibiotics prior to opening me up "Huffman" told me. "I'll stay in the hospital overnight and then KC will take me home the next day to recover."
Huffman almost died two years ago when a broken stint in his left leg blocked the main artery's blood flow. Bypass surgery was successful but doctors have been struggling to keep from amputating the leg.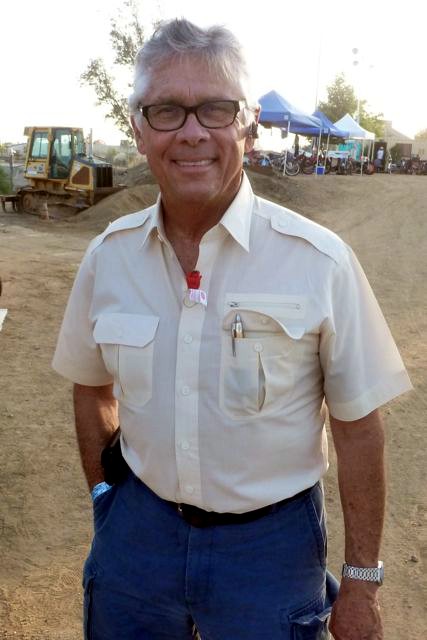 Good Luck Larry. We are all pulling for you
Howie Zechner