2014 American Team News
SWC 2014
Press Release 1 - Press Release 2
---
Monster Energy Speedway World Cup
Team USA competes in the Monster Energy Speedway World Cup at King's Lynn, England, on July 26, 2014.
The winner of the meeting goes straight through to the SWC Final at Bydgoszcz, Poland, on August 2.
2nd and 3rd go to the Race Off in Bydgoszcz on July 31.
THE TEAMS
RED – GREAT BRITAIN
1 Tai Woffinden (captain)
2 Danny King
3 Chris Harris
4 Simon Stead
Team Manager: Alun Rossiter
BLUE – AUSTRALIA
1 Darcy Ward
2 Jason Doyle
3 Troy Batchelor
4 Chris Holder (captain)
Team Manager: Mark Lemon
WHITE – UNITED STATES
1 Greg Hancock (captain)
2 Gino Manzares
3 Max Ruml
4 Ricky Wells
Team Manager: Billy Hamill
YELLOW – ITALY
1 Mattia Carpanese (captain)
2 Nicolas Vicentin
3 Michele Paco Castagna
4 Nicolas Covatti
Team Manager: Alessandro Dalla Valle
HEAT 1
Ricky Wells
Darcy Ward
Simon Stead
Nicolas Vicentin
HEAT 2
Jason Doyle
Chris Harris
Mattia Carpanese
Max Ruml
HEAT 3
Danny King
Greg Hancock
Chris Holder
Michele Paco Castagna
HEAT 4
Troy Batchelor
Tai Woffinden
Nicolas Covatti
Gino Manzares
HEAT 5
Greg Hancock
Nicolas Covatti
Jason Doyle
Simon Stead
HEAT 6
Chris Harris
Gino Manzares
Michele Paco Castagna
Darcy Ward
HEAT 7
Mattia Carpanese
Ricky Wells
Troy Batchelor
Danny King
HEAT 8
Max Ruml
Nicolas Vicentin
Tai Woffinden
Chris Holder
HEAT 9
Chris Holder
Simon Stead
Gino Manzares
Mattia Carpanese
HEAT 10
Nicolas Vicentin
Troy Batchelor
Greg Hancock
Chris Harris
HEAT 11
Darcy Ward
Max Ruml
Danny King
Nicolas Covatti
HEAT 12
Michele Paco Castagna
Jason Doyle
Ricky Wells
Tai Woffinden
HEAT 13
Nicolas Covatti
Chris Holder
Chris Harris
Ricky Wells
HEAT 14
Simon Stead
Michele Paco Castagna
Max Ruml
Troy Batchelor
HEAT 15
Gino Manzares
Danny King
Nicolas Vicentin
Jason Doyle
HEAT 16
Tai Woffinden
Mattia Carpanese
Darcy Ward
Greg Hancock
HEATS 17 - 20 are nominated Gate Positions
HEAT 17
Italy
America
Great Britain
Australia
HEAT 18
Australia
Italy
America
Great Britain
HEAT 19
Great Britain
Australia
Italy
America
HEAT 20
America
Great Britain
Australia
Italy
Thank you Steve Evans for the assistance.
Additional Information about the event at King's Lynn can be found here:
http://www.fim-live.com/en/sport/speedway-world-cup/events/sport-event-detail/item/event/fim-speedway-world-cup-event-1-4/
Supplementary Regulations can be found here:
http://www.fim-live.com/fileadmin/alfresco/Kings_Lynn_SR_s-GRI.pdf
http://www.fim-live.com/fileadmin/alfresco/2014_Kings_Lynn_SR_s_revised_08-07-2014.pdf
Steve Graham (July 16, 2014)

---
Team USA Press Release - World Cup Team Announced
www.speedwaygp.com/news/article/3492/monster-energy-swc-teams
USA Team Boss Billy Hamill has made a stunning team choice by giving 17 year old rookie Max Ruml a spot on the starting line up for the World Cup Semi Final at Kings Lynn on July 26th.

The move came after the news that Ryan Fisher would be ruled out of the competition and likely the rest of the 2014 season after discovering he needed surgery on a shoulder injury.

Hamill paid tribute to Fisher. "Ryan is devastated with the timing of this. He has been a pleasure to work with the past two seasons. His contributions, especially in 2013 in the Hungary Qualifier and the Race Off in Prague, where he also captained the team, have been a huge part in our story book resurgance. He will be on hand with the team during the competition and his contributions so far have helped make what we have so far become."

On the selection of teenager Ruml, "Max has been phenomenal on the US domestic scene this year, winning Main Events and being a clear 2nd place in the AMA National Championship Series. He rode exceptionally on the big Ventura track last month. He is fast, he listens and he learns. He was with us for the whole of last years SWC, practiced at Kings Lynn and impressed me with his pace. Of course throwing him into the World Cup itself is a whole different ball game, but he is up for the challenge and taking it all in very well. There is no pressure on him, like Gino Manzares last year, he is there to sweep up a few points where he can.. Max is going to be a long term member of this team and however it plays out, he will be better for the experience."

"It was not an easy decision - we looked at various options. Billy Janniro had logistical issues that were hard to sort out given the short time frame of the team change. Aaron Fox meantime is going to be our reserve rider at Kings Lynn. He has my admiration for coming to the UK this year knowing the first three months were just a learning experience, and his improvement from March is there for all to see. This year will be his first experience with the Speedway World Cup and we will use him at reserve for Kings Lynn to get him acclimated to this kind of competition. He will practice with his team mates and be on hand for the event, and in Poland. Assuming we make the race off, we will be looking at Max's performance and how Aaron does in practice and will choose a team accordingly. Aaron is part of the long term Team USA plans. I have every faith he is going to be an established league rider and team member for many years."

Ruml, when asked about his dream call up said "I am honored to be called up by Billy Hamill to represent the Stars and Stripes. I will do the very best I can and learn as much as possible during the tournament. It's a dream come true for me to be on this team."

Hamill still believes his team can qualify for the race off despite the loss of Fisher, but knows it won't be easy, "We've had a couple of epic battles with the Italians in the past and they have our respect. With Ryan healthy we felt we could have pushed and even beat GB, but our goal now is to get to Bydgoszcz. We are very optimistic in our approach and Ryan's injury was not good news, especially with such a small rider pool. That said, since 2012 we have always been the under dog, the cinderella story and we've turning negatives into positives, like winning without Greg in Hungary last year. That win made others step up and ultimately made us stronger. Putting a 17 year old rookie on our World Cup team is perhaps the next section of a story we plan to be adding many new chapters to over the next decade."

Ruml & Fox will be joined at Kings Lynn by British GP winner Greg Hancock, Ricky Wells and Gino Manzares.
Steve Evans dreamteamspeedway@sbcglobal.net (July 15, 2014)

---
Speedway World Cup Qualifying
Italy won todays very closely fought Speedway World Cup Qualifying meeting to book their place with Great Britain, Australia and USA for the Speedway World Cup semi final at Kings Lynn, England, on July 26th.
The Italians had a slow start but a double point Joker ride from Nico Covatti in heat 14 brought them to joint first place with Slovenia.
The early pace setters were Germany, led by New Zealand Grand Prix winner Martin Smolinki. However, Slovenia, led by GP star Mateij Zagar, who scored a perfect 21 points, took the leading reigns in the middle heats.
With 6 races to go just 2 points seperated all 4 teams. In the end Italy, with a more all round team performance, beat Germany by 3 points, Slovenia by 4 with Russia, a rider short and without their three star riders, in last.
Team USA need a top 3 finish on July 26th to advance to the final stages in Bydgoszcz, Poland on July 31 and August 2nd. Italy and USA had a very closely fought battle in Miskolc, Hungary in May of 2013 in the qualifying round, with USA prooving stronger in the final run in.
Scores linked here: http://www.espeedway.pl/live,135.html
Steve Evans dreamteamspeedway@sbcglobal.net (July 5, 2014)
---
Team USA announces 2014 World Cup Squad
Six months after USA Team Manager Billy Hamill laid out the challenge for any interested rider in the USA to try out for the 2014 World Cup Squad, the final choices have been made and submitted to the American Motorcyclist Association to forward to the FIM and event organizers.
Hamill and Team Coordinator Steve Evans have chosen nine riders plus a UK based back up reserve in their selection. It is no surprise that the five European based Americans, Greg Hancock, Ryan Fisher, Ricky Wells, Gino Manzares and Aaron Fox are the first names on the sheet.
Hamill said, "Our five Americans racing in the world's best speedway leagues are the obvious choice. Greg Hancock is very excited for the SWC and he is currently leading the World Championship. His influence on the rest of the squad and his own performances the last two years have been nothing short of incredible. Ryan Fisher is Mr. USA, and he gets so excited and steps it up when racing for his country. His performance in Prague last year was a memorable moment as his contribution helped lift us to 5th place. Ricky Wells is having his best year in England yet, making big improvements and he showed his ambition by contesting and making progress in the Grand Prix Qualifiers. Gino Manzares has impressed from the word go with Ipswich and contests the World Under 21 Finals. Aaron had the expected slow start due to lack of UK experience but his recent scores have showed that he has a good future and will be a long term team member."
The next four spots have gone to four domestically based Americans; Max Ruml, Tyson Burmeister, Billy Janniro and Austin Novratil. Hamill continued, "Max's phenomenal progress continues – he has been making and winning Main Events, came 2nd in the Ventura National Round on a big ¼ mile track and held pace with Janniro there. Both Burmeister and Janniro have league experience and the ambition to race and contribute to USA and will be called upon if needed. Austin has made great progress this year, made the final in Ventura and has a good support team around him. He, too, has ridden close to twenty meetings in Europe in the last four years."
The final spot is given to Kings Lynn National League rider Scott Campos, who has American parentage and given his UK base and experience, will provide emergency cover if logistics call for such.
Of the competition to get the spots on the squad Hamill concluded; "What seemed like a simple squad choice nine months ago became a very tough one given some stellar displays by several young and up and coming riders who did not make the list. Some have shown the form of their career and some will only get better. It's going to be an even bigger problem next year and this is a good problem to have! American Speedway is slowly becoming quite healthy with a much deeper talent pool, and I want to personally say thank you to everyone who put their name forward as a contender.
I feel we are a stronger squad than last year but equally respect our rival countries. It will be a great tournament, we are still very much the underdog, but that role seems to suit us."
USA competes in the semi finals of the Monster Energy Speedway World Cup at Kings Lynn, England on July 26th against Australia, Great Britain and the winner of a qualifying meeting this weekend in Italy. A top three place on the day will see them race in Poland on July 31st in the final stages and potentially the final on August 2nd. Four riders from the squad with be chosen as the team for each
event USA races in.
Steve Evans dreamteamspeedway@sbcglobal.net (June 29, 2014)
---
AMERICAN GLADIATOR BACKS TEAM USA, "THE REAL AMERICAN GLADIATORS"
Steve Luxton resides in Jupiter, Florida, and is known for his TV role in the hugely popular 'American Gladiators' TV show in the 1990s. 'Cobra', as he was nicknamed on the show, would wrestle, tackle and joust with contestants in front of a captivated TV audience of millions.
But Luxton, a former body building champion from Exeter, England, has another passion and that is Speedway Motorcycle Racing. Luxton's team in the UK was known as the Exeter Falcons, they had the fastest track in the UK and it was the home to 6 times World Champion Ivan Mauger for several seasons. The Falcon's sadly ceased racing at the end of the 2005 when the old County Ground Stadium, also used by the town's Rugby team, was closed down and demolished. Mauger came from his native New Zealand to ride the final lap at the much missed race track.
'Cobra' has become a huge part of the British and American Speedway scene in recent times – he has taken up riding the brakeless, 500cc bikes and last year competed in events at 'Champion Speedway' in Owego, New York, as well as riding some demonstration laps at Plymouth on a visit to England, the nearest current venue to his beloved Exeter Falcons. Part of his Florida home, which includes a custom designed traditional British pub, displays a huge memorabilia collection of speedway race wear, motorcycles and helmets. Visitors to the property in recent times have included current British League Champion; Poole Pirates team manager Neil Middledich, himself a top rider in England in his younger days.
Now Cobra is throwing himself behind another project, the grass roots and fan supported 'USA World Cup Speedway Team.' Team USA is currently riding the high of a best in twelve years 5th place finish in the 2013 World Cup in Prague, Czech Republic. After many barren years, the team breathed new life in 2012 under a new management committee, finishing 8th place and making the final stages of the tournament for the first time in 5 years. Last year the team shocked the world and finished 5th, ahead of the likes of Great Britain, Sweden and Russia, who have much deeper resources and rider pools. The sport is very much European based and the USA didn't even have enough overseas based professional riders to fill its team, so had to fly in three additional riders from its domestic racing circuit.
The team has been funded and supported since 2012 by passionate and enthusiastic fans, collectively known as the 'Stars and Stripes Club.' Fans donate at different levels and their support enables the USA to track the best team possible by covering its massive overhead. Luxton himself has stepped on board this year claiming, "I was privileged to be on the American Gladiators TV show, but these guys who put everything on the line are to me real gladiators. I endorse fully the grass roots effort of Team USA and can't wait for the next chapter of this great adventure, hence my support."
The USA Team Manager is former World Champion and four time World Cup winning rider Billy Hamill. Hamill says of the 'fan power' movement, "There are a lot of great individuals, a lot of people donate to this cause and I think that's the beauty of the whole thing. We could not track the best team we can without them, so when we win they play a big part, it's a grass roots effort."
The club offers various donation levels; each gives the fans a variety of gifts and souvenirs. Team Coordinator Steve Evans can be contacted by anyone wishing to join the growing army of fans +13103099418 or dremteamspeedway@sbcglobal.net.
USA competes in the 2014 Monster Energy Speedway World Cup in Great Britain and Poland between 26th July and 2nd August."
Steve Evans dreamteamspeedway@sbcglobal.net (April 7, 2014)
---
Stars and Stripes Club
Team USA is launching its fan fund raising drive with the 2014 'Stars and Stripes Club.'
The idea was formed in 2012 when USA, under the guidance of a newly formed AMA Committee, launched its most serious bid to be competitive in the Speedway World Cup in over 5 years. Excited fans rallied in large numbers and made generous donations which helped the team fund its successful qualifying round win in Slovenia, and the return to the big stage in Bydgoszcz, Poland for the Semi Finals and a final finishing position of 8th.
Last year the Club again provided vital funding with even more fans stepping up to the plate, 36 members in total. The funding this time assisted the USA to track the best team it could and qualify in Hungary without Greg Hancock, and then to go on through the semi finals to an astonishing 5th placed finish in Prague.
Team Manager Billy Hamill, in a recent interview, spoke very humbly about the fan backing of his team, "There are a lot of great individuals, a lot of people donate to this cause and I think that's the beauty of the whole thing. We could not track the best team we can without them, so when we win they play a big part. It's a grass roots effort right here from California and beyond. We not only made it out of Hungary and King's Lynn last year but also made it to Prague. We have big aspirations but we are under no illusions. It's going to be hard but we are going to prepare these youngsters for the big stage and that's what we are here to do."
The 2014 'Team USA Stars and Stripes Club' has various levels of membership donations with a variety of goodies for those who donate. The USA will compete in the Speedway World Cup in England and Poland between July 26 and August 2nd.
Those who wish to get a club membership should contact Team Coordinator Steve Evans – dreamteamspeedway@sbcglobal.net / +13103099418.
Prospective corporate partners are also encouraged to get in touch. Great exposure available for any business that wants to join us in the greatest push in American Speedway in over a decade!
STARS AND STRIPES CLUB 2014 – WORLD #5, BUILDING THE LONG TERM FUTURE OF TEAM USA
2014 MEMBER LEVELS
DIAMOND -$1,000 – Personally Engraved Large Plaque – Bib with riders name of choice, Race Programs, Large Framed Team Photo
PLATINUM - $600 – Personally Engraved Plaque, 2014 Team Race Bib, Race Programs, Medium Framed Team Photo
GOLD - $250 – Personally Engraved Plaque, Race Programs, Framed Team Photo
SILVER - $100 - Race Programs, Team photo, Certificate of Thanks
BRONZE - $50 – Team Photo or Race Program, Certificate of Thanks
Steve Evans dreamteamspeedway@sbcglobal.net (March 16, 2014)
---
USA Speedway World Cup Update
The management of Team USA wanted to re-issue the last press release from 2 weeks ago to make sure that all riders have seen it. (Press Release 2 above.) In a nutshell, we will name a 9 rider squad for the SWC. Assuming our 5 riders in Europe stay fit and healthy, there are 4 more spots up for grabs. There is a lot of prestige to making the final 9 and we want to make sure everyone is aware of this and has the chance to compete to be in. No one is excluded from being a part of this and any rider, whether SoCal, NorCal or East Coast is welcome to be a contender.
Billy lists the criteria for being on the squad in the release.
Please email me if you want to be considered.
Thanks
Steve Evans dreamteamspeedway@sbcglobal.net (March 11, 2014)
---
Team USA Launches 2014 Speedway World Cup Training Camp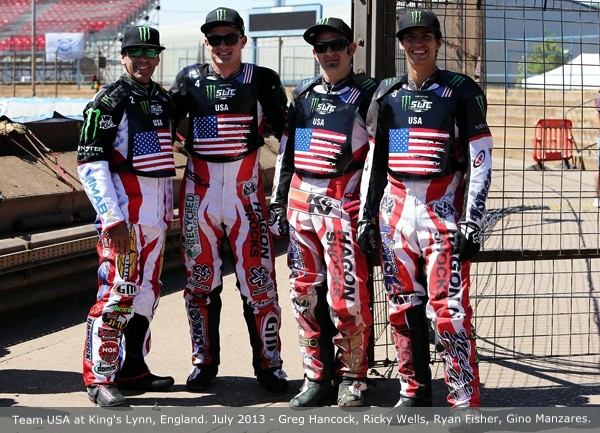 PERRIS, Calif. (February 20, 2014) – Team USA launched its 2014 Speedway World Cup preparations with a series of private training sessions at Perris Raceway in late January and February. Ten invited riders took part with team manager Billy Hamill and captain Greg Hancock spending time coaching their fellow squad members.
The World Cup is speedway's own version of the Motocross of Nations. For 2014 the top nine countries in the world compete in a seven-day tournament, July 26 through August 2, which includes events in England, Sweden and Poland.
Team USA finished an astonishing fifth place in last year's Speedway World Cup competition. Despite a small American rider pool, Team USA finished ahead of the traditionally dominant teams from Great Britain, Sweden and Russia to earn its best final placing in a decade. This means for the first time since 2007, Team USA goes straight to the final stages of this year's tournament and does not need to progress through a qualifying round.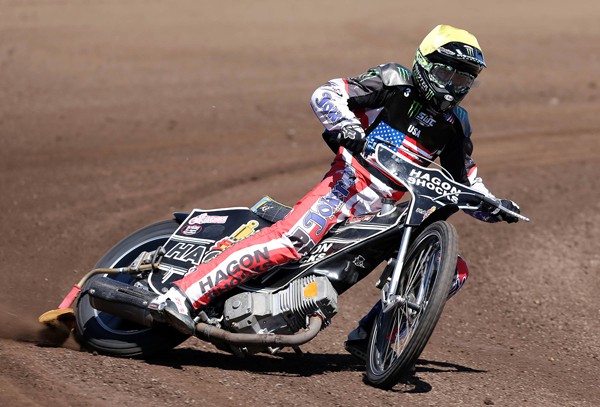 USA World Cup rider Gino Manzares on track, Kings Lynn, England
Joining two-time world champion and Speedway Grand Prix series rider Hancock at the Perris Raceway training camp were fellow 2013 World Cup team members Ricky Wells and Gino Manzares. Also in attendance were 25 year-old Aaron Fox, former motocross rider Tyson Burmeister, and up-and-coming teenagers Max Ruml, Rocco Scopellite, Dillon Ruml and Broc Nicol. Hamill himself also put in laps while watching over the squad with team director Steve Evans.
Manzares and Fox have both landed contracts to race for British Premier League teams in the 2014 season with the Ipswich Witches and Edinburgh Monarchs teams, respectively. Along with Hancock, Wells and the British-based Ryan Fisher, Team USA has its largest rider pool racing in Europe in nearly a decade, though it is still a small number compared to its main rivals. In speedway terms, the European team competitions are very much the major leagues.
Team manager Hamill explained, "We have 10 riders out here and it was very promising for our first training sessions. We are perhaps the only country preparing like this so early and we have big plans and aspirations. We are getting Gino and Aaron ready for their first seasons in Europe and this is a pretty exciting time for American speedway."

Team Manager Billy Hamill watches on as Team USA practices on track, Kings Lynn July 2013.
Hancock, entering a ground breaking 26th -straight season in Europe commented, "Last year was much more successful than we anticipated. It shows we are a nation that can still be a world leader. When we put the stars and stripes on our chest it's everything – we are a proud country and we want to show people."
Team USA will name its nine-rider World Cup roster in June, from the American riders based in Europe and those racing on the domestic American scene desperate to get a spot on the roster.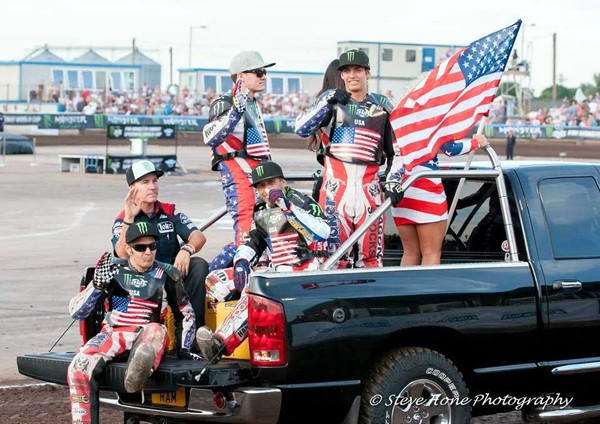 Team USA on parade at King's Lynn, England. July 2013 - Billy Hamill (Team Manager), Ryan Fisher, Ricky Wells, Greg Hancock, Gino Manzares
---
2014 Monster Energy SWC Schedule
Event 1 - July 26th
Norfolk Arena - King's Lynn, Great Britain
Event 2 - July 29th
Vastervik Motorsports Club - Vastervik, Sweden
Race Off - July 31st
Polonia Stadium - Bydgoszcz, Poland
Final - August 2nd
Polonia Stadium - Bydgoszcz, Poland
Team USA Speedway World Cup <pr@nextlevelsportsinc.com>
---
2014 TEAM USA WORLD CUP DRAW / FIM SCHEDULE
The 2014 FIM schedule and Monster Energy World Cup draw was announced in Geneva this weekend at the FIM Congress. USA / AMA was represented at the Congress with committee members Dave Joiner and Richard Child in attendance. Dates and allocations for our entries were confirmed in accordance with a revamped strategy and blueprint from the AMA Committee.
The main focus will once more be the Monster Energy World Cup, where USA, in the words of the world's speedway media 'Shocked the World' with 5th place in 2013.
This year, for the first time in 7 years, USA goes straight to semi finals and bypasses the qualifiers and as this year, will go to King's Lynn on Saturday July 26th. Their opponents will be 3rd ranked Australia, 7th ranked Great Britain and the winner of an earlier qualifier (In Italy) that will feature Russia, Slovenia, Italy and Hungary. The second semi final is Tuesday July 29th in Vastervik, Sweden. This features #2 ranked Denmark, 4th ranked Czech Republic, 6th ranked Latvia and the 8th ranked hosts. The final will be on Saturday August 2nd in Bydgoszcz, Poland, the world champions and hosts being seeded and joined by the semi final winners. The second and third placed semi finalists go to the race off, also in Bydgoszcz, two days earlier on July 31st for the last place in the final.
For other competitions, the AMA Committee has changed strategy. For several years, the plan has been to ask for multiple spots in several competitions. As a consequence, resources, funding and riders have been spread very thin, often with allocations not being met and with no real strategy and little success. For 2014, the new game plan is to enter less spots but to concentrate on having riders who can make an impression and do all that can be done, on and off the track, to get transferred through initial rounds and into the final stages of each competition. Essentially, our very successful World Cup strategy is being exported to other competitions. One spot has been asked for and allocated in the Grand Prix Qualifiers , Under 21 World Championship and 250cc Youth Gold Cup. The 'less is more' approach is expected to create much competition between riders to be granted the privileged and coveted spots.
In accordance with this strategy, USA will not enter the Under 21 World Cup in 2014 due to our rider being too small at present, but with the expected graduation of many junior riders in the coming few years, the AMA Committee is planning to re enter in the future at the appropriate time.
The AMA Committee has retained all 6 members for the 2014 season – Billy Hamill, Dave Joiner, Richard Child, Steve Evans, Ken Saillant and Bill Cumbow. The AMA National Series will continue in 2014 and all promoters, whether they run weekly AMA programs or not, are encouraged to join in as equal partners, in what was a hugely successful 2013 campaign.
FIM Dates 2014
World Cup – Semi Final 1, Kings Lynn, 26 July – Australia V USA V Great Britain V Qualifier
- Semi Final 2, Vastervik, 29 July – Denmark V Czech V Latvia V Sweden
- Race Off / Final, Bydgoszcz, 31 July / 2 August
Grand Prix Qualifier – USA has 1 spot in Qualifier Abensberg, Germany June 9 – Top 10 Qualify
- Semi Finals - June 21
- Grand Prix Challenge – Lonigo, Italy, September 20
Under 21 World Championship – USA has 1 spot in Qualifier at Leicester, England, May 10th
250 Youth Gold Cup – USA has 1 spot, Aug 6, Badia Calavena, Italy.
Steve Evans dreamteamspeedway@sbcglobal.net (November 23, 2013)