2013 East Coast Speedway News
Champion Speedway Division 1 Points
1. Tuff McBride 380
2. Jesse Diem 360
3. Casey Donholt 336
4. Jeremy Parsons 292
5. Adam Mittl 216
6. David Meldrum 188
7. Dave Clark 178
8. Jerry Harman 172
9. Gene Bonsignore 154
10. Mikey Buman 112
11. Dave Oakden 86
Jason Bonsignore eastcoastspeedway@hotmail.com (September 11, 2013)
Need Heat Sponsors for the US Open!
We are looking for heat sponsors for the US Open Aug 31 and Sept 1
Heats are just $25.00 and Mains are $100.00. We GREATLY APPRECIATE any help!!
Checks can be made to Champion Speedway and sent to 2152 Edgemere Drive, Rochester, NY 14612. THANKS VERY MUCH!!!
Jason Bonsignore eastcoastspeedway@hotmail.com (August 21, 2013)
East US National Qualifier Tomorrow night!
We have a great turnout of riders, over 30, tomorrow night for the East Coast US National Championship Qualifier!!! For the first time ever at Champion Speedway, the top two go directly to the Monster Energy US National Championship in Costa Mesa, CA!!! Gates open at 5:15, amateur races start at 7 and Main show approx 7:45! Adult tickets are just $12.00 and kids 6-12 just 4.00 for this event. Kids 5 and under FREE and Parking FREE! The rider turnout, crowds and racing have been awesome this year, lets keep it going!!!
US National Championship Qualifier lineup for Champion Speedway tomorrow night, July 20... welcome back to speedway to two of the nicest guys in the sport..Keith Hawkins and Josh Carr!!!
David Meldrum Tuff Mcbride Gene Bonsignore Jesse Diem Dave Clark, Jerry Harman Brian Hollenbeck Raymond Barondick Russ J Cornell Andrew Crawford, David Oakden, Shawn Engel, Ron Walker Corey Brookes Josh Carr Keith Hawkins Alex Heath Brian Bailey Don Wheeland Danny Oakden Brandon Sturzenegger Spencer Portararo A. Clark, M.Clark, Jim Sanchez, Pat Farrell, Roger Roberts, Jeff Spencer, Brandon Bruzek, Dalton Oakden, Johnny Schelp
Jason Bonsignore eastcoastspeedway@hotmail.com (July 19, 2013)
TV and Movie Star to race at Champion Speedway June 29th
FOR IMMEDIATE RELEASE: TV and Movie Star to race at Champion Speedway June 29th!!
Champion Speedway is very excited to announce that critically acclaimed Television and Movie actor, Steve Luxton, will be appearing, AND RACING, at the track this coming Saturday evening for the New York State Championship!!
Luxton has never raced Speedway before but has been training at a highly secretive location in Florida and is said to have former Pre-War Speedway Champion, Jeff Hull, in his camp!!! Leaking reports are that Luxton has the agility of a young Bruce Penhall and the racing intelligence of Ivan Mauger.
Luxton will be available, along with the Champion Speedway Umbrella Girls, for autographs prior to the races.
The show begins at 7 and seating will most certainly be limited for this occasion so get there early!
Jason Bonsignore eastcoastspeedway@hotmail.com (June 24, 2013)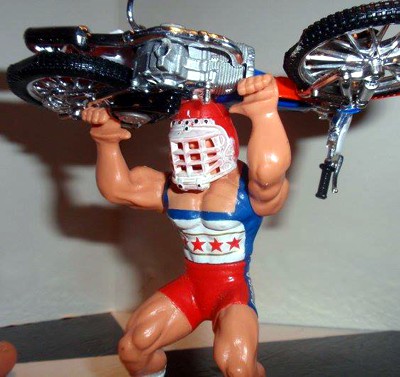 Speedway Sign-up / Licenses May 26 East Coast
Sign-ups are now open for the May 26th East Coast Patrick Ahlund Spring Classic at Champion Speedway.
ALL RIDERS AND PERSONS WISHING TO ENTER THE PIT AREA MUST HAVE A 2013 Rider or Mechanic License.
Discounted licenses will be available at the track this weekend, Saturday after 1pm and most all day on Sunday. More info is on the Champion Facebook page or my personal Facebook page along with the forms. If you need them emailed to you please let me know. If you cannot make it to the track you can mail everything in and as long as it gets to me before Friday March 24th you will receive the discount.
If you wish to race May 26th in the speedway divisions YOU MUST notify us before.
Thanks,
Jason Bonsignore eastcoastspeedway@hotmail.com (May 15, 2013)
Champion Speedway Bowling Tournament May 11
We are trying to organize a bowling tournament for Saturday May 11 at 6:30 p.m. at the Owego Bowl. We needs teams of 4 but if you have 5 or 6 that is fine. You get 2 games guaranteed plus shoe rental for 25 bucks. Please let me know soon so we can make sure we have enough support for this. Last year's event was a blast!
Jason eastcoastspeedway@hotmail.com (May 3, 2013)
US National Championship Speedway Qualifier
US National Championship Speedway Qualifier at Champion Speedway July 20. Top 2 go directly to the US National Championship at Costa Mesa! We have had the Points Champ go and take part before in the National and some Eastern riders go in recent years by invitation, also had a qualifier before for the AMA Nationals but never before has the East Coast had a Qualifier for two direct positions in the National Championship! Should be a great night of racing at Champion!
East Coast Speedway Promotions eastcoastspeedway@hotmail.com (March 19, 2013)
Speedway in Florida
Things are looking up, down in Florida. The Mesa Park Speedway track is starting to get going. More information as we get it...
RC Jones - rcjones@speedwaybikes.com (March 3, 2013)
State of the Art - East Coast Speedway Venue
This is one of the big projects I have been working on. It will be the most incredible Speedway facility in the US and at this point will have an air fence! Needless to say we are really looking forward to 2014! More in the works! Central New York Raceway Park.
Of course Glenn is very hot on his idea for the synthetic dirt for the whole facility but it is different then what has already been out there in the past. He said they will do what ever works for us for speedway at the end of the day but wants us to try it first and he had several different samples at our last meeting and I have to say I was skeptical at first but after seeing the samples I am kind of excited to try it. Of course for speedway the synthetic would just be our base and then we would have real dirt mixed in for the loose cushion. The ironic thing is that property has some of the nicest clay all over it naturally any ways. My Dad always said he loved that surface at Empire in the old days. It had a bit of sand in it also which is planned to be mixed in with the synthetic.
Jason East Coast Speedway Promotions eastcoastspeedway@hotmail.com (January 1, 2013)