Industry Racing
The Grand Industry Hills Expo Center
City of Industry, California
Speedway and Sidecars Night
Industry Racing, CA, USA - July 12
Thanks to Ryan Evans and Tim Kennedy
Aaron Fox didn't let the Independence Day break cool him off as he won the Industry Racing Scratch Main Event for the second consecutive race meeting.
Fox put gate one to good use by jumping to the front at the start. He pushed Max Ruml wide and that opened the door for Austin Novratil to cut back in turn two and assume second place. Fox led after lap one while the battle for second intensified. The leader opened up some breathing room at the end of the second lap but second wasn't as secure. Max Ruml went under Novratil as they entered turn one but lifted in turn two. That allowed Novratil to slip past him on the back straight and regain second. The two former Under 21 National Champions fought tooth and nail on the final lap but their positions remained the same. Fox was a comfortable winner, Novratil finished second, Max Ruml was third, and Luke Becker finished fourth.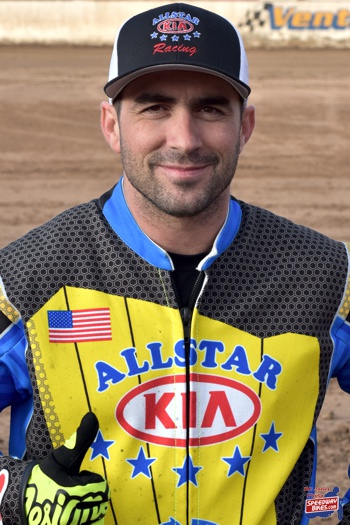 The evening opened with the racers struggling with the track. "Spiderman" Mike Bloom won the first event by merely being the only racer to remain upright the entire four laps. Novratil won the second heat after passing Shawn "Mad Dog" McConnell on the second lap. The third event was restarted twice with the second red flag coming out when Rick Richards hit the turn four fence while trying to avoid a fallen Brad Sauer. Becker won the heat with Fox getting second and Richards finishing third before deciding to withdraw from the remainder of the meeting.
Novratil began round two with a win over Gage Geist. Max Ruml held off McConnell for his opening victory. The second round concluded with Becker defeating Bobby "Boogaloo" Schwartz for his second win.
Fox started the third round by keeping Max Ruml at bay. Novratil remained perfect with a win over Dillon Ruml. Geist and Becker had a great side-by-side battle with Geist getting a hard-earned victory.
The final round commenced with Max Ruml defeating Geist for his second victory. Fox made it two wins in a row by beating McConnell in the final heat.
Fox handed Novratil his first defeat of the evening in the first semi but both moved on to the main event. Max Ruml and Becker finished one-two in the second semi to complete the main event field.
McConnell and Dillon Ruml had a great inside-outside battle in the Scratch Consolation. Dillon Ruml was able to find enough traction in the cushion to get around the veteran for the lead on the second lap. The former Junior National Champion led the rest of the way. McConnell settled for second, Geist was third, and Samuel Ramirez finished fourth.
Rudy Laurer led the first three laps of the Second Division Main Event and appeared to be on his way to victory. However, he drifted wide in turn two and slid off. Chet Kohler was able to squeak by on the inside but Michael Wells, in his debut on a 500, made a great laydown to avoid disaster. Since the field had taken the white flag the race was awarded to Kohler with Wells getting second, Ron Davis credited with third, and Laurer taking fourth.
Mike Miller passed Kevin Fife and went on to victory in the Third Division Main Event. Brent Smith finished third and George Yates was fourth.
Junior 250 National Champion Sebastian "Big Daddy" Palmese won both his heats and completed his perfect evening with a win in the Main Event. Jake Isaac finished second, Sterling Martin was third, Sara Cords finished fourth, Alex Martin came home fifth, and Aidan McNutt was sixth.
In just his second event of the season Travis Horn led all five laps en route to victory in the Mini 150 First Division Main Event. Luke Whitcomb crossed the line second but was relegated to fourth due to his headpipe falling off. Therefore, Slater Lightcap was awarded second and Colton Nelson with third.
Gordon Teuber III led the first lap on the Mini 150 Second Division Main Event for a lap but had Levi Leutz clamped on his rear tire. The two frontrunners tangled in turn two and they slowed and drifted wide. Jose Navarrete pounced on the opportunity and charged into the lead. Navarette never looked back from there and took home the victory. Leutz was second, Teuber finished third, Owen Williams was fourth, and Andrew Russell finished fifth.
Conner Salazar led the Pee Wee Main Event for three laps before Ken Matsudaira pushed his way past him and raced away with the victory. Dakota Black finished third, Strydrr Uebersetzig was fourth, Gavin Geist finished fifth, and Penny Hall was credited with sixth.
The Sidecar Main Event was filled with drama before the tapes ever went up. Robert Curry and Laurie Curry touched the tapes and were excluded. Robert Curry was unhappy with the decision and dumped the clutch raced across the infield while throwing dirt everywhere. He did the same thing as he entered the pits as well. His actions caused him to be suspended indefinitely from Industry Racing. The first time the tapes went up the race was halted prematurely with Dillon Osborne and Ashley Gibbons excluded from the restart. The two remaining rigs were mounted by JJR Teammates Joe Jones and Tom Summers and Bryan Motis and Johnny Bach. Jones and Summers were victorious after a spirited battle with Motis and Bach.
The next event at Industry Racing is Laidlaw's Harley Davidson Night. It will also be Bruce Flanders Ugly Hawaiian Shirt Night as the track honors the iconic motor sports announcer who has been the track's primary announcer its entire existence.
RESULTS
Sidecar Last Chance
64 – Dillon Osborne/Ashley Gibbons
31 – Robert Curry/Laurie Curry

Sidecar Main Event (restarted)
1 - Joe Jones/Tom Summers
4 - Bryan Motis/Johnny Bach
64 - Dillon Osborne/Ashley Gibbons (excluded)
13 - Kevin Holman/Blake Kroncite (tape exclusion)
Pee Wee Main Event (restarted)
74 – Ken Matsudaira
5 – Conner Salazar
503 – Dakota Black
1000- Strydrr Uebersetzig
6 – Gavin Geist
313 – Penny Hall (fell)
Mini 150 Second Division Main Event
48 - Jose Navarrete 20
9 - Levi Leutz 10
11 - Gordon Teuber III 0
04 - Owen Williams 0
96 – Andrew Russell 10
Mini 150 First Division Main Event
25 – Travis Horn 0
2 - Slater Lightcap 60
45n – Colton Nelson 0
27 - Luke Whitcomb 20 (excluded)
Junior 250 Main Event
1 - Sebastian Palmese
16 - Jake Isaac
31n – Sterling Martin
14 - Sara Cords
30n – Alex Martin
28n – Aidan McNutt
Third Division Main Event (restarted)
323 - Mike Miller
311 – Kevin Fife
103 – Brent Smith
136 – George Yates
Second Division Main Event (awarded)
202 – Chet Kohler
214 – Michael Wells
163 – Ron Davis
182 – Rudy Laurer (fell, excluded)
First Division Heat Scoring 1 2 3 T
3 – Dillon Ruml 2 F 2 4
5 – Max Ruml 3 2 3 8
6 – Shawn McConnell 1 2 2 5
7 – Austin Novratil 3 3 3 9
10 – Gage Geist 2 3 2 7
11 – Bobby Schwartz E 2 1 3
21 – Brad Sauer Fx R 1 1
22 – Mike Bloom 3 0 1 4
22n – Luke Becker 3 3 2 8
46 – Aaron Fox 2 3 3 8
48 – Tyson Talkington F T 1 1
139 – Shaun Harmatiuk 1 1 0 2
199 – Samuel Ramirez 2 1 1 4
345 – Rick Richards 1 - - 1
Heat Results
1: Bloom, D. Ruml (fell, remounted), Harmatiuk (fell, remounted), Talkington (fell)
2: Novratil, Ramirez, McConnell, Schwartz (engine failure)
3: (restarted twice) Becker, Fox, Richards, Sauer (fell, excluded)
13: Novratil, Geist, Talkington (tape exclusion)
14: M. Ruml, McConnell, Harmatiuk, Sauer (retired)
15: Becker, Schwartz, Ramirez, D. Ruml (fell)
25: Fox, M. Ruml, Talkington, Bloom
26: Novratil, D. Ruml, Sauer
27: (restarted) Geist, Becker, Schwartz, Harmatiuk
31: M. Ruml, Geist, Bloom
32: Fox, McConnell, Ramirez (fell, remounted)
Semi #1: Fox, Novratil, D. Ruml, McConnell
Semi #2: M. Ruml, Becker, Geist, Ramirez
Scratch Consolation
3 – Dillon Ruml
6 – Shawn McConnell
10 – Gage Geist
199 - Samuel Ramirez
Scratch Main Event
46 - Aaron Fox
7 - Austin Novratil
5 - Max Ruml
22n - Luke Becker
---
AARON FOX WINS SECOND INDUSTRY SPEEDWAY FEATURE – By Tim Kennedy
Industry, CA., Jul. 12 – Aaron Fox enjoyed winning the last AMA Speedway bike main event at Industry Speedway so much he did it again Wednesday. The "Menifee Meteor" scored his second consecutive 500cc first division scratch feature victory on his JRM chassis/GM engine No. 46. The track was dark last Wednesday for July 4 celebrations. Fox, 29, started from pole position and led all four laps as he did here on June 28. Some 867 spectators watched his winning ride in the Grand Arena of the Industry Hills Expo Center.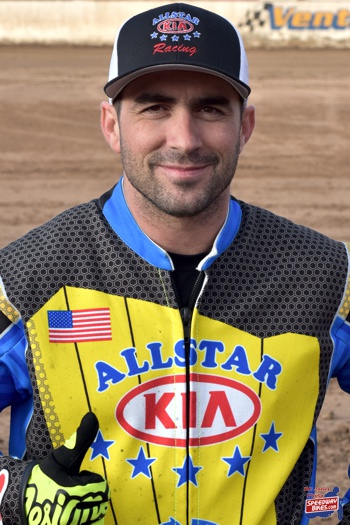 When the starting tapes lifted, a wild scramble ensued in the first two turns among the four riders. With three riders side-by-side, Fox emerged from turn two with a slight lead. Outside lane starter Austin Novratil, lane two starter Max Ruml, and lane three starter Luke Becker pursued closely. Positions remained unchanged to the checkered flag.
Fox extended his lead to six lengths by the conclusion. Dueling Novratil, on the inside, and Ruml riding fast on the outside, battled fiercely for second place. Ruml's power-slides in the corners captivated spectators. Novratil earned second by half a length over Ruml. P. 4 Becker trailed Ruml by a length.
Novratil was the only D-1 rider who scored a perfect nine points by winning all three of his heat races. Three riders—Fox, M. Ruml and Becker—scored eight points with two victories and a second place ride. It took four points to make one of two semi-final races from which the top two finishers in each race advanced to the feature (event 44).
Fox led every lap over Novratil in the first semi. Dillon Ruml and Shawn McConnell followed. M. Ruml led all four laps in the second semi over Becker. The key battle was for second place between Becker and rapidly improving Gage Geist. Gage passed Luke and was second after two laps. Then Luke forced his way back to second on lap 3 and kept it for the final two laps, earning the final ticket to the main. Samuel Ramirez placed fourth.
The scratch D-1 consolation race (event 43) was a flag-to-flag winning run for lane three starter/high-rider D. Ruml. Inside-running McConnell was second, with Geist and Ramirez following closely. Ramirez scored four points in heat races as did Mike Bloom, but Ramirez earned the final semi-main berth via tie-breaker rules.
SIDECARS: Five 1,000cc sidecar teams this week raced two rounds of heats and sent the two teams highest in points directly to the main. They were: Joe Jones/Tom Summers and Bryan Motis/Johnny Bach. Both teams won a heat and placed second in the other. The other three teams raced in a "last chance qualifier" (LCQ) race that transferred the first two finishing teams to the feature.
Sidecar teams in the LCQ were: Dillon Osborne/Ashley Gibbons in the No. 64 sidecar, ex-husband and wife team—driver Robert Curry and Laurie Curry in the No. 31, and Adam Duckett/Matt Fishman as the No. 33 swinger. The 64 led all four laps, with the Curry team a close runner-up. The No. 33 team spun out to the infield and was excluded from the event.
SUPPORT CLASSES:
The 500cc D-2 main went to Chet Kohler, who led only lap 4. Pole starter Rudy Laurer led the first three laps. He fell leaving the second turn on the final lap and did not finish. First-time 500cc rider Michael Wells was the sensation of the evening. The experienced 250cc Junior Division veteran parked his 250cc bike and raced a 500cc Jawa for the first time at Industry. He led every lap in both of his heat races and won comfortably over D-2 veterans.
Wells, who turned 16 in February, was running third in the D-2 feature when June 7 winner Laurer fell in front of him. Wells laid down his Jawa to avoid Laurer. Kohler and P. 4 Ron Davis finished lap 4 in that order. Scoring reverted to the lap 3 order with Kohler the winner, Wells second, Davis third and downed Laurer fourth.
The 500cc D-3 main also had a last lap pass for the victory. Kevin Fife, the June 21 winner, led the first three circuits. Pole starter Mike Miller made an inside pass on the backstretch on the final lap and beat Fife to the finish line. It was his second triumph this season. Double heat race winner Brent Smith finished third and George Yates fourth.
JUNIORS:
The 250cc feature went to Juniors reigning champion Sebastian "Big Daddy" Palmese, 13. He also led every lap in his two heat races. Jake Isaac, 14, finished second on his No. 16. Sterling Martin, Sara Cords, twin brother Alex Martin, from Salinas, and visiting Newcastle resident Aidan McNutt followed.
The 5-lap handicapped start for the mini 150cc D-1 main went to gate starter Travis Horn. 9, from La Verne. Slater Lightcap, from the 60-yard line, placed second. Nor Cal rider Colton Nelson started at the starting gate and finished third. Luke Whitcomb, from the 20-yard line, crossed the finish line second, but he was moved back to last because his No. 27 lost the muffler during the race.
The 5-lap handicapped mini 150cc D-2 main for newer riders in the division had two leaders. Gordon Teuber III started at the gate and led lap 1 before dropping to P. 3. Jose Navarrete, from the 20-yard line, led lap 2 to the finish. Levi Leutz, from the 10-yard line, was the runner-up. Owen Williams and Andrew Russell placed fourth and fifth.
PEE-WEES:
Fan favorites, the pee-wees from ages 4 through 8, raced in the first of eight main events Wednesday. Six riders took part and another last lap pass had Ken Matsudaira, 6, pass race-long leader Conner Salazar on the final lap. P 3-6 were Dakota Black, 5, Strydrr Uebersetzig, Gavin Geist and Penny Hall, 4. Hall, in only her third pee-wee race, fell on lap 2 in the second corner and was excluded from the restart. She walked to the pits with her Yamaha 50 accompanied by applause from spectators.
PIT NOTES:
There were 14 500cc D-1 riders this week at Industry. During the first round of heat races, the track was slick. In event three Brad Sauer, from Bakersfield, fell in the first corner. He rejoined the full restart. On lap 1 in turn four, Brad was third when his bike slid to the ground again. P. 4 Rick Richards (on No. 345) hit Sauer's bike and catapulted over it into the plywood crash-wall on the front straight. The wall absorbed the hard hit and bent back, depositing Richards and his bike on the track. Both riders rose quickly uninjured. However, the No. 345 was badly damaged and done for the night.
Rider count in other divisions were: 500cc D-2—8 riders; 500cc D-3—9 riders; 250cc Juniors—5 riders; 150cc—10 riders total, pee-wees—6 riders, and sidecars—5 teams. The all-female sidecar team of two Heathers was present but not racing because swinger Heather Rowe was not feeling 100%. ... 250Cc Junior Sara Cords, 17, and pee-wee Dakota Black, 5, look very much alike and could be mistaken for sisters.
Two of four California 500cc riders who took part in the Monster Energy 2017 FIM Speedway World Team Cup in Europe through last weekend were back home. Dillon Ruml and Luke Becker raced at Industry. Broc Nicol and Gino Manzares are expected back home soon. The fifth Team USA rider--Ricky Wells--remained in Great Britain to race there as usual. With nine nations competing, Team USA finished seventh in points.
The top four nations in the 20-heat finals format Friday, July 7 at Leszno, Poland (with their final point totals in parenthesis) were: champion Poland (50-points), Sweden (42), Russia (18), and Great Britain (15). The exciting 20th heat was shown Wednesday during a break in racing via You Tube on the Grand Arena large color screen above turn three. All agreed the racing trip was valuable experience for our young riders competing against the best riders in the world on unfamiliar larger tracks and on unfamiliar bikes.
First-time 2017 spectators at Industry Speedway this week were racing photographer Albert Wong and radio show host Bill Wood. Both are regulars at Irwindale Speedway on Saturday nights. This week had 717 fans enter through the front gate and 150 or so through the pit gate.
Michael Wells, 16, made a most impressive debut on a 500cc Jawa. Because of his 250cc Junior division experience, he skipped the 500cc D-3 500cc entry level and went directly to the D-2 level. He showed that was a wise decision because he won both of his heat races and was competitive in the D-2 main. Michael told me he bought his Jawa from Austin Novratil some time ago. In fact, it was an un-raced Jawa and Novratil forgot he had sold it to the Wells family. Michael is using the same No. 214 as a 500cc rider that he used as a Junior.
The 250cc Junior Division Martin twins, Alex and Sterling (Nos. 30 and 31), made their 2017 summer debuts at Industry July 12. They raced earlier at Fast Fridays Speedway in Auburn. The twins and their mom were on vacation in Ireland. They visited Dublin, Belfast, Galway and made the north, south, east and west of Ireland ("the cross") tour. They traveled around Ireland by train and enjoyed the trip. Dad Steve stayed home in Salinas to take care of their animals and business.
D-2 500cc rider Ron Davis had a good night at Industry July 12. He finished third and first (led laps 3-4) in his two heats aboard his No. 163 Jawa and placed third in the D-2 feature. Ron's experience as a car racer at Irwindale Speedway July 1 did not go as well. The 55-year old Norwalk resident bought a 1990 Honda Accord for $300 and put No. 12 on it for a 20-lap Figure 8 race. Fellow D-2 500cc rider Pam Bennett (No. 351 Jawa) was at Irwindale with him. Ron and grandmother of six Pam, 56, are now dating.
Ron started ninth in a field of 21 4-cylinder enduro F-8 cars. The top ten scoring pylon showed he was eighth on lap 4. Beset by an overheating problem, Ron faded and dropped out on lap 13. He was credited with 12 laps and 16th position. Finishing 15th, (a DNF also) with 12 laps, was 11th starter Rodney Argo, of Gardena. Argo's 1995 Honda Accord used the same number (19) he used and won with (including the prestigious PAS Oval Nationals) when he raced 410 cu. in sprint cars at Perris Auto Speedway. Rodney said he still has his sprint car.
Veteran Bobby "Boogaloo" Schwartz, 60, scored three points this week in only two heats after a DNS in round one. He just missed a semi-main berth. He said his daughter and granddaughter, age 7, will be visiting from Nor Cal next week and will watch him race at Industry. Bobby's son Bobby, Jr., 13 (DOB 3/17/04) might attend as well. Bobby, Jr. last raced a speedway bike in 2015.
The McNutt racing duo came from Nor Cal this week to race. Dad Lawrence, a 54-year old CEO of a voice and data tech for business firm, towed south to San Diego for business and brought both bikes. He had his son fly into Ontario and picked him up to race at Industry. Dad finished in P. 3 and 4 in his two 500cc D-2 heats. He won a D-2 main last month at his home track in Auburn. Son Aidan, 13, finished fourth in his heat and sixth in the 250cc main. He wanted to get some experience at Industry prior to the annual AMA/FIM Junior Speedway Sunday afternoon, August 13 Silver Cup.
The Industry Speedway schedule shows July 19 as the annual Laidlaw's Harley-Davidson (Baldwin Park) Night. Laidlaw's employees have an employees-only race or two on mini bikes. There usually is a heat race or two for daring street-legal Harley riders, including "the horny guy" with a Vikings-type helmet, plus the No. 84 plate rider. It is also the annual Bruce Flanders Ugly Hawaiian Shirt Contest Night. Judges pick the top three ugly shirt wearers and spectators in the grandstand vote for the top three shirts for the awards. Plan to arrive early for this well-attended evening of entertainment.
#######################################
---
Quick Results from Industry Racing.
RESULTS
Sidecar Main Event (restarted)
1 - Joe Jones/Tom Summers
4 - Bryan Motis/Johnny Bach
64 - Dillon Osborne/Ashley Gibbons (excluded)
31 - Robert Curry/Laurie Curry (tape exclusion)
Pee Wee Main Event (restarted)
74 - Ken Matsudaira
5 - Conner Salazar
503 - Dakota Black
1000 - Strydrr Uebersetzig
6 - Gavin Geist
313 - Penny Hall (fell, excluded)
Mini 150 Second Division Main Event
48 - Jose Navarrete 20
9 - Levi Leutz 10
11 - Gordon Teuber III 0
04 - Owen Williams 0
96 - Andrew Russell 10
Mini 150 First Division Main Event
25 - Travis Horn 0
2 - Slater Lightcap 60
45n - Colton Nelson 0
27 - Luke Whitcomb 20 (excluded)
Third Division Main Event
323 - Mike Miller
311 - Kevin Fife
103 - Brent Smith
136 - George Yates
Second Division Main Event (awarded)
202 - Chet Kohler
214 - Michael Wells
163 - Ron Davis
182 - Rudy Laurer (fell, excluded)
Scratch Consolation
3 - Dillon Ruml
6 - Shawn McConnell
10 - Gage Geist
199 - Samuel Ramirez
Scratch Main Event
46 - Aaron Fox
7 - Austin Novratil
5 - Max Ruml
22n - Luke Becker