Industry Racing
The Grand Industry Hills Expo Center
City of Industry, California
Military Appreciation Night
Thanks to Ryan Evans and Tim Kennedy
Military Appreciation Night - Industry Racing, CA, USA - June 28
After finishing second to Max Ruml last week, Aaron Fox turned the tables and won the Scratch Main Event on Military Appreciation Night at Industry Racing.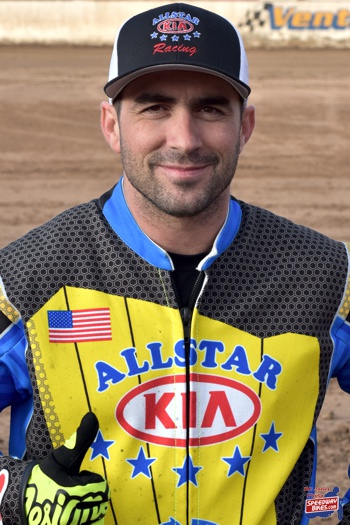 Just as he had done last week, Max Ruml entered the main with a perfect score. After some deliberation, Ruml surprisingly took the notorious gate three. Fox quickly chose gate two. Gage Geist selected gate one. This left gate four to 60 year old Bobby "Boogaloo" Schwartz.
Fox and Ruml left the starting line together and they quickly established their attacking positions in turn one. Fox clung to the inside while Ruml used the cushion. Fox maintained a slight advantage but Ruml pursuit was relentless as he even bounced off the wall at the end of lap two. Fox had marginally increased his lead as he approached the white flag but Ruml wasn't quitting. Fox held him off on the final lap and was first to the finish line with Ruml settling for second. Geist finished third and Schwartz was fourth.
Tim Gomez kicked the evening off with a victory over Bob Hicks. Fox defeated "Spiderman" Mike Bloom in event two. Ruml finished round one with a defeat of Geist.
Gomez looked to be on his way to his second victory, but his wide line allowed Shaun Harmatiuk to slip by and take the victory to start round two. Ruml defeated Fox in Event 14. Geist ended the second round with a win over Hicks.
Ruml began the final round with his third consecutive victory with Schwartz getting a pivotal second to put himself in to the semis. Fox won his second race with Geist getting second. Samuel Ramirez roared to an impressive victory ahead of Hicks to conclude the heats.
Ruml's winning streak continued with a win in the first semi while Schwartz garnered a loud cheer from the fans by finishing second to earn a berth in the main. Fox and Geist finished one-two in the second semi to complete the field for the main event.
Gomez was victorious in the Scratch Consolation with Hicks finishing second, Harmatiuk getting third, and Ramirez coming in fourth.
The first attempt to complete the Second Division Main Event ended abruptly as Bruce Marteney went over backwards at the start. He was sore but walked away. Rick "The Rage" Valdez led the restart in to turn one with Rudy Laurer challenging on his outside. Valdez dispatched Laurer at the end of lap one and never looked back. Valdez was victorious, Laurer was second, and last week's winner Eloy Medellin finished third.
Northern California's Aaron Sorani, who won the Third Division Main Event at the Adult Gumball Rally, kept his record perfect at Industry this year by leading the main from start to finish en route to the victory. Dennis Osmer was second, Mike Miller finished third, and Brent Smith was fourth.
Junior 250 National Champion Sebastian "Big Daddy" Palmese won both of his heats and completed his perfect evening by winning the main event. Jake Isaac finished second, Michael Wells was third, and Sara Cords finished fourth. The evening was marred by a crash during the heats that send former National Champion Colton Hicks to the hospital with a broken wrist.
Travis Horn, making his 2017 debut, led the Mini 150 First Division Main Event at the start. Horn looked solid for three laps but Slater Lightcap was closing ground after weaving through traffic. Lightcap slid under Horn for the lead as they entered turn three the fourth time. Lightcap raced away from there and went on to victory. Enzo "The Rabbit" Sorani finished second, Horn was third, "Lightning" Luke Whitcomb finished fourth, Glenn Geist was fifth, and Colton Nelson was credited with sixth.
Levi Leutz led all five laps and claimed his first Mini 150 Second Division Main Event victory. Andrew Russell finished second, Cole Ayers was third, Jose Navarrete finished fourth, Gordon Teuber III was fifth, and Owen Williams finished sixth in his debut.
Conner Salazar put together four perfect laps and was victorious in the Pee Wee Main Event. Ken Matsudaira was second, Chase Chalecki finished third, Strydrr Uebersetzig was fourth, Dakota Black finished fifth, and Penny Hall was sixth.
Joe Jones and Tom Summers ran through the card undefeated including a victory in the Sidecar Main Event. Bryan Motis and Johnny Bach were second, Dillon Osborne and Ashley Gibbons finished third, and Kevin Holman and Blake Kroncite were fourth.
Industry Racing will be dark next Wednesday due to the Independence Day Holiday. Racing returns for Russ Brown Motorcycle Attorneys Night on Wednesday, July 12 and will have all divisions of speedway and sidecars. The evening should also include the return of several members of the 2017 U.S. Speedway World Cup squad who have been competing in Europe.
RESULTS
Sidecar Last Chance
13 – Kevin Holman/Blake Kroncite
44 – Jeff Medberry/Niki Davis
33 – Adam Duckett/Matt Fishman
Sidecar Main Event
1 - Joe Jones/Tom Summers
4 - Bryan Motis/Johnny Bach
64 - Dillon Osborne/Ashley Gibbons
13 - Kevin Holman/Blake Kroncite
Pee Wee Main Event
5 - Conner Salazar
74 - Ken Matsudaira
22 - Chase Chalecki
1000 - Strydrr Uebersetzig
Mini 150 Second Division Main Event
9 - Levi Leutz 0
96 - Andrew Russell 10
116 - Cole Ayers 0
48 - Jose Navarrete 20
11 - Gordon Teuber III 0
04 - Owen Williams 0
Mini 150 First Division Main Event
2 - Slater Lightcap 40
22n - Enzo Sorani 40
25 - Travis Horn 0
27 - Luke Whitcomb 20
33 - Glenn Geist 20
45n - Colton Nelson 0 (engine failure)
Junior 250 Main Event
1 - Sebastian Palmese
16 - Jake Isaac
214 - Michael Wells
14 - Sara Cords
Third Division Main Event (restarted)
202n - Aaron Sorani
303 - Dennis Osmer
323 - Mike Miller
103 - Brent Smith
Second Division Main Event (restarted)
293 - Rick Valdez
182 - Rudy Laurer
178 - Eloy Medellin
242 - Bruce Marteney (fell, excluded)
First Division Heat Scoring 1 2 3 T
5 – Max Ruml 3 3 3 9
10 – Gage Geist 2 3 2 7
11 – Bobby Schwartz 1 0 2 3
21 – Brad Sauer 0 1 1 2
22 – Mike Bloom 2 0 0 2
30 – Tim Gomez 3 2 1 6
37 – Joey Donaldson 0 F - 0
46 – Aaron Fox 3 2 3 8
48 – Tyson Talkington 1 1 1 3
139 – Shaun Harmatiuk 0 3 0 3
199 – Samuel Ramirez 1 1 3 5
808n – Bob Hicks 2 2 2 6
Heat Results
1: Gomez, Hicks, Schwartz, Donaldson
2: Fox, Bloom, Talkington, Sauer (fell, remounted)
3: Ruml, Geist, Ramirez, Harmatiuk
13: Harmatiuk, Gomez, Talkington, Bloom
14: Ruml, Fox, Ramirez, Schwartz
15: Geist, Hicks, Sauer, Donaldson (fell)
25: Ruml, Schwartz, Talkington
26: Fox, Geist, Gomez, Bloom
27: Ramirez, Hicks, Sauer, Harmatiuk
Semi #1: Ruml, Schwartz, Gomez, Ramirez
Semi #2: Fox, Geist, Hicks, Harmatiuk
Scratch Consolation
30 - Tim Gomez
808n - Bob Hicks
139 - Shaun Harmatiuk
199 - Samuel Ramirez
Scratch Main Event
46 - Aaron Fox
5 - Max Ruml
10 - Gage Geist
11 - Bobby Schwartz
---
AARON FOX WINS SPEEDWAY FEATURE @ INDUSTRY – By Tim Kennedy
Industry, CA, Jun. 28
Aaron Fox, 29, reversed the AMA speedway main event finishing order from a week earlier at Industry Speedway Wednesday night. It was the track's annual "Military Appreciation Night". Members of all five military branches were asked to stand and be recognized by appreciative applause from fellow citizens prior to the National Anthem.
Fox, a Riverside County resident, won the 500cc D-1 feature by overcoming pressing Max Ruml, a two-time winner this season under the Grand Arena roof. The "Menefee Meteor" became the fourth different winner in the fifth week of a 14 race season. Attendance totaled 877 with 750 spectators entering through the front gate and 127 more arriving via the pit gate.
Four of the 500cc D-1 usual front-runners were absent this week because they were in Europe to race in the annual Speedway World Team Championship as members of Team USA. Only 12 D-1 riders raced this week in three rounds of heats instead of the usual 16 or 20 D-1 riders for some events. Ruml led every lap on his No. 5 bike and won all three of his heats.
Ruml, from Huntington Beach, was the only rider able to score a perfect nine points. That gave him lane choice for the main event. Fox scored eight points via two heat wins and a second to Ruml in round two (event 14 of 33). Fox had second lane choice for the feature. It took three points to make one of the two semi-final races that advanced the top two finishers in each to the feature.
The scratch feature lineup (event 43) had Gage Geist on pole a day prior to his 18th birthday. Fox and Ruml occupied lanes two and three respectively. Speedway legend Bobby Schwartz, 60, was next tot he crash-wall on his No. 11. Fox, the 2015-16 US National Champion at Costa Mesa Speedway, blasted into the lead entering the first turn and claimed the inside groove. Ruml was second, just outside leader Fox, through the first two turns. They rode in that order all four laps with challenging Ruml running wide open on the outside.
Fox, on his JRM chassis/GM engine No. 46, was determined to win his first Industry feature victory since he won back-to-back Industry mains on July 8 and 15, 2015. He accomplished that feat by one length over equally determined Ruml. The two leaders were followed by Geist (- four lengths) and Schwartz (- four lengths). The busy race night started at 7:30 and concluded at 9:57 pm.
The D-1 semi-finals (events 32-33) were competitive. Ruml, from the outside lane, led every lap in the first semi to beat past multi-year 1980s champion Schwartz. Tim Gomez and Samuel Ramirez followed. Fox, from the pole, led all four laps in the second semi and edged Geist. Auburn's Bob Hicks, 52, and Shaun Harmatiuk finished third and fourth.
SIDECARS: The wild and entertaining 1,000cc sidecar teams made their third appearance of the season at Industry with six teams racing. National sidecar champion Joe Jones won for the third time with his 2016 usual sidecar swinger Tom Summers as his working sidecar rider for the second time in his three 2017 IS victories. Bryan Motis/Johnny Bach, Dillon Osborne/Ashley Gibbons, and last chance qualifier race winner Kevin Holman/Blake Kroncite followed closely.
Sidecars raced two rounds of heats for points and advanced the top three teams to the S/C main event. The bottom three teams raced in the Last Chance Qualifying race from which only the winning team transferred to the feature. Holman/Kroncite won the LCQ on their green No. 13. Sidecar races were unusually competitive this week with position changes common. Matt Fishman even tumbled from the No. 33 sidecar onto the track leaving turn two during the LCQ race. He rose quickly and scampered to the infield.
SUPPORT DIVISIONS: The 500cc second division for intermediate skill level riders had eight riders racing for points (3-2-1-0). D-2 main riders Rick Valdez, Rudy Laurer, Bruce Marteney and Eloy Medellin lined up from inside top outside in that order. Marteney flipped off the back of his bike at the starting gate and caused a red flag. He walked to the infield, excluded from the restart. Valdez led all four laps over past 2017 D-2 feature winners Laurer and Medellin, a two-time winner.
The D-3 500cc beginning rider class also had eight riders. Nor Cal visitor Aaron Sorani, from Grass Valley, rode his No. 202n to victory in both of his heat races and the third division feature. He led every lap in all three of his rides. Dennis Osmer, Mike Miller and Brant Smith followed.
JUNIORS: The 250cc field of five was reduced by one rider after the first round. Two-time 2017 Industry 250 feature winner Colton Hicks, 15-year old son of D-1 rider Bob Hicks, led the three-rider field on the first lap of event four on his No. 24n GM. He fell in the fourth turn groove. Closely following P. 2-3 riders Sara Cords and Jake Isaac piled in and also fell. They rose quickly for a restart.
Hicks remained on the ground in some pain for about ten minutes and was examined by track medical personnel. He eventually walked to the pits with a suspected broken wrist. He did not race again and with his mom went to a local hospital for medical evaluation. With a four hour wait for MRI they returned to the track; the Hicks family drove home to Auburn for medical treatment there Thursday.
Sebastian "Big Daddy" Palmese, the 13-year old 2016 250cc National Champion and two-time 150cc youth champion from Mission Viejo, rode his 250 GM to victory in both heats and the main. It was his third victory in four outings this season at Industry. Jake Isaac, Michael Wells and Sara Cords followed at the Tom Fox checkered flag.
The 150cc field of 12 was split into D-2 for six newer riders and D-1 for six more experienced riders. The 5-lap D-1 handicapped start main went to gate starter Levi Leutz, 8. He led every lap. Andrew Russell (from the 10-yard line), Cole Ayers, June 21 winner Jose Navarrete (from the 20), Gordon Teuber III, and Owen Williams trailed.
The 150cc 5-lap handicapped start for D-1 riders went to Slater Lightcap, 11, for the third time this season. He missed last week because he injured himself horsing around at home. Slater came from the 40-yard line and led the final two laps. Enzo Sorani, 11-year old Grass Valley resident and son of the 500cc D-3 winner, finished second. Travis Horn led the first three laps from the gate and placed third. Luke Whitcomb and Glenn Geist came from the 20-yard line and placed fourth and fifth. Nor Cal's Colton Nelson dropped out with engine failure.
PEE-WEES: Conner Salazar, 9-year old son of Grand Arena track preparer Jose Salazar, and a resident of Industry, led every lap of the 50cc pee-wee main event. Two-time winner Ken Matsudaira was a close second. A pair of first-time Industry riders—Chase Chalecki, 6, and Strydrr Uebersetzig, 8, followed. Two female rookies, Dakota Black, 6, and Penny Hall, 4, placed fifth and sixth.
PIT NOTES:
The next Industry Speedway racing event will be Wednesday, July 12 with speedway and the extreme sidecar teams. July 19 will be Laidlaw Harley-Davidson Night with speedway racing and the annual Bruce Flanders Ugly Hawaiian Shirt Night. Prizes are awarded to the top three shirt wearers based upon applause by spectators. Track announcer Flanders returned this week to his mic duties after a two week absence. He said he was able to follow Industry racing via the live webcast. Mike Miller sang the National Anthem from the infield after missing the last two weeks.
Present in the grandstand this week were: IHOP-Covina waitress Jennifer, her six-month old son Thomas, and her extended family. They loved the action. Two-time USAC Western Midget Champion Jerome Rodela also was in the house. He now owns four Brekka midgets from New Zealand. He said three are dirt midgets and one a paved car that former junior speedway rider Courtney Crone, 16, will race with BCRA at Madera Speedway on July 8 in the annual 100-lap Fred Gerhardt Midge Classic with a three abreast starting lineup.
Others present included: USAC Midget car owner Herb Spivey, No. 21 midget owner/driver Jimmy Voitel and his girl friend, plus USAC-CRA 410 sprint car driver Matt McCarthy and his dad with their 2017 Maxim sprint car. The black & yellow No.28m sprinter was on display inside the front gate behind the first turn grandstand. Matt, 26, was interviewed over the PA mic by Flanders and plugged 410 sprint racing at Perris.
Lance Jennings, publicist for several USAC western divisions and the www.scrafan.com webmaster, was present at the sprint car display as well to answer questions from bike fans. There is a natural affinity for those two action sports. Sammy Tanner said the funeral for late AMA TT racing star Skip VanLeeuwen, 78, will be Saturday, July 1 in his hometown Bellflower. The four-time TT National winner from 1967-69 succumbed to cancer on June 21.
OBITUARY: Gordon Gene VanLeeuwen, better known as Skip, was born in Orange City, Iowa on 12/20/38. He acquired the name Skip early based on a Dennis the Menace-type cartoon character named Skipper. His family moved to So Cal in 1940 so his father could work in the shipyards. He was the fourth of five children; he had three older sisters and younger brother Duane. Skip graduated from Bellflower High in 1957.
He and high school buddy Dick Hammer both got Triumphs at age 16 and eventually raced with great success. Skip won four 1960s AMA National TT races--at the Houston Astrodome, Castle Rock, WA, and two at his home track, Ascot Park in Gardena. One of his Ascot wins was a 100-lap race televised by ABC's Wide World of Sports national telecast.
Skip married his high school Betty and had sons Curt, Mark and Eric. After driving a truck, Skip worked in sales for Bill Robertson Triumph in Hollywood. He and brother Duane eventually started a motorcycle accessories business in 1972 when he retired from racing after a ten-year career. The business is still going strong.
He is survived by his second wife Nydia, three stepchildren, his own children and their spouses, 11 grandchildren, a sister and his brother Duane. White Funeral Home in Bellflower is handling arrangements with a viewing there June 30 and a memorial service Saturday, July 1 at 10:30 am in Encounter Christian Church in Bellflower.
Two new male pee-wee riders joined the growing ranks of 50cc riders. Yamaha 50 rider Chase Chalecki, 6, is from Mission Viejo. His prior two-wheel experience is on a TWX dirt bike at the Milestone track (Riverside), at Pala Casino, and Glen Helen. The No. 1000m rider is 8-year old Strydrr Uebersetzig, from Monrovia. They pitted alongside each other for support.
Veteran 500cc D-1 rider Tim Gomez, 28, from Hesperia, has been idle on race tracks for three years. He has been the speedway bike mechanic for Dillon Ruml. He decided to race his own No. 30 again this season and is very competitive. ... Our four local first division riders racing in Great Britain should be back in action at Industry on July 12. ... Rumor has it that inactive 500cc first division riders Tyson Burmeister (No. 26) and Jimmy Fishback (No. 25) are considering returning to speedway bike racing.
Speedway fans from the 1980s on were thrilled to see Bobby "Boogaloo" & "Captain America" Schwartz, from Costa Mesa, make the Industry main event June 28. They cheered his semi-final close second place to Ruml. Bobby is always friendly and cheerful with fans and people in the pits. He loves to race speedway as long as possible. His perseverance was rewarded by his racing into the feature at Industry for the first time in a long time. Bobby's pee-wee racer son Bobby has not raced since 2015. Now age 8 or 9, he has other interests these days according to his dad.
##############################
---
Industry Racing, CA, USA - June 28
Quick Results from Industry Racing.
RESULTS
Sidecar Main Event
1 - Joe Jones/Tom Summers
4 - Bryan Motis/Johnny Bach
64 - Dillon Osborne/Ashley Gibbons
13 - Kevin Holman/Blake Kroncite
Pee Wee Main Event
5 - Conner Salazar
74 - Ken Matsudaira
22 - Chase Chalecki
1000m- Strydrr Uebersetzig
Mini 150 Second Division Main Event
9 - Levi Leutz 0
96 - Andrew Russell 10
116 - Cole Ayers 0
48 - Jose Navarrete 20
11 - Gordon Teuber III 0
04 - Owen Williams 0
Mini 150 First Division Main Event
2 - Slater Lightcap 40
22n - Enzo Sorani 40
25 - Travis Horn 0
27 - Luke Whitcomb 20
33 - Glenn Geist 20
45n - Colton Nelson 0 (engine failure)
Junior 250 Main Event
1 - Sebastian Palmese
16 - Jake Isaac
214 - Michael Wells
14 - Sara Cords
Third Division Main Event (restarted)
202n - Aaron Sorani
303 - Dennis Osmer
323 - Mike Miller
103 - Brent Smith
Second Division Main Event (restarted)
293 - Rick Valdez
182 - Rudy Laurer
178 - Eloy Medellin
242 - Bruce Marteney (fell, excluded)
Scratch Consolation
30 - Tim Gomez
808n - Bob Hicks
139 - Shaun Harmatiuk
199 - Samuel Ramirez
Scratch Main Event
46 - Aaron Fox
5 - Max Ruml
10 - Gage Geist
11 - Bobby Schwartz