2013 California Speedway News
US Nationals News and Information - AMA Nationals News and Information
2013 American Team News - 2013 News and Views
2013 Sidecar Schedule - 82nd Birthday Bob Laidlaw
Link to 2013 AMA Long Track Supplementary Regulations
British Style Team Racing at Pirate Speedway January 11th
I just got word that we can restage the washed out team race from earlier this month at Pirate Speedway, Saturday January 11th.
British Style Team Racing - Start Time is at Noon
$35 to race, $25 pits, $10 for stands. Amateur races, for fun, all Divisions welcome!
Text me at (310) 309-9418 to sign up!
All Divisions - 1st, 2nd, 3rd. Youth 250, 150 Mini, Pee Wee's are all welcome!
Merry Christmas, Happy Holidays.
Steve Evans dreamteamspeedway@sbcglobal.net (December 23, 2013)
Open Practice at Pirate Speedway this Sunday!
Open practice at Pirate Speedway this Sunday! We know this is short notice but we have had a change of plans and this Sunday's private practice has now been opened up to an open practice.
We wanted to give everyone the opportunity to practice so everyone is welcome! Sunday December 22nd, 10:00am-3:00pm. $35.00 for riders, no charge for mechanics and spectators.
Who knows who you may see there this close to the Monster Energy Invitational. Hope everyone takes advantage of the opportunity. See you there,
Thanks Shawn and Robynn dogynn@aol.com (December 18, 2013)
Monster Energy World Speedway Invitational
Industry Racing
I am very proud and excited to present you the lineup for the 2013 Monster Energy World Speedway Invitational on Dec 28th at Industry Racing!
Darcy Ward - Australia
Greg Hancock - USA
Scott Nicholls - Great Britain
Gino Manzares - USA
Billy Hamill - USA
Chris Harris - Great Britain
Max Ruml - USA
Edward Kennett - Great Britain
Maciej Janowski - Poland
Hans Andersen - Denmark
Charlie Venegas - USA
Patryk Dudek - Poland
Ryan Fisher - USA
Ricky Wells - USA
Tyson Burmeister - USA
Billy Janniro - USA
The 2 reserves will be announced ASAP
All I can say is WOW....I cant wait for the 28th!
Visit IndustryRacing.com for discounted presale tickets.
More grandstand seating.
More entrance gates open to the property.
More restrooms.
Guaranteed excitement!
Kelly Inman - speedwaykelly@yahoo.com (December 10, 2013)
American Speedway Podcast
I wanted to let all forum users know that my Co-Promoter at Elite Speedway Promotions and long time announcer, Chris Ackerman has started a regular radio podcast that will broadcast news and interviews for American Speedway fans worldwide!
The featured interview for episode 1, which posted yesterday, is Paul Flanders who talks about his families motorcycle racing heritage as well as the much anticipated Monster Invitational at Industry Racing just 29 days from now.
The show is 30 minutes in length - please take a moment to listen, tell your friends and support this endeavor!
And if you have any requests for interviews, please contact Chris at signifydesigns@yahoo.com
http://signifydesigns.podbean.com/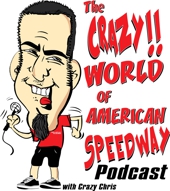 Steve Evans dreamteamspeedway@sbcglobal.net (December 1, 2013)
Perris Auto Speedway and Elite Speedway Promotions are proud to announce the staging of the 2014 AMA Long Track National Championship on Saturday 19th July, 2014.
This years event was a big success - a big crowd, fast racing and a dominating victory from World Cup star Gino Manzares to take another AMA #1 plate.
More info will be issued at a later date. We are excited about our partnership with the PAS.
RAINED OUT ---> Hagon Shocks Speedway Academy with Greg Hancock
November 23rd is a huge day for the long term goals of American Speedway, our domestic scene and our future World Cup and GP aspirations.
Greg Hancock is going to be the guest instructor at the Hagon Shocks Speedway Academy, right here in Southern California at Pirate Speedway. It's a priceless day of learning for any junior rider and something that is so rare and special it is not to be missed!
Aside from the outstanding abilities and individual leadership both Greg and Billy have, there is a magic that exists when both are united. Much to my dismay in my youth from the terraces of Monmore Green, Wolverhampton, I saw this as they more than once tortured my Wolves on home shale and ruined many a week for me on a Monday night. On the more positive note (for me), I have seen this magic in the past two years at our World Cup events. They inspired Fish and Ricky in Slovenia in 2012 to personal and historic career highs, and this year at King's Lynn and Prague, each gave team talks that literally took themselves and the rest of the team to a new level and miraculous fifth in the World. You could literally feel the passion, pride, belief and motivation, and if Greg and Billy didn't believe, we'd be 9th in the World and going to deepest Eastern Europe again next year to qualify. They set professional standards and examples that you wish you could bottle and sell. Now, how much will our kids benefit from some of that?
Of any activity in American Speedway right now, these academies are the most important. Mathematically, the more new riders who come to these academies, the more who buy a bike and the more who join the growing 150 class next year. The one thing Team USA lacks over any other country is our European rider pool is so small and these schools are the catalyst to a future of having so many riders that we have 8-10 in Europe every season and enough left over to create a domestic scene to rival the 70's and 80's. Future GP stars, future Costa Mesa Champions - it all starts here!
I know many have signed up already but there are still spots left and for the reasons listed above, it needs to be packed to bursting point. Existing juniors are welcome but also beginners are needed - age 7-14 I believe, with some motorcycle experience. Please spread the word far and wide - its a privilege to have Greg willing and able to instruct at the school and who knows, maybe the day will go down in years to come as the first laps of a future champion.
Oh, it costs a whopping $40 for track use (rental bikes / gear FREE!). Not bad for what might equate to a years worth of knowledge!
Please contact Billy or Christina Hamill to register - (760) 308-8124 or hagonshocks@yahoo.com
I'm sure November 23 will be one to remember!
Steve Evans dreamteamspeedway@sbcglobal.net (November 13, 2013)
Open Practice at Pirate Speedway
Reminder: Open practice at Pirate Speedway, this Saturday November 16th, from 10-3. $30.00 w/2013 Pirate speedway license/$40.00 without. Please give us an idea if you plan to attend. Thanks so much, see you all Saturday.
dogynn@aol.com (November 11, 2013)
British Style Team Racing Returns to Pirate Speedway!
Date: Saturday December 7th 2013. Races start 12 noon, gates open 9am.
Event: CHRISTMAS CUP 2013! 4 Teams! Play Offs and Finals! 1 Winner! - Pirate Speedway
Four teams will feature in this event and they will be drawn in two semi finals. The winners of the semi finals will go to the Grand Final later in the day, the losers will go to a 3rd place final. Once more we will base the show on the British League format but will run shorter matches, given that each team will race twice in the same day. Guarantee four riders per rider!
These are amateur off season races for fun! All Divisions – Division 1, Division 2, Division 3, Junior 250, 150 Mini and Pee Wee are welcome. The Juniors / Mini's will also race in their own team event. The British League format will include team tactics, tactical jokers, and will group riders in their heats based on ability (so Division 1 will not meet Division 3 though each team will have riders from all Divisions).
Seasoned team managers Steve Graham and Peter Davenport are IN! We need two more managers for the other two teams and anyone familiar with British League racing to any degree can apply! Supplementary rules will be published ahead of the event. $35 to race, $25 pit passes, $10 Spectators. No comps.
This event is promoted by Elite Speedway Events – Tel: (3100 309-9418. Email dreamteamspeedway@sbcglobal.net
Places are limited and sign ups are OPEN. First come first served. Teams will be made as evenly as possible but if you have requests for team mates let us know.
This is the only planned team racing event this off season and is a step ahead of last season with an actual tournament versus challenge matches.
Thank you to the management of Pirate Speedway for once more being a pleasure to work with on this event!
Steve Evans dreamteamspeedway@sbcglobal.net (November 5, 2013)
Good morning everyone!
After a tough trip back to the states I wanted to express my feelings and opinion about what an amazing trip both Ryan and I had.
First and foremost it has been 32 years since Boogaloo and I won the World Pairs Final in Poland and what an amazing country this has become. The people were so kind to us and they couldn't do enough to make our stay more enjoyable and we thank them so much!
Catching up with some of my ol' mates was priceless! Ole Olsen, Pete Adams, Chris Morton, Neil Middledich, Zenon Plech, Tony Briggs, Jimmy McMillan, Illa Teroma, Kelvin Tatum just to mention a few. Sometimes we don't appreciate the rivalry or relationships that we have established until years go by.
To the entire SGP staff, thank you so much for your sincere dedication, organization and respect that your team provided to my son Ryan and myself. Speedway is a different sport with your involvement!
On a heartbreaking note Ryan and I had a very special conversation with Mark Loram,who is experiencing the same devastating loss as our family is. Words cannot describe what our family's are going through however speaking with someone that lives with this tragedy everyday as we do was good therapy for all three of us.. Our hearts are with you and your family Mark!
Monster Energy. Joe Parsons in particular. You have been a true friend and sponsor of ours for 13 years and Speedway is so fortunate to have your dedicated involvement in this great sport! Your staff is as dedicated as you are because they have had a great leader. Thank you to you and your staff for a perfect week ! You are the man!
I was able to watch the new up and comers in Speedway and I was so impressed! Tai Woffinden was so calm and collected on race night and even though I was cheering for Greg, Woffy certainly deserved this Championship and I am certain he has more to come and a nice lad as well. Darcy Ward was impressive as well, this guy can ride a speedway bike! I think he will be looking at Championship fairly soon as well.
I got to hang with Chris Holder one night and he is a genuine great guy and all he wants is to get well and get back to his Championship form and take another shot at the WC.
Last but not least! Greg Hancock! Obviously I follow Grin as close as I can but never as close as we were last week in Poland. We all know what statistics Greg has in the GPs and in league etc. and I would like to be quoted on this. I without a doubt think Greg Hancock is the best Speedway Racer America has ever produced and I would rank him in the top 5 in the history of the sport! I base my opinion not just on results alone but his personality, the time he spends with his fans, press, mechanics and sponsors... and by the way did I mention that he is a fantastic husband and father of 3 wonderful boys!!!! If I had two dreams come true one of them would be for my daughter to marry a man just like Grin.. We are all lucky to have this guy in our lives.
Again thank you to everyone who made this trip possible, Ryan had a great time and definitely looks at Speedway so much more differently now and understands the lifestyle I used to have...Sounds like he wants to ride a Speedway bike....Go figure!
Thanks again, Bruce Penhall
mdnhavasu@yahoo.com (October 11, 2013)
Pirate Speedway October 11th Cancelled
Rained out!
Unfortunately, and much to our dismay, mother nature has done it to us again. Due to heavy rains Pirate Speedway is rained out for our track Championship tomorrow October 11th. The track, pits and bar area are all flooded and the infamous drinking hill is a giant mud slide. Although Benny has been tirelessly pumping the track all day, we can't get everything dried out enough for tomorrow. We will be extending next Fridays Oct 18th race into a combination of both championship nights into one huge spectacular championship night for all divisions. Never before have all divisions run their championship on the same night. Should be an amazing event with all divisions vying to be the Pirate Speedway Champion! Really cool trophies presented for 1st-3rd place in all divisions including minibikes. It will be the best racing of the season, ending the season with a big bang of a phenomenal event. Sorry for the delay….but it will be worth it. Hope to see you all there!!!! Please help us pass on this information to everyone.
Thank you, Shawn and Robynn (October 10, 2013)
OC Weekly News - Great Article about Costa Mesa's 45th Year Nationals
Oceania International Speedway Sidecar Championship
Heather Rowe wrote: "Joe Jones & Johnny Glover racing & representing the U.S.A. Joe Jones and Johnny Glover have been invited to represent the U.S.A. in The Oceania International Speedway Sidecar Championship. This championship is in Mildura, Victoria, Australia on November 23, 2013, with the World's best Sidecar teams. Motorcycle Australia has been watching Speedway Sidecars grow in the United States and wants to put them on the world map for the sport. This is a great opportunity for the sport, Jones & Glover, and the country to step up to the plate. Joe Jones & Johnny Glover are the current and seven time consecutive U.S. National Champions in the sport of Speedway Sidecars and with a few races remaining this season they have clinched the Championship once again. The team is honored to be invited to race along with the world's best, but they need your help and your support to make this happen. Joe Jones has been working hard for the sports growth; from helping all of the teams with bike set up, parts, how to read race tracks, making sure their bike is race ready before working on his own. Jones and Glover jump when a team is in need of help to insure the racing is the best it can be. So let's jump behind them and help with what we can and start waving their favorite colors the good old Red, White & Blue!!!! Help that is needed: • FIM ruling must have one piece suits • Room & Board • Tires • Airfare • FIM fees (Track License, FIM License, and International Insurance) • Transportation for the bike For more information or donations, please contact Joe Jones at: joejonesracing@hotmail.com Sincerely, Joe Jones and Johnny Glover"
2013 Oceania International Speedway Sidecar Championship, Australia
Press Release / Supplementary Regulations
Billy Hamill Confirmed for Pomona Long Track
I am very pleased to announce that Team USA Boss, current National Champion and Former World Champion Billy Hamill will be one of the 12 riders racing Long Track on the Pomona Half Mile on October 12th.
Joining Billy and so far signed up are 2013 AMA Long Track National Champion Gino Manzares, Speedway Legend Fast Eddie Castro, Former Vintage MX World Champion Tyson Talkington and Former Under 21 National Champion Justin Boyle. The rest of the line up will be announced in due course.
Speedway Bikes will race in four 6 Man heats on the Half Mile with riders qualifying for A and B Main Events.
A big crowd is expected for the event with headlines with the Final Round of the AMA Twins and Singes Flat Track Championship.
Tickets can be bought online at the below website, which also contains more information on the event
http://www.flattrackfinals.com/
Steve Evans dreamteamspeedway@sbcglobal.net (September 10, 2013)
Fast Fridays Track Championship Starting Order
Friday September 6, 2013
Pomona Half Mile - Just 6 weeks away
Speedway Bikes return to the Pomona Half mile in just 6 weeks on Saturday October 12th, running alongside the final round of the AMA Flat Track singles and twins championships.
The Speedway Show will feature 12 Division 1 riders who will each have 2 heats (6 riders per heat), with points scored putting them into A and B Mains. The purse will be a minimum of $3,000.
Whilst no promises can be made at this point, there is some possibility that there may be a European based rider or two making it over.
Entry fees to race will likely be $30, with pit passes running at $25. Note each rider is limited to 2 pit passes for mechanics / workers unless they request more ahead - pits access will be limited so if you want to get access please contact me ahead. This includes photography and media. We'll do our best to get those in who should be.
For more info on the event and the Speedway Show please check the Flat Track Finals Web Site. You can also buy tickets online here. Chris Ackerman and myself are delighted to have been invited to partake by the Flat Track Promoters, who are very keen on involvement with speedway.
Steve Evans dreamteamspeedway@sbcglobal.net (August 1, 2013)
AMA / FIM 2013 Junior Speedway Silver Cup Championship
Saturday Aug 17th
Industry Racing presents: AMA / FIM 2013 Junior Speedway Silver Cup Championship!
150cc mini speedway and 250cc junior speedway at The Grand Arena
Saturday Aug 17th - 11am first race - back gate open at 8:30am
Nor Cal and So Cal will be represented, along with England
Purpose:
- To Give kids 8-15 a legitimate championship to compete in
- Structured championship that provides level technical standards
- To condition 150cc and 250cc riders for international competition along with championship formats
- Championship that has purpose and prestige that will be recognized in the U.S. and around the world
- complete GP style tech inspections to world championship FIM standards
- This could potentially be the biggest one-off championships for junior speedway, both nationally and internationally
SPREAD THE WORD ... lets treat them like the champions they are!
I want all 150 and 250 juniors riders to race!
This is an AMA / FIM event, therefore you must have an AMA membership, either a 1 event license or the standard yearly license / membership. All entries will also receive a special limited edition AMA hard card with their picture on it.
I will also have a practice / orientation on Friday Aug 16th starting at 5pm until 10pm to maximize track time for the kids.
We will finish up Saturday with a great trip to Costa Mesa Speedway!
More info soon.. any questions, email or call me (626) 393-3876 Kelly@IndustryRacing.com
Special thanks to Billy Hamill and Bruce Stjernstrom
Comfort Suites
753 Glendora Ave
La Puente, CA
(626) 330-0030
Hotel info:
Mention Industry Hills Expo Center
for a special racers rate.
At the track there are
RV hookups on the property for $25 per night
Pacific Palms Resort
One Industry Hills Pkwy
City of Industry, CA 91744
(626) 810-4455
Kelly Inman speedwaykelly@yahoo.com (August 6, 2013)
Industry Racing Qualifier on Saturday
Excitement builds as the US Nationals Speedway Qualifier round takes place at Industry Racing tomorrow evening.
Saturday will see the first visit of the year at Industry for several racing greats from Northern California. On the program from the north in First Division are racers: Billy Janniro, Bryan Yarrow, Tommy Hedden, Chris Kerr, Bryce Starks, Danny Faria, Jamison Dilkey and Shawn Eldridge. Joining them will be top Southern California regulars: Eddie Castro, Aaron Fox, Charlie Venegas, Max Ruml, Russell Green, Tyson Burmeister, Gino Manzares, Tyson Talkington, Josh Larsen, Buck Blair, Mike Faria, Shawn McConnell, Jason Ramirez, Brad Sauer, Tim Gomez, Austin Novratil and Nate Perkins. Serving as reserves will be Eloy Medellin and Rocco Scopellite.
Additionally, the 250cc Juniors and 150cc Mini Speedway racers will be part of the show. First Division racing will see the riders gathering event points in three heats, leading to A, B, C, and D finals. Qualifier series points will be awarded only from the finals. Five points minimum will be awarded for participation.
Gates open at the regular time of 6:00 pm. Admission for adults is $15, for juniors/seniors $10, parking is $5.
Paul Flanders pjflanders@yahoo.com (August 2, 2013)
AMA Series Round 2
Just a reminder that Round 2 of the AMA Series will be held at Victorville on Sunday 22nd September. Races will start at 2pm. The Main show will be run using the GP format as per Ventura with vital series points on the line. There will also be qualifying heats for the last 2 spots on the program. Top 16 after round 2 will be automatically given spots into the round 3 / Grand Final at Auburn 5 days later on the 27th. These are not qualifiers but actual series rounds.
There will also be races for 250 Junior / 150 Mini (Nick Varner Memorial Trophy for both classes) as well as a Support Class. Places limited in all.
Tickets are priced at $20 Adults, $10 Kids 5-15 / Seniors. Adult tickets can be Advance Purchased for $15 Via Paypal or check. Its not too early to sign up, buy tickets or enquire about sponsorships.
Steve Evans dreamteamspeedway@sbcglobal.net (August 1, 2013)
Pirate Speedway Qualifier Round - Sponsorships
Next Friday August 9th Pirate Speedway will host the 4th and final round of US National Qualifiers. In an effort to provide the best purse possible we are offering heat race sponsorships. 100% of all sponsorship money will go directly into the purse, above and beyond our regular purse. All heat races are $75.00.
Main events are also available for $125, $150, $175, and $200. Thank you so much for supporting Pirate Speedway and our riders. Please contact us at (714) 255-0088 or Dogynn@aol.com
Thank you, Shawn and Robynn (July 29, 2013)
SATURDAY August 2 - US Nationals Qualifier at Industry Racing
For out-of-towners, Industry Racing has hooked up a deal for staying nearby at Comfort Suites, 753 Glendora Ave., La Puente, CA 91744, Phone 626-330-0030. This is less than mile from the track. Just mention the Industry Hills Expo Center to get the good rate. Included is a free continental breakfast.
Don't be left sittin' on the fence! Industry Racing have three great speedway races over an eight day period at the Grand. In addition to the regular Wednesday night racing, Industry will host a rare Saturday night event coming this week on August 3rd. That's when the US Nationals Qualifier will be held. You can expect to see top NorCal riders like Billy Janniro (pictured), Tommy Hedden and Bryan Yarrow battling it out with the SoCal boys to get into the US National field for that October 5th race. Because the of the increased rider's purse on Aug. 3rd, the admission prices will be raised slightly, but only upped to $15 for adults and $10 for juniors/seniors.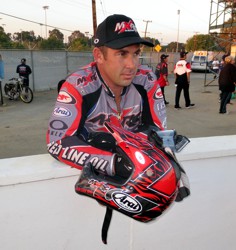 Paul Flanders pjflanders@yahoo.com (July 29, 2013)
EDDIE CASTRO NAMED GRAND MARSHAL OF UNITED STATES SPEEDWAY LONGTRACK CHAMPIONSHIP!
(Perris, CA, July 17, 2013) Longtime veteran "Fast" Eddie Castro has been named the Grand Marshal of the 2013 American Motorcycle Association sanctioned United States Speedway Longtrack Championship. The race, which was last held in Southern California at Ascot in 1990, will take place on July 27th at Perris Auto Speedway. The program will also include a Support Class and the insane Speedway Sidecars on the famous Riverside County clay oval's inner quarter mile track. Spectator gates will open at 5:00 PM and the first race will be at 7:00.
Castro, a 54-year-old grandfather who resides in Ojai, California, began his Speedway career in 1979.
"Eddie has been around forever and his selection as grand marshal of the United States Speedway Longtrack Championship was a no brainer," track announcer and PR man Scott Daloisio laughed on Monday. "This race was last held in California at Ascot when it closed in 1990 and Eddie was in it. He is the only pre-entry for this race to have been at that 1990 event."
Castro commented on how he has been able to last this long. "I guess I am stubborn," he laughed over the phone on Monday afternoon. "This is my 34th year racing Speedway. I have been fortunate to race against a lot of great racers and world champions like Billy Hamill, Greg Hancock and Sam Ermolenko over the years. Now I am racing against a talented group of upcoming riders like Max Ruml, Gino Manzares, Aaron Fox and Jim Fishback Jr. Heck, I used to race against Fishback Sr.! Same with Shawn McConnell. I raced against him for years and now I race against him and his son (Troy). I have seen a lot of people come and go over the years."
While he has been doing it for 34-years, Castro does not plan on retiring anytime soon.
"I have at least 10-more years," he chortled into the phone. "There are other guys who have been out there a long time, too. Bobby Schwartz, he won the main event last Friday at San Bernardino. Mike Faria and McConnell, too. They are all over 50 and they are still capable of winning on any given night."
In some respects, Speedway has changed a lot since Castro started. In other ways the sports has not changed from decades before he began his illustrious career. However, there is one big difference he has noticed.
"There were a lot of variations on the motors back then," he stated. "We had a lot of different motors to pick from when we ran the uprights compared to the laydowns we have now. Now, there are basically two choices. The Czechoslovakian Jawa and the Italian Giuseppe Marzotto (GM)."
Unlike a lot of other Americans, Castro never ventured overseas to race when he was a young rider, but over the past few years, he has made appearances in England with an American team organized by Steve Evans (Evans is also the man putting the Longtrack Championship at The PAS together). Not only has the diminutive rider had some success in the U.K., but he has also been a hit with the fans on the east side of the Atlantic.
"I was captain of the American Team four of the five years when we went over there with seven guys," he explained. "We beat some of the teams over there on their home tracks. It was good to get on those tracks and be competitive with those guys. It was a learning curve and it was tough racing on their tracks which are quarter miles when we are usually racing on eighth of a mile tracks her in the USA."
Castro looks forward to the challenge of racing on The PAS quarter-mile on the July 27th.
"It should be a lot of fun and it is going to be a tough one, too," Castro said. "I am racing the night before in San Bernardino so we are going to have to get the bike prepped to run that as well. Hopefully the motors will hold up and we will be on the podium at the end of the night. The PAS track was a lot of fun the other times I have raced there. It reminded me of Ascot."
Castro travels to every race on the California circuit with his wife and his Jack Russell Terrier. His wife not only offers moral support, but she is an integral part of his racing operation.
"My crew chief is my wife, Rommie," he proudly said. "She helps me out in the pits at every race as well as before and after each event."
Advance tickets to Grand Marshal Eddie Castro and other top starts at the 2013 United States Speedway Longtrack Championship will be available from the track box office on the night of the race or they may be ordered in advance at http://pas.tix.com/Event.aspx?EventCode=544027 or by calling (800) 595-4849.
Perris Auto Speedway
18700 Lake Perris Drive
Perris, CA 92571
(951) 940-0134
http://perrisautospeedway.com/
For further information contact Scott Daloisio (909) 226-7768 or mailto:racesatthepas@aol.com
Nick Varner Night - Victorville
On the first draft of the Victorville schedule it was announced that July 20 would be Nick Varner night. Since then a few things have changed and having consulted Alicia we will be having the juniors race for the Nick Varner trophy on Sept 22 at AMA round 2 instead. We feel a bigger tribute at the biggest race at Victorville in 10 years is the better option.
Victorville is running Sidecars July 20 and would run Juniors and Support if riders are interested since it is an open Saturday.
Steve Evans dreamteamspeedway@sbcglobal.net (July 11, 2013)
SUPER Long Track is Coming!
I am very happy to announce that Chris Ackerman and myself have been invited by the Promoters of the AMA Pomona Flat Track Grand National Finals to put together a real Speedway Show to run on 12th October on the half mile. It will run on the same bill as the Flat Track. Working title is AMA Super Long Track Speedway Invitational. 12 riders, 6 man races, heats, A and B Main, $3,000 purse minimum. Full starting gate. Possibly 2-3 overseas riders will be part of the show. More info closer to the time!
Steve Evans dreamteamspeedway@sbcglobal.net (July 10, 2013)
Hopetown Reunion
Ladies and Gentlemen:
I would like to announce to the speedway community that this year's Hopetown Reunion has generously offered the US Speedway world their own Speedway booth. On display will be a selection of old and new school bikes, suits, programs, and other accessories from US Speedway's rich past. The event takes place starting 10am, on July 13 at the building of Speciality Fabrications Inc., located at 2674 West Hills Court, Simi Valley. Former members of the US World Team Cup, and former US World Championship contenders will be in attendance.
The Museum organizers have asked John Cook, in conjunction with International Riders Helping People (Danny Magoo Chandler Foundation), to assist them in building a World class Speedway exhibit to add to their already breathtaking collection of motocross, ISDT and Triumph motorcycles, all of which will be on display, on July 13. Everyone is encouraged to show up and represent the US Speedway community. Non-Speedway people interested in checking out a fantastic collection of motorcycles are also encouraged to attend.
http://www.hopetownreunion.com/show.html
I would like to extend a special thanks to Randy and Mark Zimmerman and Ken Ferguson for their support in allowing us to have this booth.
- Gary Roberts - groberts@iee.org (June 28, 2013)
Boogaloo Night Friday at Pirate
June 28, 2013 - Bobby Schwartz Night at Pirate Speedway
This Friday night at Pirate Speedway on the Orange Showgrounds a famous racer named Bobby Schwartz will choose one of the dozen or so speedway motorcycles he has in his garage, put on his helmet for the umpteen thousandth time and do battle with youngsters that are nearly young enough to be his grandchildren. Odds are he will beat most of them to the finish line.
Bobby's schedule isn't as hectic as it was in the 80's, fewer tracks and less world traveling. He has won one a main event at Costa Mesa just a few weeks back, but feels that the 91 freeway is a pain he doesn't want to deal with regularly on Fridays. That last fact upsets many at Pirate Speedway.
Event promoter Shawn McConnell named the night of racing in Bobby's honor. Bobby will get there just before the sign-up at the back gate closes. He will complain about the horrendous traffic. Then he will put the helmet on and show those young whipper-snappers a thing or two. He will stick around after the races and sign autographs and tell jokes for the kids of all ages. Bobby has done that well for over 30 years, expect it to happen at least one more time.
This Friday evening at Pirate Speedway on the Orange Showgrounds in San Bernardino it is Bobby Schwartz night.
Partial listing of achievements:
World Team Cup Champion 1982
World Best Pairs Champion 1981, 1982
U.S. National Champion 1986, 1989
California State Champion 1984, 1991
Nickname 1: "Boogaloo"
Nickname 2: "Captain America"
Rider Number: 11
Hometown: Costa Mesa, California - USA
Place of birth: Los Angeles, California - USA
Birthdate: August 10, 1956
Occupation: Speedway Racer & Real Estate
Admission Price - Adults - $15 - Juniors - $10(13-17) - Seniors - $10(65+) - Children - $5 (6-12) - 5 and Under - Free
Family 4 Pack - $35 (2 Adult, 2 Children)
Gates open at 6:30 PM - Racing starts at 8:00 PM
ADDRESS
930 S. Arrowhead Ave. San Bernardino, CA. 92408
Info Telephone: (714) 255-0088
From: brucetheannouncer bfflanders@aol.com (June 25, 2013)
2013 Industry Grand Marshall Jeff Parriott
| | |
| --- | --- |
| | Father – Sam "Buddy" Parriott |
| City of Industry Mayor Jeff Parriott would like to welcome you to the City of Industry and to the Industry Hills Expo Center. Mayor Parriott is not new to the racing world as his father and grandfather raced motorcycles since the 1920's. The Parriott family not only was involved in racing motorcycles but are a large part of this valley serving on the City Council for three generations. | Buddy pictured above at Willow Springs in the early 60's. In 1957, Buddy served on the original council when the City was incorporated. He raced all kinds of motorcycle events including flat track, TT and road racing back in the 50's and 60's. He finished 2nd at Daytona Road Race back in the early 60's and was a local Champion in the 500cc class on a Norton Manx. |
| | Grandfather - Sam Parriott |
| Jeff pictured above road racing in his early teens. | Sam served on the city council for 20 years. He started racing on the dry lakes in 1924 and turned 137 miles per hour on a Crocker Twin cycle at Muroc in 1939. Sam pictured below in his Kurtis 500S, |
| | Gentlemen, Start Your Engines . . . |
Returning World Cup hero Gino Manzares joins an impressive list of Speedway talent that has signed up to compete in next Wednesdays Speedway Season Opener at the Grand Arena. Any riders that are not on this list but wish to be on the program May 29th are urged to contact Ryan Evans, Kelly Inman or contact the Industry Racing office ASAP as the program will soon go to print.
#1 Hamill - #2 Larsen - #7 Raines - #13 Perkins - #14 Castro - #23 Russell - #24 Manzares - #26 Burmeister - #27 Novratil - #28 Holt - #30 Gomez - #37 Donaldson - #39 Blair - #43 Venegas - #48 Talkington - #66 Ramirez - #157 DeAlmeida - #163 Davis - #164 Osborne - #176 Gazafy - #178 Medellin - #188 Howard - #199 Sprecher - #207 Stevens - #208 Herkner - #210 Troutt - #211 Brown - #227 Whitcomb - #239 Wiggins - #242 Marteney - #244 Hughes - #255 Harlow - #290 Hartke - #308 Ruml - #311 Fife
Juniors: #1 Nicol - #4 Crone - #7 Scopellite - #11 Britt - #18 Palmese - #34 Malloy - #104 Hamill - #111 Ruml - #214 Wells - #222 Leedy
Pee Wee: #795 Palmese Jr - #326 Troutt - #27 Whitcomb
Tomorrow Night Event at Fast Fridays!
Fast Fridays Motorcycle Speedway wanted to be sure to let everyone know that YES we are racing tomorrow night May 17th. The weather has not and will not affect our event. Do to our AWESOME track prep team we have a great track already prepared for our races. For all of you So Cal riders that were on our way or were already here in Nor Cal and need any help with anything (accommodations, bike storage) please call us. We are all lined up with places for people to stay and garages to store your bikes. 530-878-7223
We look forward to seeing everyone here at Fast Fridays Motorcycle Speedway!
David Joiner
Fast Fridays Motorcycle Speedway
Auburn, California
fastfriday@aol.com
+01 530 878-7223 (RACE) fastfriday@aol.com (May 16, 2013 9:55 AM)
The event below was Rained out
2013 AMA National Championship Series
The Commotion Returns To Ventura This Summer
(March 20, 2013, Noel Dawson, Ventura Raceway) OXNARD, CA - This summer Speedway Bikes make their historic return to the Ventura Raceway. On June 29th, the fifth-mile high banked oval will feature a round of the AMA National Speedway Championship. Speedway Bikes have a tremendous history at Ventura dating back to the early 70s where Tuesday night Speedway was a staple for Southern California motorcycle racers and fans. Some of the most famous names in Speedway have graced "The Commotion by the Ocean" including 8-time AMA Speedway national champion and 2 time world champion Greg Hancock, who won the 1994 American Final at Ventura; 5-time national champion Billy Hamill, and local favorite Eddie Castro. Speedway Bikes have been featured in exhibitions recently at Ventura but this will be the first complete Speedway show since 2008.
Speedway Bike racing is one of the most unique forms of racing on the planet. Powered by a 500cc, single cylinder engine, Speedway Bikes have no gears and no brakes. Each race is started from a standing start and when the starting line tapes go up, the rider drops the clutch and the race begins.
The 16 rider field is yet to be determined but will likely include Hamill, who is also the defending champion, three-time national champion Billy Janniro, and last year's runner-up Charlie Venegas. 14 riders will receive automatic seeds into the round with the final 2 spots to be determined in a run-off to be held the night of the event. The 2013 AMA Series is presented by noted Speedway promoter and US World Cup team manager, Steve Evans. The series will run using an identical race format to the Speedway Grand Prix Series.
In addition to the AMA national championship round, this night will feature a support division, a vintage speedway class, a 250cc junior speedway class, and a 150cc junior speedway class. Ticket information for this event will be available at a later date. Speedway Bikes return to Ventura Raceway for the first time in 4 years and the best of the best will battle for a national championship.
For more information visit www.venturaraceway.com or www.americanmotorcyclist.com
Like us on Facebook: https://www.facebook.com/pages/Ventura-Raceway/104668839570641
Follow us on Twitter: https://twitter.com/VenturaRaceway
--
Noel Dawson | Director of Operations
Ventura Raceway
Fast Fridays Practice Saturday April 20, 2013
This Saturday Fast Fridays will host our 2nd practice for 2013.
Cost:$25.00
Gate will open at 3pm with riders meeting and practice at 4pm
Please use Pleasant street entry gate and proceed to the sign in office in back of the speedway.
All riders will need to have a Fast Fridays entry form turned in and also have a current AMA & USA Speedway card. Entry forms, AMA, USA Speedway cards. Are available at our office anytime and we will open our office at about 10am until 3pm on Saturday.
We welcome all divisions, Youth Speedway, Pee Wee's and 'Run what u Brung'
ALSO! the 2nd round of the FIM Grand Prix from Poland will be live in our office at the track at 10am. Come early to support and enjoy seeing Greg Hancock on the road to become (we hope) 2013 World Champion
if you need more information call us at 530 878 RACE(7223)
Hope to see you Saturday!
David Joiner
Fast Fridays Motorcycle Speedway
Auburn, California
fastfriday@aol.com
+01 530 878-7223 (RACE)
2013 Race-a -mania - The Grand Arena - City of Industry
April 7, 2013
2013 National Championship Qualifiers Riders and General Information
March 27, 2013
Victorville Speedway Only Race
Chris Ackerman and myself will be promoting a "One Night Only, Speedway Only" race at Victorville later this season. The date of the race is September 21st, 7pm start time.
Victorville for now, due to a variety of factors, has lost it's place on the regular events schedule. That said, having surveyed the riders, there was quite a lot of support for doing a one off event like this with a very good purse and bikes only.
More information will be posted about this race shortly. It is on a spare Saturday in the SoCal schedule.
Steve Evans dreamteamspeedway@sbcglobal.net (April 12, 2013)
3 and 4 Wheels only at Victorville Saturday April 13!
Due to low sign ups there will be no bikes at Victorville Saturday.
There will be a full Sidecar Program and Speedway Sprint Cars. Races start 6pm, just $10 admission.
Its not all bad news re bikes at Victorville - announcement coming tomorrow!
Steve Evans dreamteamspeedway@sbcglobal.net (April 11, 2013)
Fast Fridays - Saturday April 13th Spring Fling!
Don't forget to join us this Saturday April 13th for our annual spring sign up day. Swap meet starts at 10:00am Sign ups start at 12 noon Potluck BBQ starts at 2:00pm Practice starts at 3:00pm cost $25.00
... You have to be pre-signed up at Fast Fridays to practice.
Hope to see you all there!!
David Joiner
Fast Fridays Motorcycle Speedway
Auburn, California
fastfriday@aol.com
+01 530 878-7223 (RACE)
USA SPEEDWAY MOTORCYCLE LONG TRACK CHAMPIONSHIP AT PERRIS AUTO SPEEDWAY JULY 27th!
(Perris, CA, April 8, 2013) For the first time in three years, Speedway Motorcycle racing will return to Perris Auto Speedway on Saturday, July 27th, when the famous Riverside County clay oval hosts the American Motorcycle Association sanctioned "2013 United States Speedway Motorcycle Long Track Championship." It will be the first United States Long Track contested in California since legendary Ascot Park closed in 1990.
"Speedway is a great sport and we are looking forward to welcoming it back to The PAS," promoter Don Kazarian said. "We have hosted a few Speedway events in years gone by, but this one is shaping up to be the best. We are teaming with Steve Evans and Chris Ackerman to help put on what promises to be a great event. They are very impressive to work with and they are already working hard to make this a yearly tradition."
The race will be run on The PAS inner quarter-mile Track, which is larger than any purpose built Speedway track in the USA.
"This race is very important as we need to be get the U.S. riders on some bigger tracks," Evans, who came from his native England in 1998, said. "Long Track is its own form of speedway and guys want to go fast. These young guys in particular want to prep themselves to go ride in Europe. What a better way for them than to have a National Championship at a National Championship caliber facility with experienced promoters and speedway people at the helm to make it a big event."
One of the key ingredients to the success of the race is the field of riders who are competing. Kazarian is leaving that to Evans. Evans has been one of the leaders of the charge for the USA to return to its glory days of 1980s when riders such as superstars Bruce Penhall, the Moran brothers, Bobby Schwartz, Scott Autrey, Sam Ermolenko, Lance King, John Cook and Dennis Sigalos carried the stars and stripes to the top of the Speedway world.
"Steve has done a great job in helping to get the USA back on the international scene and he has done a lot of promoting here in California," Kazarian said. "We know Steve and Chris will apply their magic to this race and make it a huge success. We are going to have the best field of Speedway riders to ever race at Perris Auto Speedway and that is going to make it our best Speedway event to date."
In addition to the field of riders competing for the Long Track championship, there will be a support class comprised of lower first division and top second division riders. Also on the card will be the extreme sidecars.
"When we first started talking about putting this event on, we sought out some extra input," Kazarian stated. "We got positive feedback from everyone on the National Long Track Championship and many of them also indicated that we should have sidecars racing, too. Steve agreed with that and the sidecars are going to be a big part of the show."
"The sidecars are crowd favorites wherever they go, "Evans stated. "They put on a good show. Just having the sidecars at full speed for five races on a track that is over a quarter mile is going to be edge of your seat stuff."
As soon as the word got out about this National Championship event, interest has been running high with competitors wanting their shot at the prestigious title. As well as the top riders in California, there has been interest from other parts of the country and Canada.
"From the first time this event appeared on The PAS schedule I was getting phone calls and text from riders saying, 'sign me up and put me on the program,' Evans laughed. "This may not be every rider's cup of tea, but there are riders who want to go fast and race this form of speedway and I am thrilled that The PAS has enabled us to do this. Canadian star Kyle Legault, who has raced in both the Elite and Premiere Leagues in England, has expressed an interest and there are riders in the Midwest who race on bigger tracks who have some interest as well. Chris Thomas, who was an AMA #2 road racer, has expressed interest in coming out from Ohio for this race. Long Track is his forte. He came along as an unknown on one of our race tours to England. He was brought there as a reserve and we were amazed. He was on the pace from the first laps. I don't know that Chris will win the event, but he will definitely be in the mix and scoring some points."
The format for this history making championship race will be based on the World Long Track Championships staged in Europe.
"It is going to be based on the format that has been used for the last several years," according to Evans. "It is going to be adapted to suit a one night event. World Long Track is a series. The National Long Track championship is going to be a one night event with the champion decided in the final race. There will be a field of 16 riders and each race will have six riders. Each rider will get four qualifying heats. The top four on points go straight to the final. Riders five through ten in points will go to a last chance race with the top two going straight through to the final. The winner of the final will be National Champion."
Advance tickets for the historic July 27th 2013 United States Long Track Speedway Championship are available now at the following link: http://pas.tix.com/Event.aspx?EventCode=544027 or by calling (800) 595-4849.
Perris Auto Speedway
18700 Lake Perris Drive
Perris, CA 92571
(951) 940-0134
http://perrisautospeedway.com/
Race-a-mania - The Grand Arena – City of Industry
(April 7, 2013)
8am - Property gate open. Enter through back gate pit entrance. EVERYONE must sign a release waiver and get a wristband.
8am to 8:45am - Coffee and donuts, light bench racing, practice preparation.
IMPORTANT - NO BIKES MAY BE STARTED BEFORE 8:45am
9am to 1pm – On track Practice. Riders remember It's Sunday morning. We have neighbors. Respect them. Show up with a real noisy muffler or open pipe and your practice will be cut real short.
Mufflers that were used here last year are acceptable for this practice... BUT ... please be aware Industry Racing has a LA County noise ordinance it MUST comply with for this season. What's that mean in plain English? ALL Speedway classes including juniors and sidecars will have to lower their sound levels from last season.
9am to 11am – Sound tests with different mufflers and inserts. Any of you that have a Dominator / Flow Muffler bring them. Representatives from Yoshimura, Power Pros, Scotts Headers, Coast Fab and Phase 9 are all working on the issue and will be in attendance. Hopefully a inexpensive solution will prevail that can be the new standard for all the Speedway tracks in 2013.
Industry Racing licenses will be available all day. There will be an express line for those that downloaded their Rider and Mechanic apps from the IndustryRacing.com and have the paperwork all filled out and ready to process. Here is the direct link http://www.industryracing.com/downloads.html. Yes the $20. Rider license discount will be honored all day Sunday (last day).
Lunch will be provided free for each Riders and one guest if they are signed up for practice and RSVP. For all others Hot dogs and a taco bar will be open. The beer/mixed drinks bar will open after the last motor stops turning.
The 2012 season points awards will take place in the front courtyard area.
Promoters Brad Oxley, Shawn McConnell, Roger Hyden, Steve Stasiefski, Carol Perez and Kelly Inman have all confirmed their attendance. A question and answer session with them is scheduled to take place after lunch. The National Championship Qualifier series and possible new muffler standards are two of the topics that will get serious attention.
This Sunday April 7th at the Grand Arena. You should plan to be there.
RSVP: Kelly Inman (626) 393-3876
Howie Zechner
Press Officer
Industry Racing
Fast Fridays Speedway - Signup April 13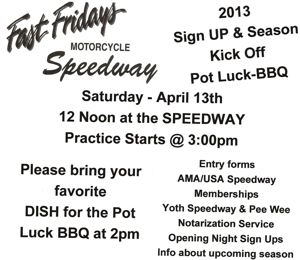 Pirate Speedway ~ 2013 Licenses
Riders/Sidecars/Minors on 500s, Juniors, Peewees and Mechanic licenses will be available on Pirate Speedway in the near future!
However, until then, you can request that one be emailed to you. Please contact me at missjessilee@sbcglobal.net or Shawn/Robynn @ dogynn@aol.com.
Riders/Sidecars/Minors on 500's: $60.00, before or on 3/30: $40.00
Juniors: $50.00, before or on 3/30: $40.00
Peewees $30.00 before or on 3/30: $25.00
Mechanics $25.00 before or on 3/30 $20.00
There will be a practice THIS Saturday, March 23rd from 10am-3pm. This is also the day for turning in your licenses. :) Opening night of Pirate Speedway is April 19th! Sign-ups are being taken now! Please feel free to contact any of us should you have any questions! Thank you and looking forward to a very successful season! :-)
*~! Jessi Lee !~* missjessilee@sbcglobal.net (March 20, 2013)
Race-a-Mania Day - April 7 - Industry Racing
A Speedway Practice, 2013 Industry Racing Rider/Mechanic License Sign-up, with a BBQ & Awards ceremony will be held Sunday April 7th at the Grand Arena.
9am - On track practice - $20. - Includes lunch for two
1pm - 2012 Points Payout & Awards Presentations
Rider Track License $60. Renew/apply by April 7th for a $20. discount
Mechanics License $30 - Remit at practice day or pre-pay by phone at (626) 330-0324
Muffler testing will be conducted - RSVP Kelly Inman (626) 393-3876
Howie howie@razvideo.com (March 13, 2013)
Ventura Race / PAS Long Track info
I have had more than one eager rider contact me to sign up already for the Ventura race (June 29) and Perris Long Track National (July 27th).
At this point rider sign ups are not open. What I can tell you is;
- For Ventura there will likely be qualifying heats at 5:30pm for 2 wild card spots on the main program, as well as a Support Class. Main show is at 7.
- For the PAS the main show will be 18 riders (using an adaptation of the World Long Track race format), as well as a Support Class (D2) and Sidecars. Races start 7pm.
Also note we are planning much promotion of these events at the tracks themselves in the months leading up to the races. As well as promoting these races we also want to take flyers for all of the other tracks so that speedway as a whole and the weekly tracks also can get some exposure. Ventura especially has a lot of fans who have not seen speedway for years and though the race itself will be a great night out I would hope that some will get their speedway bug reignited so they come more than once a year.
If anyone would like to help on promotions at either Ventura or the PAS, please get in touch. At each track we can get 4 passes per night so if all are used two people can man the booth, two can enjoy the races and you can rotate. Riders who could take a bike there would also be very welcome.
Schedules for both tracks are posted here;
http://venturaraceway.com/
http://www.perrisautospeedway.com/schedule.html
Also if there is anyone in the Ventura area who is willing to help us with promoting the race in the local community, please get in touch. Crazy Chris has designed awesome flyers for both events!
It's very exciting to get two races on big tracks this summer and we want to use this opportunity to do more than just create good one night events. Ventura will also have A vintage Speedway class.
Steve Evans dreamteamspeedway@sbcglobal.net (March 6, 2013)
Pirate Speedway lighting upgrade completed
Pirate Speedway promoters Shawn & Robyn McConnell, Jerry Armstrong & Roger Hyden are making major facility improvements on the 1/8 mile Speedway Motorcycle facility located at the Orange Show in San Bernardino CA. Fans and riders alike will love the new lighting that is over twice as bright and the announcer speakers that are being repositioned on the lighting poles. "This is just the start" Roger Hyden told me. We plan to make Pirate Speedway the only place to be on a Friday Night. Right on, history shows the track is world class and deserves being one of "The Big Three" in Southern California Speedway Racing. Look for major cross promotion announcements between Costa Mesa Speedway, Industry Racing and Pirate Speedway in the next couple of few weeks.
Howie howie@razvideo.com (March 1, 2013)
2013 Victorville
Victorville will be running Speedway races in 2013 with a few changes in management and class structure.
I stepped down as actual promoter at the end of 2012 but am still staying involved a little as John Aden and I don't want the door closed on Speedway at such a good race track. John will take on the promoter role, I will assist by doing rider sign ups and the race program for speedway and Chris Ackerman will remain as announcer. John will provide the race night staff - I will likely be at some events but due to my other projects my main function will be rider sign ups.
Out of the 15 race schedule there are 7 dates that do not clash with other race tracks and will be the prime speedway dates.
These are:
March 23 - Opening Night
April 13
July 20 - Nick Varner Night
August 10
October 12
October 26
November 9 (day race - possible Track Championship)
The track will also run races on 3/2, 4/27, 5/11, 6/8, 6/22, 7/4, 9/7 and 9/28 as part of its Speedway Sprint schedule.
For Division 1, Division 2 and Division 3, John has decided that he will pay a purse based on 100% of rider entry payback. On the Division 2 / 3 side this can make some nice purses if enough riders sign up. For Division 1 we are seeking some local sponsorship to bump up the purse beyond entry payback and hope to get between $200-$400 per night to add to the entry payback.
The track is being repositioned with its original intention of providing races where the young and up and coming racers can cut their teeth and get some laps and race wins under their belts. It isn't going to pay big Division 1 purses but will pay reasonably well for the mid to lower Division 1 rider it is aimed at.
All divisions are welcome but each class needs a minimum 4 entries to run. We welcome Juniors for sure both 250cc and 150cc Mini.
All classes are welcome. John wants to keep speedway going there but only if it is supported.
Steve Evans dreamteamspeedway@sbcglobal.net (February 19, 2013)
Remember What the Gumball is About!
This weekend is truly the festival weekend of Speedway! It's the most fun we have at any single race with a great purpose we are supporting!
It is also for some who work it, quite relentless, especially Christina and the crew on the back gate. At a usual event the sign up booth, for two hours, is often the most stressful. I always am glad at a race that I run when the sign ups are over and we can get on with the show.
Now, for Gumball weekend sign ups start on Saturday morning before many of us wake up and they literally run none stop till about 7pm on the Saturday night. Then, afterwards it starts again very early on Sunday ending well after the races begin.
Whilst most people over the past two years I have co-promoted this race are a pleasure to deal with, there has been a very small minority who, to put it honestly, drive the back gate crew half crazy! Such examples are feeling entitled to free admission to the event, complaining about prices, etc.
Please remember that the weekend is a fund raiser for junior speedway and much of the progress that has occurred in recent times is fuelled by what happens on Gumball weekend. The riders, including two former World Champions, Four National Champions, all the way down to the devoted D2 and D3 riders are all riding for free and would not dream of asking for purse money. The race day crew spend endless hours working compared to a normal race and just do it for the love of the sport.
No matter whether you are riding, mechanicing, working or a fan, enjoy the weekend and feel proud that your entry fee or spectator fee is helping to assist perhaps the most positive thing happening in American Speedway right now - all of the hard work on World Cup and the big Monster races we have seen recently is for nothing if we don't have the next generation of riders to lead USA to a bright future!
So enjoy yourself, be proud to be there and be nice to the back gate staff! See ya there!
Steve Evans dreamteamspeedway@sbcglobal.net (February 13, 2013)
2013 World Famous Gumball Rally Prices
Adult Academy - (all inclusive) $200.00
Open Practice – (includes entry to Big Kids' for kids) $30.00
Big Kids' Gumball Spectators/Mechanics $15.00/ adults who rode in practice and under 15 - $10.00
Big Kids' Riders $30.00 - ($15.00 If practiced)
Junior Academy $40.00, includes entry to watch the Gumball Rally
$60.00 Academy/Gumball (Pee Wees only)
Gumball Rally Riders $30.00 for one class - $15.00 for second class
Gumball Rally Spectators $15.00 - Under 15 $10.00 - Weekend Pass $25.00 all inclusive
For further information contact Hagon Shocks hagonshocks@yahoo.com (760) 798-8015
RAINED OUT - Practice at Pirate Speedway
Thanks to mother nature and the lovely rain she is providing us, Pirate Speedway will not be able to run a practice this Saturday, January 26th. Sorry :-(
*~! Jessi Lee !~* Jessi DuBois missjessilee@sbcglobal.net (January 2, 2013)
Practice at Pirate Speedway this Saturday Jan 26th from 10-3 pm. Beautiful track- just rebladed. Open practice $40.00, 2012 IMS license holder $30.00. No charge for mechanic or spectator. Fuel available for $7.00 a gallon. Please let us know if you are interested. Hope to see you there!!
Shawn McConnell (714) 255-0088 or E-mail dogynn@aol.com (January 22, 2013)
World Famous Gumball Rally 2013
Probably the funnest race weekend in the world is taking place February 16th and 17th at Pirate Speedway in San Bernardino.
The race weekend will offer a Speedway Training School for Adults, Open Practice for all, Hagon Shocks/Joker Machine Speedway Academy for first time kids 7 through 15, Big Kids Gumball for 1st 2nd and 3rd divisions and, of course, the prestigious Gumball Rally PeeWee / Mini / Junior Speedway Championship.
Weekend Schedule:
Saturday the 16th:
8am- 12noon - Billy Hamill Adult Academy
Noon - 4 - Open Practice
6pm - Big Kids Gumball (divisions 1, 2, and 3, Handicap and Scratch program)

Sunday the 17th:
9am - noon - Mini Speedway Academy
1pm - 2013 Gumball Rally Championship (PW, Mini 150, Junior 250 and Powder Puff)
Heat sponsors - $50 each
Peewee / Powder Puff / Division II and Division III Main - $100 each
Division 1 Mains (2) Saturday night - $150 each
Peewee – Mini $ 150, Junior 250 -$200 each
Co-Promoter, Steve Evans, is now taking rider sign-ups at dreamteamspeedway@sbcglobal.net or call 310 309 9418.
Race sponsors can call Steve or Billy or email us.
Camping will be available for $10.00 per night from Friday until Sunday night. Bonfires are allowed in the pit area. Contact Pirate Speedway for further information. (714) 255-0088 or E-mail dogynn@aol.com
Come on out and enjoy the show and support America's future Speedway Stars!
Ventura Raceway
Ventura Raceway have published their 2013 schedule (See Link Here)
June 29th is listed as an ALL SPEEDWAY event - first since 2000 - and as a round of the 2013 AMA National Series.
Ventura Raceway will issue a press release on this event shortly. Meantime we are looking for sponsors to help us stage the best possible event. Heats will be sold and there are also spots for main and presenting sponsors. Backing is vital to pull off an event like this! Please contact myself if you would like to assist - A race of this level at a Euro sized track will be something quite special - Let's cause a commotion this June!
Steve Evans (January 17, 2013)
Grass Track Meeting
Just wanted to confirm that BIGTIME Speedway will be promoting our inaugural Grass Track meeting Sunday April 28th at the El Dorado County Fairgrounds, located at 100 Placerville Dr., Placerville CA 95667. The track is on the baseball fields. The track will be about 300 yards in length.
Gates open at 9am, races at noon. All classes are welcome. Speedway bikes, mx, flat track, minis, quads, karts, etc.
Parking is $5.00 collected by the fairgrounds - No exceptions. That is their deal.
Spectators $5.00, if you want to race it's $25.00 per class.
There are 25 camping sites available for motor homes. $30.00 per night. Very nice facility. Should be a lot of fun tearing up the grass. Please RSVP and direct questions to bigtimespeedway@aol.com or call Steve Stasiefski at (925) 786-3263.
Steve Elstins (January 16, 2013)