Costa Mesa Speedway
Orange County Fairgrounds
Costa Mesa, California
Orange County Fair Derby
July 15, 2017 - Costa Mesa
Report by Ryan Evans
Photos Dorcey Wingo
United States National Champion Aaron Fox continued his recent hot streak by taking home the Bronze Hat Trophy for winning the 45th annual Orange County Fair Derby at the world famous Costa Mesa Speedway.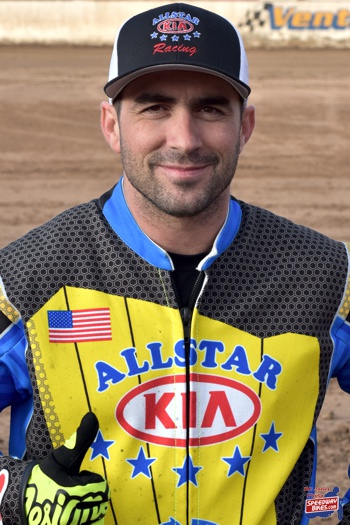 Former Under 21 National Champion Austin Novratil entered the Fair Derby Final with a perfect score which afforded him first choice of starting position. Novratil quickly selected gate one. Fox didn't hesitate with his decision to take gate two. Defending Fair Derby Champion "Mad" Max Ruml picked gate four which left his younger brother, Dillon Ruml with gate three. Fox led the field into turn one with Novratil pushing hard on the inside. Max Ruml made a brilliant cutback move and sliced under Novratil for second on the back straight and turned his eyes toward the leader. Max Ruml lifted in turn four and collecting Fox seemed inevitable. Max Ruml showed tremendous skill to get the wheel down and only nudge Fox's back wheel but careened back toward the inside and in to the paths of Novratil and Dillon Ruml. Fox deftly maintained his machine and his composure to stay upright while Max Ruml's wayward journey on the front straight cost him second to Novratil and slowed everyone behind the leader to slow down in the process. The last three laps were relatively uneventful as Fox cruised to his second Fair Derby championship in three years. Novratil finished second, Max Ruml held on to third, and Dillon Ruml finished fourth.
The annual Fair Derby coincided with the 127th Orange County Fair which is held at the fairgrounds on which Costa Mesa Speedway sits. The speedway event is free with the fair admission (with the exception of a surcharge for reserved seating on the front straight) and it brings many new fans as well as some former fans as well. It brings great exposure to the sport. The prestigious Bronze Hat is a perpetual trophy and presented to the main event every year. The event is a major event on the California speedway calendar.
The action kicked off with Max Ruml defeating his younger sibling in the opening heat. Novratil started his evening with a win over Gage Geist. Fox defeated two-time Fair Derby Champion Shawn "Mad Dog" McConnell to end round one.
Round two started with Max Ruml beating McConnell for his second straight win. U.S. Speedway World Cup team member Gino Manzares beat Dillon Ruml for his first win. Novratil finished the second round with his second straight victory while Fox passed "Fast" Eddie Castro to earn second.
Manzares used the outside to go around Max Ruml and opened the final round with his second victory in a row. Fox returned to his winning ways in the next event while Dillon Ruml remained consistent with another second place. Novratil completed the heats by remaining perfect while McConnell matched Dillon Ruml's scoreline by getting second for the third time.
A four-rider runoff was necessary to fill the last position in the semi-finals. The first start was halted because of an unsatisfactory start. The second time they lined up five-time Fair Derby Champion Bobby "Boogaloo" Schwartz touched the tapes and was penalized. The next time they came to the tapes Samuel Ramirez trapped from the outside and raced away with the final spot in the semis. Castro was second, Tyson Talkington finished third, and Schwartz was fourth.
Fox was victorious in the first semi with Max Ruml following him into the main event with his second place finish. McConnell got the best start in the semi but it wasn't enough to get across Novratil in the first bend. Novratil pushed McConnell up the track in turn two and grabbed the lead while Dillon Ruml slipped in to second behind him. The positions remained the same as Novratil and Dillon Ruml moved on to the main.
Manzares, whose first four races comprised of two wins and two fourths, completed his all-or-nothing evening with a win in the Scratch Consolation. Geist finished second, McConnell was third, and Ramirez finished fourth.
Sixteen year old Blake Borello made the trek from Northern California to compete on a track he had never seen in person. After finishing third in his first heat he rattled off wins in his second heat as well as his semi and had the crowd firmly in his corner. The Support Main Event began with the field leaving the line evenly Borello was slightly ahead as they entered turn two but Harold Hartke's gate one starting position gave him control of the corner and he tried to push the youngster wide. Borello boldly stayed on the throttle and went around Hartke for the lead. The drama ended there as the teenager raced off in to the horizon with a solid victory and a loud ovation from the crowd. Hartke held on to second, David Lynch finished third, and Ron Davis finished in fourth.
Four sidecar teams entertained the crowd with two heats filled with multiple leaders and positions being swapped throughout the four-lap races. The Sidecar Main Event was no different as each team held the lead at some point in the race. However, when all was said and done, it was National Champions Joe Jones and Tom Summers who emerged victorious. Dillon Osborne and Ashley Gibbons finished second, Bryan Motis and Johnny Bach were third, and Robert Curry and Laurie Curry finished fourth.
The OC Fair runs through August 13 thus the next event at Costa Mesa Speedway will be Harley Night on Saturday, August 19 and there is certain to be a large crowd.
RESULTS
Sidecar Exhibition Main Event
1 - Joe Jones/Tom Summers
64 - Dillon Osborne/Ashley Gibbons
4 - Bryan Motis/Johnny Bach
31 - Robert Curry/Laurie Curry
Support Main Event
27n - Blake Borello
290 - Harold Hartke
131 - David Lynch
163 - Ron Davis
Fair Derby Heat Scoring 123T
1 – Aaron Fox 3238
3 – Dillon Ruml 2226
5 – Max Ruml 3328
6 – Shawn McConnell 2226
7 – Austin Novratil 3339
10 – Gage Geist 21E3
11 – Bobby Schwartz 1012
14 – Eddie Castro 1102
22 – Mike Bloom 0000
24 – Gino Manzares 0336
48 – Tyson Talkington 0112
199 – Samuel Ramirez 1012
Race Results
1: M. Ruml, D. Ruml, Ramirez, Bloom
2: Novratil, Geist, Castro, Manzares (fell, remounted)
3: Fox, McConnell, Schwartz, Talkington
7: M. Ruml, McConnell, Geist, Schwartz
8: Manzares, D. Ruml, Talkington, Bloom
9: Novratil, Fox, Castro, Ramirez
13: Manzares, M. Ruml, Ramirez, Castro,
14: Fox, D. Ruml, Schwartz, Geist (engine failure)
15: Novratil, McConnell, Talkington, Bloom
Runoff: Ramirez, Castro, Talkington, Schwartz (tape penalty)
Semi #1: Fox, M. Ruml, Geist, Manzares
Semi #2: Novratil, D. Ruml, McConnell, Ramirez
Scratch Consolation
24 - Gino Manzares
10 - Gage Geist
6 - Shawn McConnell
199 - Samuel Ramirez
Fair Derby Main Event
1 - Aaron Fox
7 - Austin Novratil
5 - Max Ruml
3 - Dillon Ruml
Past Fair Derby Champions
1970 – Bill Cody
1971 – Sonny Nutter
1972 – Rick Woods
1973 – not contested
1974 – not contested
1975 – Mike Curoso
1976 – Bruce Penhall
1977 – not contested
1978 – Bobby Schwartz
1979 – Alan Christian
1980 – Mike Muntean (handicap)
1981 – Lance King
1982 – Mike Bast
1983 – Kelly Moran
1984 – John Sandona
1985 – Robert Pfetzing
1986 – Mike Faria
1987 – Mike Faria
1988 – Shawn McConnell
1989 – Steve Lucero
1990 – Bobby Schwartz
1991 – Phil Collins
1992 – Mike Faria
1993 – Bobby Schwartz
1994 – Bobby Schwartz
1995 – Steve Lucero
1996 – Robert Pfetzing
1997 – Shawn McConnell
1998 – Bobby Schwartz
1999 – Mike Faria
2000 – Charlie Venegas
2001 – Josh Larsen
2002 – Mike Faria
2003 – Mike Faria
2004 – Mike Faria
2005 – Mike Faria
2006 – Bryan Yarrow
2007 – Ricky Wells
2008 – Jimmy Fishback
2009 – Eddie Castro
2010 – Buck Blair
2011 – Billy Hamill
2012 – Billy Hamill
2013 – Billy Janniro
2014 – Billy Hamill
2015 – Aaron Fox
2016 – Max Ruml
---
Quick Results from the Orange County Fair Derby.
RESULTS
Sidecar Exhibition Main Event
1 - Joe Jones/Tom Summers
64 - Dillon Osborne/Ashley Gibbons
4 - Bryan Motis/Johnny Bach
31 - Robert Curry/Laurie Curry
Support Main Event
27n - Blake Borello
290 - Harold Hartke
131 - David Lynch
163 - Ron Davis
Scratch Consolation
24 - Gino Manzares
10 - Gage Geist
6 - Shawn McConnell
199 - Samuel Ramirez
Fair Derby Main Event
1 - Aaron Fox
7 - Austin Novratil
5 - Max Ruml
3 - Dillon Ruml