2014 Perris Raceway
Speedway Race Results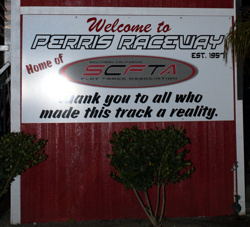 Perris Raceway
Burton Road
Perris, California
Winter Team Racing at Perris - Round 1
Perris Raceway December 6, 2014
By: Steve Evans dreamteamspeedway@sbcglobal.net
Results from Perris and are Continued Below...
| | | |
| --- | --- | --- |
| | Dorcey Wingo Photos | |
| | | |
| B is for Becker, Luke in the daylight. | Luke rides well at night, too! | C is for Cords, and pretty Sara can ride! |
| | | |
| C is also for crash, as River McDougall could tell you. | River wrestles the Methanol Mustang into submission... | [D'oh!!] |
| | | |
| D is for Dilkey, and Jamison has company. | F is for Facchini, and Neil was on fire! | F is for Fox. Aaron (R) was getting in some practice laps, with Mikey's help. |
| | | |
| F is for Faria, and Daniel's bright outfit is easy to pick out! | G is for Galvin, and Braydan had quite a night! | G is for Geist, and Gage had a ton of bad luck. |
| | | |
| G is for Green, and Russell was en fuego!! | H is for Hayley, and Ms. Perrault showed the boys how it's done! | H is for Horn, and Travis has been winning all year long! |
| | | |
| I is for Intrigue - or why two guys on the same team are doing this? | K is for Krezman, and Cameron knows how to win! | L is for Leedy, and Dalton was in the running all night long. |
| | | |
| M is for McDougall, count River and Daniel Faria (in green) in on the action. | M is for Sean McDougall, too. Fathers and Sons Make Speedway Rock! | M is for Moreau, and Brad seems to like his new GM! |
| | | |
| P is for Palmese, and Sebastian used up all my consonants! | P is for Pee Wees, and they had a ton of fun! | S is for Scopellite, and Rocco leads Jamison Dilkey in this heat. |
| | | |
| S is for Stunkard, and John was crankin' at practice. | W is for Warren, and Tyler had it dialed in early. | Y is for Youth, and our sport requires a plethora of them! |
| | | |
| | Z is for ZIP, and Becker (L) and Green know how to. | |
---
PERRIS, CALIFORNIA, DECEMBER 6TH 2014
WINTER TEAM RACING LEAGUE ROUND 1
The bright future for American Speedway was evident at Perris Raceway on Saturday December 6th as some of the sports brightest young prospects, a combination of young up and coming riders, and hardy Clubman racers enjoyed a fun team racing event. The meeting was the first of three races in the off season, and for the first time in 9 years, is an actual team racing league. Four teams are competing and will race each other one time in a round robin series. The 2014 British Elite League race format was used to great success, with riders racing team opposites of comparable ability, which ensued much close racing. The icing on the cake was the 500cc of no less than four 250cc Junior Graduates; Kurtis Hamill, son of 1996 World Champion and Team USA boss Billy, Luke Becker, Brayden Galvin and Gage Geist all having their very first races on the big bikes.
The results of the team events and additional races are below.
Match 1 - Victorville Vikings 43 - Ventura Aces 47.
The was a closely contested event which went down to last heat, with scores tied at 42-42 at this point. Neil Facchini, who rode a faultless 5 ride maximum and team mate Rocco Scopellite led home Kurtis Hamill and surprise package Nathan Siegel for a match winning 5-1. For the Vikings, Hamill led the way with 14 points including 3 wins. A gutsy come from behind pass against an impressive Scopellite, who himself scored 11+1, was the highlight of a performance to be proud of. In support Siegel won all 4 of his previous races before finding the pace hot in the nominated heat 15. Vikings had Braydan Galvin scoring 5 points on his 500cc debut, but despite the points return, Galvin had much to be proud of including two very fast paced 2nd place races before a high speed crash in heat 13 ended his evening. For the Aces, female rider Hayley Perrault won two races, including a key victory in heat 14. The Vikings, by keeping the score within 6 points, scored a consolation league bonus point which may prove crucial in the final standings.
Vikings:
1. Kurtis Hamill 14 (6)
2. Harold Hartke 4+1 (3)
3. Colton Duncan R/R
4. Dryden Gayle 5+1 (5)
5. Braydan Galvin 5 (5)
6. Nathan Siegel 12 (5)
7. Lewis Hughes 3+2 (5)
Aces:
1. Neil Facchini 15 (5)
2. Ricky Richards 4 (4)
3. Rocco Scopellite 11+1 (5)
4. Hayley Perrault 8+1 (4)
5. Jamison Dilkey 4+2 (4)
6. Damon Barry 1+1 (2)
7. Brad Moreau 4 (5)
Match 2 - Perris Eagles 37 - Orange County Rebels 57
The Rebels powered to a one sided victory as the unlucky Eagles had no answer in a dominant display. Debutante Gage Geist, for the Eagles, was the bad luck rider of the night as two engine failures and a fall ended his night after just heat 5. Then the Eagles, already operating as a 6 man unit, simply could not keep pace with the superior Eagles. Russell Green scored a 13+2 maximum, but it was the pace of Luke Becker on his 500cc debut that had those in attendance in sheer awe as he roared to 4 straight victories. His maximum efforts, however, ended in heat 15 when too much traction at the end of lap 1 resulted in a get off, but the rider walked away unhurt. Danny Faria provided solid back up for the Rebels with a 10+2 maximum, whilst Dalton Leedy just dropped one point for the powerhouse Rebels. For the Eagles River McDougall top scored with an impressive 14+1 including a double point joker win in heat 7. Tyler Warren battled very hard for his 7 points in back up. The two reserve races, involving the older Clubmen of Ron Davis, Jonni Jade, Rohn Zellner, and Steve Brown provided some close and intense racing, showing the pure of magic of the team format in involving everyone! The Rebels, by virtue of a win of over 6 points, go to the top of the league with their extra earned bonus point for the size of victory
Eagles
1. Billy Janniro R/R
2. River McDougall 14+1 (6)
3. Tyler Warren 7 (6)
4. Bruce Marteney 5 (4)
5. Gage Geist 1+1 (3)
6. Ron Davis 4 (5)
7. Jonni Jade 6+2 (5)
Rebels
1. Russell Green 13+2 (5)
2. Dalton Leedy 9+2 (4)
3. Dan Faria 10+2 (4)
4. Sean McDougall 6 (4)
5. Luke Becker 12 (5)
6. Steve Brown 1+1 (4)
7. Rohn Zellner 6 (4)
Winter League Table
1. Rebels - 4 points
2. Aces - 3 points
3. Vikings - 1 point
4. Eagles - 0 points
Round 2 match ups; Rebels Vs Vikings, Aces Vs Eagles
Other Divisions
Aside from the team races, there were 12 heats for other Divisions. Travis Horn dominated the Pee Wee division. winning both heats and the Main Event from Cole Ayers. Cameron Krezman went perfect in the 150cc Mini Division 2, with Luke Whitcomb twice second including the Main (which was stopped initially after Dakota Shockley fell with Whitcomb ahead). Sterling Martin won all 3 150cc Mini Division 1 races, Jake Isaac runner up twice after a bike failure in his first heat. Sebastian Palmese did not have any 250cc Juniors to race but instead defeated two reserve riders from the team program in each of his races.
Main Events
Pee Wee
25 Travis Horn
16 Cole Ayers
3 Levi Leutz
41 Zerek Krezman
150 Mini Division 2
26 Cameron Krezman
27 Luke Whitcomb
91 Landon Collins
96 Andrew Russell
419 Dakota Shockley
150 Mini Division 1
31 Sterling Martin
16 Jake Isaac
14 Sara Cords
35 Kyle Cunningham
30 Alex Martin
250 / Support Combined
18 Sebastian Palmese
227 Wade Whitcomb
215 Greg Willis