2016 California Speedway News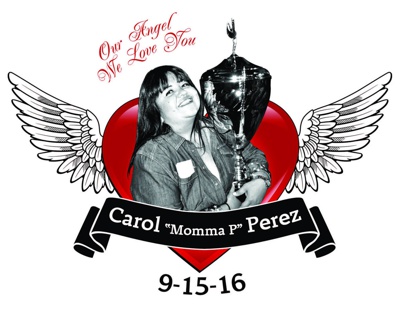 ---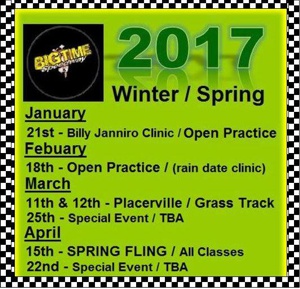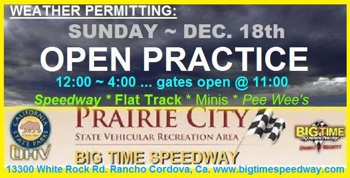 ---
2016-2017 Perris Speedway Supplementary Rules
---
Team Racing Is Coming!
Coming next month! The most fun speedway series of the year! Team Races 2016 / 2017!
Perris Eagles
Ventura Vikings
Santa Maria Aces
Huntington Beach Heathens
December 10, February 4, March 18 @ Perris Raceway
Teams Feature D1, D2, D3 riders. Sign Up Deadline November 26. (Please ensure you can attend all three events or at least advise us ahead!)
Draft will take place by December 3rd. (Please state any team preference when you sign up.)
Team Sponsorship Packages Available!
Each event will also feature races for Junior, Mini 150, PW and Sidecars!
Also we are just 8 days away from the season opener, the Turkey Classic featuring Old Skool Handicap and Scratch Racing on 19 November!
So much racing to come! The fun and the season never ends in California! Come on out and enjoy the races at winter long!
Steve Evans dreamteamspeedway@sbcglobal.net (November 12, 2016)
---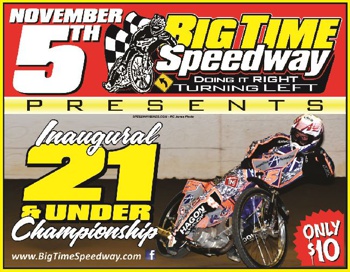 ---
Perris Muffler Test Session
Perris Speedway Press Release (includes sound rule and schedule, please read).
After 6 months of uncertainty we are 100% a go for our 2016 season, which will consist of 6 events between November and April. The mind-set of our speedway promotion and Perris Raceway was always to solve this in a way that complied with city noise levels whilst giving the riders and fans true speedway racing. Thanks to the hard work of Rick Richards, we have an inexpensive solution.
A picture of the insert is attached
The noise was noticeably reduced and all 9 riders at the test gave a unanimous thumbs up having run may laps on the track.
Each 500 and 250cc rider will be required to use a muffler tip / insert. They will retail around $40 and can be bought directly form Rick Richards. We will have the for sale at our opening race or you can contact Rick ahead to get one sooner. Sidecars already have muffler rules at the track. 150 and PW do not require any modification at this point.
The inserts fit the King muffler. If you are running something else, Rick can tailor one for your muffler but plan ahead and contact him, with a picture of your muffler– YOU WILL NOT BE ALLOWED TO RIDE OR RACE ON THE TRACK WITHOUT AN APPROVED INSERT, NO EXCEPTIONS. For simplicity sake, if you have a King, it may be best to use that at least for the first events.
Only the Rick Richards insert is approved at this point, no others. Other manufacturers who wish to provide an insert should get in touch with the promotion so we can conduct sound testing. Any future approved insert needs to be on sale generally and made available for all.
Race #1 is Saturday November 19, the Turkey Classic. This is individual competition for all divisions – D1, D2, D3, Uprights (new Class), 250 Junior, 150 Mini, Pee Wee, Super Pee Wee and Sidecar. SIGN UPS ARE OPEN, please contact me direct to get on the program.
Gates will open earlier at 1pm. From 3pm-4pm we will run a practice session so riders who were not at the test session can spin some laps to be ready for races at 5pm!
The full schedule for 2016-17 season is as follows;
19 November - Turkey Classic
10 December – Team Racing Round 1 + Christmas Party / Toy Drive
14 January – Winter Olympique
4 February – Team Racing Round 2
18 March – Team Racing Finals
22 April – AMA National Championship Series Qualifier

Approved insert for the King muffler
Steve Evans <dreamteamspeedway@sbcglobal.net> (October 23, 2016)
---
UPDATE: We are very happy to announce we are all systems go for our opening event on 19 November. A dozen riders came out today to test the muffler inserts. They reduce the sound by the required amount and were tested on track and given a unanimous thumbs up by the riders. More info in a day or two but our winter series is a go!
We will have a muffler test at Perris Raceway October 22nd 2pm-330pm. It will be free of charge but limited in approx 12 riders.
Rick Richards is designing and testing the inserts (should have pictures tomorrow to post). The first run will fit the King muffler (so be sure to sign up if you have a King) though we may well be able to fit others by then.
If the test session goes well and we can proceed, there will be additional practice time ahead of the first race on 19 November. This is for 500cc and 250cc bikes at this stage (we will address 150 and PWs later but we plan on those classes 19 November). We will be able to fit all current mufflers in time for the 19th and perhaps even by the 22nd.
The inserts take minutes to fit and will be available on test day.
If you wish to be one of the riders for the test session, PM me. Numbers are limited for this test. You will get laps on the track during the test window.
Steve Evans <dreamteamspeedway@sbcglobal.net>
---
October 2016 Big Time Speedway Newsletter
---
PERRIS WINTER SERIES UPDATE
A lot has been occurring in the past few weeks behind the scenes to address logistics to get Perris running this winter and to comply with sound levels. Here is a brief update.
The track landlord has advised us of a couple of inexpensive potential solutions of muffler inserts and tips that have been working successfully on the Flat Track bikes. We now have a prototype for speedway in production.
The prototype should be ready for testing within 7 days and it will be tested extensively. If all comes through the initial test, we will get around 10-20 of these made and be allowed to have an open test session at Perris on 22nd October, likely before the Flat Track practice scheduled the same day.
If we then get the thumbs up from that test day (which we will invite riders to attend) and it seems like the solution works for both riders and landlord, our season will begin on November 19. Our schedule for this winter is already reserved;
Nov 19 – Turkey Classic Season Opener
Dec 10 – Team Racing Round 1 and Christmas Race (Inc annual Toy Drive)
Jan 14 – Winter Olympique
Feb 4 – Team Racing Round 2
March 18 – Team Racing Finals
April 22 – AMA National Championship Series Qualifier
We thanks everyone for their patience and hope all works out!
---
September 2016 Big Time Speedway Newsletter
Big Time Speedway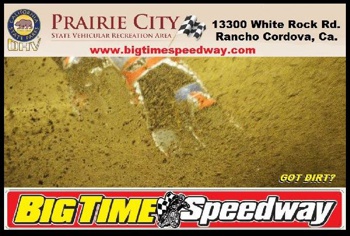 **OPEN PRACTICE SATURDAY - Sept. 10th, 4:00 - 8:00 PM**
All Classes - Groomed Track along with Music & BBQ. $25.00
---
General Southern California News
Ridgecrest: The proposed October 8th event at Ridgecrest is postponed, to be restaged at a later date. The Desert Empire Fair is very committed to 1-2 speedway races per year but they realized with 3 big events already in town for October, including the demo derby and Desert racing Grand Prix, that they would not be able to give their full attention to sponsorship and promotion. When we have the new date we will let you know!
Santa Maria: Great show in store Saturday! Small but quality D1 field, $1,000 to win, $2,500 purse. Top 10 places pay and if less than 10 D1 (likely) the rest of the paying positions go to Support.
8 Sidecar Team, 6 Vintage, 6 250s (inc Martin Bros. debut!) and 3 150s as of now! We can add more but program is set 11am Thursday. The track also has a big car race Sunday night and if you add in Pismo Beach and Morro Bay you have a great spot for the holiday! Flat Track classes also run for any speedway peeps who have kids, Mini Bike, Hooligan, Vintage, Modern or MX bike to run. Maybe Carey Hart will run the Hooligans again? Here are the times - we are very excited about this venue and bigger events are coming in 2017!
Santa Maria time for Saturday 3rd September
Pits Open - 10am : Sign Ups Open – 12:30pm | Front Gate Opens - 3:30pm | Practice – 3:30-430pm (Speedway first) | Flat Track Grids Set – 4:45pm | National Anthem – 5:45pm | 1st Race – 6pm
ALL FLAT TRACK BIKES AND QUADS MUST PASS TECH AND GET A STICKER TO RIDE For Flat Track classes pre sign up discounts go to www.santamariaraceway.com, for Speedway bikes there are openings in all Divisions (Pro, Support, Vintage, Sidecar, 250 Junior and 150 Mini), contact me by 11am Thursday 1st to get on program.
Steve Evans (Aug 31, 2016)
---
Santa Maria: 3 September, Division 1 pays $2500 minimum with $1000 to the winner. This is a fantastic track with an enthusiastic promoter who wants to grow this program. I know its a holiday weekend (though being just 15 minutes from Pismo Beach and 45 from Morro Bay, its a great place for a holiday weekend!) but with the regular tracks drawing their programs to a close you'll be glad you did! Plus, for those looking to 2017 SWC, a big track!
Ridgecrest: The new management of Ridgecrest Fairgrounds have invited us to bring a speedway event back to the city on Saturday 8th October. More info coming shortly, it is the first race since 2010 at the venue. Our past events were hugely enjoyable and we think the time is right to bring it back.
Ventura: Season finale is on 17 Sept!
Perris: We have 6 Perris dates agreed just need to get noise OK so I can release the dates!
Steve Evans (Aug 23, 2016)
---
August 2016 Big Time Speedway Newsletter
---

2016 AMA Speedway National Championship Series
---
July 2016 Big Time Speedway Newsletter
---
2016 AMA Speedway National Championship Series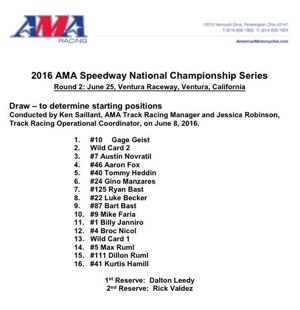 Round 2 Draw
---
June 2016 Big Time Speedway Newsletter
---
Team U.S.A. Boss Lance King Named as Ventura AMA Nationals Grand Marshal
Former World #3 and 6 time FIM Speedway World Cup Final Medalist Lance King has been named as the Grand Marshal for the 'Commotion by the Ocean' at Ventura Raceway on Saturday June 25th. The event has become hugely popular as the best riders in the country race on the truest replication of a world championship speedway track in the United States.
King oozed enthusiasm as he spoke about the event at Ventura and Team USA's upcoming events in Europe. "As a first time coach and having been out of the speedway scene for a while, the Ventura race is important to me. It will be my first time getting a chance to see the racers on a track that is comparable to what they will race on in the World Team Cup. It will also put me face to face with the racers and give me a chance to see where their heads are at and what they hope to accomplish if they are picked to be part of the USA World Team. I know when I was racing the team cup was more about representing my country than it was about any personal gain. Winning was awesome but just representing the USA in a European dominated sport made me so proud. I'm hoping I will see some of that from the young riders who might be picked to represent the USA team this year. The Ventura race is a great opportunity for me to access more than just their riding abilities. I'm really looking forward to it and I'm honored to be the Grand Marshall for the race."
The Ventura event is a full program. As well as the Grand Prix style National Round that starts at 7pm, there will be qualifying heats for the last two spots on the main program at 5:30pm, as well as Sidecars, Support Class, Vintage and Junior Divisions.
Team USA competes in the 2016 Monster Energy Speedway World Cup, beginning July 26th at Vastervik, Sweden. It is due to submit a 10 man squad on June 28th, two days after the Ventura round, with the starting line named 2 weeks prior to the opening event.
Steve Evans (May 16, 2016)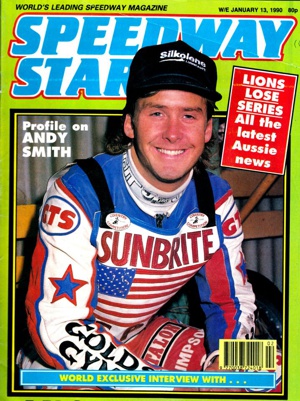 ---
Speedway Long Track National Championship
Attn: Speedway Riders - Registration is open online
Friday, July 15 - Speedway Long Track National Championship
Fulton County Fairgrounds - Wauseon, Ohio
An online letter of intent for the Speedway Long Track National can be submitted from the Speedway page of www.bikedays.com
---
May Issue of Big Time Speedway News
The link to the May issue of Big Time Speedway News is HERE.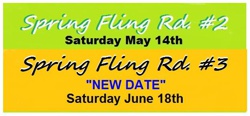 ---
2016 AMA Speedway National Championship Series
The links to the 2016 AMA Speedway National Championship Series Supplementary Regulations and the Round 1 Draw are below.
Supplementary Regulations - - - - Round 1 Draw
Draw for Round 1 of AMA National Championship Series Costa Mesa Speedway, 21 May. Shawn McConnell and Charlie Venegas are the Wild cards.
---
2016 Sidecar Schedule
---
Perris Raceway
AMA National Championship Qualifier Itinerary & Information.
Saturday 30th April
(Revised on left.)
2:45pm Gates Open
3:00pm Rider Sign Up Opens (Red Office)
5:00pm Rider Sign Ups Close
5:10pm Riders Briefing
5:45pm National Anthem
5:58pm Bikes Push off for Heat 1
Qualifier is 16 riders, 20 heats, standard Championship Format.
Top 6 in points will Qualify for 2016 AMA National Championship Series.
7th - 14th are qualified reserves in order.
Top 4 in points go to a Main Event to determine positions 1-4 on the night (all will already be qualified) If 6th place is tied, it will be determined by Run Off.
Note Southern California Flat Track Association will likely be conducting muffler tests. No one will be disqualified from riding but note this our last event until proposed muffler levels are reached. Do your bit to show them we are serious about the noise and environment.
Fuel will be provided by promoter for all races in the AMA Qualifier. All other divisions use own fuel as per usual. All riders pay entry fee as per other Perris events this season. Two full track preps are scheduled into the event.
All AMA National Qualifier competitors will have to pass a tech inspection, 3-5pm (Tech Inspector is Mr. Paul Flanders)
Top 4 finishers have bikes impounded for 30 minutes after last race (protest window). Purse payout with payout sheet will be disbursed 30 minutes after last race in sign up office.
There will be no pre event hot laps or testing windows open during the event.
As per 2016 Supplementary Regulations, all AMA National Championship events will be overseen by a 3 member jury, consisting of Promoter (Steve Evans), Referee (Danny Hull) and AMA nominated representative (Kelly Inman). The jury exists solely to handle any matters of an urgent matter (i.e. a postponement due to weather), ensuring standard procedures and rules are followed, and any protests. This is to mirror the format used in FIM Events.
---
Santa Maria
SPEEDWAY AND FLAT TRACK COME TO SANTA MARIA RACEWAY!
Some of the most exciting Motorcycle Racing around is coming the central Californian coastal city of Santa Maria this weekend.
A combined show featuring Speedway Motorcycles, Sidecars, Flat Track and Quads blasts off at 6pm Saturday at Santa Maria Raceway, just off the 101 Freeway north of the city. In fact, access is easy as the track is visible from the Freeway.
The man bringing the show to the city and working alongside the promoter in American based Brit Steve Evans. Evans and his promotions partner Chris Ackerman have been bringing Speedway bikes to multiple venues over the past decade, and are thrilled with the new arrangement with Santa Maria. Evans, as well as promoting racing, also runs the American National team which will travel to Sweden and England In July for the annual World Cup, where USA is currently ranked 6 in the world.
"I met Mike Kappmeyer, the promoter of Santa Maria, in Ventura at a race last September. Its not uncommon for us to get approached to do events, but most never happen. In this case we knew from the off Mike wanted the show he was enthralled with at Ventura. They have a very good promotional team, a great enthusiasm and have invested a purpose built track inside their car oval as well as lots of local advertising."
"The track itself measures around 300 yards which is a perfect size. It is bigger than your typical American Speedway track and will produce good action – it was well received during our recent test session."
"We have a combination show of multiple disciplines. We figured start things off by welcoming everyone and then in future events we can fine tune things based on what the fans and riders like best. We have Quads, Flat Track, Sidecars and Speedway."
"My specialty is speedway. These bikes go from 0-60mph in under 3 seconds, have no brakes and drift around the turns. We have some of the best in the country coming out doe this event – 3 National Champions will be there – Aaron Fox (Pro), Max Ruml (under 21) and Sterling Martin (Youth).
"Both Fox and Ruml have been on the USA World Cup team and each will see Saturdays event as a key to pushing for selection in July."
"The Sidecars feature 3 wheeled machines with a driver and passenger, the passenger balances to provide cornering speed. They have two teams that just got back from the World Championship in Australia including 8 time National Champion Joe Jones."
"The Flat Track and Quads will provide multiple classes and locals are welcome in the 'Run What You Brung' Class. Local star Casey Cahoon, who runs the National Series is confirmed to race."
"We have two more events confirmed, Sunday July 3rd and September 3rd. We obviously want this to succeed and hope it is well supported. The July event will likely feature European style team speedway where a Santa Maria team will race a team from the Ventura venue."
More information can be obtained at SantaMariaRaceway.com/
The great escape.
Steve Evans (April 20, 2016)
---
Victorville
Victorville will be hosting 4 speedway events for the 2016 season. They will kickoff with the July 4th Firecracker Derby followed by Race for the Rack on October 15, the Halloween Special on October 29 and King of the Desert on November 6. The events will be held at Wheel2Wheel Raceway with all classes welcome.
For more information contact Gary Gomez at (951) 741-4931 or tmgracing@aol.com
---
Santa Maria
Santa Maria is hosting a test and practice day April 2nd. FREE to all riders of Speedway, Sidecars and Flat Track.
A great chance to get dialled in for April 23 on our new 1/5 mile Euro sized track! Times planned are 12-4pm to allow riders who wish to travel.
Steve Evans (February 26, 2016)
---
Big Time Speedway
Just a quick note to let you know our first event at Prairie City this year on Feb. 28 will be a Billy Janniro School and Open practice.
School will start at 8:30am to 11:30am.
Please contact Steve Stasiefski at (925) 786-3263 for details or to sign up.
Practice will be from 1:00pm to 5:00pm, no pre-sign up required. Cost is $25.00 per rider.
Come out and get ready for the Spring Series!
Linda Beil bigtimespeedway@gmail.com(February 23, 2016)
---
2016 AMA Speedway National Championship Series
This is the Entry Form for the 2016 AMA Speedway National Championship Series.
Each round will feature 14 permanent series riders: The top 8 finishers from the 2015 series and the top 6 more finishers at the Qualifying Round.
Riders placing in the 7-14 place spots in the Qualifying Round will be selected as reserve riders for the season.
Additionally, two wild card competitors will be chosen FOR EACH ROUND by the STAGING promoter.
Ken Saillant
Track Racing Manager – AMA Racing
American Motorcyclist Association
13515 Yarmouth Drive
Pickerington, OH 43147
(800) AMA-JOIN
(614) 856-1900, ext 1260
(614) 856-1924 Fax
---
Team USA launches 2016 fund-raising drive!
The showpiece Speedway World Cup takes place late July, and Team USA is already preparing to make an impact in the 2016 competition.
USA have been drawn into Semi Final #2 in Vasteras, Sweden on 26th July where they will take on reigning World Champions Sweden, Australia, and the winner of a qualifying round in Italy on June 2nd that pitches the Italians against Slovenia, Germany and Latvia for the final spot.
The top three teams then advance to Manchester, England and the brand new state of the art National Speedway Stadium for the final stages that take place on Friday 29th and Saturday 30th of July.
To assist Team USA in making the biggest impact it can, the popular 'Stars and Stripes Club' is relaunched! Fans have the chance to join in the motion with 6 levels of membership – all levels come with rewards and goodies, including signed World Cup race bibs, pit shirts, special souvenirs from BSI (SGP and SWC rights holders), plaques, photos, programs.
All levels (starting at bronze for $50) help the forward motion of the Team. Levels above are $100, $250, $600, $1000 and a new 'Patron' Level at $1750. The number of members grows every year!
It is due to our Stars and Stripes members that the likes of Gino Manzares, Max Ruml and Broc Nicol have been involved in the team over the past few years. Given new rules for 2016 have each team tracking an Under 21 reserve, the club members will once more assist young riders and with their rising standards, it is possible there will be another first time rider in the team.
A ten man squad will be named late in June with the starting line up for Vastervik named early in July. With over a dozen worthy riders in contention, competition will be tougher than ever.
And though we are over 5 months away from competition, last year our 'early bird' members had their donations go further, with the team saving over 70% on its air travel from the UK to Denmark based on early bookings.
Our fans and the fuel they bring are definitely a massive part in the recent Team USA success story!
Steve Evans (February 16, 2016)
---
PERRIS SPEEDWAY PRESS RELEASE
PERRIS TO HOST AMA SPEEDWAY NATIONAL CHAMPIONSHIP SERIES QUALIFYING ROUND APRIL 30TH
In previous seasons, the final 6 places in the series have been decided by the Series Organizers and Promoters, and quite understandably, it has led to disappointment, controversy and impossible choices. It also created an over complex rule book where each round staged its own mini qualifying heats ahead of its main show and in turn, the ability of riders qualified in this way to bump seeded riders out of the competition.
For the 2016 Series, the top 8 riders from the previous year are automatically seeded in. The Perris race on 30th April will decide the remaining 6 spots in the series, as well as 8 reserve positions in order. The 14 riders will be automatically in each round, with the 8 reserves on injury stand by in respective order.
Each round will also have 2 Wild card spots open, which are a promoters choice. The wild cards will not have the ability to 'bump' their way into the series regardless of their finishing position.
A formal AMA Press Release will be issued in due course about the series, with round 1 scheduled at Costa Mesa on May 21st.
The eight riders already seeded into the series are Billy Janniro, Max Ruml, Bart Bast, Broc Nicol, Aaron Fox, Dillon Ruml, Luke, Becker and Tommy Hedden. They would not need to qualify at Perris.
The top 6 positions at Perris will fill out the permanent field of 14.
The event will be the biggest ever held at Perris Raceway, which has been established as the off season venue for American Speedway and development of the future USA World Cup team. Given the size of undertaking for such, event and race sponsors will be sought. Such interested sponsors are invited to get in touch.
All Division 1 level riders are welcome to sign up for this event. It must be stated however that all qualified riders from the race are expected to attend all four series rounds (Costa Mesa, Ventura, Industry Racing and Fast Fridays, Auburn), so signing up to ride April 30th is a confirmation of intent to ride all events without fail.
Steve Evans (February 8, 2016
---
Ventura Raceway
Ventura's first bike race of the season is 5th March.
Classes for 500cc, Veteran / Vintage, Sidecars, 250 Junior, and 150 Mini.
Flat Track classes for the Pee Wees. More info when I have it, but this event is the best chance to get ready for the AMA round in June!
Steve Evans (February 1, 2016)
---
Big Time Speedway
MOTHER NATURE WINS!
Next Sunday's Practice is being called Now due to all the rain we have had in Nor-Cal this month. Track has held up really well so far but needs grading to take out a few rain ruts, but the other problem the rain brings for us is the inability to get the DG. (Out of the State approved mines!)
If we can't DO IT RIGHT, were not DOING IT at all! More dates scheduled - stay tuned.
---
Mid Valley M/C Track - Manteca
The Mid Valley M/C Track will be holding Speedway Racing this year. The track page is Manteca.
Practice starts on Feb 20 with races scheduled through Apr 23.
Ray Holt Jr. (916) 504-6265 (January 24, 2016)
---
2015 Grand Prix Rider to Race Perris 6th Feb!
We are very pleased to announce that 2015 Speedway Grand Prix Rider Tomas Jonasson will be racing at Perris on Saturday Feb 6th.
Aside from the SGP Tomas was the 2014 Swedish National Champion and his club, Elit Vetlanda, has won the Swedish Elite League for the past two seasons.
Huge thanks are due to our partners at TMJ Racing who have helped to make this happen.
We are very excited to have Tomas at our event and especially to see our young future Team USA and National Champions get to ride against him.
Steve Evans (January 21, 2015)
---
Perris Winter Olympique
January 16, 2016
Note we have added a new 'Super Pee Wee' Class. This is for riders 8-12 years old on bikes 65-110cc. It is designed as a bridging class for riders with experience in MX and Flat Track who can then move into the 150 Mini Class.
Riders signed up for Pee Wee 50 and Mini 150cc are also welcome to run this class on Jan 16th as a 2nd Class, with just an additional $10 entry fee.
If you know any riders who might be good prospects who are already beyond the Pee Wee 50 class, spread the word.
Pee Wee

Class 1: 4-10 years old – 51cc maximum displacement, 2-stroke or 4-stroke air-cooled engines. Eligible models include Honda XR50, Honda CRF50, Suzuki JR50, Yamaha PW50 and Yamaha TT-R50.

Promoters may offer an additional class to include the liquid-cooled, 2-stroke, 50cc motocross motorcycles.

Riders may be classified at option of promoter as Division 1, 2 or 3 (beginner).

Under no circumstances may Class 1 machines be allowed on the track at the same time as larger machines.
Steve Evans (January 5, 2015)
---
2016 Monster Energy FIM Speedway World Cup
EVENT 1 (VOJENS, DENMARK – SATURDAY, JULY 23)
DENMARK
POLAND
RUSSIA
CZECH REPUBLIC
EVENT 2 (VASTERVIK, SWEDEN – TUESDAY, JULY 26)
SWEDEN
AUSTRALIA
USA
QUALIFYING ROUND WINNER – ITALY or LATVIA or SLOVENIA or GERMANY
RACE OFF (MANCHESTER, GREAT BRITAIN – FRIDAY, JULY 29)
RUNNER-UP EVENT 1
THIRD-PLACE EVENT 1
RUNNER-UP EVENT 2
THIRD-PLACE EVENT 2
FINAL (MANCHESTER, GREAT BRITAIN – SATURDAY, JULY 30)
GREAT BRITAIN
WINNER EVENT 1
WINNER EVENT 2
WINNER RACE OFF
Steve Graham stephenagraham@hotmail.com