2016 Speedway New and Views
Big Daddy¹s 85th Birthday Bash
by Howie Zechner
May 14, 2016
Sun shinning, band playing, food, motorcycles, and hundreds of well wishers smiling from ear to ear. Yup Laidlaw's Harley Davidson was celebrating yet another birthday bash for its founder Bob Laidlaw.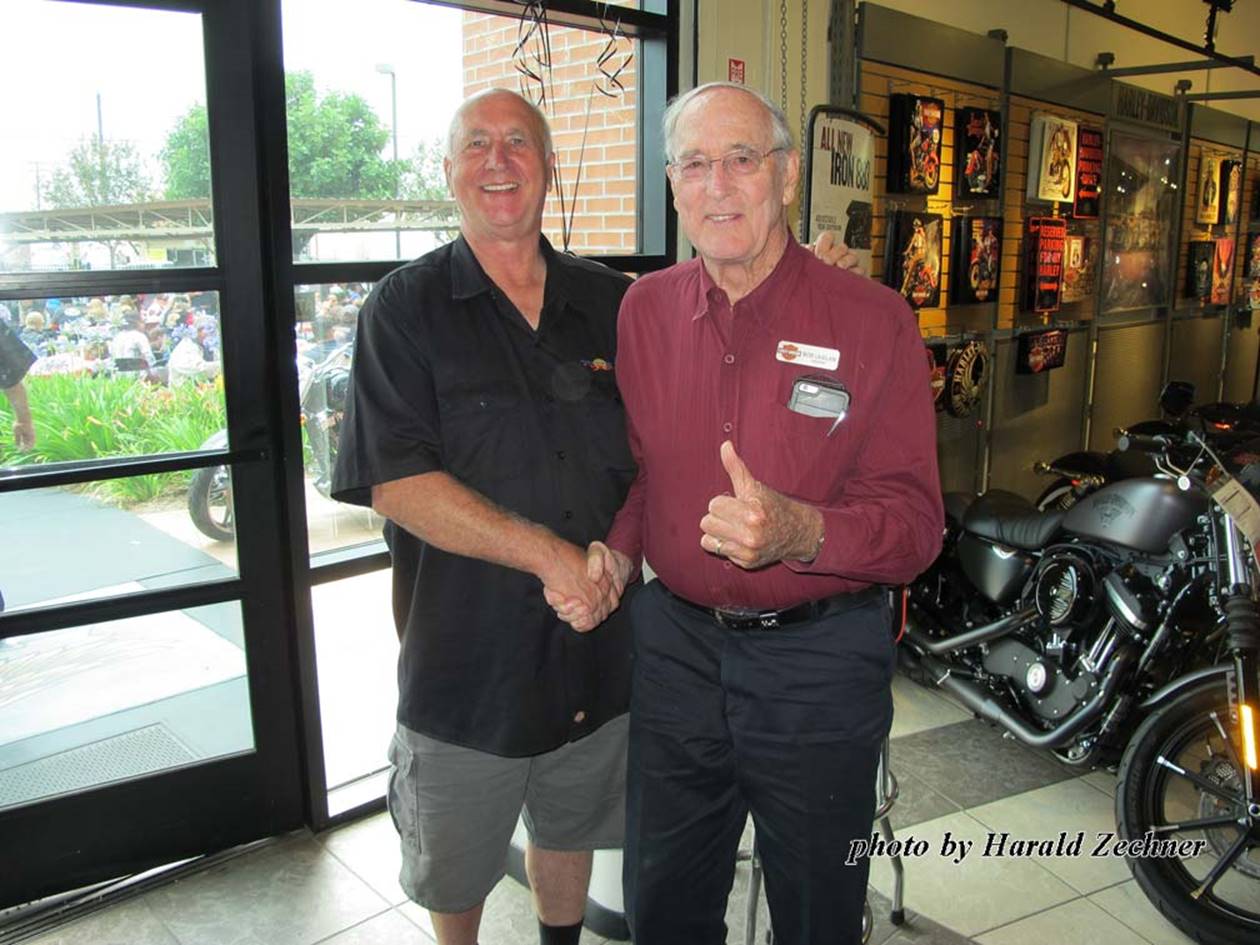 Bob Laidlaw - Howie Zechner
Always large it was even bigger for 2016. Cars had to find street parking because the huge parking lot was crammed with motorcycles. Motors running, bikes moving, stockers, dressers, choppers, modified, race, show, and vintage were there in all their splendor. A visual sight, it took time to see, longer cause everyone had a story about the what, where and when of their favorite two wheel machine or experiences.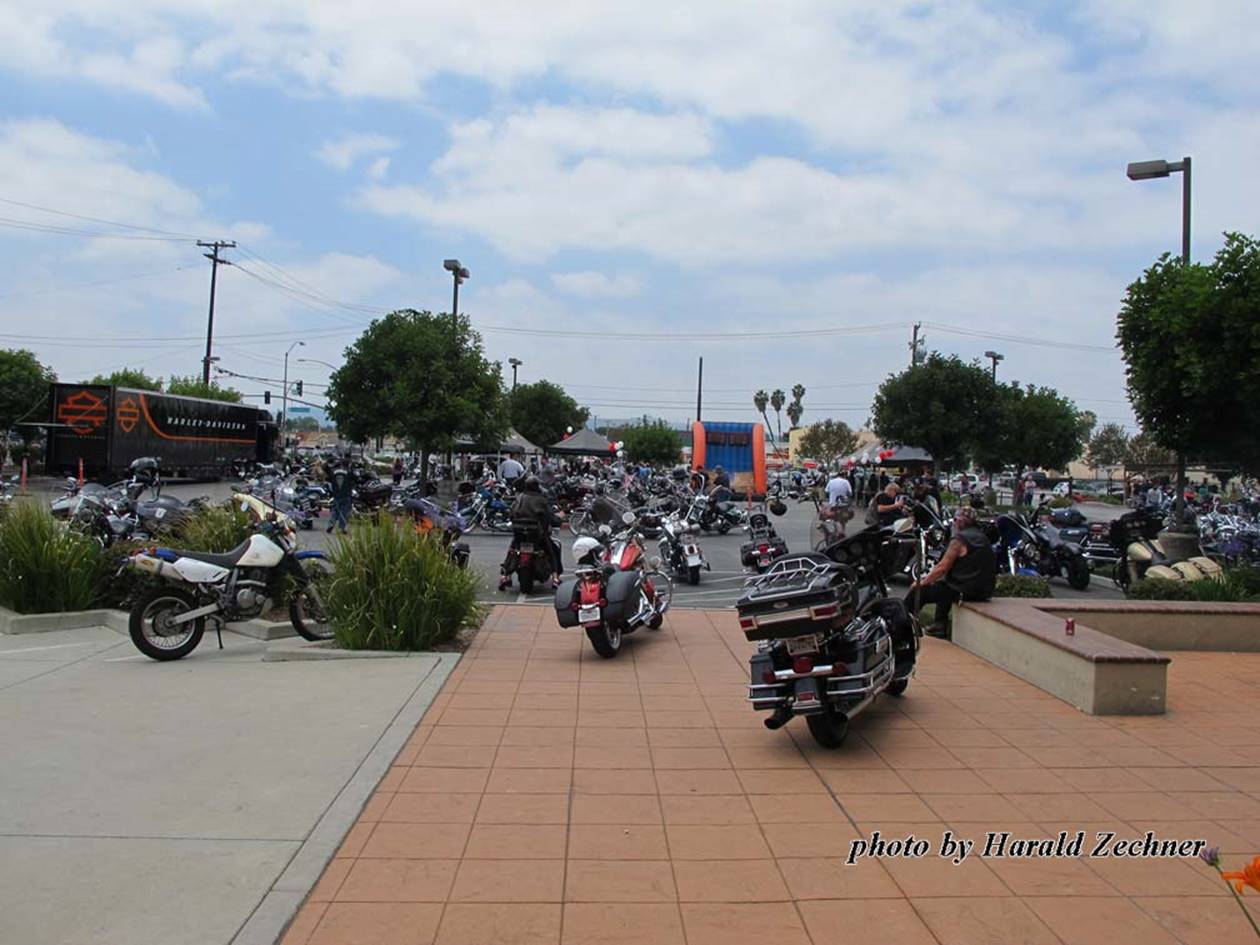 A forty-five foot Harley Davidson tractor-trailer was parked on the upper end of the lot. Surrounded by a large selection of new bikes, anyone with a valid M/C license could test ride them. No, I don't mean around the lot. I'm talking a lengthy ride on the street (how crazy is that).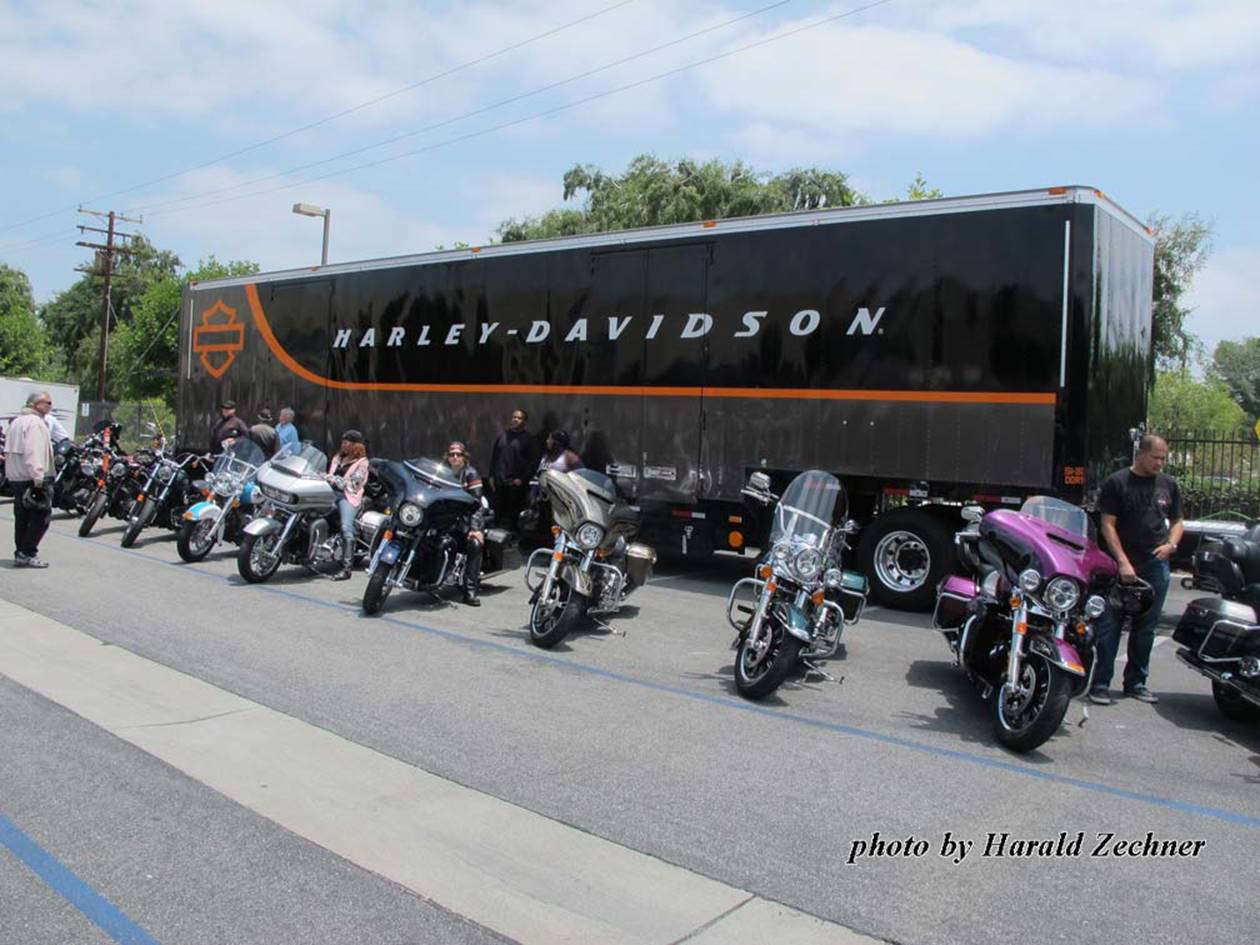 The place was crowded. Several tents housed bikes, various M/C clubs and Chapters, a small amount of venders, along with tables and benches that were filled with people. There was even a bounce house for the kids. It was a Where's Waldo situation trying to find Bob the Birthday Boy.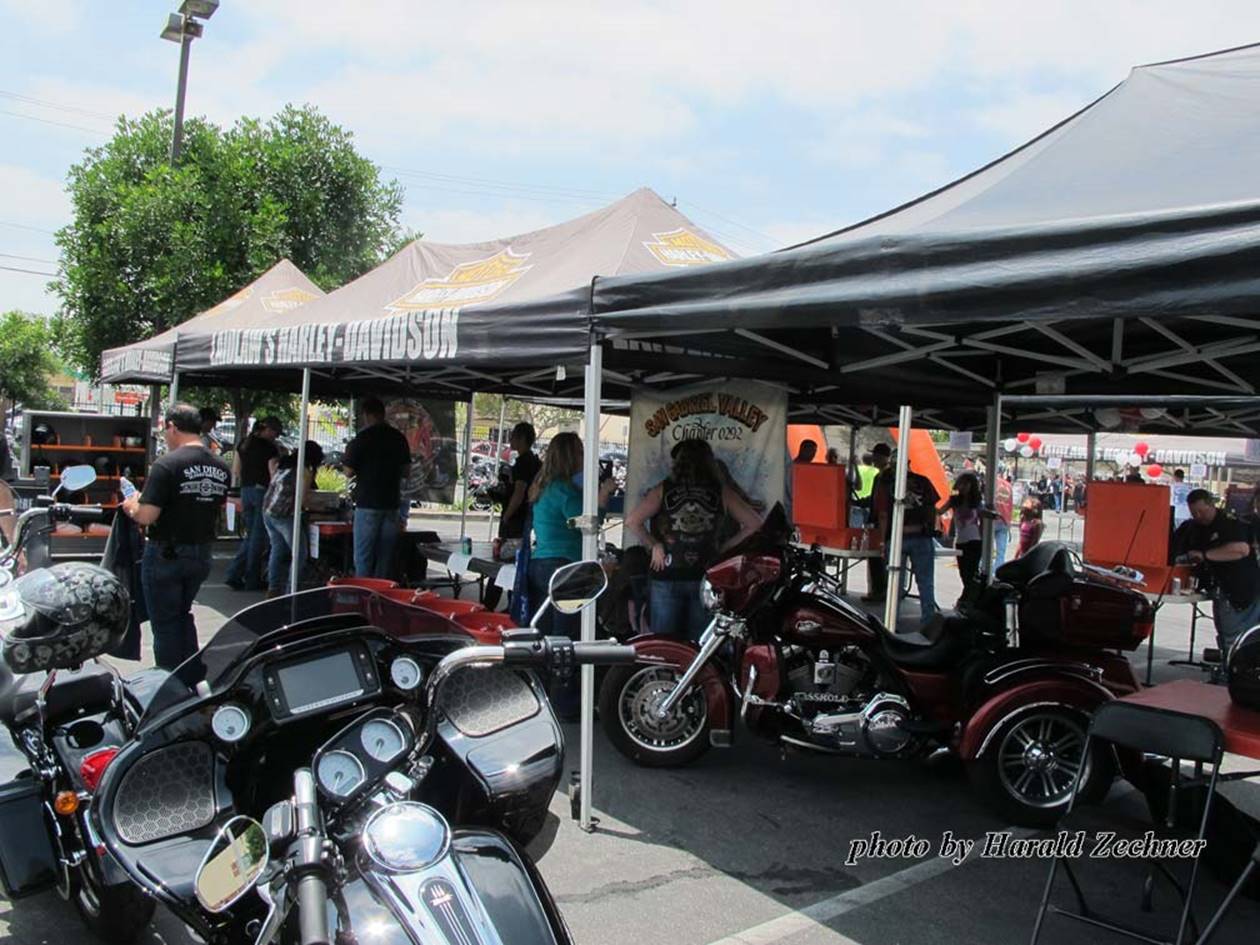 Might as well get some food and drink before I continue my quest so I did the line thing, sat my self down and listened to the band play some rock and roll. I was into my seconds or thirds when Jerry Laidlaw found me and said hello. A good guy bar-none we have been friends for years. Jerry won several Chopper races on the old IMS, Costa Mesa, Perris, Speedway circuit in the way-back days. A sight to see the tall and skinny Laidlaw always raced old Highway Patrol machine. I pushed him to wear a police uniform just to drive those other chopper racers crazy. Jerry was good; my company RAZ Video produced several videos of his racing exploits.

Jerry Laidlaw
Come on Howie, I know where Bob is Jerry yelled as we headed to the massive dealerships main entrance. With over eighty full time employees the new store is outstanding. Located right next to the 10 freeway in Baldwin Park California this 60,000 square foot multi level building has loads of floor space. Purchase, finance, rent, repair, insurance all in one location. There'seven a second story that is devoted to nothing but Harley Davidson licensed merchandise. Shirts, jackets, helmets, signs, floor mats, games, models,cups, you name it they have it. Even little kids clothes.
Billed as LA's Oldest and LA's Finest, Laidlaw's has been an official Harley Davidson dealer for fifty plus years. Opening on Thursday, July 11, 1963,it's still a family-run business. Bob's sons Brent and Jerry handle the day-to-day affairs but Bob is there most every day. Sixty-one years in the motorcycle business this is his baby. More information at www.laidlawsharley.com

Bob Laidlaws sons Jerry and Brent
Entering the showroom I found the birthday boy by the front door. Dam if Bob wasn't saying hello to every person coming in and out. He was having a ball. Man or women, Bob's a person who likes good conversation. Loaded with stories of by-gone times we caught up on what's happening with life's little adventures.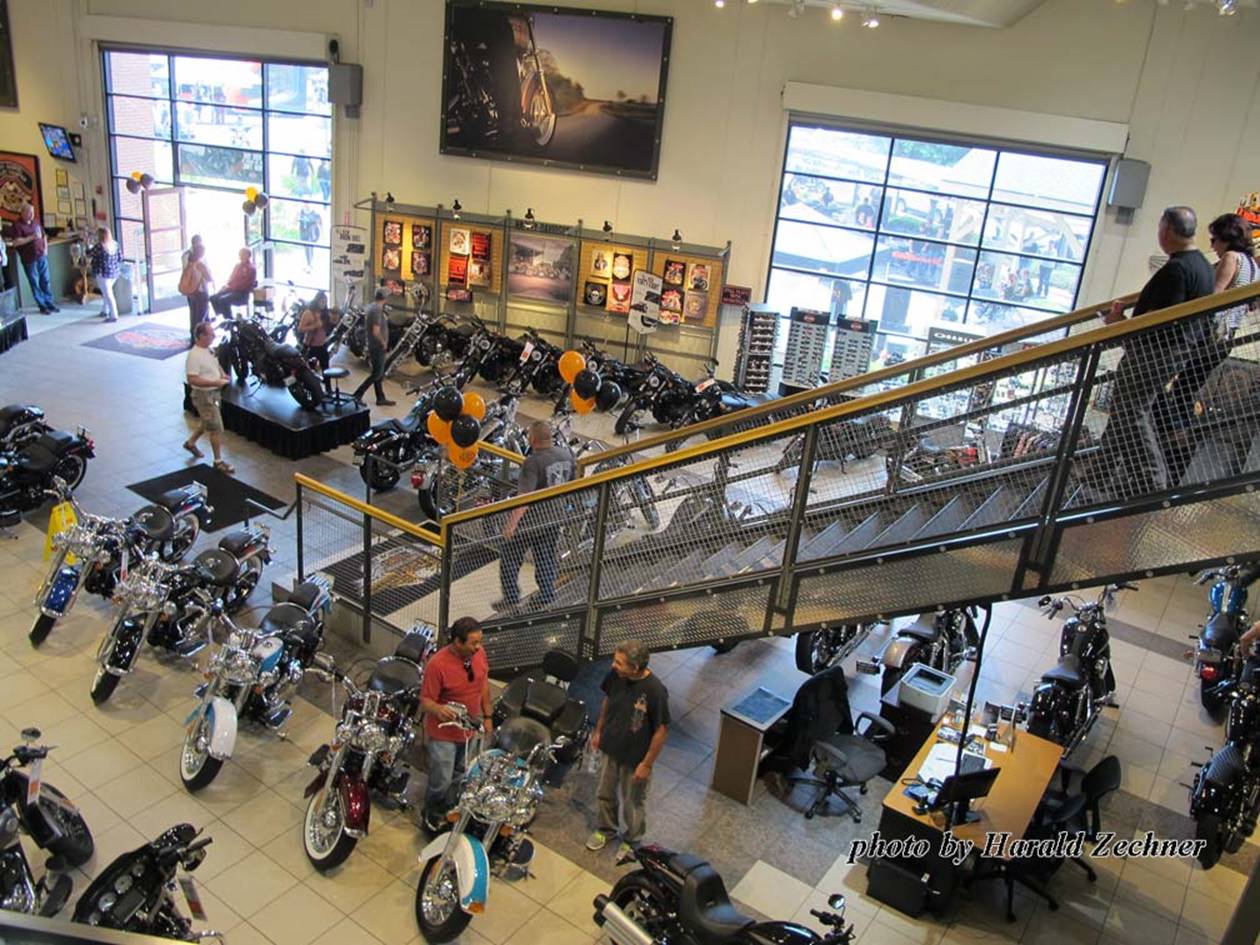 My history with the Laidlaw family goes back decades. As a young man I would build choppers and Bob Laidlaw would sell them at the old dealership on Garvey. Those were the days before Harley got all yuppie and made their dealers jump through a million hoops. But that's a story for some other time.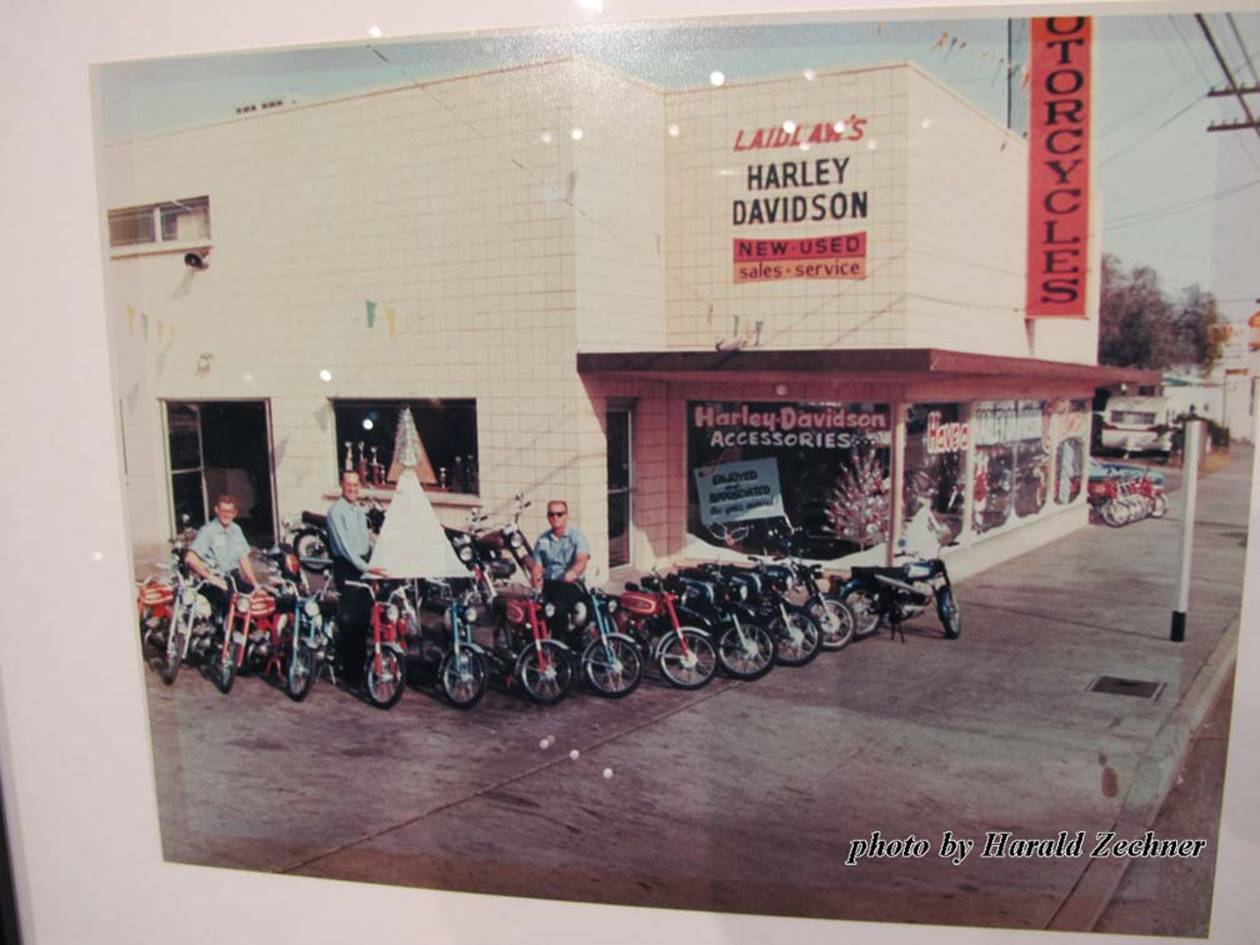 Laidlaws original dealership on Garvey Ave. in San Gabriel CA.
A sponsor of Speedway at the Grand Arena, racing fit's nicely into the Laidlaw portfolio. Several Wednesday Night trophies are on display. An equal opportunity sponsor other forms of two and three wheel competition along with street functions and meetings receive generous support.
Evening closing in, the time to cut the cake arrived. The crowd singing Happy Birthday, a short speech and a round of applause, it was exciting to see the love and support Bob Laidlaw has.
OK Big Daddy. Till this time next year, keep the faith my friend. Life is for the living.
Howie Zechner
---
Bruce Robert Hedrick
May 5, 1958 – February 3, 2016
By Howie Zechner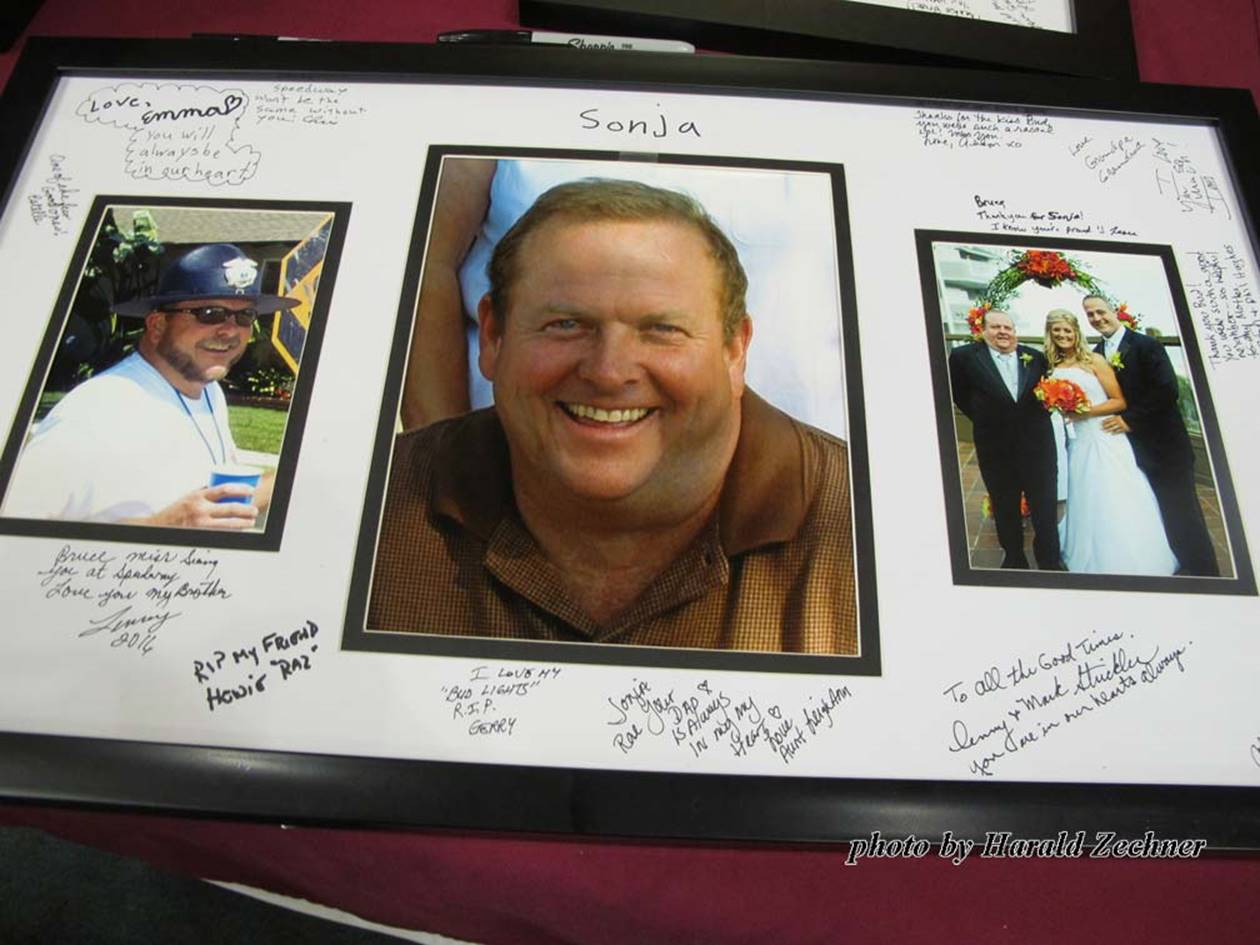 Family and friends honored the life and passing of Bruce Hedrick with a full day of celebration and remembrance that concluded at the famous Costa Mesa Bullring where Bruce was considered one of their own by the Speedway community.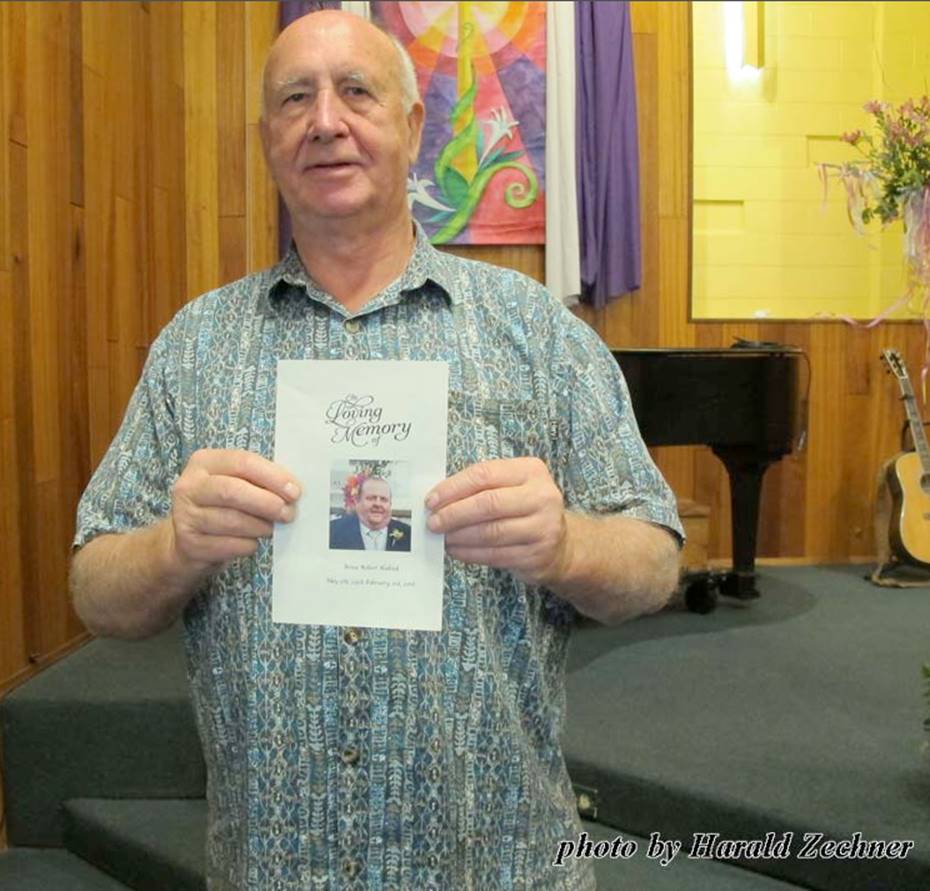 Howie Zechner holding the Bruce Hedrick memorial program
Bruce Hedrick was no ordinary person in the International Speedway organization. He was the soundman. The person in charge of the PA. Making the announcer heard and the music being played he'd been there from the beginning when the track was first started. The old days when sound was a challenge that required skill and a large budget if you wanted thousands to hear and understand. Audio had to hold up whether it was a National Anthem being sung by a 12 year old or an announcer jumping up and down on the top of a table yelling as loud as he can to overcome the sound of motorcycles that had no mufflers or noise restraints.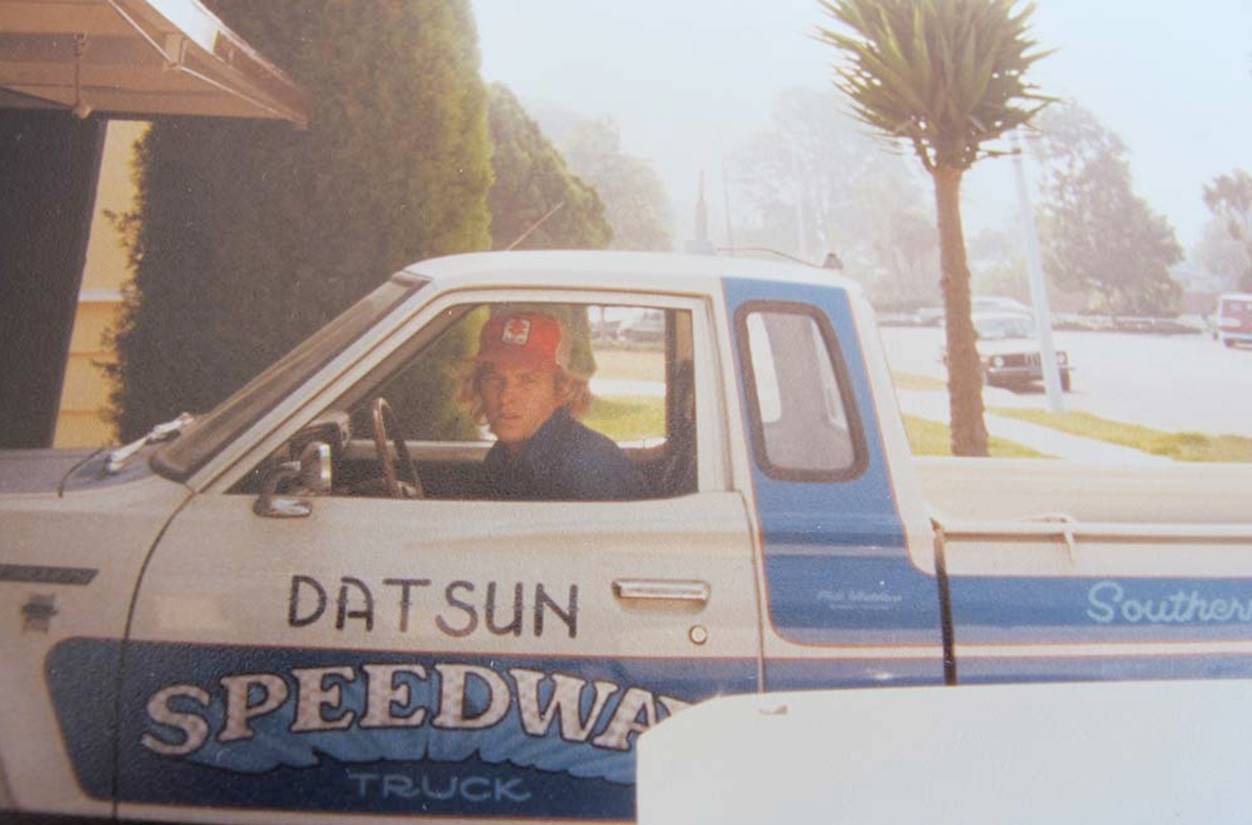 Bruce Hedrick driving the International Speedway truck
Bruce was also the Costa Mesa track electrician. That meant when the green or red light on the track or the starting gate malfunctioned it was Bruce's job to get it repaired and now was not quite soon enough. Bruce was good at his work. He needed to because there was always a challenge on an outside venue that received abuse from man and nature.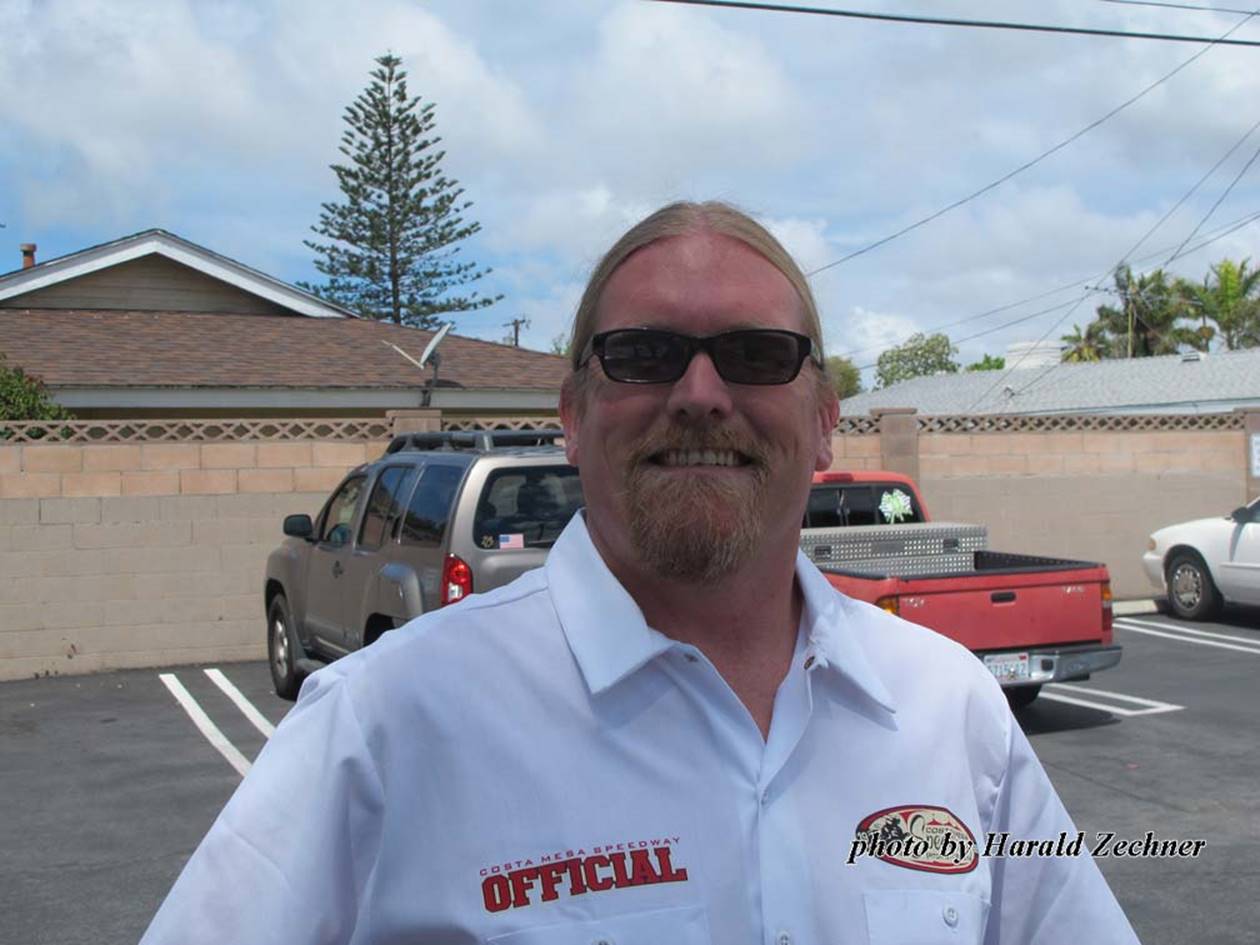 Costa Mesa Speedway track man and Bruce Hedrick friend Chris Cuthill
A dynamic personality all the riders knew Bruce. Of course, they all wanted a favor. Bruce I want to hang this light up in my pit area, Bruce can you give me juice to power my electric clutch cooler, the list went on. No pushover and often grumpy he actually loved the racers and did his best to accommodate them. But all there knew not to push to hard. Bruce could make life difficult for those that abused his generosity.

Costa Mesa Speedway track man and Bruce Hedrick friend Lenny Bennink
But I'm getting ahead of myself so lets start at the days beginning. Bruce Hedrick's family members that included sisters Susan Knab and Nancy Beralla, daughter Sonja Downs and his grandchildren Madden, Presley and Kennedy Downs joined with other, friends and Speedway associates that included riders Bobby Schwartz and Danny McNiel along with International Speedway employees Lenny Bennink and Chris Cuthill for an 11am memorial service at the Fairview Community Church in Costa Mesa.

Pastor Ian Diorio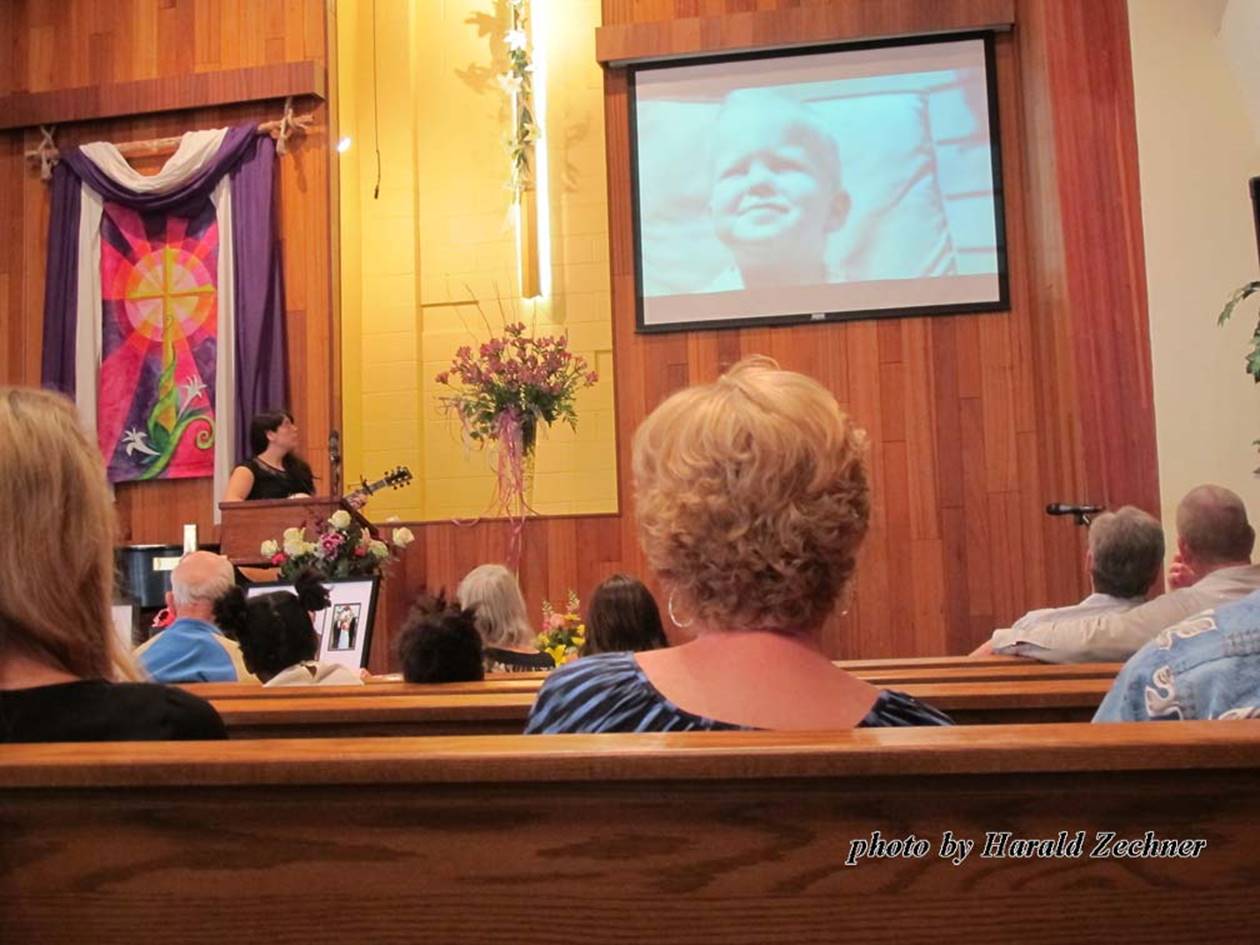 Madison Cano played guitar while a video slideshow played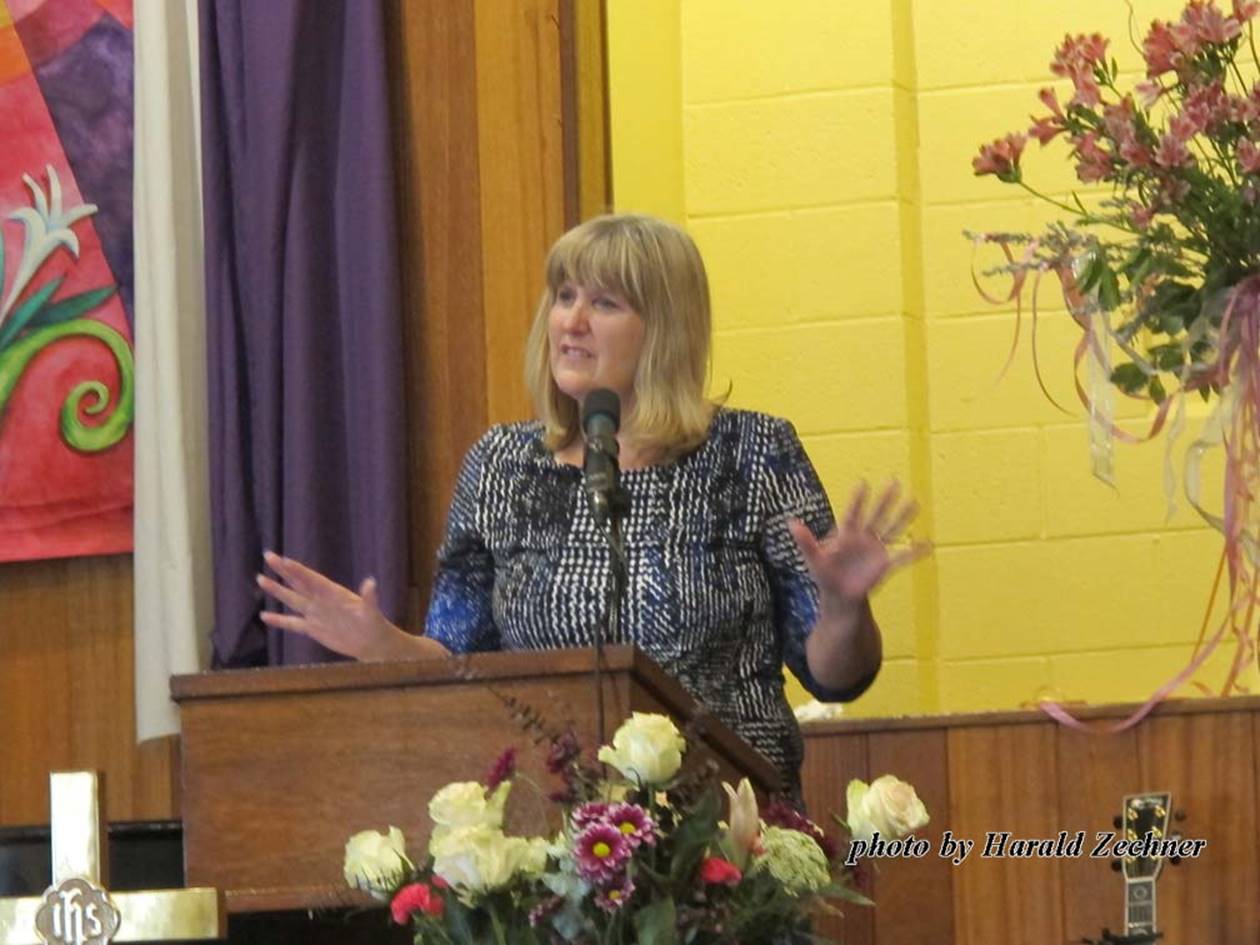 Kay Lynn Cano
A wonderful little church just west of the Costa Mesa Fairgrounds the service began with a musical prelude, pastoral welcome and short prayer. Pastor Jan Diorio, a cousin of the Hedrick family followed with a scripture reading where he spoke of days gone by and salvation everlasting yet to come. Daughter Sonja Downs came to the podium and shared memories of her childhood and the loss of her father. Next a video slideshow as half sister Madison Cano played guitar. The one-hour service concludes with a poem and shared memories from Bruce's former wife Kay Lynn Cano and a closing prayer from Jan Diorio. A light lunch and conversation followed as all waited till their next 3:30 meeting at the Costa Mesa Speedway track.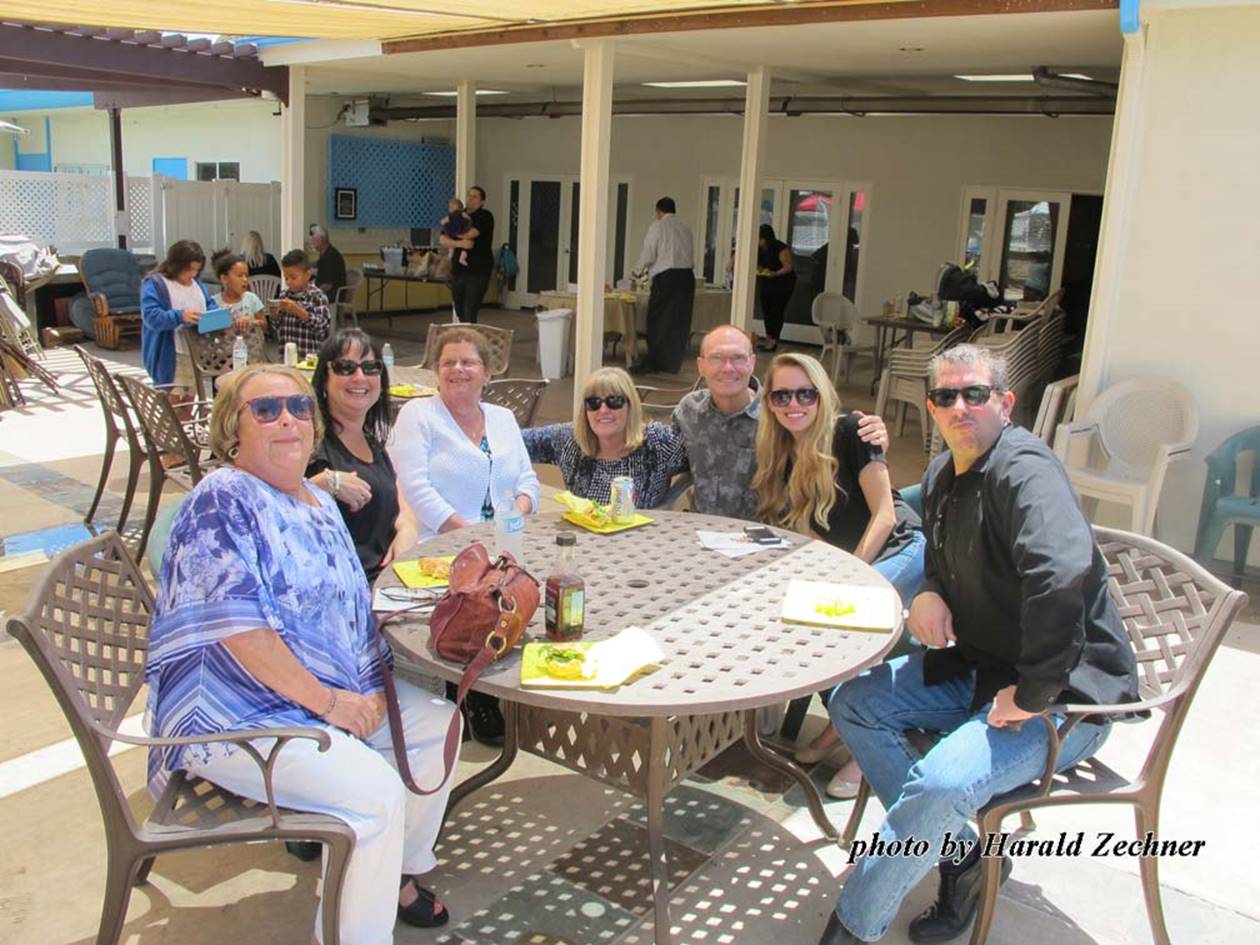 Susan Knab, DeAnn Bertella, Nancy Bertella, KayLynn Cano, Kip Wood, Francesca Bertella, Jimmy Bertella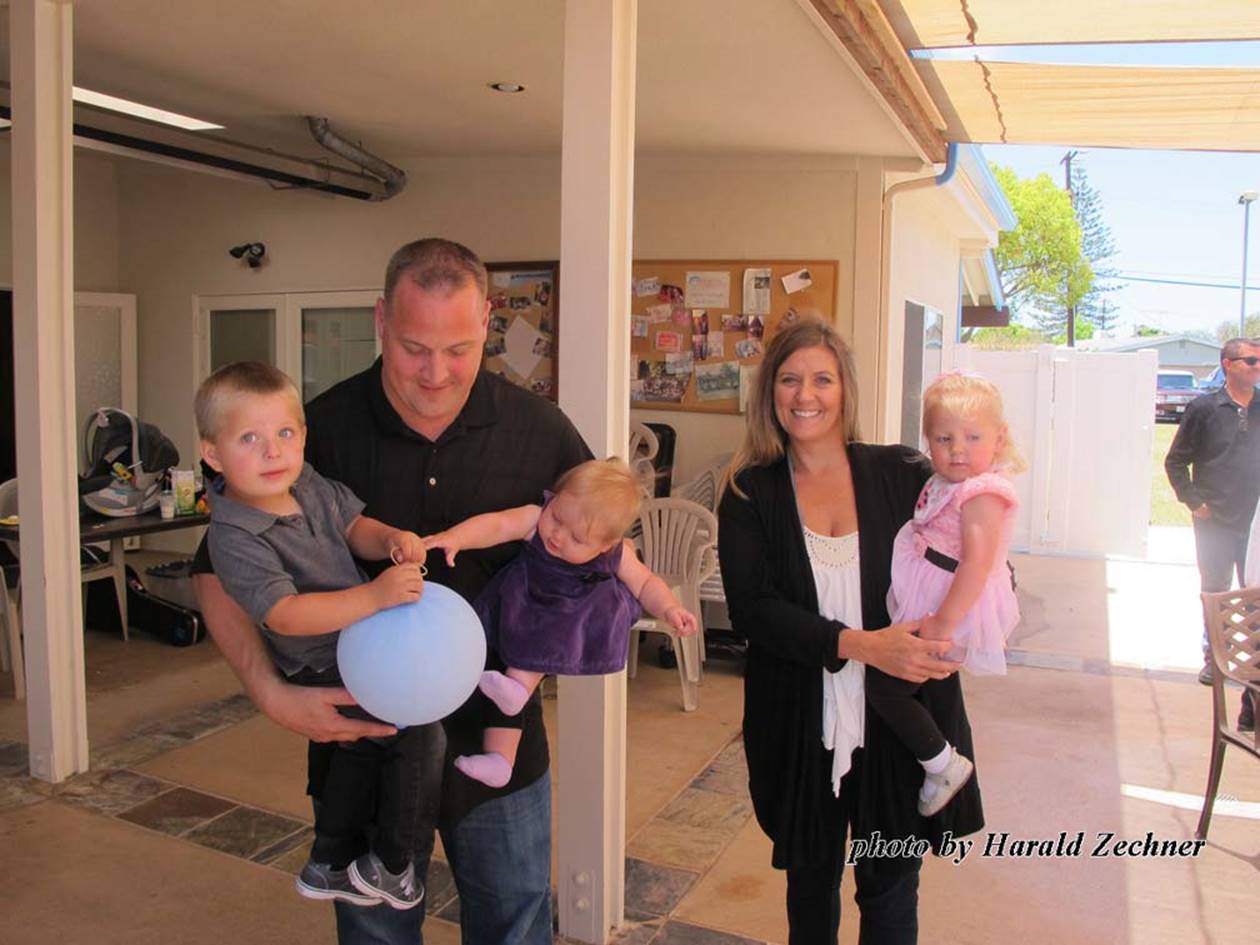 Madden Downs, Jesse Downs, Kennedy Downs, Sonja Downs, Presley Downs
The time came and promoters Brad and Jaleen Oxley greeted the family and escorted them to the announcer's booth below the front grandstands. Arranged well in advance the plan called for Bruce Hedrick's ashes to be spread on the dirt race track by the start finish line much like Speedway Superstar Kelly Moran's had been six years earlier.

Sonja Downs - Gerry Stuckie

Susan Knab and Brad Oxley – Ian Young, Jesse Downs & Kennedy Downs in back
Brad Oxley gave a wonderful tribute to his loyal and faithful friend and employee. He spoke of the early days when his dad Harry ran the facility, how he spent his childhood at the track and how Bruce helped him as he grew into taking over the promotion from his father. Gary Hicks Sr. and his wife Sandy who also have been here at Costa Mesa since day one told stories of how Bruce had saved the day on more than one occasion. RAZ Video owner Howie Zechner chimed in with tales of needing electricity for cameras and lights in various locations around track and how Bruce never failed to deliver. Family and others spoke; it was without a doubt a love fest that would have embarrassed the normally shy Hedrick.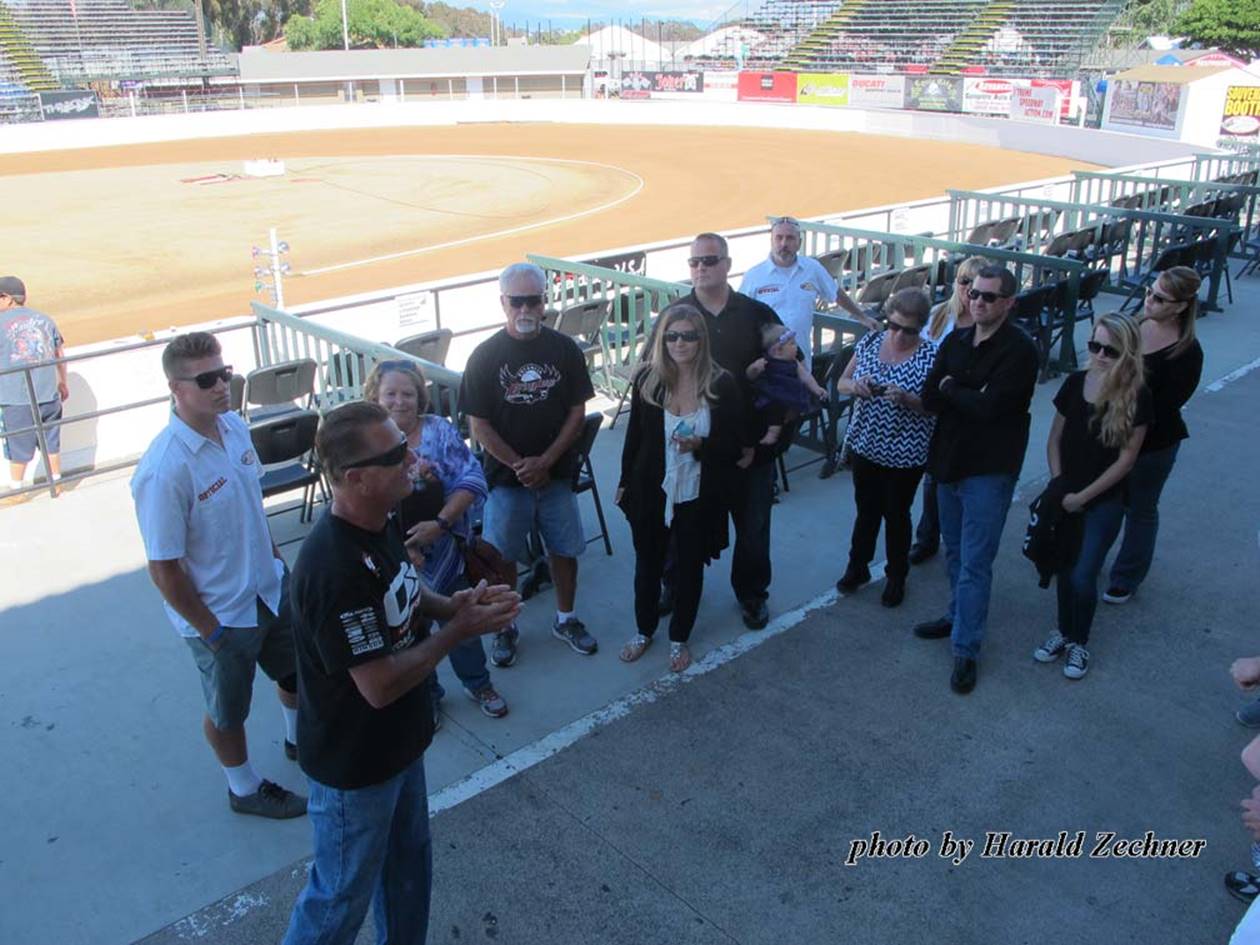 International Speedway promoter Brad Oxley speaks to the Hedrick family

Jaleen Oxley, Gary Hicks Sr. KC Hicks and Hedrick family members Nancy Bertella, Jimmy Bertella, Francesca Bertella

Susan Knab hold the urn with Bruce's ashes
Ashes were spread and tears were shed. A sad occasion of course but a wonderful tribute to a Speedway brother and friend.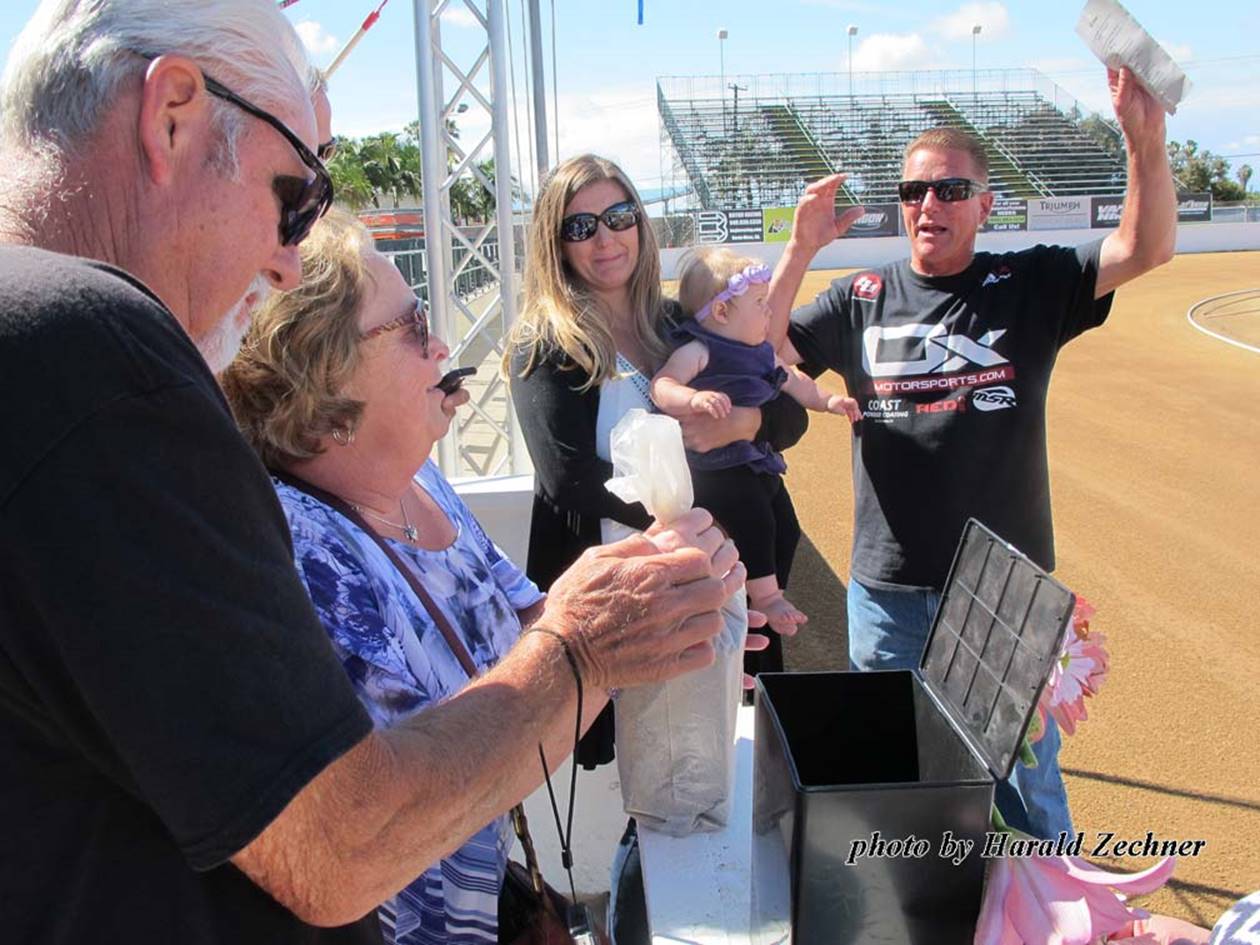 Gerry Stuckie, Susan Knab, Sonja Downs, Kennedy Downs, Brad Oxley

Bruce Robert Hedrick's sister Susan Knab spreads his ashes on the front straightaway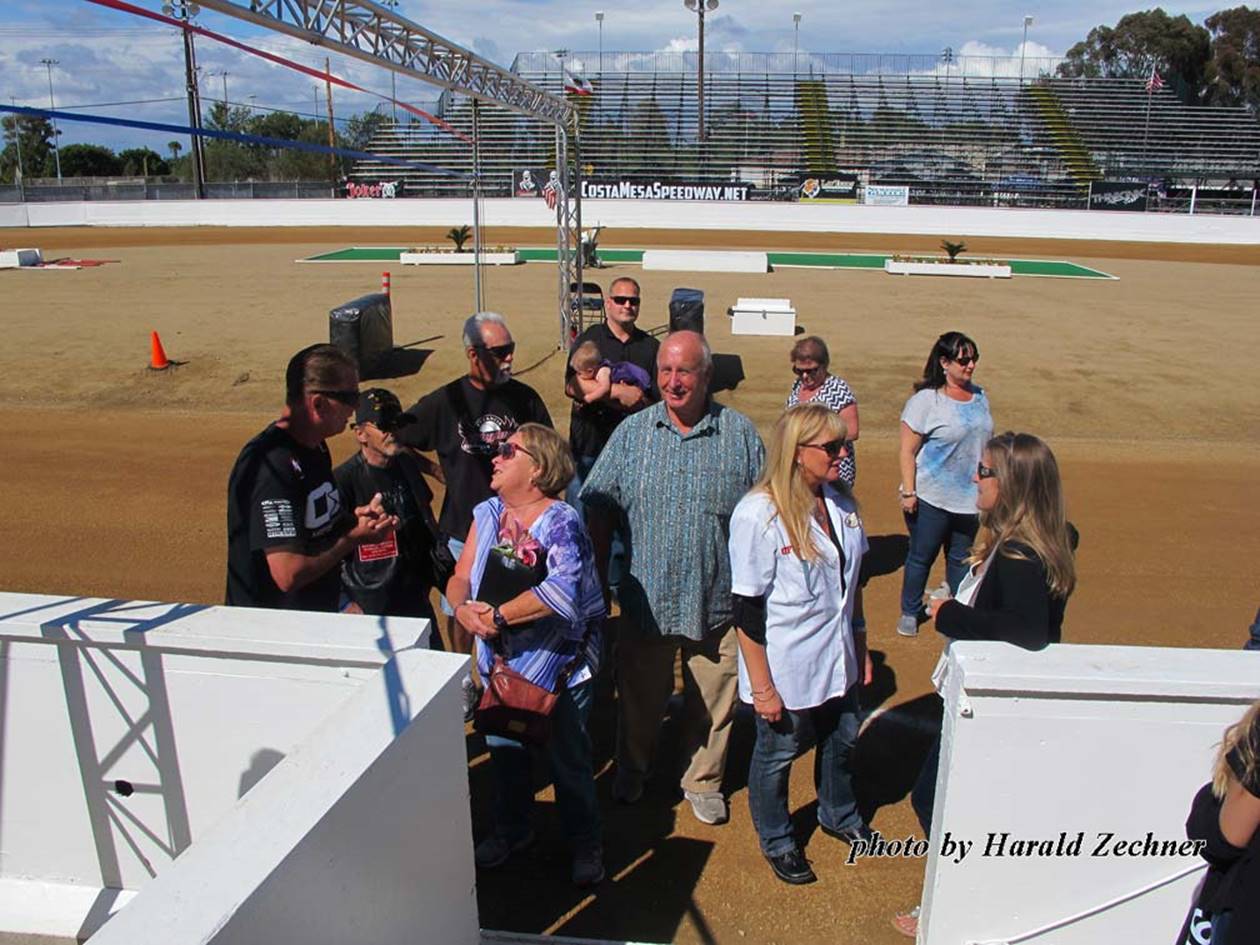 The deed completed tears of joy and sorrow are felt by all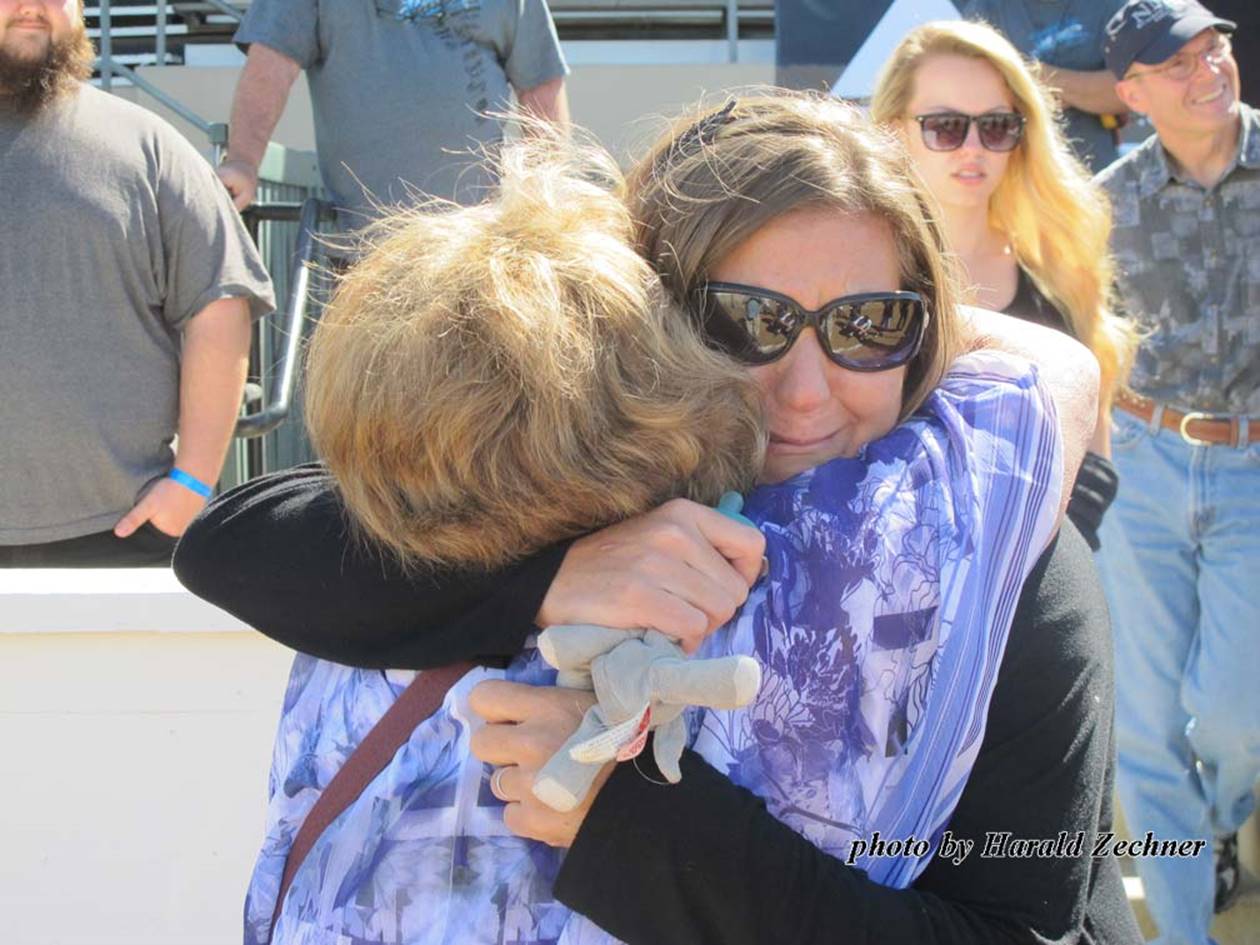 Susan Knab, Sonja Downs -- Goodbyes are always hard
That evening the Stars and Strips flew at half-mast. A hush came over the crowd as Costa Mesa Speedway announcer Terry Clanton asked for one minute of silence. The lack of noise from thousands and no roar of motorcycles, it was a show of respect not normally seen in the high charged world of Speedway racing. Even more unheard considering this was the first race of the 2016 season when all are primed for two-wheel combat.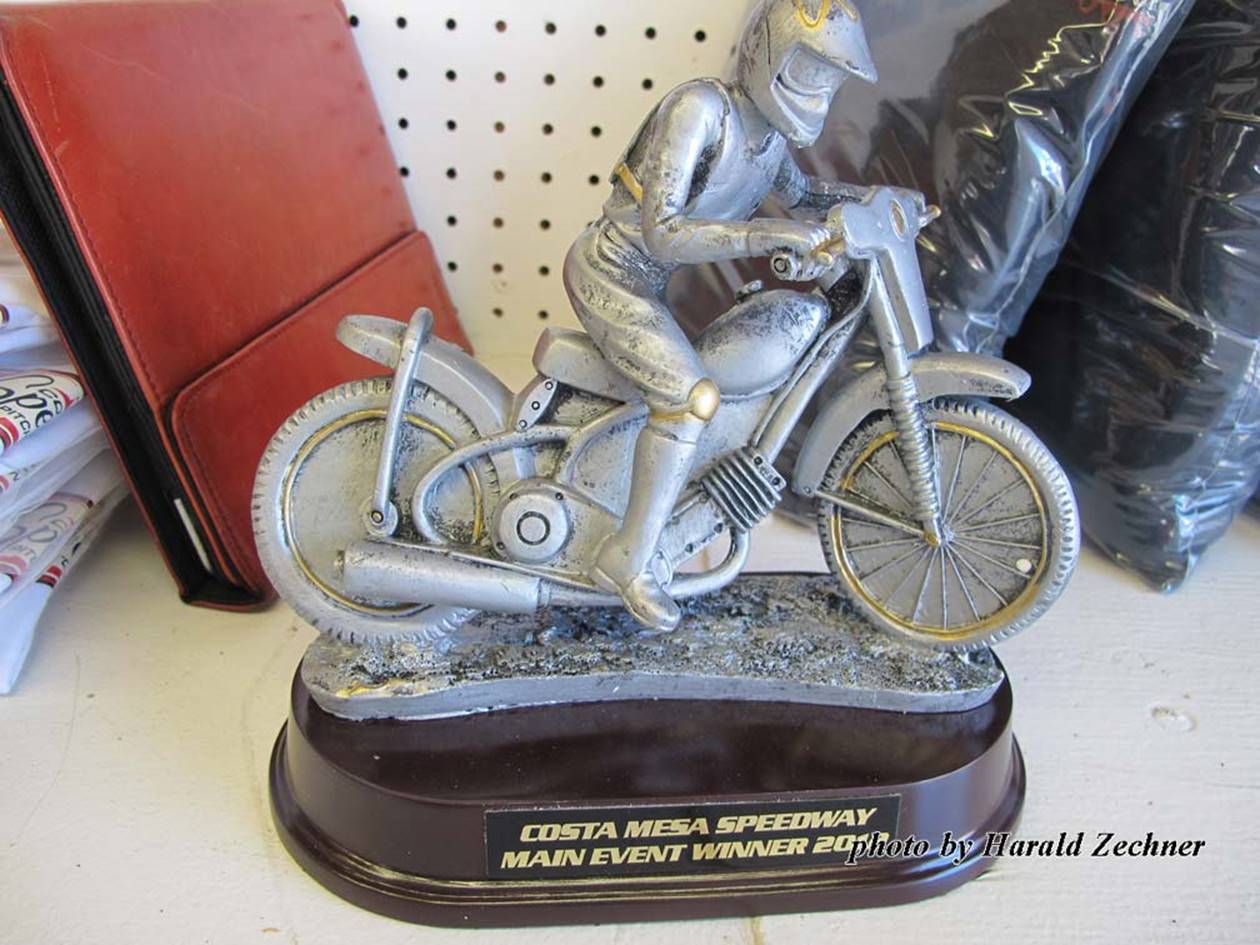 And so the circle of life continues. RIP Bruce Robert Hedrick. You and the Speedway you loved are now truly one.
Howie Zechner
---
Courtney Crone – 2016 Trench Shoring Sponsorship
by Howie Zechner
I'd received the heads up long before the official invitation arrived. Courtney Crone, a major deep pockets sponsorship. The news was exciting and I couldn't wait to share it. Still I couldn't, I was sworn to secrecy. Dam I hate when you know and can't say.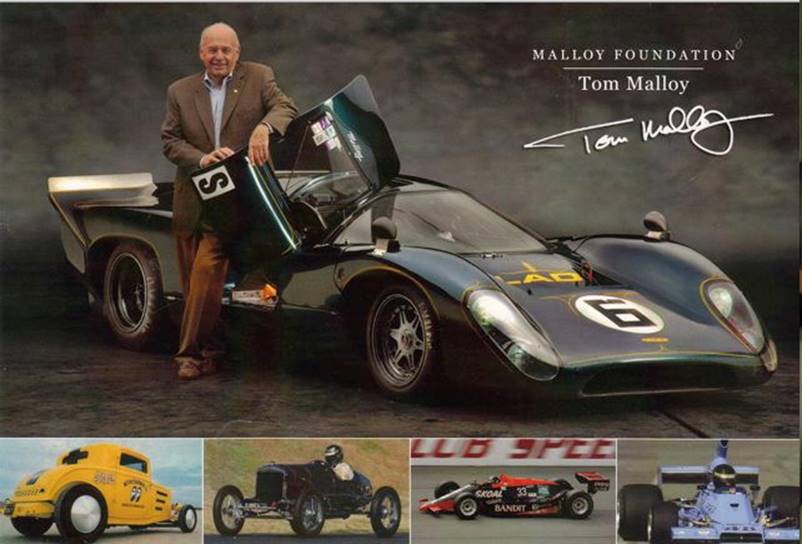 The official release date was April 23, 2016. An announcement would be made to the Motor Press Guild (MPG) and special by invitation only guests at the very private home of the Tom Malloy Collection in Corona California.
The Tom Malloy Collection is one of the most impressive private accumulation of Indycars in the world. Housed in splendor at a secret location that goggle won't even reveal it's filled with unique historically significant cars and racing memorabilia. For the first time visitor it's a visual overload.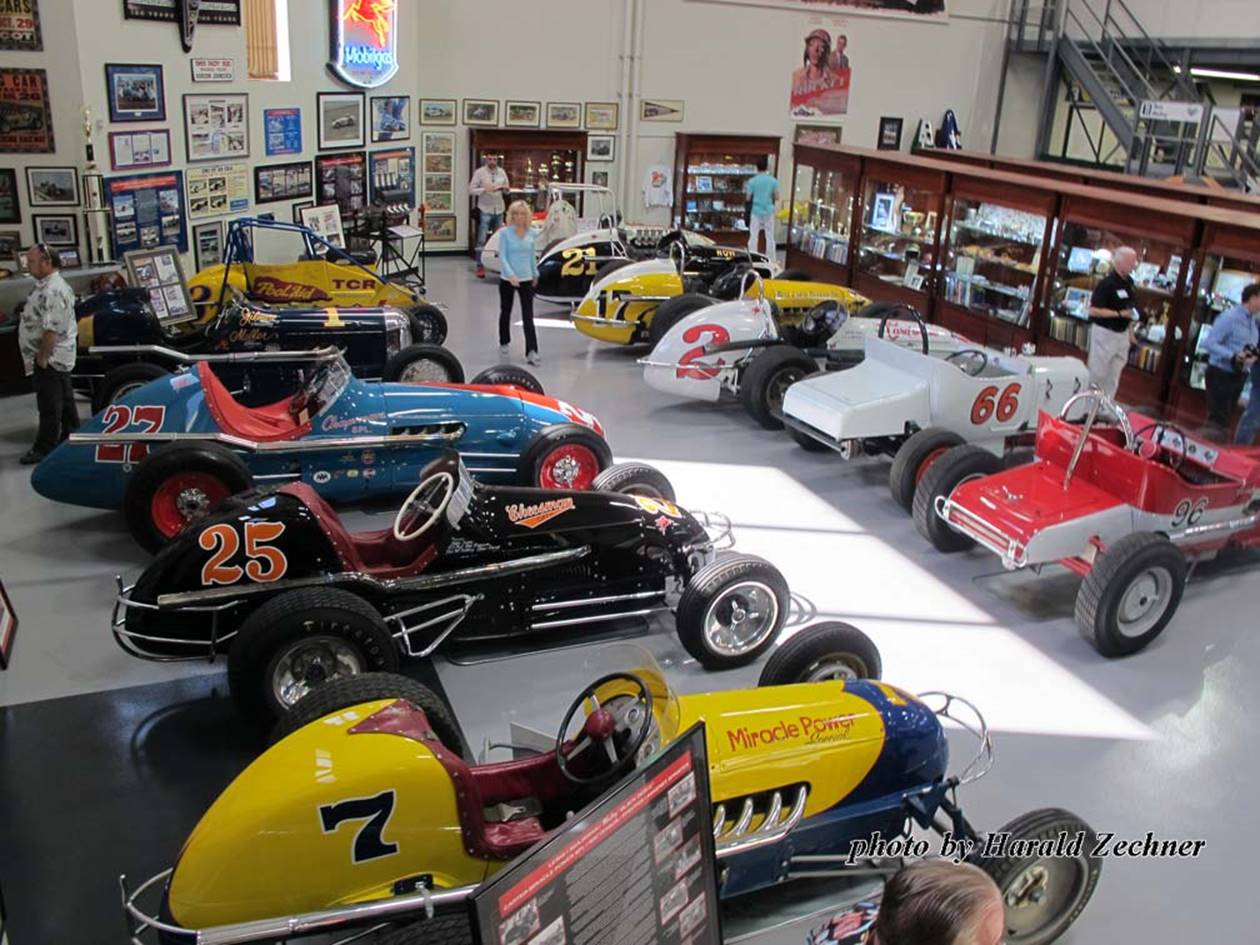 No stranger to four wheel competition or driver talent Tom grew up around racing. His dad Emmett J. Malloy built and operated Carrell Speedway in Gardena California, owned open-wheel race cars and sponsored several different drivers including Jimmy Reece in the 1953,54,55 Indy 500. A sponsorship from Tom Malloy could change a drivers life.
The function started at 9:00 AM. Coffee, doughnuts and million dollar cars kept everyone talking and smiling. Taking pictures, interviewing VIP racers, owners and sponsors. It's heaven in a four wheel playground.

Host Tom Malloy - CRA Sprint Car driver Jimmy Oskie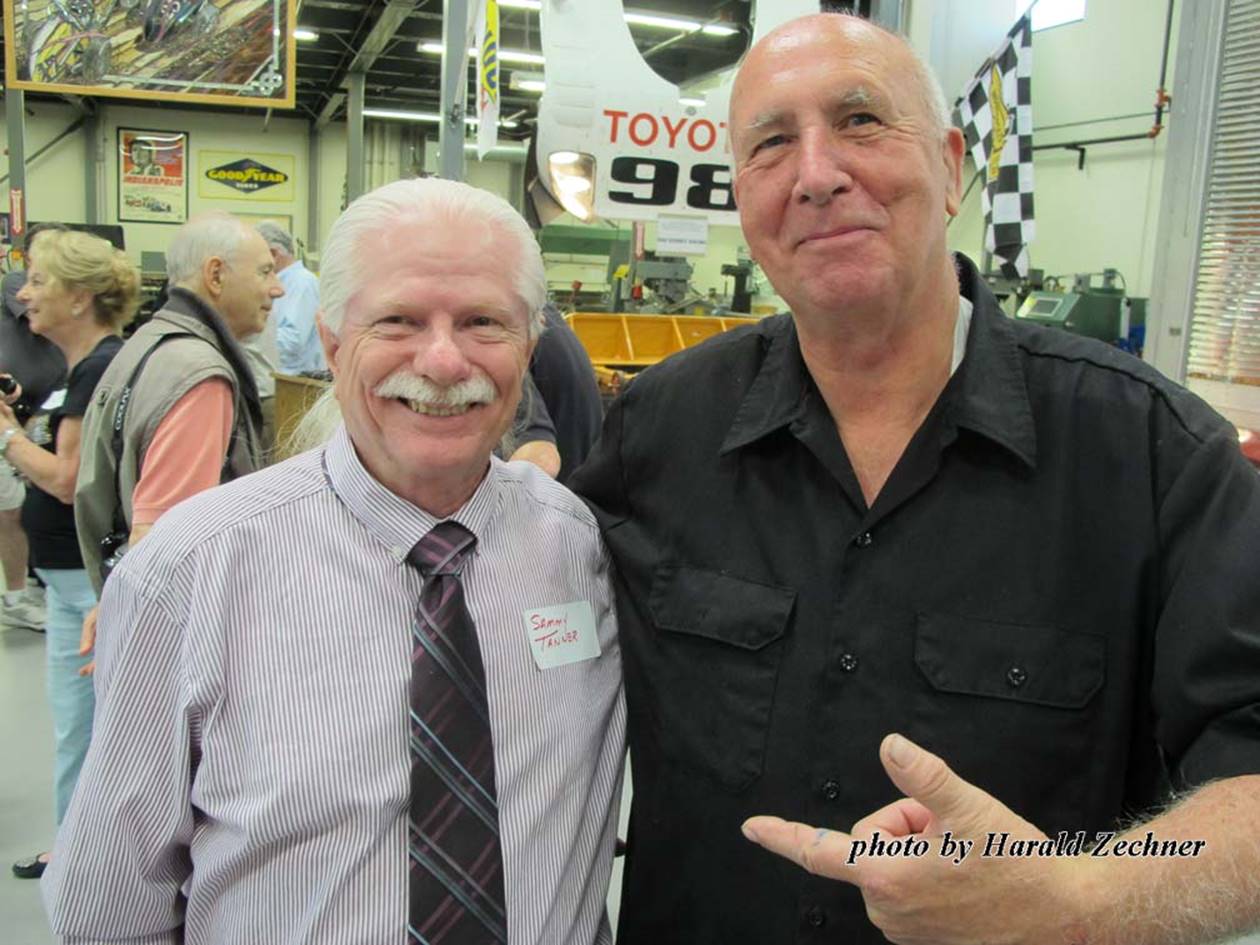 Motorcycle legend Sammy Tanner with this stories author Howie Zechner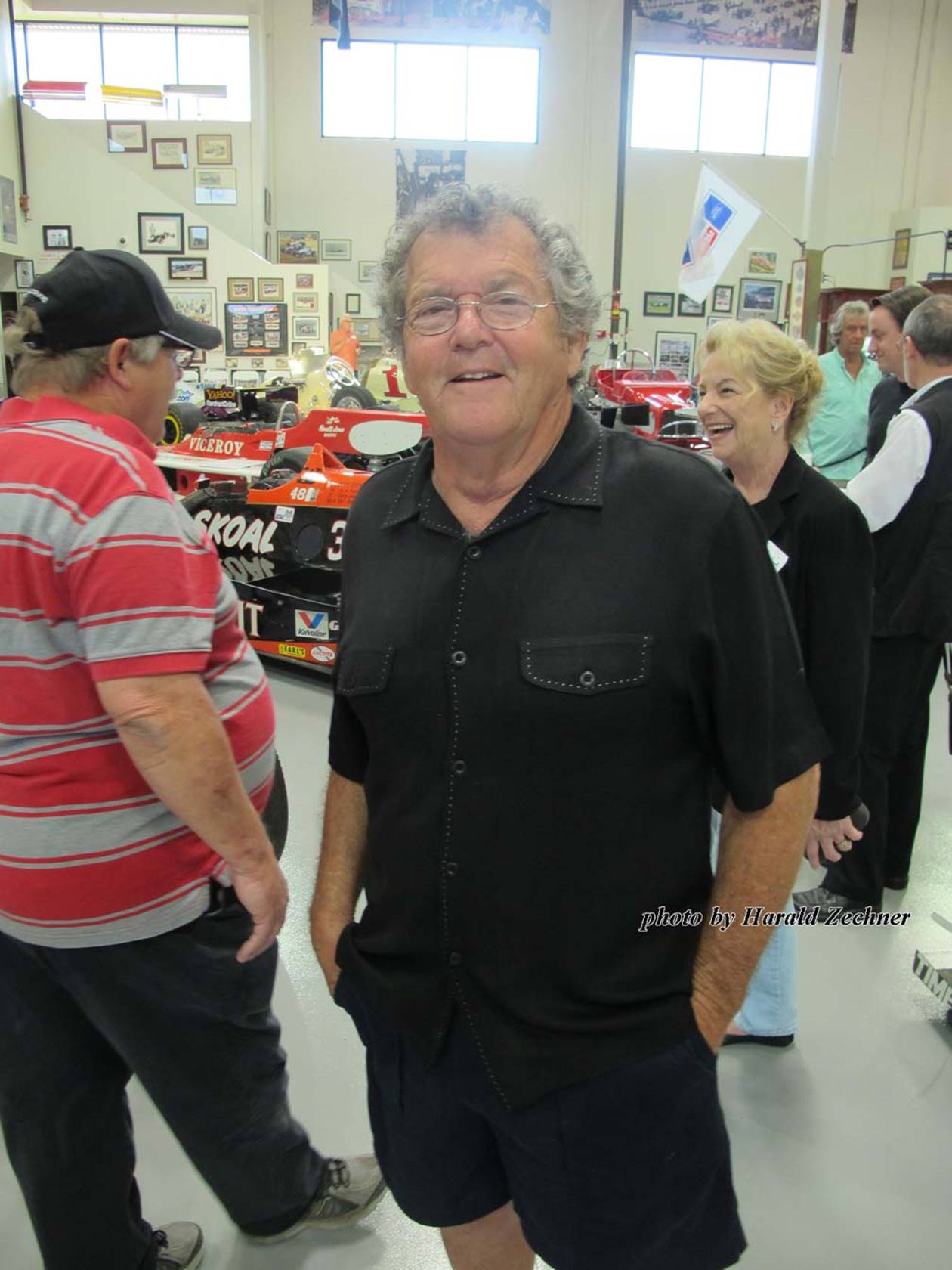 Four time Sprint Car Champion Wally Pankratz won 114 Main Events in his career
MPG president Jason Fogelson started the press conference with announcements, upcoming events and commitments. Thanking our host Tom Malloy came to the podium and gave a short history on his American auto racing collection. Proud of his multi million dollar acquisition Tom told of his favorites and shared history of these magnificent racing thoroughbreds. Tom announced he will be taking some of his vintage Indy 500 cars to the 100th running of the Indianapolis 500.

Dean Case - Mazda Motorsports Communications Officer - Mazda North American Operations
Then it got down to business. Tom Malloy announced that his company Trench Shoring has signed a major sponsoring deal with Courtney Crone. Quite the fan of Courtney he made no secret that she has lots of talent, takes direction well, is a quick learner and will be a motorsports super star.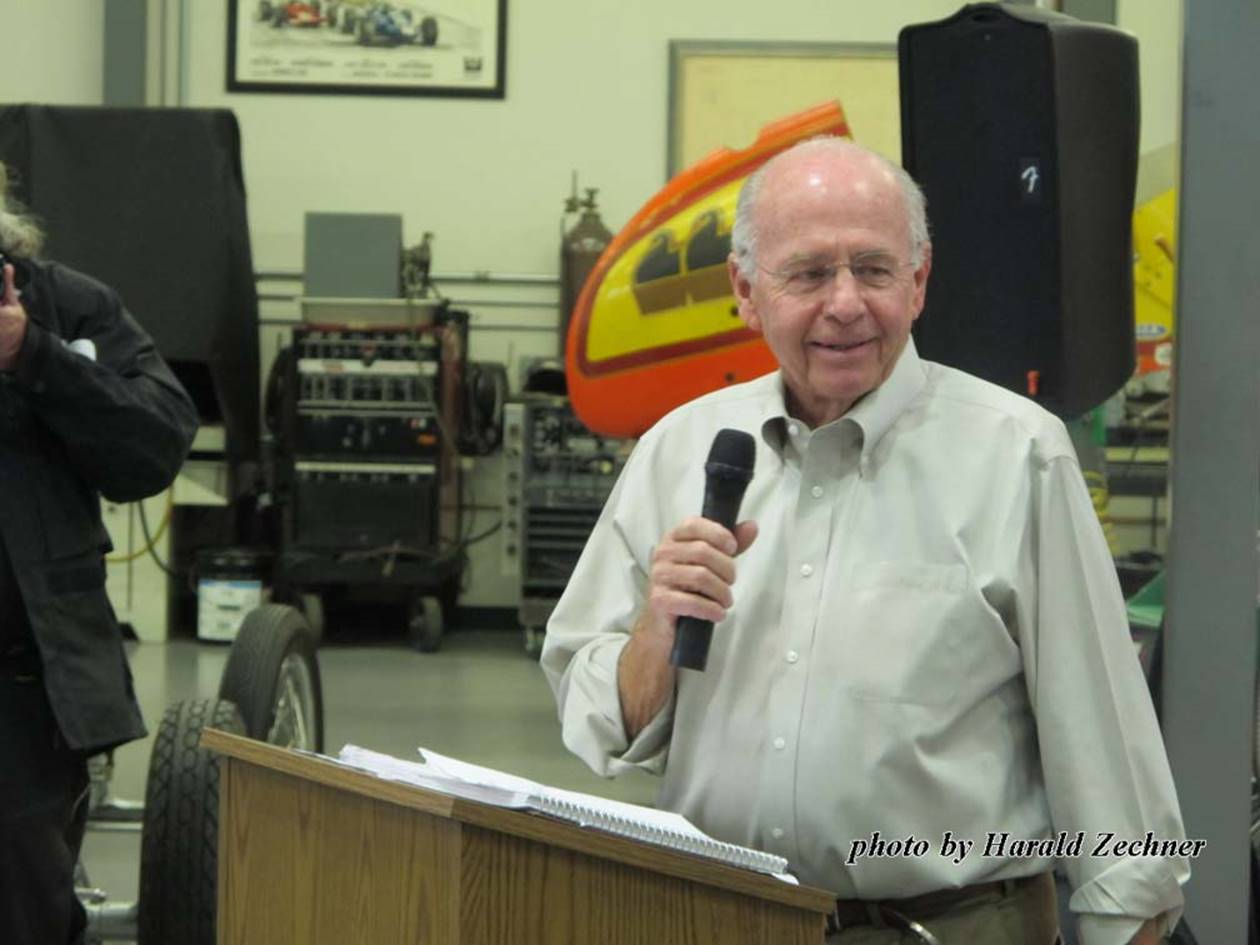 Tom Malloy
1992 Indianapolis 500 rookie of the year Lyn St James was next on the microphone. One of only seven women who have qualified for the Indy 500, had 11 CART and 5 Indy Racing League starts Lyn St James told of how proud she was when Courtney Crone became one of two women to receive the 2016 Women's Sports Foundation "Project Podium" grant. Founded in 1974 by Billie Jean King the organization is dedicated to creating leaders by providing girls access to sports and fitness. It's a big deal and receives grants from Mazda, Newman's Own, Toyota, Rolex, Volkswagen, IMSA, NHRA and IndyCar. Project Podium is the natural progression to further assist talented women in motorsports St James relayed as Courtney Crone came to the podium.

Lyn St James - Courtney Crone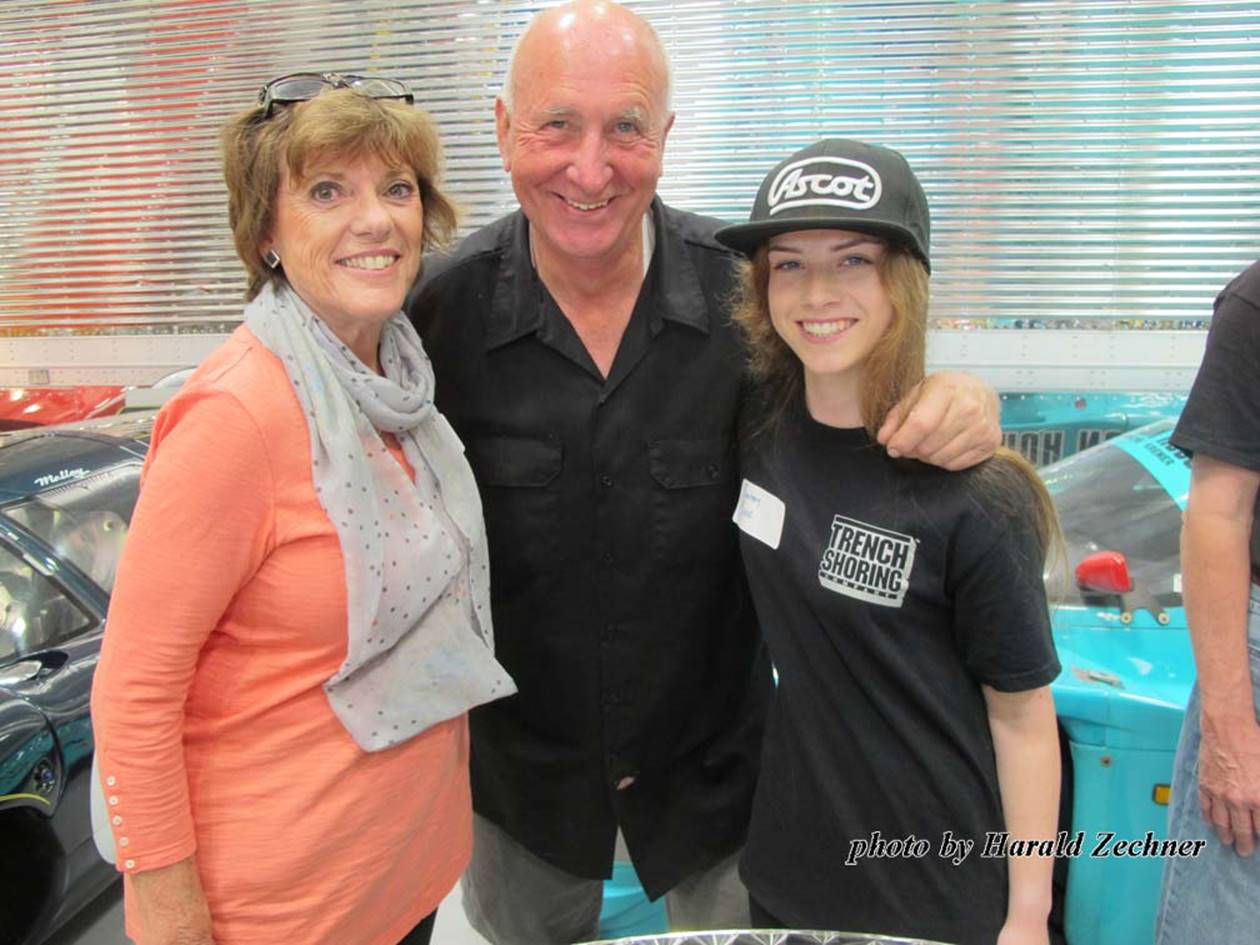 Lyn St James – Howie Zechner - Courtney Crone
Only 15 years old Courtney has been racing most of her life. Starting at age four in Karts, then Quarter Midgets. Courtney was a California State Kids Kart Oval Champion, won 8 Quarter Midget Championships and set 2 Quarter Midget World Record Qualifying Times.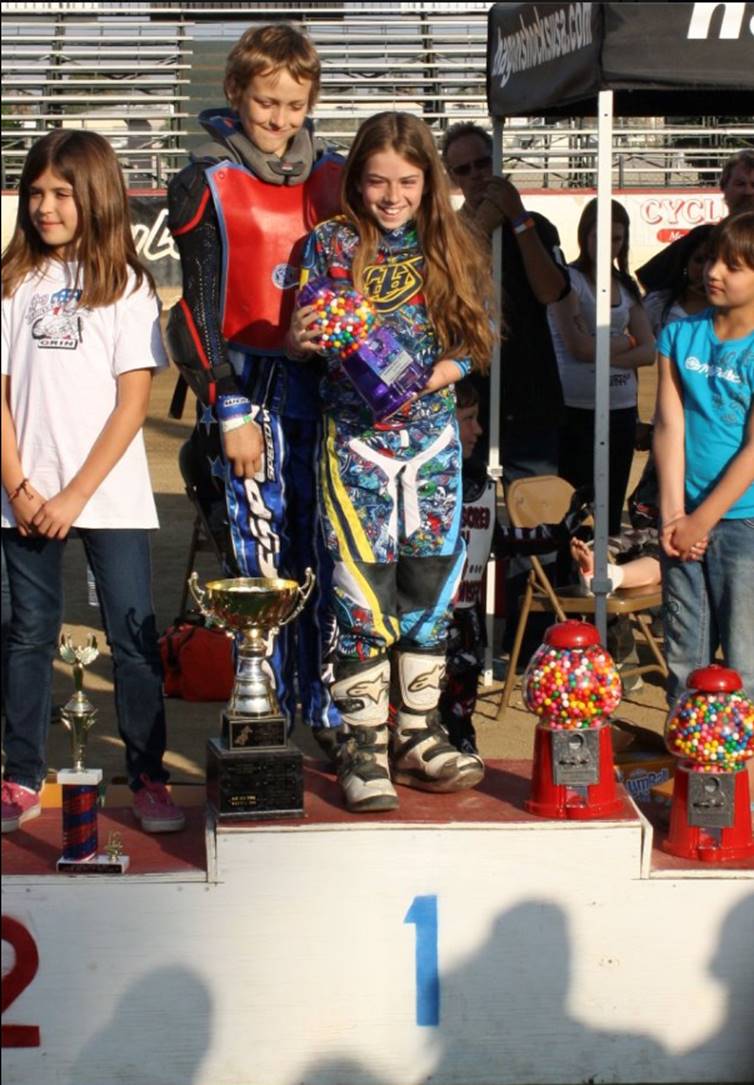 Courtney Crone – Photo courtesy Dorcey Alan Wingo
Trying her hand at 2-wheel competition Courtney raced Speedway Motorcycles. Winning 12 Speedway main events and capturing 2 Youth Speedway bike Championships. Extremely popular with the Speedway community fans were sad to see her return to four wheel competition.

Courtney Crone – Photo courtesy Dorcey Alan Wingo
In 2015 Courtney Crone won her 1st Sprint Car main at Perris Auto Speedway and 1st Ford Focus Midget main at Ventura raceway.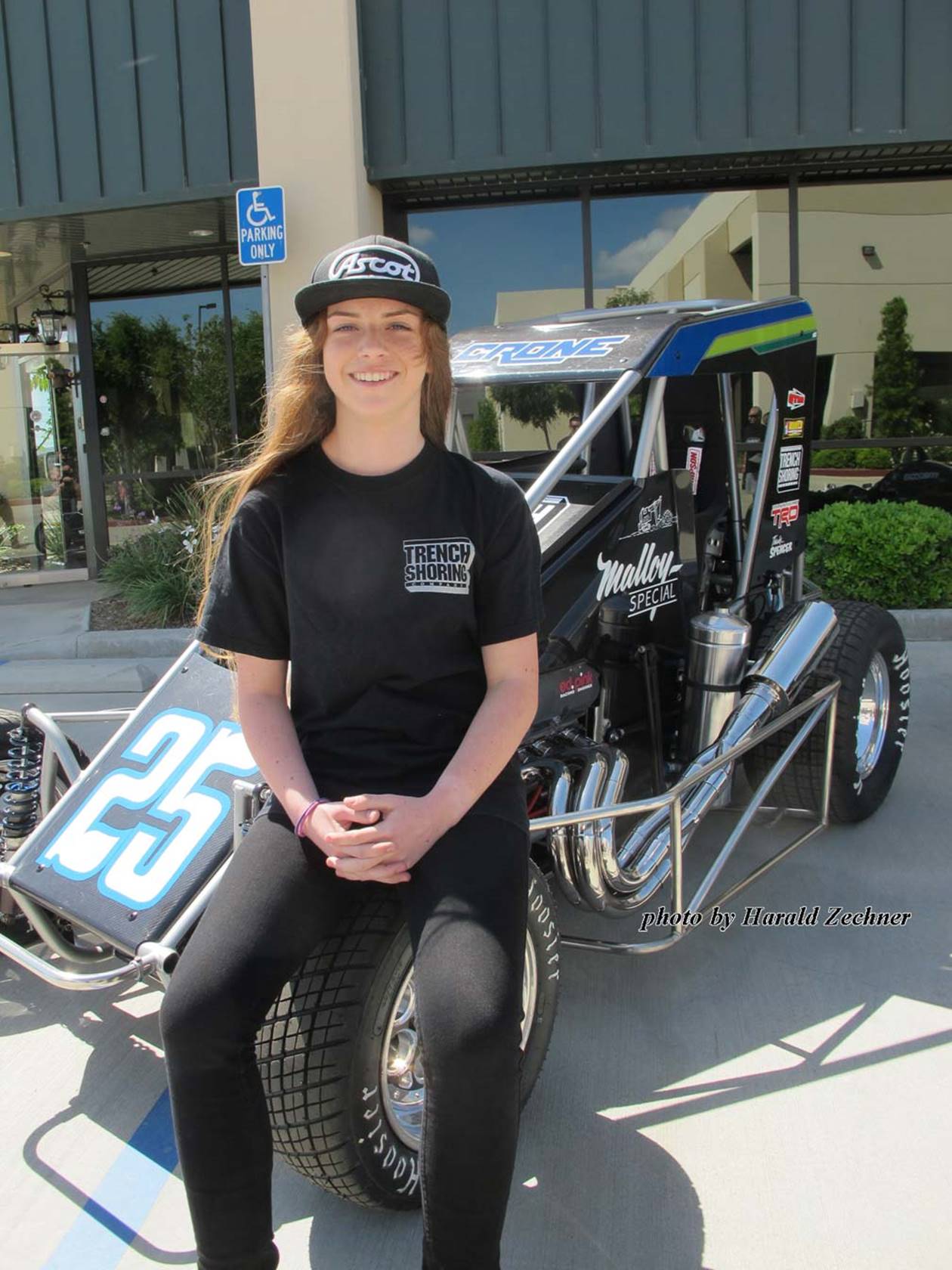 Courtney thanked her sponsors Trench Shoring, Sammy Tanner, Arai Helmets, Troy Lee Designs, Team Swolen, stand 21 and others. Talking
about her upcoming 26 event 2016 schedule that includes racing the Steve Watt 360 Sprint Car, Ed Lever Formula Mazda and Jerome Rodela
Midget her enthusiasm was obvious and contagious. "I want to win the INDY 500" she matter-of-factly answered when asked what she wanted in her racing career.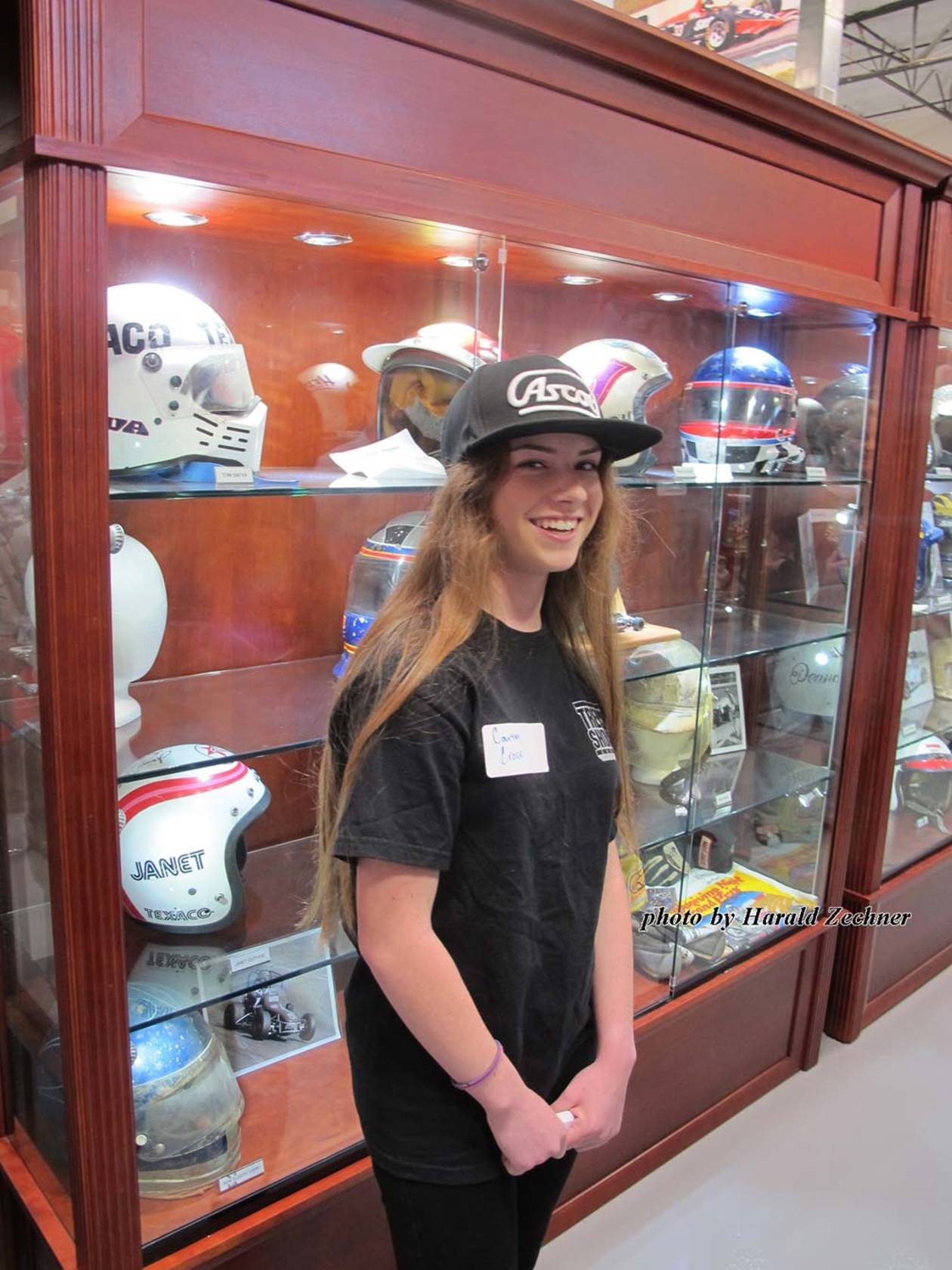 Our little girls growing up I snickered as the conference concluded. For sure dad Jack Crone replied. She's becoming quite the lady. Drivers Jimmy Oskie and Wally Pankratz concurred. Courtney Crone will be a one of the racer greats.
Howie Zechner
---
Bruce Flanders - The Voice of Everything
by Howie Zechner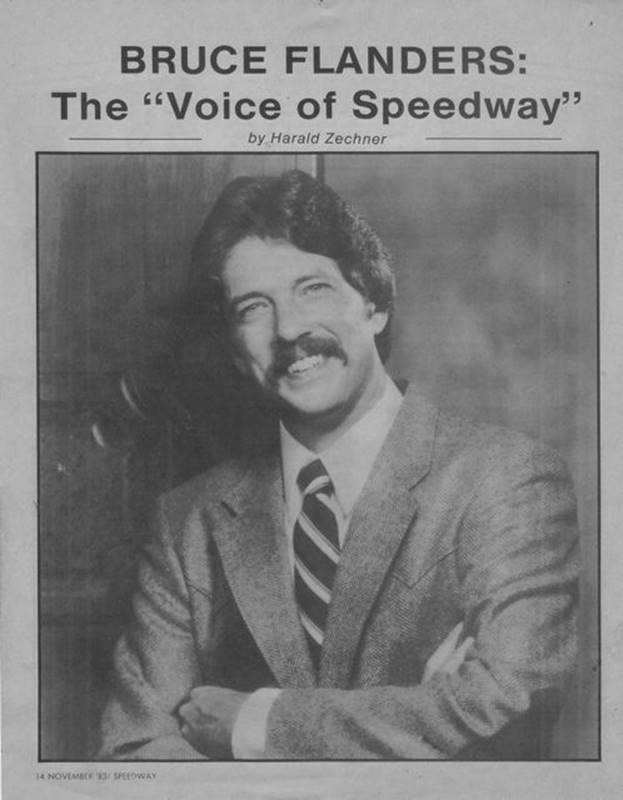 Article Howie Zechner wrote in the 80's naming Bruce Flanders "The Voice of Speedway"
Those of us in the two-wheel persuasion think the Flanders guy is a motorcycle announcer. Of course, why wouldn't we? After all he started at the Orange County Fairgrounds announcing Speedway Motorcycle racing in 1969. Just the beginning Bruce went on to be the track announcer at countless Speedway venues and was so revered at the now defunct Inland Motorcycle Speedway that fans openly rebelled when a new promoter spoke of bringing in another.

Bruce Flanders announcing at Costa Mesa Speedway – picture courtesy of Bruce Flanders



Bruce Flanders at IMS holding a picture of him with Speedway World Champions
Jack Milne and Bruce Penhall –picture courtesy of Howie Zechner
Forty-seven years gone and Flanders still announces Speedway at the City of Industry. He is the man that fans, racers and promoters call The voice of Speedway. Don't believe me, well stop by any Wednesday Night and see for yourself. Industry Racing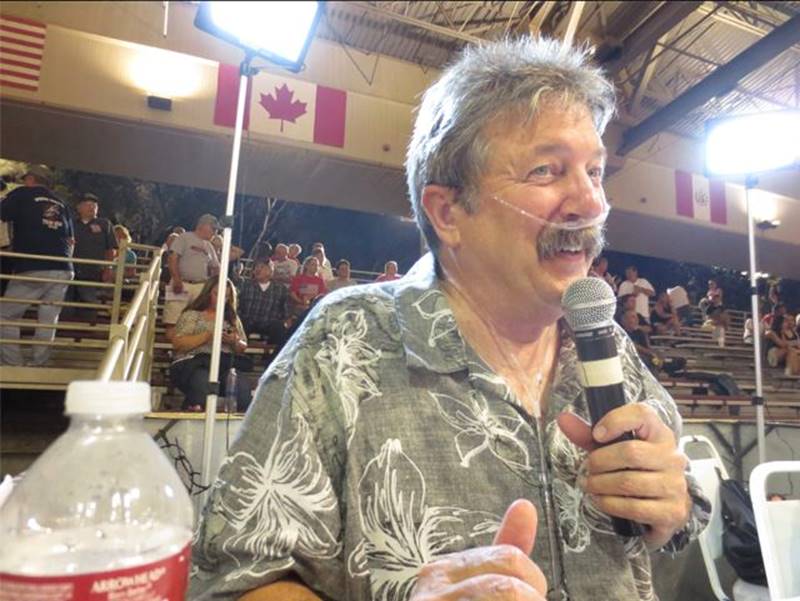 Bruce Flanders announcing at Industry Speedway – picture courtesy of Bruce Flanders
Flanders should be good you say. After all dad owned Flanders Company, a motorcycle dealership, repair facility and parts house in Pasadena California. Bruce, brothers John and Paul all worked there so motorcycles, speed, sponsorship and racing were the family's business. John Flanders still works the business to this day. Flanders CO Motorcycle Accessories


Bruce (on motorcycle) with brothers Paul and John Flanders
It was a wonderful upbringing Bruce told me. Dad Earl, the 1948 Enduro Champion and mom Lucile were big-shots with the AMA, SCTA, SRA and other motorcycle organizations. Both Earl and Lucile Flanders have been inducted into the AMA and Trailblazers Hall of Fame. AMA Motorcycle Hall of Fame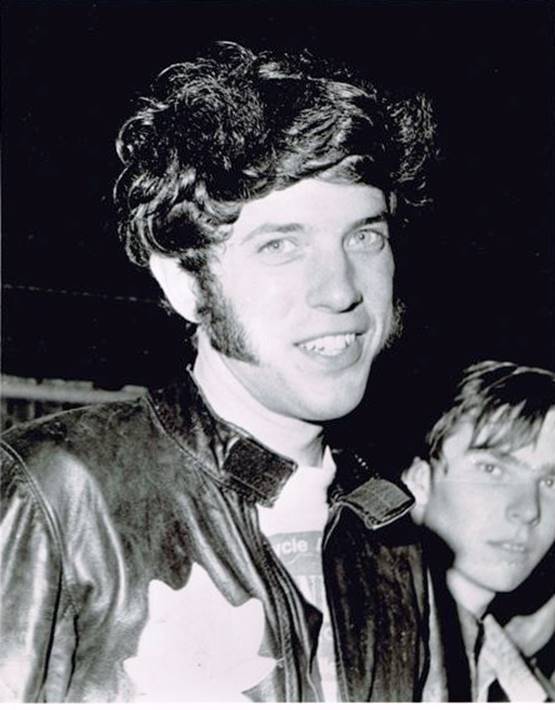 A young Bruce Flanders – picture courtesy of Bruce Flanders
As Chief Timing Official at the Bonneville Salt Flats Earl, Lucile and the boys were accustom to spending weeks on the road. Racing the Catalina GP or Handling check points out in the middle of the Mojave Desert for races like the two-day Greenhorn Enduro, wherever they competed or officiated it was a family affair and the kids enjoyed participating.

Bruce's exposure to such a wide variety of disciplines and locations led to an education that shaped the cornerstone of Flanders announcing career. Racing Speedway motorcycles for a few seasons also helped, as did a 1973 record setting run at the Bonneville Salt Flats for the fastest production motorcycle. Flanders 141.703 mph Yoshimura Kawasaki record stood for seven years.
;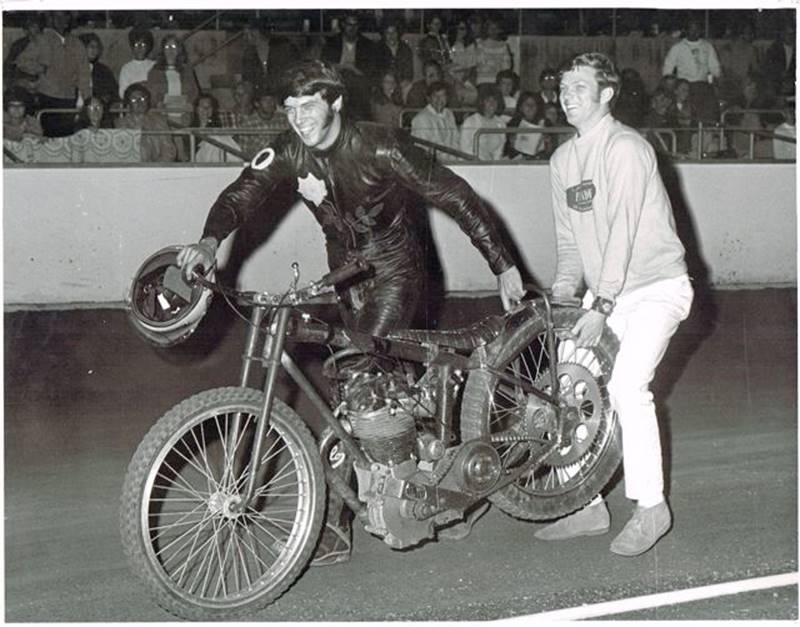 Speedway racer Bruce with brother Paul Flanders at Costa Mesa Speedway – picture courtesy of Bruce Flanders
Drags, Speedway motorcycles and motocross at the old Irwindale Speedway and Sprint Cars at Corona Raceway. Promoting was one more brick in Flanders wall of motorsport evolution. But like a moth to flame it always came back to announcing. It's what Bruce loved. He knew it would be his life's calling.

Know for his obsession with name pronunciation, race states and sponsorship Bruce Flanders is a perfectionist who always does his homework before word one is uttered. He research's every event and all those involved. Not being prepared or having all the facts are not in Bruce's MO (modus operandi) and is a betrayal of everything the man believes in. That devotion to detail has not gone unnoticed. It's made him an announcing superstar.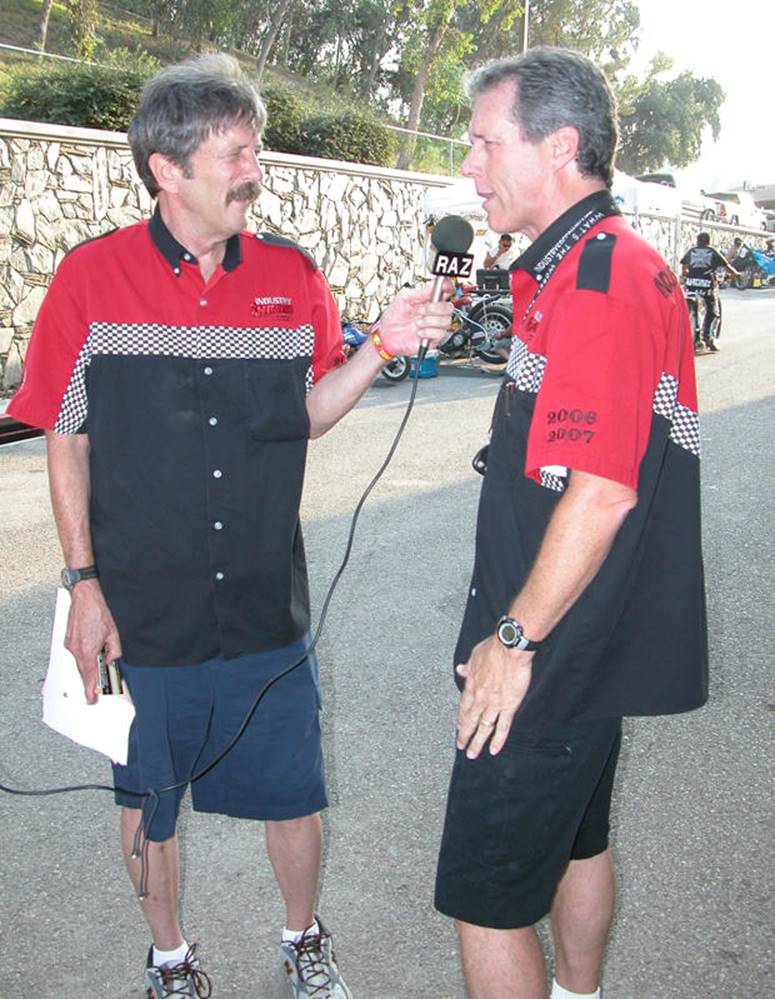 Bruce Flanders doing a TV interview in 2007 – picture courtesy of Dorcey Alan Wingo
I average 53 flights out of a suitcase before it needs replacement the Flanders guys joking told me. No lie he's worked most every major sanctioning body and race track in America and even some in Europe. A short list includes names like Formula One, IndyCar,CART, NASCAR, AMA, NHRA, IMSA, SCCA, FIM, SCTA and more. Better know locations include Ascot, the Hangtown GP, the original Irwindale Raceway, Glen Helen, Laguna Seca, Sears Point, the Caesars Place Grand Prix, the Miami Grand Prix, Daytona Motor Speedway, Watkins Glen, Irwindale, Fremont, Orange County International, Lions Drag Strip, England's Wembley Stadium, Euro Speedway Lausten Ring in Germany and so many others. More than one of the above have called Bruce Flanders "the voice of." It's a respect title like judge, or president or sir I'm guessing.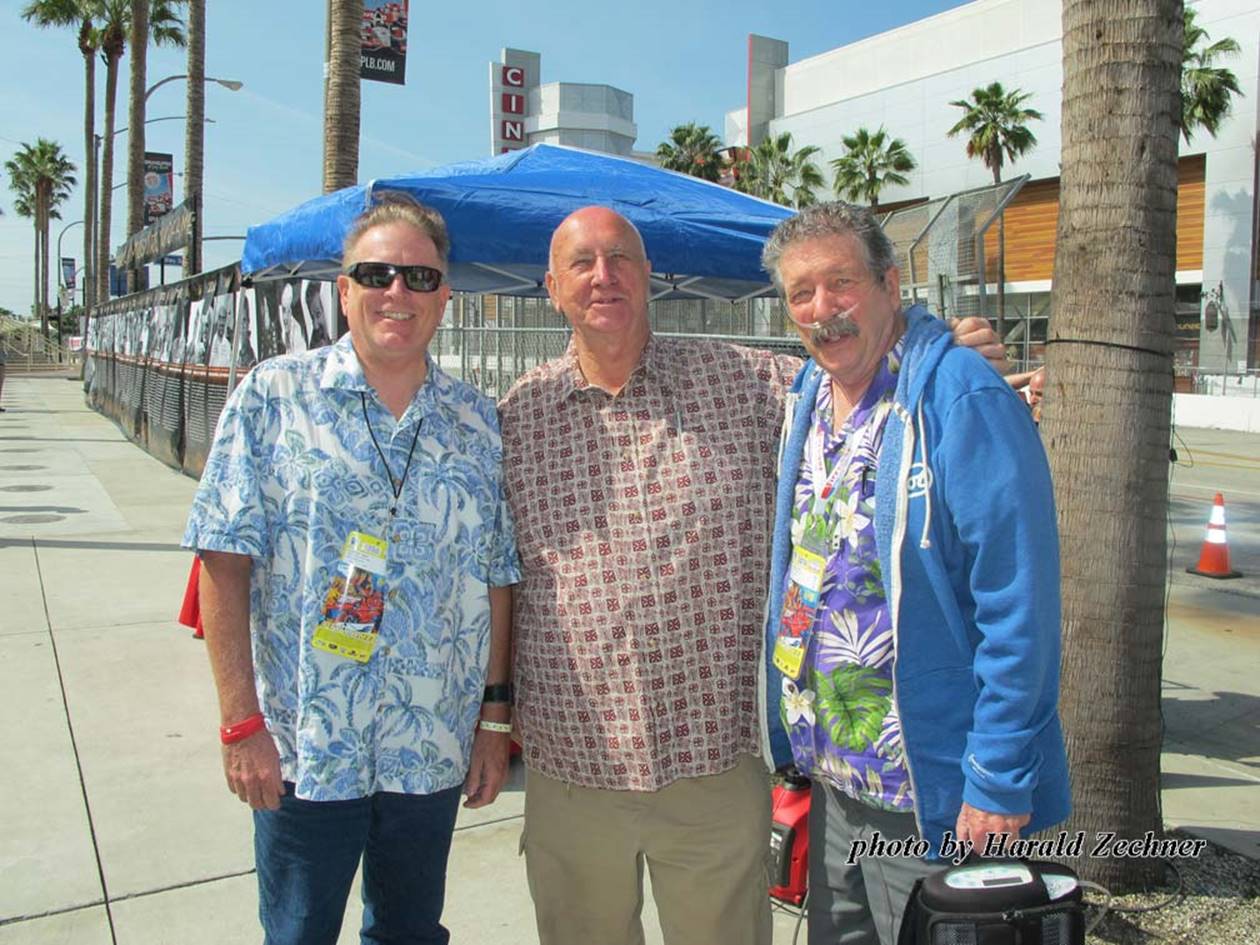 Costa Mesa Speedway announcer Terry Clanton, article author Howie Zechner, Bruce Flanders
The Irwindale Event Center is another place that Flanders calls home. Built in 1999 this Half Mile Super Speedway features NASCAR and another dozen or so four-wheel classes and sanctioning bodies. Fans there call him The voice of Irwindale Speedway. Judge for yourself as it runs most Saturdays between May and September. Irwindale Speedway
The Grand Prix race at Long Beach is another Flanders haunt. Bruce has announced every race there since 1978. The Associations president and CEO, the drivers, the fans,the advertisers all love him. Naturally they call him The Voice of the Grand Prix. For more information,visit Long Beach Grand Prix

Bruce Flanders doing Victory Circle at the Long Beach Grand Prix -picture courtesy of Bruce Flanders
On Thursday April 14, 2016 Bruce Flanders became the 25th person to be inducted into the Long Beach Motorsports Walk of Fame. Movers, shakers and motorized royalty were in attendance and sang the praises of Flanders. The Mayor spoke about Bruce¹s legendary contributions to the field of motorsports. Flanders medallion that includes a microphone was unveiled in the sidewalk on Pine Avenue in front of the Long Beach Convention Center. Long Beach Motorsports Walk of Fame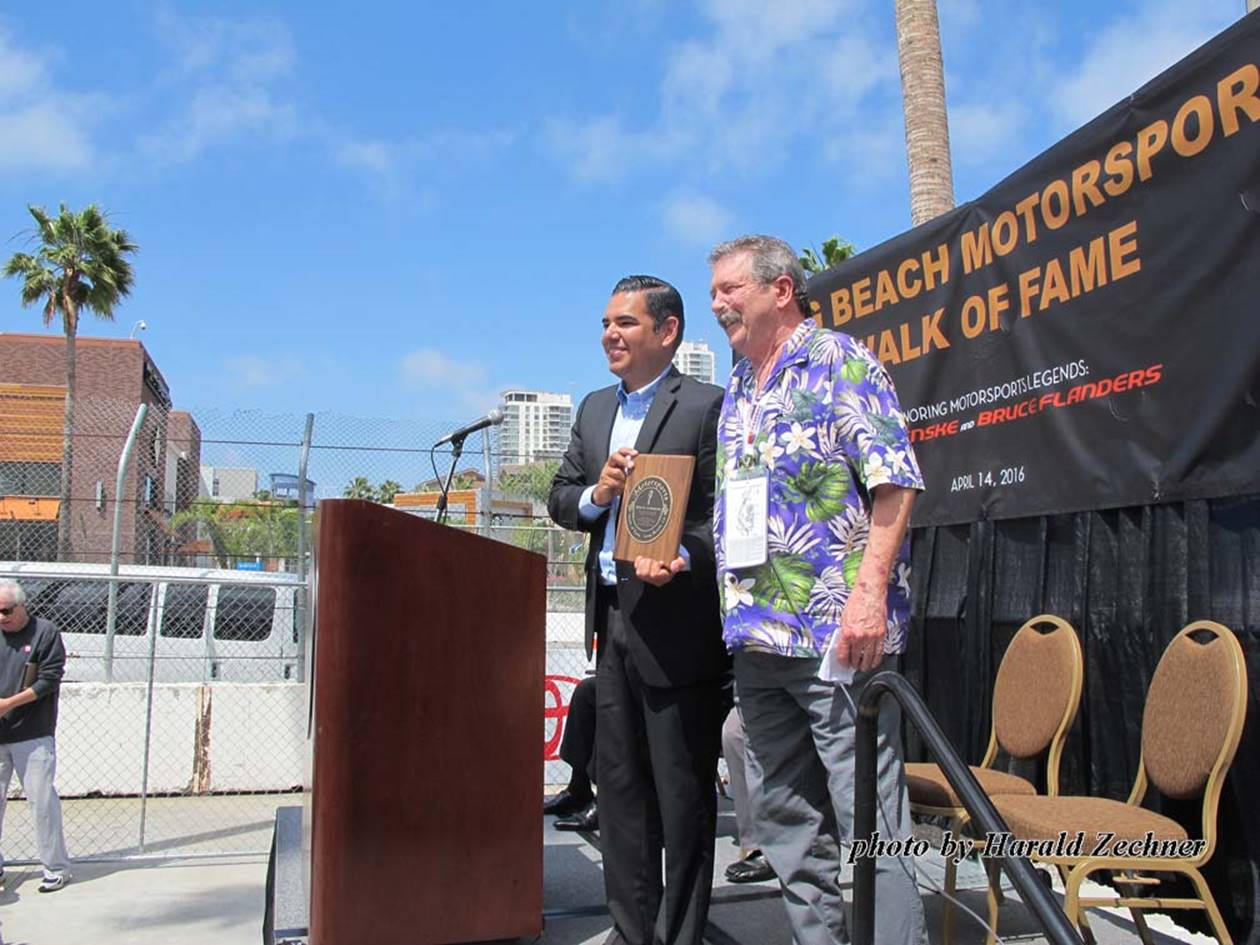 Long Beach Mayor Robert Garcia gives 2016 Walk of Fame recipient Bruce Flanders a plaque commending the celebration
Congratulations Bruce Flanders. You truly are The voice of everything.
Howie Zechner howie@razvideo.com
---
Trailblazers Awards Banquet. April 23, 2016
by Howie Zechner
It's a rite of passage that happens every year. A gathering where like minded men and women celebrate their past, welcome the future and pay homage to they're fallen. A joyous occasion where Knights are honored and legends are immortalized. A feast with food and wine that fills the stomach and stimulates the mind. A strange phenomenon where yesteryear and today collide. A Banquet of Trailblazers.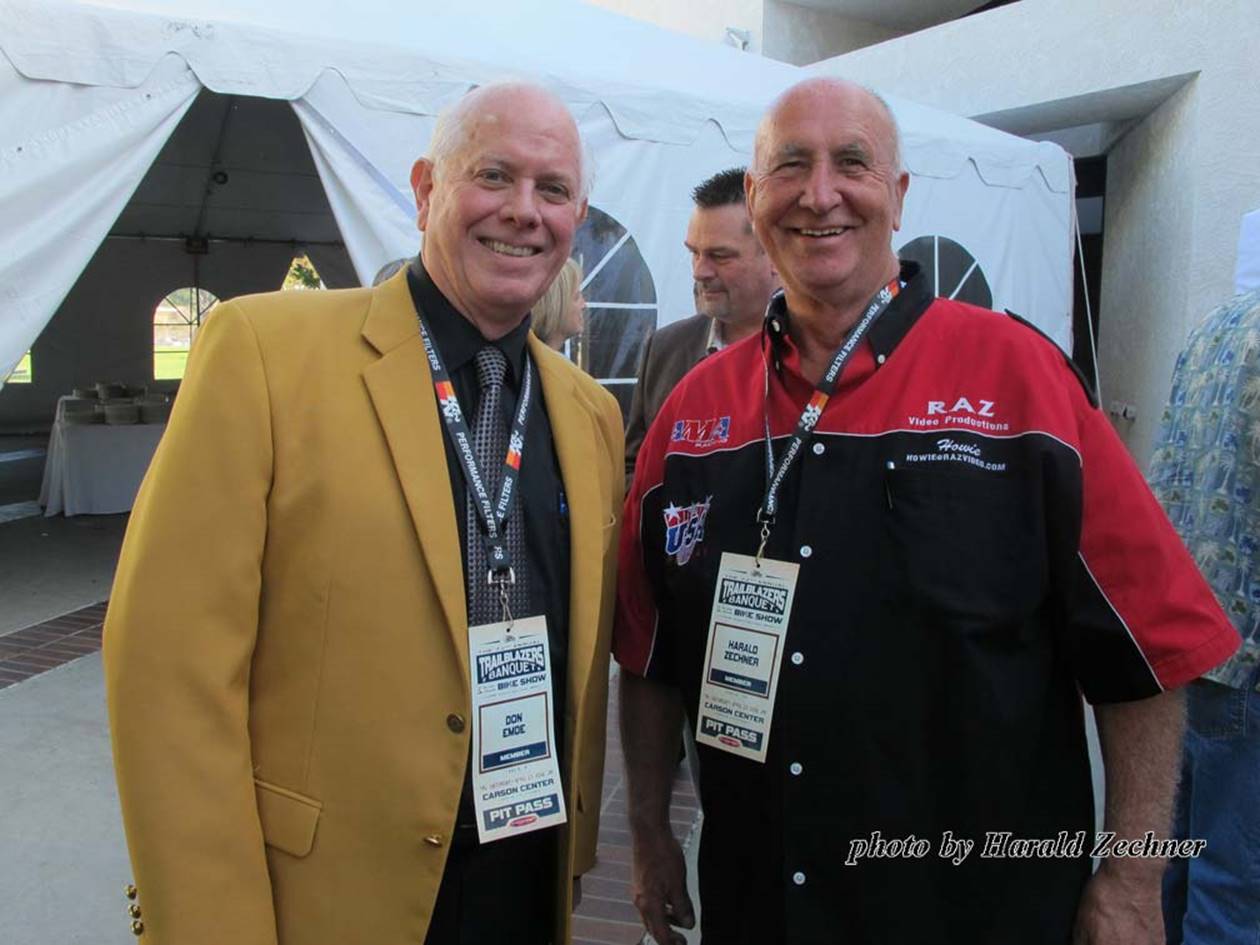 Trailblazers President Don Emde with author Howie Zechner
On Saturday April 23, 2016 well over 700 of these two wheel faithful gathered at the Carson Center in Carson California for the 72nd annual Trailblazers banquet. It did not disappoint. It was spectacular.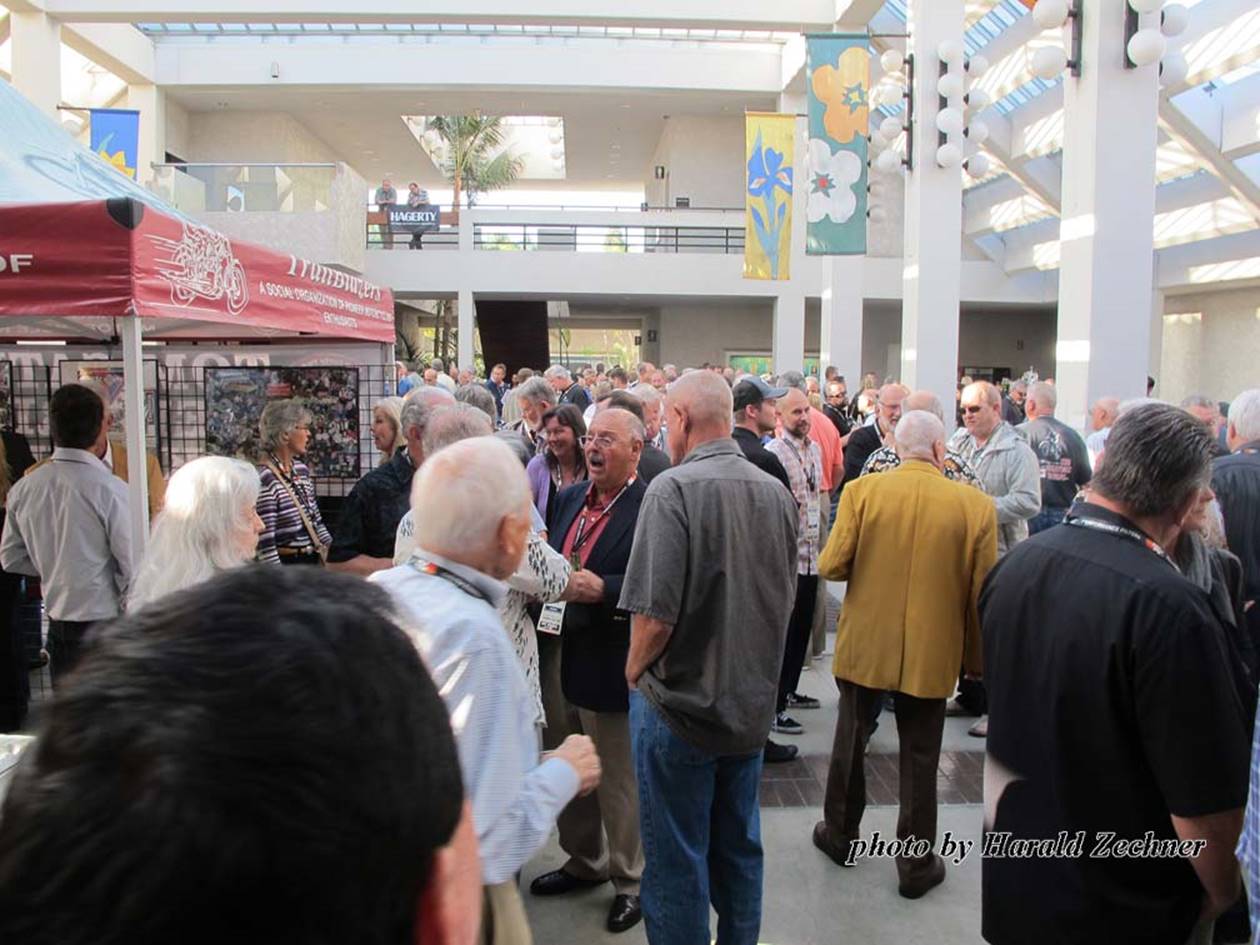 Guests fill the Courtyard of the Carson Center for the 72nd annual Trailblazers banquet
The announced opening was three PM but many had been on hand for hours. Rekindling old friendships and making new they filled the massive parking lot. Telling stories and bench racing. Smiles were abundant and camaraderie ruled.

AMA Hall of Fame member Preston Petty warmly greeted fellow Trailblazers.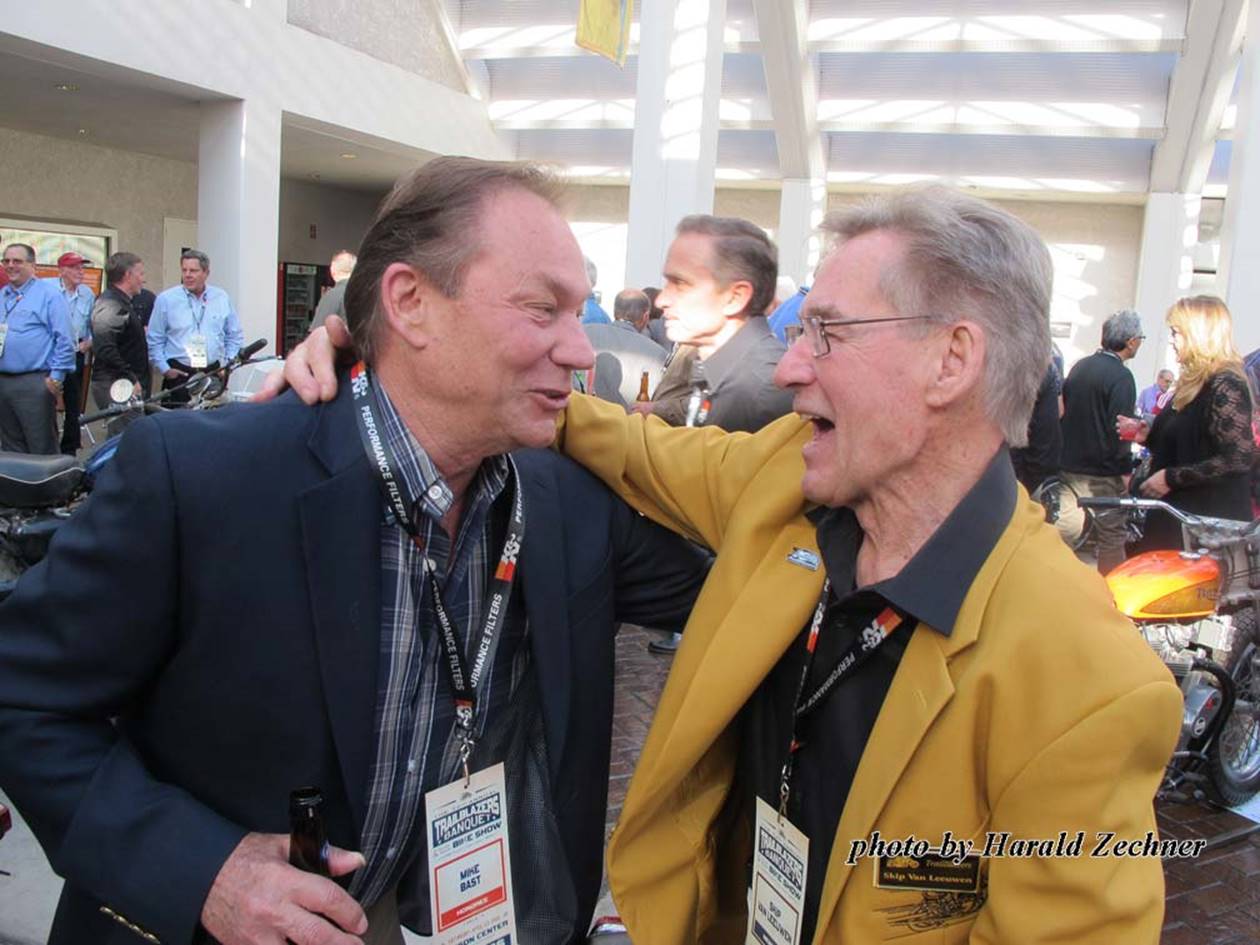 Seven Time US Speedway National Champion Mike Bast with Hall of Fame member Skip Van Veeuwen
A beautiful sunny California day, large tents were set up at the entrance so attendees could pick up their credentials and program. Manned by Trailblazers directors and volunteers the process was quick and painless.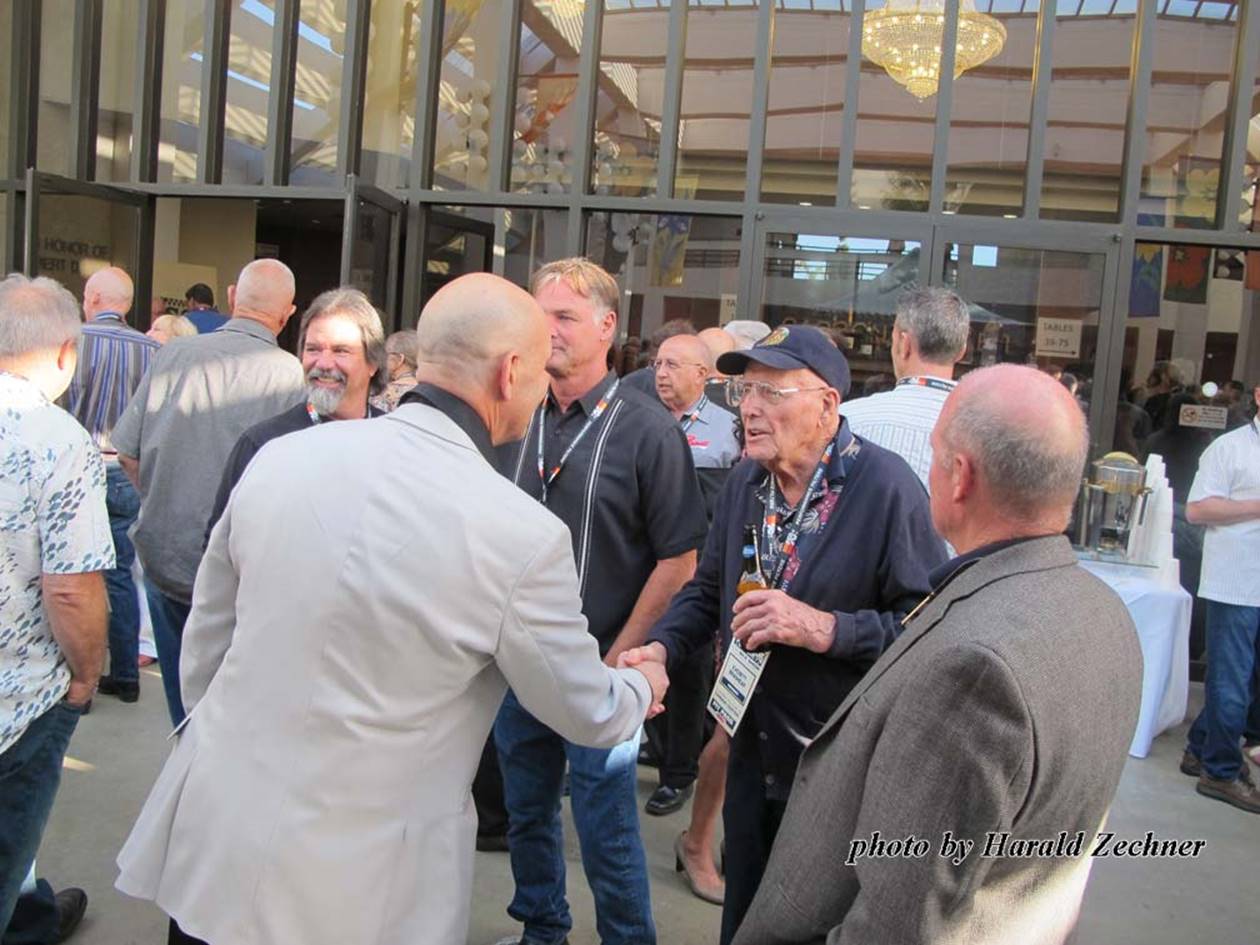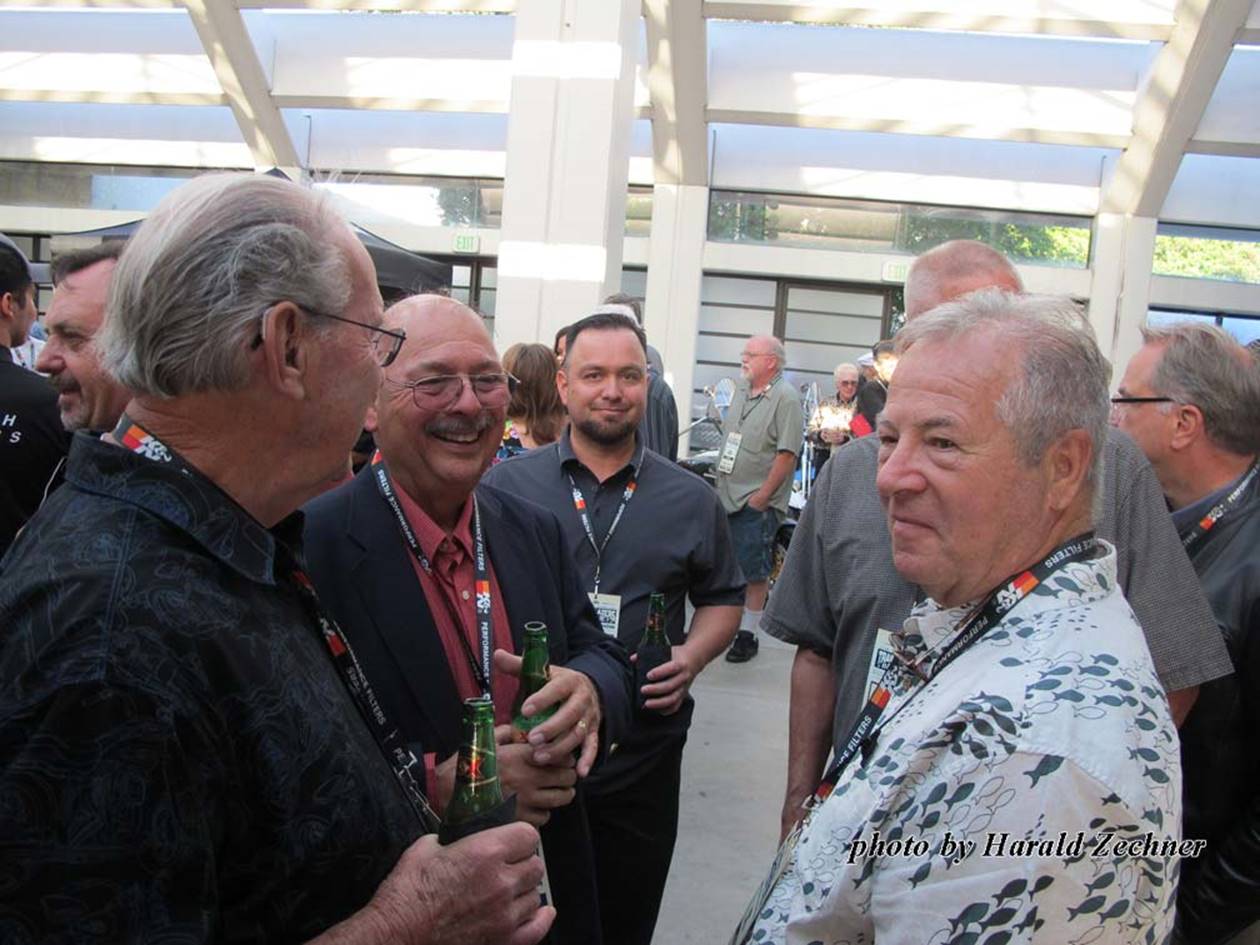 Old friendships are renewed - Merriment was the order of the day
Entering the large open courtyard guests were treated to the Tom Cates Memorial Bike Show. Organized by Tom White, motorcycles filled the entire area. In front of each machine a sign that stated the year, manufacturer and bikes owner. All in attendance were encouraged to vote for the machines they liked best. Separated into several different categories the winners were announced later in the evening. They were brought to the stage, said a few words about their bikes and received a trophy.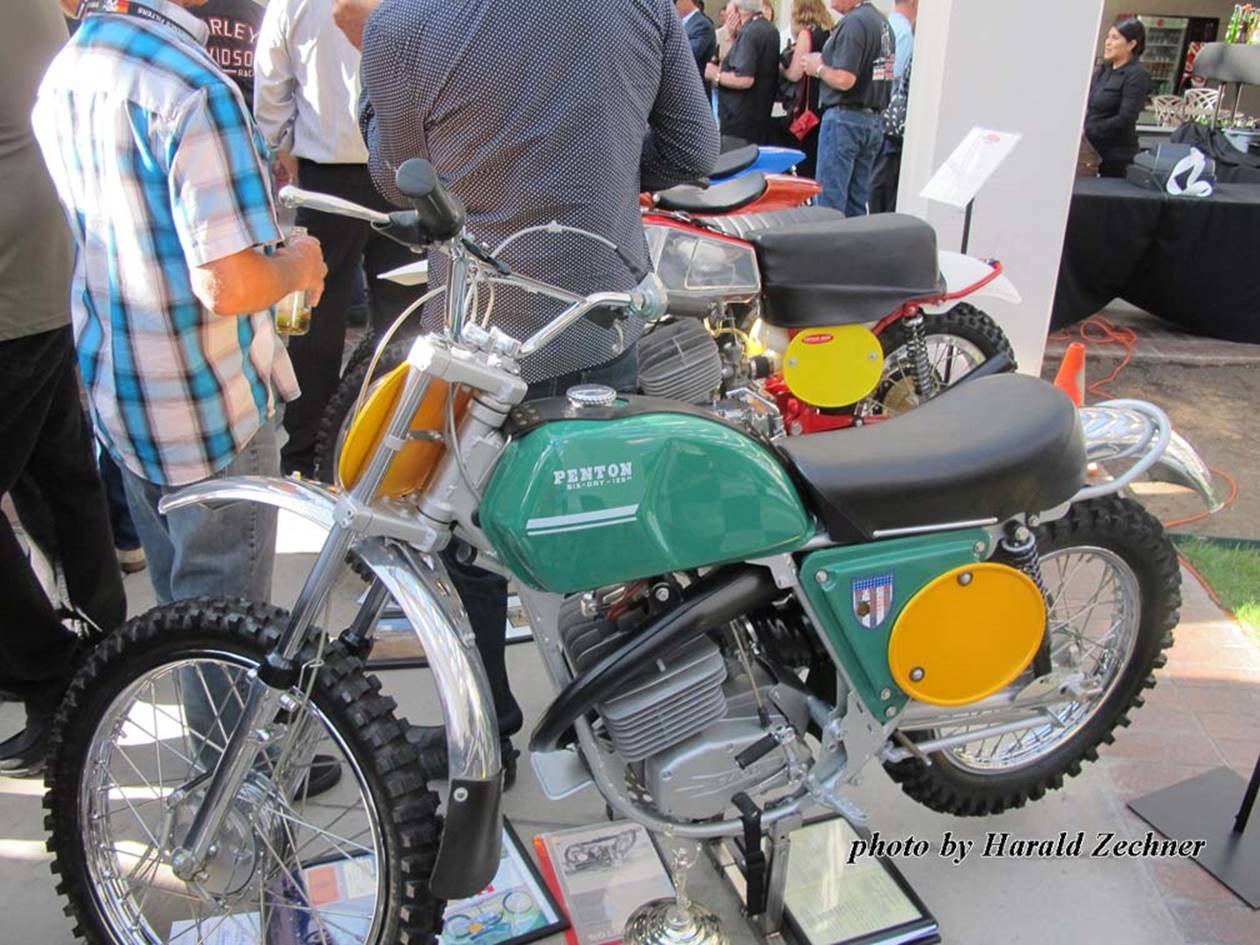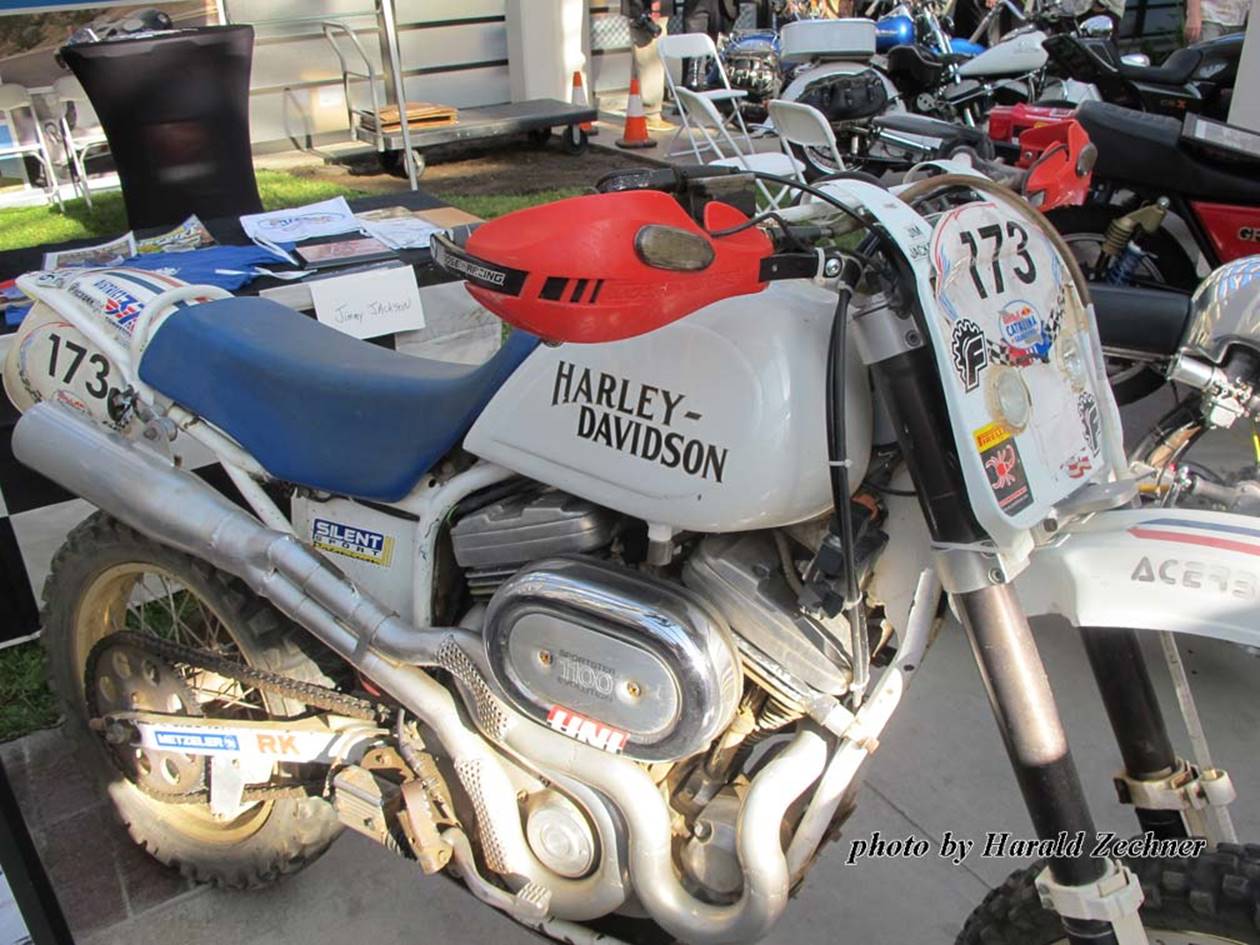 Rare machinery with bona fide racing credentials were displayed by their owners
Also in the courtyard several tables contained old posters, pictures, trophy's and other assorted two wheel treasures. Chairs lined each side of the large open structure and three bars served alcoholic drinks, soda or water.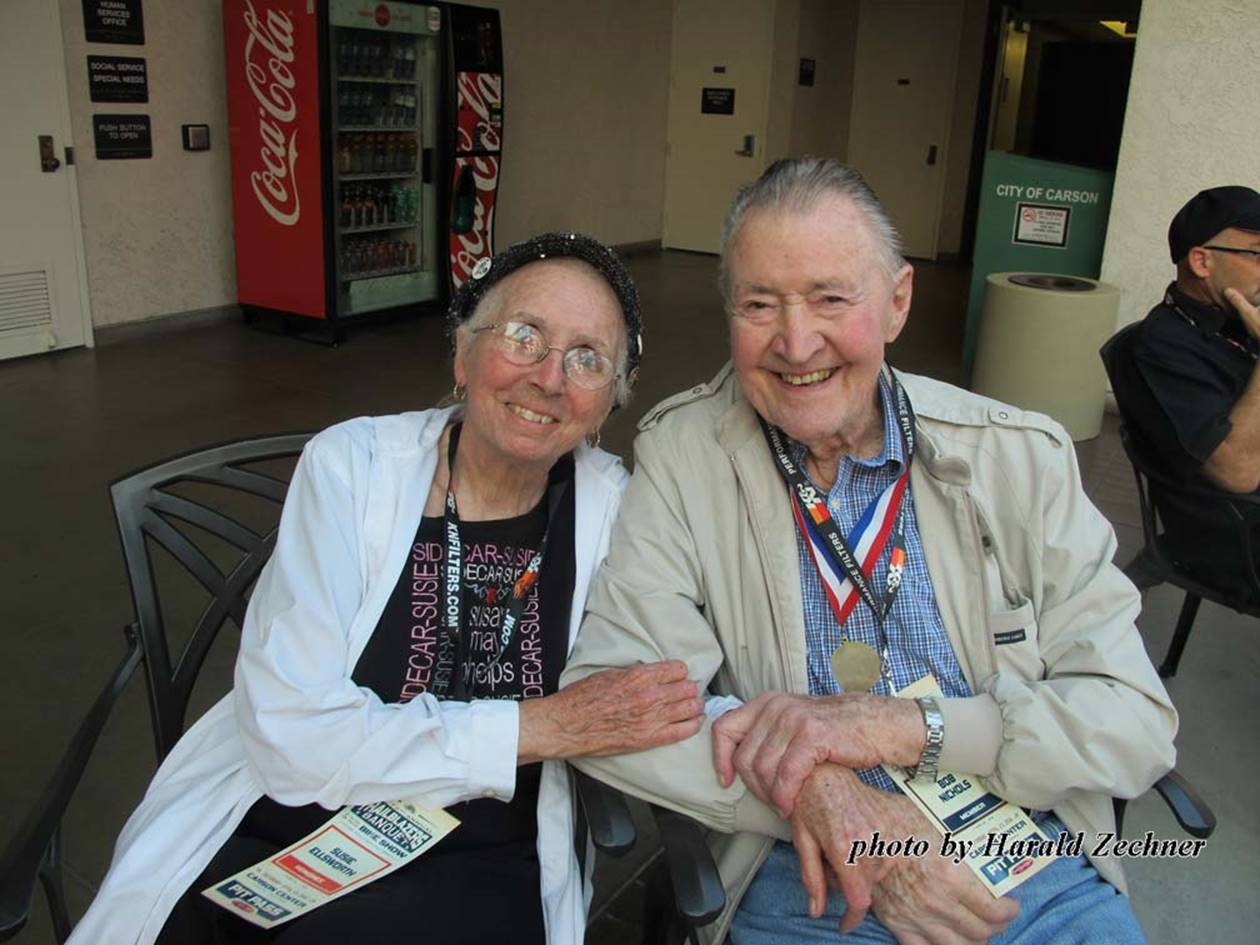 2016 Lucille Flanders Award winner "Sidecar Susie Ellsworth" sits with the banquets oldest attendee, the famous Bob Nichols

Ryan, Shane and Kari with a picture of their dad Mike Bast
Master of Ceremonies duo Don Emde and Keith Mashburn welcomed guests and made several announcements. A prayer and pledge of allegiance followed.

Trailblazers Vice President Keith Mashburn – The former Yamaha racer is a City Councilman in Semi Valley California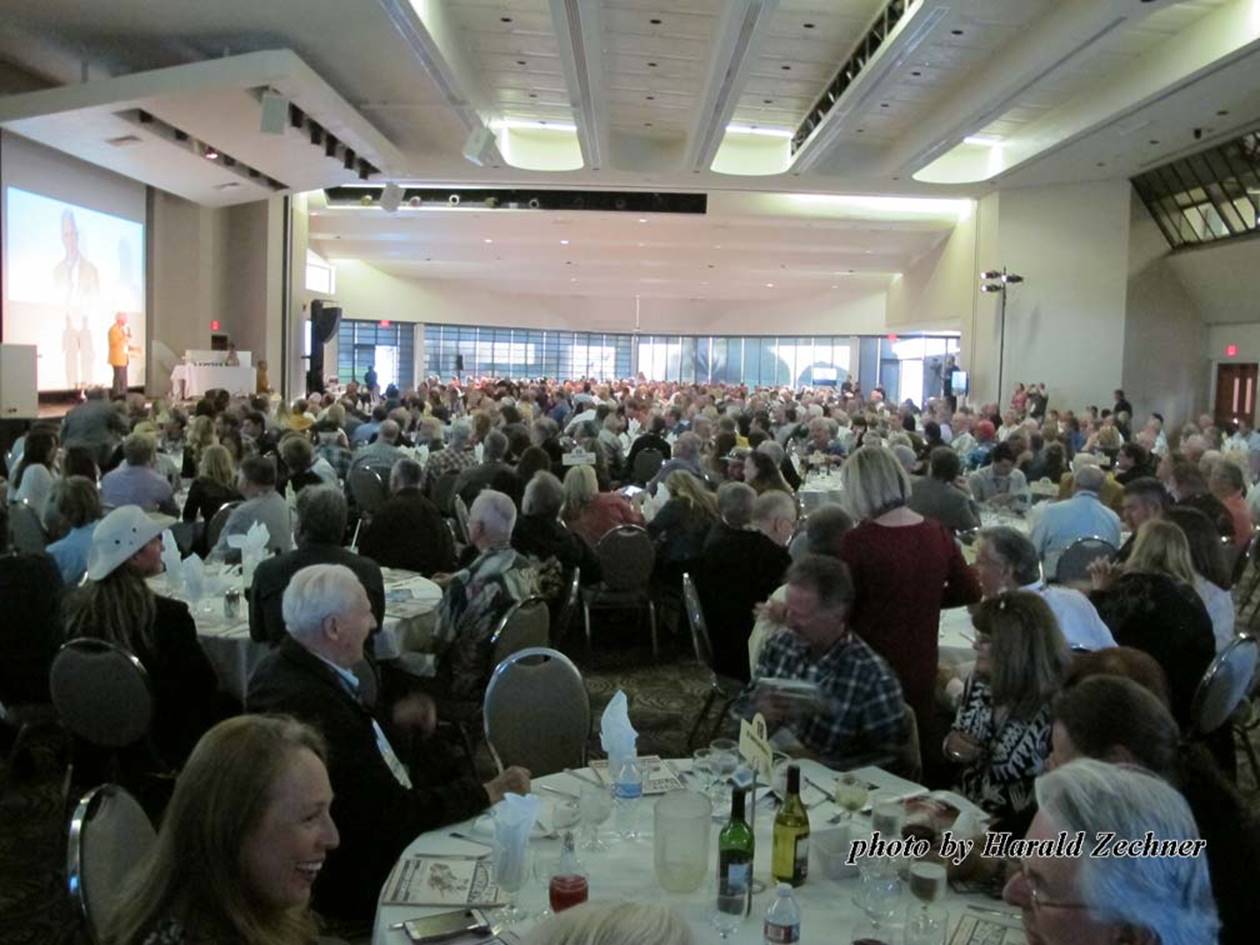 A moving video tribute to those whom we have lost since our last April 11, 2015 gathering was shown. Very moving it brought a tear to more than one as each of the fallen was honored.
Next agenda item, dinner. No rubber chicken it was beef, pasta, green beans, salad and rolls. Well prepared, tasty and plentiful, there were no complaints. A bottle of red and white wine with a picture of Trailblazer Tom Heininger on the bottle graced each table. Coffee or tea was also available. Desert consisted of chocolate, vanilla or carrot cake.

The Trailblazer brotherhood recognizes someone different every year on their wine bottle labels
2016 Hall of Fame inductee acknowledgements followed. A well-produced video tribute preceded each nominee being brought on stage. Once there a lengthy verbal exchange was conducted by the evening Master of Ceremonies. Sometimes funny, always informative Don Emde and Keith Mashburn have this routine down pat.

Mike Bast inducted into the 2016 Hall of Fame
This year Mike Bast, Dan Haaby, Bruce Ogilvie, Wayne Rainey, Steve Storz and Gil Vaillancourt were inducted into the 2016 Hall of Fame. The crowd agreed with cheers and applause.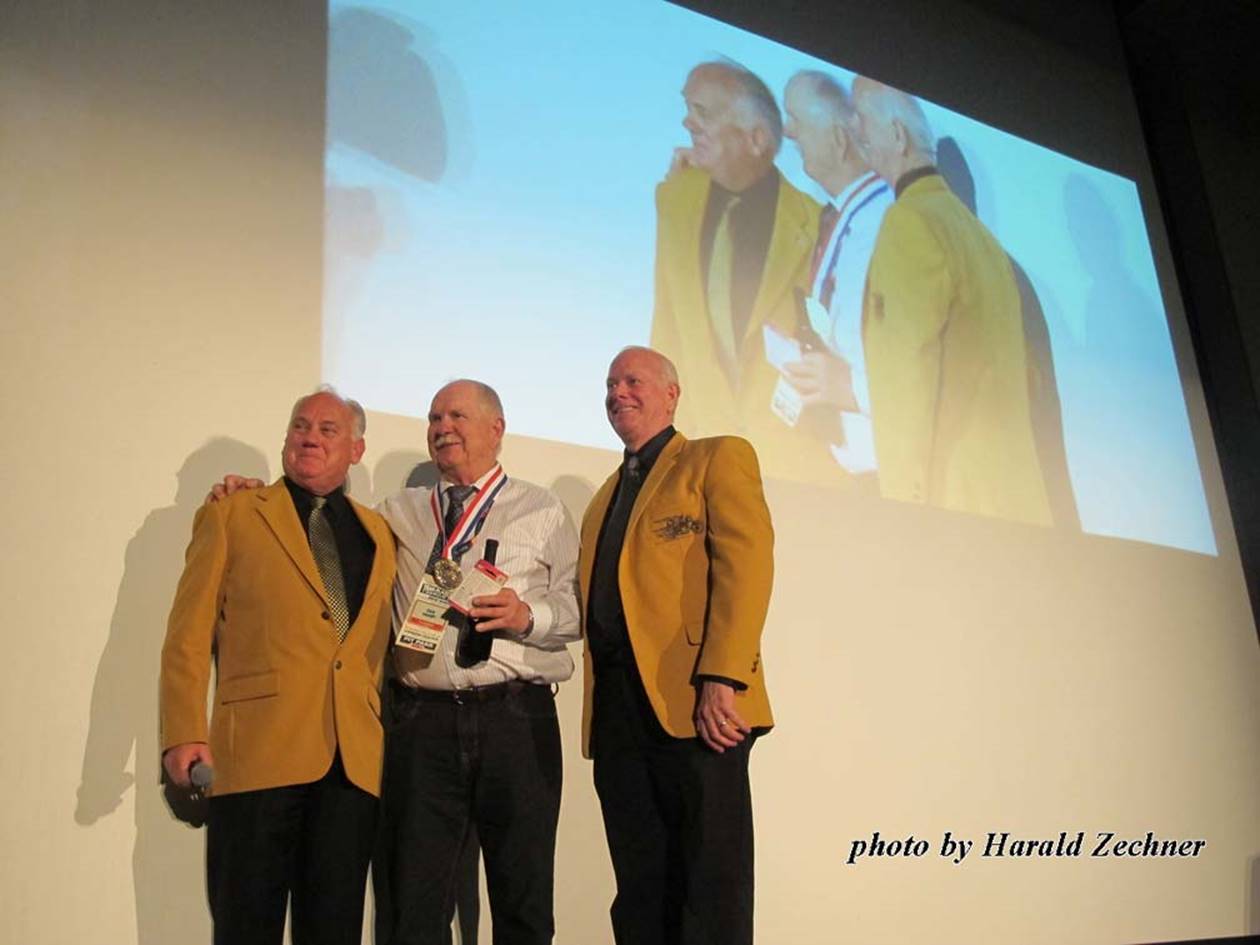 Dan Haaby inducted into the 2016 Hall of Fame
Given posthumously, the Bruce Ogilivie family accepts the 2016 Hall of Fame Award on his behalf

One of the best, Hall of Fame recipient Wayne Rainey acknowledges the crowds applause.

Hall of Fame recipient Steve Storz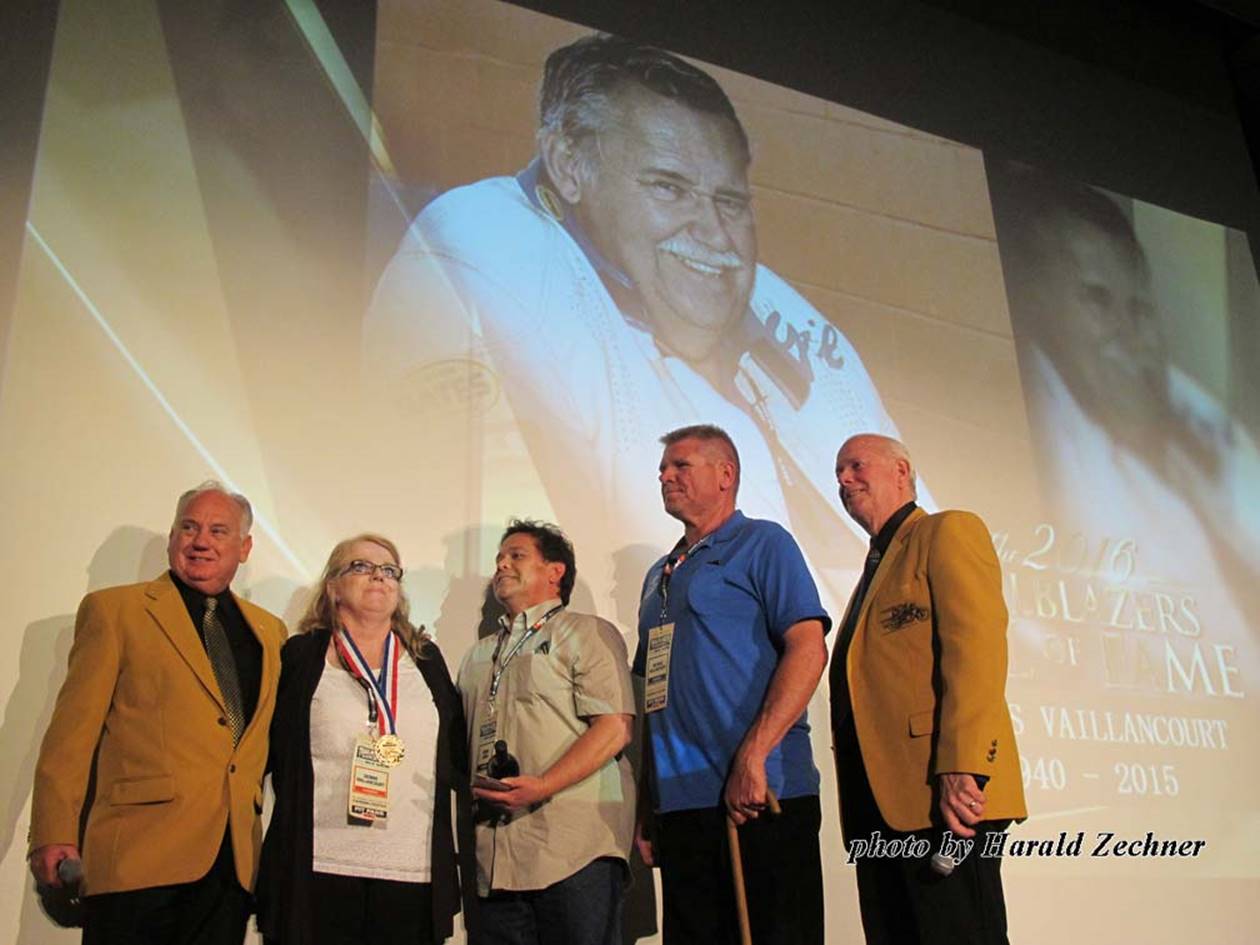 Gil Vaillancourt passed last year. His family proudly accepted the Hall of Fame Award on his behalf
Keith Mashburn was the 2016 Dick Hammer Award recipient and Sidecar Susie Ellsworth received the 2016 Lucille Flanders Award.

Master of Ceremonies Don Emdy announces the Lucile Flanders Award

"Sidecar" Susie Ellsworth receives the 2016 Lucille Flanders Award from Don Emdy and Keith Mashburn
Like most good things the evening ended way to soon. Well after 10pm many lingered to take one more picture, tell or hear one more tale or relive one more yesteryear.

King Kenny Roberts autographs a poster fellow Trailblazer Steve Bauer

Sonny Nutter shows off his peoples Choice Award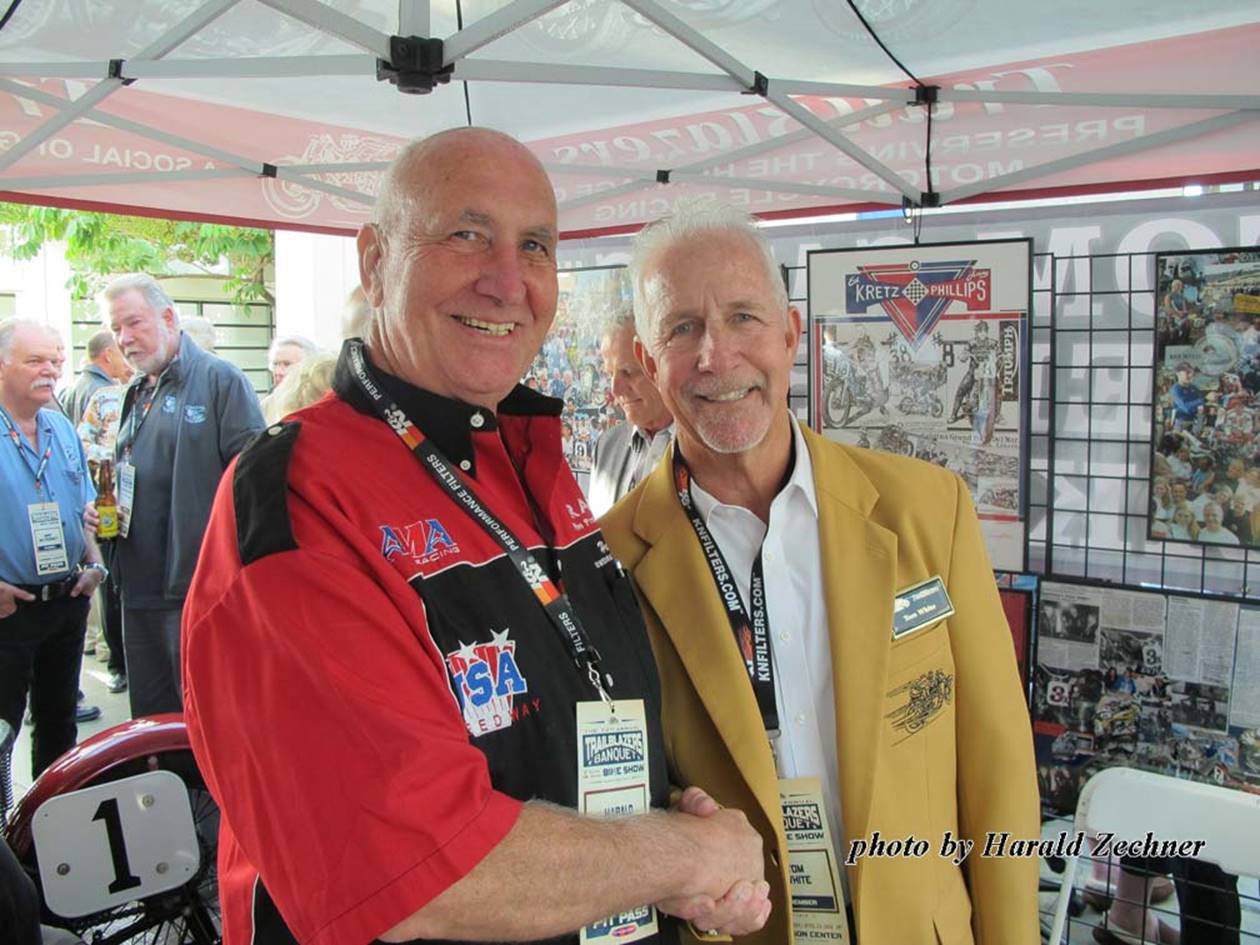 Howie Zechner – Tom White
As always the evenings festivities were excellent. For those of you that missed it I can only say What were you Thinking?
Howie Zechner, Trailblazer