2015 California Speedway News Part 1
2015 California Speedway News Part 2
USA Dream Team News - Team USA News - News & Views - Championship Schedule
150cc Mini Speedway Class Standards
2015 Speedway National Championship Series
Letter of Intent
2015 AMA Supplemental Regulations Speedway Series
SpeedwayBikes.com 20th Anniversary
2015 AMA Speedway National Championship Series
Draw for Round 1 - May 30 Costa Mesa Speedway, Costa Mesa, California
Conducted by Ken Saillant, AMA Track Racing Manager and Marcy Day, Racing Dept. Administrative Assistant on May 20, 2015.
(Draw – to determine starting positions)
#46 Aaron Fox
#87 Bart Bast
#66 Jason Ramirez
#104 Billy Hamill
#45n Bryce Starks
Wildcard #1
#40 Tommy Hedden
#1 Billy Janniro
#43 Charlie Venegas
#6 Shawn McConnell
#48 Tyson Talkington
#39 Buck Blair
#5 Max Ruml
#212 Luke Becker
Wildcard #2
#4 Broc Nicol
Rider who have requested a qualifying wildcard (deadline noon Saturday 23rd)
Russell Green
Gage Geist
Rocco Scopellite
Braydan Galvin
Jamison Dilkey
Rick Valdez
Dryden Gayle
Nathan Siegel
Tyler Warren
Dan Faria
River McDougall
Qualifying format to be determined after sign up deadline.
Steve Evans - AMA Speedway National Championship Series Coordinator (May 20, 2015)
2015 AMA Speedway National Championship Series Round 1 Riders + Run Offs, 18 May 2015
The AMA, Its Advisory Committee and Series Promoters have named the 14 riders who are on the program for Round 1 of the AMA Series at Costa Mesa are listed below. 31 riders in total sent in their LOI and all are thanked for their interest.
Billy Janniro
Bart Bast
Max Ruml
Charlie Venegas
Tommy Hedden
Buck Blair
Broc Nicol
Bryce Starks
Billy Hamill
Aaron Fox
Jason Ramirez
Tyson Talkington
Shawn McConnell
Luke Becker
Run Offs will be held at the start of the event for the final 2 spots plus two on the night reserve spots. All D1 level riders are encouraged to request entry, whether they have LOI'd for series or not. Nominations for Wild Cards close this Saturday at noon. Riders who have sent in LOI for series need to place entry in a new unit of time for the run offs.
The top 14 riders after round 1 are seeded into round 2 at Ventura - so if you contest the run offs at Costa Mesa, make it in and place top 14, you will not have to re-qualify. Conversely, any of the 14 above can be bumped down into the qualifiers for round 2.
Round 1 draw will be done by Thursday, Supplementary Regulations will be issued later in week from AMA Track Racing Director.
International Speedway have requested that the riders who wish to be considered for a run off spot sign up via myself versus Costa Mesa Speedway
Riders who have so far requested a place in run offs:
110 Gage Geist
111 Dillon Ruml
126 Rocco Scopellite
130 Braydan Galvin
140 Kurtis Hamill
222 Dalton Leedy
321 Russell Green
The riders who are selected to contest the run offs will be named after the weekend.
Please message me if you want to be considered for the qualifying run offs.
Steve Evans - AMA Speedway National Championship Series Coordinator
Seeded Rider Information, 14 May 2015
Thank you to all of the riders who have confirmed participation interest in the 2015 AMA National Speedway Championship Series.
After coordination with AMA Track Racing and the staging promoters, the following riders are confirmed as the first ten riders for Round 1 at Costa Mesa Speedway on May 30th.
Billy Janniro
Bart Bast
Max Ruml
Charlie Venegas
Tommy Hedden
Buck Blair
Broc Nicol
Bryce Starks (top 8 entered riders from 2014 Series Standings)
Billy Hamill (2012 AMA Champion, 2nd in 2013)
Aaron Fox (5th in 2013, in Europe 2014
The other four spots to go straight onto the program for round 1 will be announced by Tuesday 19th May latest, with the starting position draw completed by Thursday 21st. A reserve list will also be issued by the 19th in case one of the 14 withdraws from the program.
The 2014 Series and AMA track points will be consulted to determine the final spots, alongside 2015 race performance and results. Given the latter and also the number of talented young and new Division 1 riders, we wanted to give everyone one last chance to stake claim for a starting spot in this weekends races at Fast Fridays and Costa Mesa.
Those who do not make the initial 14 riders will be given the chance to qualify for Round 1 on May 30th at Costa Mesa with 'Elimination Wild Card Run Off' races before the main program for the final two spots and two reserve positions on the night. Details of the format will be released once final number of qualifiers are known.
The series will once more run on the full SGP race format.
Riders who do not wish to partake in the whole series can still do wild card run offs at Costa Mesa. All Division 1 level rider are welcome and encouraged to qualify.
The top 14 riders in points from Round 1 (not necessarily the 14 automatic seeds from round 1) are straight into round 2 at Ventura, where, once again, wild cards will be determined by run offs on the day. So, if you qualify via run off and finish 14th or above in Round 1, you do not need to qualify for Ventura,
We have in total received 31 entries for the series and its a very difficult task to finalize the line up given the fantastic level of talent we have. This weekends races will now take on extra importance!
Supplementary Regulations will be issued next week.
Thanks and please get in touch with myself or Ken Saillant at AMA if you have questions
Steve Evans - AMA Speedway National Championship Series Coordinator
---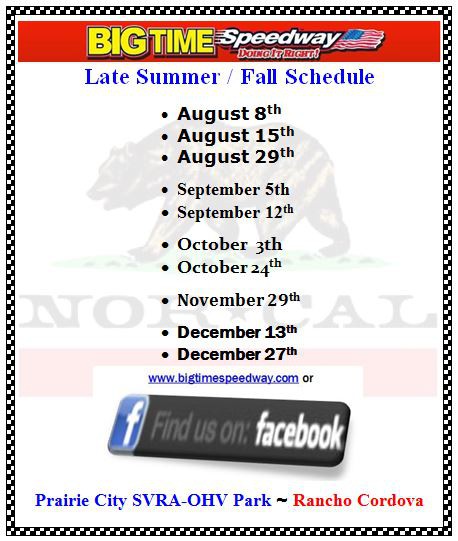 ---
Industry Season Opener
Season Opener May 27th 730 PM
1st Annual Connor Penhall Memorial Cup
The Grand Arena @ Industry Racing
D1 GP format - featuring all the new "young guns" battling some of the seasoned veterans
Junior Speedway
Stock Pee Wee class

Thanks,
Kelly Inman
Director of Racing
Industry Racing
(626) 393-3876 cell
(626) 330-0324 office
16200 Temple Ave.
City of Industry, CA. 91744
www.IndustryRacing.com
Industry Racing on FB, Twitter and Instagram
---
Ricky Wells
Ricky Wells on road to FIM Speedway Grand Prix World Championship 2016
Ricky Wells is the only American rider who race in qualifications to FIM Speedway Grand Prix World Championship 2016.
Last year's semifinalist of FIM Speedway Grand Prix World Championship will race in Qualifying Round 3 in Lonigo, in Italy on May 3rd.
His rivals will be: Jari Mäkinen (Finland), Daniel King (Great Britain), Nicolas Vicentin (Italy), Antonio Lindbäck (Sweden), Kenneth Bjerre (Denmark), Kacper Gomólski (Poland), Hayden Sims (New Zealand), Václav Milík (Czech Republic), Michele Paco Castagna (Italy), Jesper B. Monberg (Denmark), Craig Cook (Great Britain), Max Fricke (Australia), Fredrik Lindgren (Sweden), Mathieu Trésarrieu (France) and Maks Gregorič (Slovenia).
The reserves riders will be: Pier Paolo Scagnetti and Davide Vinante (both Italy).
The top seven riders and the one reserve will qualify for the semifinal.
Calendar of qualifications of FIM Speedway Grand Prix World Championship 2016
FIM Speedway Grand Prix World Championship Qualifying Round 1, Goričan, Croatia, 2nd May, 2015
FIM Speedway Grand Prix World Championship Qualifying Round 2, St. Johann/Pongau, Austria, 2nd May, 2015
FIM Speedway Grand Prix World Championship Qualifying Round 3, Lonigo, Italy, 3rd May, 2015
FIM Speedway Grand Prix World Championship Qualifying Round 4, Abensberg, Germany, 25th May, 2015
FIM Speedway Grand Prix World Championship Semifinal 1, Terenzano, Italy, 27th June, 2015
FIM Speedway Grand Prix World Championship Semifinal 2, Riga, Latvia, 27th June, 2015
FIM Speedway Grand Prix World Championship Challenge, Rybnik, Poland, 5th September, 2015
Source: http://www.fim-live.com and own information of the author Dariusz Zakrzewski [mailto:dariusz.zakrzewski@poczta.onet.pl]
---
Connor Penhall Memorial Cup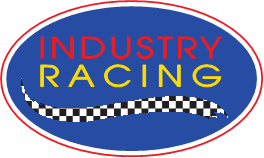 April 7, 2015
FOR IMMEDIATE RELEASE
Media Contact: Carol Perez
Phone: 626.330.0324
E-Mail: cperez@IndustryExpoCenter.com
CITY OF INDUSTRY, California - Industry Racing will open their 2015 Speedway Motorcycle Racing Season with the "Connor Penhall Memorial Cup" on Wednesday – May 27, 2015 at 7:30pm.
Connor Concrete Cutting & Coring and Industry Racing have teamed up and ADDED an additional $2,000 to the race purse. This will be an exciting night of racing with a Grand Prix Format. Junior Speedway, Mini & Pee Wee Divisions will be featured as well.
Two-Time World Speedway Champion Bruce Penhall will award the Connor Penhall Memorial Cup to the winner of the 1st Division Race. Front Gate Giveaway will be our 2015 Industry Racing Poster. During the races – Connor t-shirts giveaways will be shot out in the crowds!!
Industry Racing is very excited and honored that this annual event will start off our 12th year of racing @ The Grand Arena and the following years to come. This will be a special ticketed event and an event you do not want to miss.
Industry Racing schedule will be posted on-line and is downloadable from our website at www.IndustryRacing.com
---
2015 National Championship Series Letter of Intent
The AMA Track Racing Director has issued the 2015 National Championship Series Letter of Intent.
All riders interested in partaking, whether qualified or not, need to send in their letter by Friday May 8th.
Top 8 finishers from 2014 are seeded in. Six more spots and reserve list will be allocated for taking into account (in no specific order).
1. Results in European leagues for 2014
2. AMA Series placing for 2014
3. AMA track points for 2014
4. Previous series standings
5. Rider attendance record in past series events
A press release will follow from Track Racing Director shortly will more information.
Note: Costa Mesa for Round 1 and Ventura for Round 2 will be allocating a wild spot or spots from pre-race run offs, so everyone gets a fair chance to partake.
The other venues running later rounds have not yet stated whether they will nominate or do run offs for the 2 wild cards.
2015 Speedway National Championship Series Letter of Intent
Steve Evans dreamteamspeedway@sbcglobal.net (April 9, 2015)
---
Perris Raceway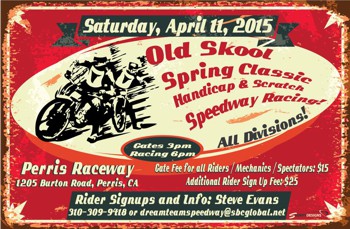 ---
Fourth Annual Racer Reunion

NOTE: THIS HAS BEEN POSTPONED - A NEW DATE WILL BE POSTED LATER

NOTE: THIS HAS BEEN POSTPONED - A NEW DATE WILL BE POSTED LATER
Attention: All Gear Heads and Racing Enthusiasts!!
From: Greg A Ferguson / Dave Brant / Joe Johnson
Subject: Fourth Annual Racer Reunion
Well it came around quickly this year but it is time to plan and get ready for the 4th Annual Racer reunion get together. Last year's event at Dave Brant's shop was a big hit and a majority of those that attended suggested they would like to see a fourth annual event organized!! So with that said this year's event is going to be held again same location at Dave Brant's home and shop located in beautiful Woodland CA. (See attached flyer for additional information and map to Dave's house)
The turnout, participation, bikes brought to display, and all the memorabilia brought for viewing last year was over the top and was a wonderful reminder of past competitions and friendships forged during those competitive years of flat track racing. It was great to see all of you that had a chance to attend last year and we look forward this year to seeing you again along with many new participants. As always guests are welcome.
Reminder: Bring new /old Motorcycles to show/display, memorabilia,pictures from the day, unique trophies or plaques, rare T-shirts, stories, and well stories!!!
Please review the Flyer for RSVP Instructions - The map and directions are here.
---
Big Time Speedway
---
Ventura Raceway
Ventura Raceway is accepting Speedway entries at its motorcycle event on March 7th.
Info and entry forms here. http://venturaraceway.com/
If you want to ride you should also let me know as likely I will doing the program for the speedway heats. Vintage riders can check in with myself or Malcolm Roe. We will run D1 and Support for lay downs. Junior classes would depend on enough riders signing up (4 per class minimum).
The track hasn't given me the full details yet but I would imagine the format will be like last time - practice, 3-4 heats per rider and a purse around $1,000.
Steve Evans dreamteamspeedway@sbcglobal.net (February 15, 2015)
---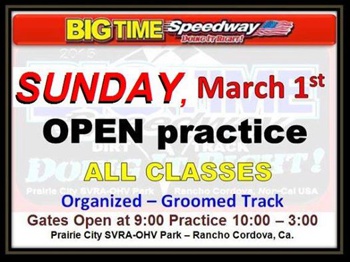 ---
2015 World Famous Gumball Rally
February 21st and 22nd at The Grand Arena, Industry Racing. (Saturday and Sunday)
Sign ups are open!
Message me, call me (626) 393-3876, or email Speedwaykelly@yahoo.com, or Ryan Evans at Sideways31@aol.com
Here are a few details ... more to come.
* Open Practice is 10am - 4pm Saturday
* Big Kids Gumball - 1st Division, and 1 Support Class - Saturday night 7pm start
* Billy Hamill's World Famous Gumball Rally - 250, 150, Pee Wee - Sunday 9am start.
* Awards for Gumball immediately following finish of event.
* 2014 Industry Track Racing Points Awards and BBQ / Luncheon to start Sunday approximately 2pm.
Luncheon included with paid 2015 Industry Racing track license.
Additional plates will be available at the door at a great price.
We look forward to having a super fun weekend with EVERYONE!
Limited number of hook up RV spots avail.
Plenty of room to Dry camp.
C'mon kids ... lets get everyone signed up!
Thanks, Kelly
---
Ventura Raceway
Ventura Raceway has announced the following Motorcycle Dates for 2015
June 27 - AMA National Speedway Series Round
March 7, June 20, July 25 and September 19 - Speedway and Flat Track
I am awaiting full details from the track on the four additional dates; likely they will be Clubman style as two events were last season with several classes and a purse of around $1,000. June 20th will be Vintage and any classes not scheduled at Costa Mesa that night only.
More details when we have them.
---
BIG TIME SPEEDWAY
BIG TIME SPEEDWAY - 2015 GOLDEN STATE "SPRING" SERIES dates to be announced soon!
Up-Date at the track as of today .... Old bleachers 1/2 torn down. New Aluminum replacements to be installed!

3rd Annual European Grass + Rough Scrambles will be a 2 DAY Event on March 7th & 8th. El Dorado County Fair Grounds - Placerville, CA.
Both days will feature the Billy Janniro Mini Challenge ... 150cc bike and under.
Overnight Camping will be available RSVP recommended. More Info to follow soon.
---
Grand Marshall at 'Dream Team Night'
I'm delighted to announce that Team USA's Laurence Rogers will be Grand Marshall at 'Dream Team Night' at Perris Raceway on Jan 24th.
The event will feature round 2 of the 3 round 'Winter League', with the Aces taking on the Eagles and the Vikings the Rebels. It is appropriate that on a night where we will be honoring and Fund-raising for the Dream Team, its team manager for the last 10 years, Laurence Rogers, will be in attendance.
Aside from managing and advising all 42 riders who have ridden for the Dream Team, Laurence has attended all Team USA SWC events in 2012 and 2013, and his European speedway experience has helped to make USA the riding force it has become. He is also an AMA FIM official and attends races events on behalf of Team USA that its US based management cannot.
His resume included running the UK Development League to train young riders, team manager at Coventry Storm. Over the years he has been associated with numerous clubs including Kings Lynn, Newport, Mildenhall and Cradley.
So, if you don't know him, you should and soon will; come out to Perris and thank an individual who has given much for the rise of American Speedway, being a great asset on the other side of the pond!
Also thanks to Jake Isaac racing, Robert White, Dorcey Wingo and Patrick O'Donnell for becoming our first heat sponsors - they are $50 each and if we sell them all out we can cover the rental cost for the van and minibus that will transport our riders in England and Sweden this April!
Steve Evans dreamteamspeedway@sbcglobal.net (January 14, 2015)
---
Dream Team Night at Perris, 24 Jan
January 24th, just 12 days, is the next event at Perris Raceway.
It is round 2 of the team league. The last two events have been amazing and already those in attendance can see the vast improvements the young riders are making.
We are selling heats - $50 each - at this race to help fund the Dream Team tour to England and Sweden in April. Those who go will come back even better, which will in turn benefit the growing quality of our rider base and future Team USA stars.
We expect 45 races that night....buy 1 heat, buy 10, it would be great to sell out and help the boys (and girl!).
Message me if you want to help and be a part of it!
Thanks!
Steve Evans dreamteamspeedway@sbcglobal.net (January 12, 2015)
---
17-18 January at Del Mar
Here is the info for this weekend coming, 17-18 January at Del Mar.
Bear in mind we are part of a Flat Track event. The purpose of partaking is to support a new venue, promotion and to see if the venue is potential for speedway events. The event therefore is run on a Flat Track basis, no tapes, practice (2 runs per rider I am told), 1 heat and 1 Main per rider.
I believe Saturday is fully booked with a couple of spots on Sunday - best is to go to http://www.ivlft.com/ and register, even if its full you can get on reserve list.
Saturday is gates open 11, riders meeting 2:30, practice 3pm, races 4pm. Sunday has 7am gates, 9am practice, 10am race. Bikes will be allowed in pits over night.
$45 to race, ($40 in advance), mechanics and spectators $10 each. There will be a small D1 purse.

If you have signed up but end up not being able to come, please let me and the organizer know so that a reserve can get called in.
Current entries from promoter are;
Tyson Talkington (Sat&Sun) Mike Wiley (Sat&Sun) Brad Moreau (Sat&Sun) Hayley Perrault (Sat&Sun) Gage Geist (Sat&Sun) Kurtis Hamill (Sat) Russell Green (sat&Sun) Dalton Leedy (Sat&Sun) Rocco Scopellite (Sat) Tom Bryant (Sat&Sun) Chris Wiggins (Sat) Billy Hamill (Sat)
We appreciate Brian Bell allowing us to run and hope its the start of something good for all!
Steve Evans dreamteamspeedway@sbcglobal.net (January 11, 2015)
---
FIM Oceania Cup
Joe Jones and Johnny Glover, the 7 time US National Champion Sidecar team, are returning to Australia next month to partake in the FIM Oceania Cup, which is essentially the biggest championship the world. Its a 3 round series, covers 2,800 miles of travel. Last year they placed 13th but this time the aim is to go higher.
The team are fund-raising for sponsors, anyone who would like to help, please click the link below.
As those of us who work on international racing programs know to well, the cost to do such and do it properly is enormous. Joe has given literally thousands of hours to the sport and the growth of the Sidecar division in recent times is in large part down to his leadership and passion, so help if you can.
I'm sure all in USA Speedway wish them all the success in the world.
Steve Evans dreamteamspeedway@sbcglobal.net (January 1, 2015)
---
Redwood Acres
There is a Flat Track in Redwood Acres that has invited speedway for the three events in 2015.
June 27, July 25, and August 29. (Saturdays) This would be an area for the Northern Cal riders as the track is in Eureka, CA. The Promotor, IRHP - David Gomez, is working very hard to make this a great event.
---
Industry Racing
FOR IMMEDIATE RELEASE
City of Industry, California (12/12/14 – 2:00pm PST)
Media Contact: Carol Perez
Phone: (626) 330-0324
E-Mail: cperez@industryexpocenter.com
Industry Racing has postponed the Monster Energy World Speedway Invitational AMA/FIM race that was tentatively scheduled for January 10, 2015. We are currently in talks to push the event to December 2015. Thank you for your inquires and we will see you at the Gumball Rally on February 21-22, 2015 or our summer season opener on May 27, 2015.
---
Flat Track at Del Mar
On January 17th and 18th there is a Flat Track event at Del Mar. The facility has a roof and looks like Industry.
The promoter has invited Speedway Classes to partake. It would be great if we could get some rider interest for this; obviously its a Flat Track event and we're in their house so to speak, but I think it would be beneficial to get some riders out and potentially have another venue to ride at.
This is a link to pre-register. If you are interested in riding also please let me (Steve Evans) know so I can keep a master list.
Steve Evans dreamteamspeedway@sbcglobal.net (December 16, 2014)
---
Perris Speedway Information
Having consulted with our partners at the Southern California Flat Track Association, we are at this stage planning to run races at Perris on BOTH January 10th and 24th with a 5pm start time at each..
January 10th will be an 'Old Skool' Speedway show, featuring Handicap and Scratch races. All Divisions will feature - 500s, 250s, 150s, Pee Wees
January 24th will be round 2 of the 'Winter League' team races.
March 14th will be the final round of the Winter League.
Riders are encouraged to sign up asap for both January events. The SCFTA board meets on Thursday and good enough numbers of sign ups will be the final vote of confidence they need.
The Perris Program is being built with baby steps; we are very mindful to stage events based on demand and having two events close together will be a key gauge as to whether to run events beyond March this year, or just to use the facility for occasional winter races.
It is hoped that we can offer a D1 purse of some sort for Jan 10th, sponsorship and others factors permitting. Will give more specifics on this as planning continues.
I also am pleased to confirm that British International World Cup rider and Elite League star Edward Kennett will be racing on January 10th.
Its quite a gamble to do 2 January races and I hope its comes off!
At this stage, its just races on 10th and 24th. There is a practice 2-7pm on 27 Dec. If there is demand for race day practice, I will consult with SCFTA, as the last practice we had was run by them ahead of when the speedway promotion took possession of the track later in the day.
Please contact me with your commitments to ride on 10th and or 24th asap. Thanks.
__._,_.___
Averages are calculated by dividing the number of points scored divided by the number of rides, then multiplied by four.
http://www.speedway-faq.org/british.html#gsa
Winter League Table
1. Rebels - 4 points
2. Aces - 3 points
3. Vikings - 1 point
4. Eagles - 0 points
Round 2 match ups; Rebels V Vikings, Aces V Eagles
Steve Evans dreamteamspeedway@sbcglobal.net