2011 East Coast News
Champion Speedway Fall Brawl Canceled
Needless to say...this weekends Fall Brawl at Champion Speedway is canceled due to the severe flood damage. There is just no way we could have pulled off this event without a lot of help from people both physically and financially. Only a few people have helped in either way and we greatly appreciate their support. Thank you very much to Russ Cornell, Andy Crawford, John Vassil, Josh Carr, Lee Bailey, Chuck Podany, Adam Mittl and his friend Kevin who helped on site and to Steven Whitman, Randy Stauff and my Aunt Jane and Uncle David Kates who sent donations. While it is nobody's obligation or responsibility to help in any way and I am not upset with anyone for not helping, the glaring lack of support was very disappointing, especially with how many people just expect that we will be racing this weekend. Right now all the buildings are trashed, and are being gutted. All of our equipment and go-karts, etc were completely submerged in water including the concession equip. Russ tried to get the grader going the other day and the motor is locked up. The power is cut off to the property. We have a long road ahead. I apologize to anyone who was looking forward to one last race this season but we can only pull a rabbit out of a hat so many times. We will keep working towards getting re-opened next season, hopefully.
Thank You, Jason
East Coast Speedway Promotions eastcoastspeedway@hotmail.com (October 11, 2011)
---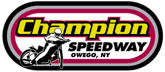 * * * Champion Speedway needs your help.* * *
Due to the flooding in New York, the track was completely underwater.
Even a donation of $20.00 will help. Please send contributions to:
Champion Speedway
2152 Edgemere Dr.
Rochester, NY 14612
---
Final US Open Roster
Racing should be hot this weekend for the John F. Stalma US Open presented by Admar Supply, Scotts Headers and Mufflers, SpeedwayBikes.com, CT BUSTERS, Trick Video, Jon and Bernie, BOYZ Racing, Southern Tier Insulations and speedwaybikes 2. Races start at 7pm Sat and 6pm Sunday. Speedway legends Steve Graham, Andy Schwarm, Steve "Cobra" Luxton and Jeff Hull are in town and a host of top quality racers too! The three Californians are all former Champions with Hedden looking to defend his title, McConnell looking to move past Gene Woods with his 4th title and Ermolenko looking for his second championship, meanwhile a hungry group of East Coasters and looking for glory! The Support racing looks exciting as well! Garbage plates and go-kart racing will be high on the list all weekend! It will also be "Stormin" Norman Robinson Trophy night Sunday!
#1/40 Tommy Hedden
#5 Mikey Buman
#6 Shawn McConnell "Mad Dog"
#9 David " Meldrum "Victor
#14 Jesse Diem "Jet"
#15 Charles Ermolenko "Dukie"
#24 Russ Cornell "Doctor of Dirt"
#29 Adam Mittl "The Missile"
#38 Jerry Harman "Buefford"
#47 John Lewis "Boogeyman"
#60 Dave Clark "Clarky"
#64 Gene Bonsignore "Mean"
#65 Jeff Garlinghouse "Jammin"
#72 Tuff McBride
#78 Jeremy Parsons "Dark Horse"
#97 Casey Donholt
#227 Lee Bailey
#277 Keith Hawkins "Hawkeye"
Tom Kern "Meat Masher"
#468 Josh Carr
Ray Barondick
D-2
Don Wheeland "Daredevil"
Ron Walker"Too Tall Reaper"
Chuck Podany
Todd Hunter
Zach Peters "Attack"
Jeff Hull "Hurricanes"
Brian Bailey
Bill Papula
Stefan Laessig "All Balls"
East Coast Speedway Promotions eastcoastspeedway@hotmail.com (September 1, 2011)
---
Kelly Moran Memorial - Rained Out
Regretfully, the Kelly Moran Memorial was rained off this weekend at Champion. Hope to see everyone out for Hank Bassett Cup on the 20th.
East Coast Speedway Promotions eastcoastspeedway@hotmail.com (August 8, 2011)
---
Two New Riders Join New York Speedway
New York Speedway has added two more riders for the rest of the year and both reside in Florida. Former British League rider, David Meldrum, and former Champion Speedway promoter, Chuck Podany, will be racing the remainder of the season starting next Saturday at Champion Speedway. Meldrum has not really raced competitively since 2007 aside from racing in the indoor ice racing series and is just coming off knee surgery but is excited about the chance to get back into speedway and should help the D-1 program once he gets back into shape.
East Coast Speedway Promotions eastcoastspeedway@hotmail.com (July 30, 2011)
---
Champion Speedway Schedule Change
The Larry McBride Memorial has been rescheduled for Saturday August 27th in conjunction with the Pool of Thorns Music Festival at Champion Speedway. On a side note, a full race report from last Saturday was sent to the message groups yesterday. Not sure why it is not showing up yet but if you go to speedwaybikes.com it is posted there.
East Coast Speedway Promotions eastcoastspeedway@hotmail.com (July 15, 2011)
---
---
Paul Szmal to be Official Voice of new Watkins Glen Track
I am really excited to announce that former East Coast Speedway announcer, Paul Szmal, has re-located back to NY after two years working for Clear Channel and will be the official voice of the Seneca Speedway Stadium. Paul will also be doing the Sunday specials at Champion Speedway.
Paul is a true professional who comes with a very impressive race announcing resume that includes working for the USAC Wed night Thunder Series, Legends Tour, DIRT Motorsports, Monster Jam, Oswego Speedway, Fonda Speedway, Can-Am Motorsports Park, Empire Speedway, Action Park, Champion Speedway and Canandaigua Speedway. He is a well known radio personality and spent a couple years working for the mighty Clear Channel broadcasting company. He is also accomplished in Television, as he was the Rush Hour on DIRT pit reporter in the 90's and has done numerous other projects.
Paul got his announcing start in speedway at Empire back in the mid 80's and has a love for the sport. He is also very knowledgeable when it comes to speedway and it was a big loss when he moved away a few years back. It is a huge boost to have him involved this year!
East Coast Speedway Promotions eastcoastspeedway@hotmail.com (April 13, 2011)

---
Seneca Grand Prix Family Fun Park in Watkins Glen
For Immediate Release:
Former NHL Player to take over Seneca Grand Prix Family Fun Park in Watkins Glen
Plans to include new Racetrack!
Former National Hockey League Player, Jason Bonsignore, of Rochester, heads up a new ownership group that has taken over the well-known Seneca Grand Prix Family Fun Park on Route 414 in Watkins Glen.
The park, built in 1987, was a successful family fun destination for nearly 20 years until ownerships problems in recent times led to its closure for two seasons. Two years ago it was purchased by a Horseheads businessman who did a nice job of renovating 80% of the property and was able to open the doors again in a part-time capacity this past summer. The place was not opened until mid-summer and the owner did not have enough time to operate it by himself and Bonsignore's group recently acquired the 18 acre parcel.
The property houses a first class miniature golf course along with two go-kart tracks, bumper boats, an arcade and pavilion center with picnic areas and volleyball court.
Bonsignore has some exciting plans for expansion to the park for this summer with the main focus being the construction of a brand new outdoor sports stadium that will feature an oval dirt racetrack for motorcycles, ATV's and karts. The stadium, to be known as The Seneca Speedway Stadium, will primarily host the original extreme sport of European Speedway Motorcycle Racing, every Friday night under the lights at 8pm. ATV racing will likely be a supporting class as well on the Friday night race card.
Speedway racing is huge in California and in Europe is rated as the second most popular spectator sport behind soccer. Crowds of over 20,000 frequently attend the weekly races in England, Germany, Italy, Poland, Russia and Sweden. The past 3 years there has been sold out crowds to watch a much watered down version of speedway on ice at the First Arena in Elmira only minutes from the Seneca Grand Prix location. Speedway Motorcycles have no brakes, run on methanol, go from 0 to 60 mph in under 3 seconds and slide totally sideways around an oval dirt track. The sport has caught the eye of NASCAR notables such as Tony Stewart, Wally Dallenbach, and Humpy Wheeler, to name a few, that have been intrigued by it, tried it and attended events. With the close proximity of the newly planned racetrack to Watkins Glen International, just two miles down the road, Bonsignore hopes to attract many car racing fans over to see the sport of speedway. Speedway events in the US are very entertaining and affordable and are for people of all ages. Most events are fast paced with breathtaking action, great announcing, plenty of rock music tasty food and drinks and free parking and programs! Bonsignore plans to bring in first rate talent as well and fans will be treated to World Class International racers. New Ownership will retain the name of Seneca Grand Prix for the Park but will add Golf and Games to it making it Seneca Grand Prix Golf and Games. The new Seneca Speedway Stadium portion of it will also be available as a multi-purpose venue which could host many events such as rodeos, horse shows or an occasional concert. It is hoped that bleacher seating for at least 2000 spectators will be installed for this year.
In addition to the new racetrack, Bonsignore is working towards raising funds to build the first ever Speedway Motorcycle Racing museum in the US at the venue. The museum would show 50 or more classic and rare speedway motorcycles along with a large collection of racing memorabilia and would likely include a few other machines from motocross and other motorcycle sports. A line of vintage clothing will be sold to raise money along with the sale of engraved bricks for a walkway up to the museum. Other fund raisers will be mixed in to try and reach the needed amount of approximately $45,000.00.
A BMX track for bicycle racing is slated to be put in and there is already interest from the largest sanctioning body to bring a National Championship round to the facility.
Future plans are being discussed in hopes of putting in a synthetic ice skating surface next to the mini golf course that can be used year round for public skating, figure skating and hockey. Hockey clinics taught by Bonsignore and other local pros would also be available to the community.
The Park is tentatively set to open in early May and it is hoped that the racetrack will be ready for June.
Construction of the new stadium should begin when the weather breaks this spring. At this time the new owners are actively seeking advertising partners, sponsors and construction assistance or trade. Anyone interested may call 585 723-9746 or e-mail eastcoastspeedway@hotmail.com. A new website, www.senecagrandprix.com will be relaunched soon.

---
New York U.S. Speedway Museum
I am very hopeful to open a US Speedway Museum at our property in Watkins Glen in the near future. This is something I have thought about and wanted to do for quite some time and have been waiting for the right place to do it. I have over 50 bikes and some really neat memorabilia available for the museum already and anticipate the loan of quite a bit more if it all comes to fruition.
The location could not be any better as it is just 2 miles down the road from the Watkins Glen NASCAR track and we would be exposing the history and future of our great sport to huge potential crowds and very important people within racing. In order to do this I need to raise funds of approx $40,000.00 I am guessing at this stage and am about to embark on some fund-raising ideas which I hope people may be able to support.
I am pleased to announce that the first fund-raising will come from the sale of Kelly Moran merchandise after the holidays. I was very pleased and appreciative to get Shawn Morans full blessing on this and also that of Ron Preston and Carol Stock which means the world! Please stay tuned for more info on this in the New Year.
If there are people out there who would like to donate to this project or have valuable fund raising ideas I would love to hear from you. We will also be looking for items to be donated or loaned for display in the museum when it all comes together. Just to give people an idea of some of the bikes that are already in place for the display...
ESO's
JAP's
4-Valve JAP
BSA Speedway
DENCO
KEN MAELY's
NEIL STREET
JAWA 2 VALVES
JAWA TWIN CAMS
PENHALL REPLICA WORLD FINAL 81 AND 82 WESLAKE
Ivan Mauger Weslake Motor in bike
NEW GODDEN
NEW TWIN CAM
LANCE KING JUNIOR TRIUMPH
RUSSIAN LONG SPIKE
Thank You, Jason Bonsignore
East Coast Speedway Promotions eastcoastspeedway@hotmail.com
---
Action Park
Action Park has moved to a new home at:
2374 State Route 414 Watkins Glen, NY 14891
---
The ICE Race on December 3rd, 2010 is postponed until February or March 2011. (The indoor ICE race at the Broome County Arenain Binghamton.)