2014 Perris Raceway
Speedway Race Results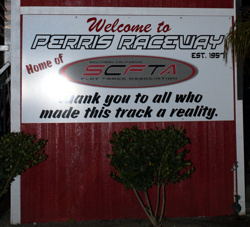 Perris Raceway
Burton Road
Perris, California
Ruml leads the Vikings to victory in an epic day of racing at Perris
Perris Raceway March 22, 2014
By: Steve Evans dreamteamspeedway@sbcglobal.net
Photos by: Dorcey Wingo
USA Team boss Billy Hamill recently rallied the growing rider base in the USA to compete for the four remaining spots on the 2014 SWC Squad, and several riders have already staked their initial claim, during a fantastic day of racing at Perris Raceway. This was the first race at the venue in almost two years, ironically the previous being an SWC Fund raiser. The riders simply rose to the rare occasion of racing on a European sized track and looked quite at home on the bigger racing surface.
The main show consisted of a team event using the 15 heat UK Premier League format. The Vikings, managed by Steve Graham, led from the start, edging the Aces and team boss Peter Davenport 49-44. Max Ruml won his first four races before dropping his only point to Tyson Burmeister in heat 15, who himself only dropped points to the astonishing Ruml. The two had three closely fought battles that astounded those in attendance as they seemed to be side by side for 4 laps each time they met on track.. Broc Nicol provided solid back up for Ruml with 11 points from 4 riders. Nicol, in only his 2nd meeting on a 500cc bike, showed he truly is one to watch in 2014. Russell Green was very fast in scoring 9+1 for the Vikings from the difficult number 5 position, whilst Travis Henderson, returning after a 4 year break, won heat 8 and scored a vital 5-1 with Ruml in heat 10. Dalton Leedy and Dryden Gayle, also in their second meetings on 500cc bikes both scored vital 2nd places in closely fought races, with veteran Rudy Lauer scoring 2+1.
The Aces had Burmeister, who has made no secret of his desire for an SWC call up, as a solid leader with 13. Austin Novratil, who opened with two second places, then scored a vital double point tactical win in heat 11. His bike failed in heat 13 whilst in third and that curtailed his evening. Rocco Scopellite, who missed the bulk of the last two seasons with various injuries, scored a solid 7 in back up. Ryan Bast was the top scoring reserve with 5+1, whilst Dan Faria ended his night with a win by taking heat 14. Jamison Dilkey started slow but scored a good 2nd in heat 8 and a vital third in heat 11. Hayley Perrault gave a gritty performance for her two points including a pass on Laurer.
US Team boss Hamill was in attendance, working with his son Kurtis, but no doubt the determined display put on by several riders will already have him making notes of who is in contention for a World Cup call up. With over a dozen riders already voicing their intention to be one of the final four, the first three months of the US domestic season promise to be very exciting in determining the final places.
Vikings 49 - Ruml 14 (5), Nicol 11 (4) , Green 9+1 (5), Henderson 7+1 (4) , Leedy 4 (4) , Laurer 2+1 (4) , Gayle 2 (4).
Aces 44 - Burmeister 13 (5) , Novratil 10 (4) , Scopellite 7 (5) , Bast 5+1 (4) , D Faria 4+1 (4) , Dilkey 3 (4) , Perrault 2 (4).
Heat 1: Ruml, Novratil, Henderson, Dilkey 4-2
Heat 2: Bast, Gayle, Lauer, Perrault 7-5
Heat 3: Nicol, Scopellite, Leedy, Faria 11-7
Heat 4: Burmeister, Green, Perrault, Laurer 13-11
Heat 5: Nicol, Novratil, Leedy, Dilkey 17-13
Heat 6: Ruml, Burmeister, Henderson, Bast 21-15
Heat 7: Green, Scopellite, Faria, Gayle 24-18
Heat 8: Henderson, Dilkey, Laurer, Perrault EF 28-20
Heat 9: Burmeister, Nicol, Bast, Leedy 30-24
Heat 10: Ruml, Henderson, Scopellite, Faria 35-25
Heat 11: Novratil (Joker), Green, Dilkey, Gayle 37-32
Heat 12: Nicol, Scopellite, Bast, Laurer 40-35
Heat 13: Ruml, Burmeister, Green, Novratil EF 44-37
Heat 14: Faria, Leedy, Perrault, Gayle fell 46-41
Heat 15: Burmeister, Ruml, Green, Scopellite 49-44
Four other divisions raced in individual competition. Davey Shaw was untroubled in the Support Class, winning both of his heats and the Main Event. Other heat wins went to Mike Wiley and Steve Bowen, with Jonni Jade winning the Last Chance. Kurtis Hamill won two of the 250cc heats, the other going to Luke Becker. Becker had bike trouble whilst leading his 2nd heat, which ended his evening. However it was National Champion Dillon Ruml who put on the late show, winning the LCQ and Main. Sebastian Palmese won all three 150cc Mini Heats, NorCals Cameron Krezman was awarded the Division Two trophy. Jake Troutt won the first Pee Wee heat, but newcomer Cameron Titterness won the 2nd heat and the Main Event.
250 Main - Dillon Ruml, Kurtis Hamill, Gage Geist, Michael Wells
LCQ - Ruml, Wells, Gino Scopellite, Luke Becker NS.
150 Main - Sebastian Palmese, Sara Cords, Cameron Krezman, Dakota Shockley, Wilbur Hancock DNS.
Support Main - Davey Shaw, Steve Bowen, Brad Moreau, Mike Wiley, Jonni Jade.
LCQ - Jade, Steve Brown, Kevin Fife, Lewis Hughes fell, Stu Egli DNS
PW Main - Cameron Titterness, Jake Troutt, Zerek Krezman, Jose Navarrete
Next race, Best Pairs is Saturday 12 April - start time moved to 6PM! This will be the last race at Perris Raceway until the off season as the venue, making a welcome return on the US scene, is primarily being used as an off season training base for Team USA and its affiliated projects.