2012 East Coast Speedway News
Fall Brawl Classic this Sunday at Champion Speedway!
One last Speedway race ON DIRT for this season on the East Coast...this Sunday at 2pm is the Fall Brawl Classic at Champion Speedway! Gates open at 12:30, regular pricing! So far the field has come together nicely, should be a fun afternoon!
Adam Mittl
Tuff McBride
Dave Clark
Gene Bonsignore
Russ Cornell
Andy Crawford
Keith Hawkins
Jeff Garlinghouse
Jerry Harman
Lee Bailey
Shawn Engel
Stefan Laessig
John Lewis
Ray Barondick
Ron Walker
Zach Peters
Don Wheeland
Chuck Podany
Kris Weiss
Andrew Clark
Brian Bailey
East Coast Speedway Promotions eastcoastspeedway@hotmail.com (October 11, 2012)
---
Sudden Sam to make shock racing return!
1993 World Speedway Champion, Sudden Sam Ermolenko is due to make a shock return to racing
Ermolenko is making plans to race in the 2012 US Open Sept 1st and 2nd in Owego, NY.
Ermolenko will be the 4th American World Champion to have made laps at Champion Speedway, joining Bruce Penhall, Billy Hamill and Greg Hancock.
East Coast Speedway Promotions eastcoastspeedway@hotmail.com (August 9, 2012)
Click on images below and save them and print them out!
---
Omar Lightner Cup at Champion!
We have another great lineup for the Omar Lightner Cup this Saturday night at Champion. On a special note for my family and I, Saturday night is my Dad's 64th birthday and he is rider #64 and will be racing. It is a pretty remarkable accomplishment and I think a record of some sort! Pretty cool the way it fell on a race night. Happy Birthday Dad! Here is a list of who has signed up so far, Corey Brookes was due back but blew up a motor in practice, Brian Hollenbeck makes his debut for this season, David Meldrum will be back again later in the season and Boogeyman John Lewis will be back in July racing! Chuck Podany may miss this week with a foot injury but is still hopeful and we were hoping for Dave Oakden but have not heard back so far. Jerry Harman is off this week with a demo derby race.
D-1
Warren Diem
Mikey Buman
Jesse Diem
Russ Cornell
Adam Mittl
Andy Crawford
Dave Clark
Gene Bonsignore
Jeff Garlinghouse
Tuff McBride
Jeremy Parsons
Casey Donholt
Brian Hollenbeck
Lee Bailey
Keith Hawkins
Josh Carr
D-2
Ron Walker
Zach Peters
Brandon Sturzenegger
Don Wheeland
Kris Weiss
Stefan Laessig
Brian Bailey
Ray Barondick
Dwight Basa
D-3
Bill Papula
Andrew Clark
East Coast Speedway Promotions eastcoastspeedway@hotmail.com (June 20, 2012)

---
Canada National Championship Dirt Track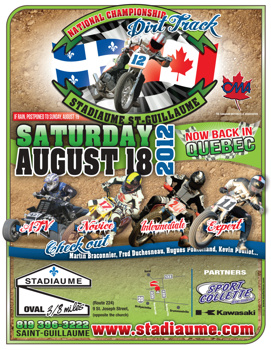 ---
Patrick Ahlund Spring Classic May 27th
As of now the Patrick Ahlund Spring Classic at Champion Speedway is set for this Sunday May 27 at 6pm!
---

Champion Speedway has a legendary past, once attracting thousands of fans for it's speedway program
and has battled back from the flood damage for local racing enthusiasts!
Photo: By John Judge
---
Champion Speedway Opening Night May 27th
We will know for sure in a few more days but there is hope we will pull off the Patrick Ahlund Spring Classic May 27 at Champion Speedway. T his is the 38th anniversary of Champion Speedway and as it always does, the tiny little track has battled back to life after the flood devastation! It has been a long hard road for us and we could really use everyone's support for a great crowd opening night. The rider list is growing steadily and Mikey Buman and Adam Mittl will likely be joining us week 2. A couple of Golden Oldies, Jody Garris and Frank Watson say they will be doing some shows this year also and Tom Burge is coming out to practice soon. A guy who likes yellow and happens to have 4 track championships to his credit has been seen practicing and is starting to think about racing too! Here is the list for May 27th so far...
Warren Diem
Tuff McBride
Jeremy Parsons
Gene Bonsignore
Russ Cornell
Jesse Diem
Casey Donholt
Dave Clark
Keith Hawkins
Jerry Harman
Josh Carr
Lee Bailey
Jeff Garlinghouse
John Lewis
Ray Barondick
Chuck Podany
Brandon Sturzenegger
Dwight Basa
Zach Peters
Stefan Laessig
Don Wheeland
Ron Walker
Brian Bailey
East Coast Speedway Promotions eastcoastspeedway@hotmail.com (May 16, 2012)
---
Champion Speedway Opener May 27th!
Local track among many businesses hit hard with flood damage, battles to open for it's 38th anniversary!
The little dirt oval track on the side of NYS 17/86 known as Champion Speedway has had a storied past. Started in 1975, it quickly became a local legend with sellout crowds who came in droves to see a spectacular form of extreme motorcycle racing called speedway where motorcycles slide sideways with no brakes! Local riders became somewhat of celebrities in the area and some gained a reputation for being amongst the best in the Country. The facility reigned supreme in the 70's and early 80's until ownership battles led to it's first closure for several years in 1987. The track re-opened in 1990 for a short 3 year spell with moderate success the first year but changed promoters 3 times in it's second life and none were able to achieve stability.
In 1997, professional hockey player, Jason Bonsignore, of Rochester took over the facility and invested a lot of money into it with a long-term commitment to bring the facility and sport back from the dead. Star racers were brought back, new ones were groomed, improvements were made to the facility and although many mistakes were also made along the way, Champion Speedway has since seen 15 more years of great racing and Bonsignore has become the longest serving promoter of Champion in it's history and the second longest serving speedway racing promoter in the Country behind the Oxley Family of the World Famous Costa Mesa Speedway.
With 15 another years of races under it's belt in it's third life one would just expect it would be automatic that Champion Speedway would again be hosting events this season. Well enter the Tropical Storm Lee Flood which devastated the Town of Owego and surrounding areas last fall and all the sudden the future of Champion, like so many other businesses, was in serious doubt!
Bonsignore had already been through two damaging floods in his time as owner of the property, the last one being in 2006, when water reached midway up the buildings and did quite a bit of damage. Both floods cost him a lot of money but he was able to bounce back. This year's flood was much more severe however, water levels were much higher and the buildings and bleachers were completely submerged. To make matters worse, Champion lost 4 of it's 9 events last summer to rain outs and the Flood began during the final day of the venue's largest and most financially lucrative event of the season, the US Open Nationals on Sunday of Labor Day Weekend. The event was called off and Bonsignore lost a lot of money. 2 days later Champion Speedway was completely under water.
It was a long winter of uncertainty for the track's future. A mid winter bowling tournament fund-raiser helped a bit financially but it has been a struggle. There was not much help to be had for businesses who suffered from the floods and Bonsignore has not been sure until recently if there would even be a schedule this summer. With a lot of hard work in recent weeks by a few key people there has started to be a glimmer of hope and as the well-known little facility always seems to do, it is battling back! It has climbed the mountain far enough now to where Bonsignore is fairly confident Champion Speedway is going to make it time to open it doors for it's usual season opening Spring Classic on Memorial day weekend.
This years Patrick Ahlund Spring Classic, presented by Southern Tier Insulations and Admar Supply is set for Sunday May 27th and will feature a full program of professional speedway and ATV racing. Youth and Amateur preliminary heats kick off at 6pm with the regular program blasting off at 7:30. Ticket prices are still just $10.00 for adults and $3.00 for kids under 6. More information can be found at www.speedwaybikes.com or by calling (585) 739-9612. Champion Speedway also now has a Facebook page and after such a difficult year could really use everyone's support and a great crowd to help get things back on track! Kraig "Crazy Crash" Moss is due back as track announcer after taking last year off and several big name riders are planning to make comebacks in the early part of the season. Bonsignore is also planning several improvements, including new track surface once the season gets underway and expects the best field of riders the show has had in probably 10 years! The go-kart fun track and BMX races should be back open at Champion Speedway also!
East Coast Speedway Promotions eastcoastspeedway@hotmail.com (May 15, 2012)
---
Practice at Champion May 12

There will be practice again this Saturday, May 12, at 3pm at Champion Speedway

Jason eastcoastspeedway@hotmail.com (May 10, 2012)
---
See the History Pages for previous news.
2011 East Coast News- 2010 East Coast News
---
East Coast Riders D-1/Leathers, Kevlar or Nylon Speedway Suits
East Coast Riders wishing to race Division One have until August 1, 2012 to finish getting speedway suits, leather, kevlar or nylon.
Jason eastcoastspeedway@hotmail.com (May 7, 2012)

---
Practice Still a GO for Champion April 14
We are good for practice at Champion Sat at 3pm. We have a lot of work to do at the track and there probably will not be many practices this spring so take advantage.
Jason eastcoastspeedway@hotmail.com (April 12, 2012)
---
Tentative Practice at Champion April 14
There is a tentative practice scheduled for Champion Speedway Sat April 14th at 3pm, it will depend on if Russ can finish getting the equipment running again. If we get more than 12 riders, cost will be $20 per rider. If there is 12 or less cost will be $25.00.
East Coast Speedway Promotions eastcoastspeedway@hotmail.com (April 4, 2012)
---
Magic Boxes to help Juniors
If anyone has any old Ignition boxes that you would like to sell cheap or donate to the junior program on the East Coast it would be greatly appreciated... I need points ignition boxes to help make more of our junior bikes run. I will take boxes that are not working as well, if they need batteries we can do that. I am trying to get 12 junior bikes finished so that we can start a program similar to what Billy and Doug and Hagon have been doing.
Thanks,
Jason eastcoastspeedway@hotmail.com (February 21, 2012)
---
Owego Bowling Tournament
The bowling tournament was a lot of fun and was won by Jerry Harman's team of professionals he brought in! LOL I just wanted to say a sincere thanks to everyone who helped! It was successful and certainly helped the track.
The people who did step forward and help were no surprise and are some of our truest friends and speedway supporters. The people that did not show were no surprise and very predictable.
It was great to see some formers riders there ... Norm Robinson, Pete Atwater, Chip Jagger, George Plew, Kelvin Herrala and Mike Jones all played.
I especially want to thank the Owego Bowl for offering the lanes at a discount and to Stefan Laessig, Don Oakden, George Lazor, Ed Peters and my Aunt Jane and Uncle David who all sent money in but could not be there. Jay Stalma was present but could bowl and also donated money over and above a one person fee. Jim Woloch and the band Hover also contributed. Steven Whitman, the quad rider who broke his collarbone at the end of the season also was present to support.
Thanks so much to all the teams...
The Four Valves plus one ... Stormin Norman and Kevin Robinson, Chip and Letti Jagger, Pistol Pete Atwater and George Plew
The lone Quad Racing rep ... Matt Heinz and Family and speedway fan Kevin Paley
Alex Heath's Hazard Racing
Jerry Harman and his pros
The Portararo Team
Don Wheelands Team ... Don and son, Gary Parsons, Kendal Brookes
Flyin Brian the Popcorn King's Fly by nighters which included Josh Murphy
Johnny V's Wing It Team ... Johnny and Tyler V, Parker Bonsignore, Russ Cornell
Reapers Creepers ... Duke DeRose, Meggan Hobbart, Jason Bonsignore, Ron Walker and his girlfriend Barb
The I DONT CARE team ... Kraig Moss, Jen, Barney French and crew
The Bonsignore's ... Mean Gene, Chris, Kim and Jordan Bonsignore
NMTT Racing ... Kelvin Herrala, Mike Jones and crew
Richards Funeral Home - The Richards Boys and Jenny
Josh Carr's squad ... Josh and Janeen and Russ Cornell Jr. and his girlfriend
It was great times and we hope to make it an annual event!
Jason eastcoastspeedway@hotmail.com (January 17, 2012)
---
Bowling Fund-Raiser
The Bowling Fund-Raiser is set for January 14th at 2:30pm at Owego Bowl.
They can only accommodate 18 teams that day. We need team names and confirmations now please.
Each team needs 4 players and we need a 50% deposit ($50.00) from each team mailed to Champion Speedway Inc. 2152 Edgemere Drive, Rochester, NY 14612 PRIOR TO THE DATE.
Cost is $25.00 per player, that includes 2 games and shoe rental. Thank You!
East Coast Speedway Promotions eastcoastspeedway@hotmail.com (January 2, 2012)
---
A few months ago everyone in So Cal did this event and I am told it was a blast. We are looking to do a bowling tournament fund raiser for Champion Speedway on Jan 14 at the Owego Bowl if we can pull it all together quickly. It would be from 1pm to 3pm approx and we need to fill 24 four person teams. We already have 5-6 teams just from a few quick phone calls. The event is to raise funds to help us overcome the flood damage and get the doors back open this season. Teams will play at least twice and cost is $25.00 per person. Once we have enough support to where we know we are moving forward I will finalize details and let you know where to send checks. Please let us know now team names and who will be on your team. This should be a lot of fun.
Thanks, Jason
East Coast Speedway Promotions eastcoastspeedway@hotmail.com (December 17, 2011)