2012 Big Time Speedway
Race Results
Big Time Speedway
Prairie City OHV Park
Rancho Cordova California
Hang'em "Outlaw" National - May 18, 2012
Results and photos by: Dorcey Wingo and RC Jones
YouTube Video by Anthony Bernardi lilbig420@comcast.net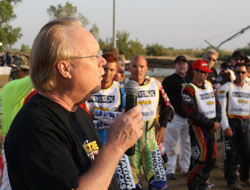 Grand Marshall and 2012 Honoree RC Jones and Color Guard
| | | |
| --- | --- | --- |
| | | |
| BIGTIME Speedway promoter Steve Stasiefski (left) confers with track announcer "Crazy Chris" Ackerman. | #30 Tim Gomez gets acquainted with the tricky Prairie City turf during practice laps. | RC launches the first heat race, with Steve Lucero's supervision. |
| | | |
| The races were recorded with some pretty darned expensive cameras. | First Heat: National Champ Billy Janniro launches from the pole. | Hooters was well represented by these three lovely young ladies. |
| | | |
| Heat No.2: Kerr and Hooten battle ahead of Venegas and Castro. | Heat 3: Fishback, Raines, and Starks head for turn one. | Heat 4: Former World Champ Billy Hamill applies the heat along the pole, in good company. |
| | | |
| Prelude to a bell ringer, #5 Hooten and #1 Janniro make contact... | #10 Fishback obscures Hooten and all but Janniro's helmet as all three head for the dirt. | Main Event [restart]: Janniro leads Hamill and Fishback around the track, as Hooten keeps pace. |
| | | |
| Janniro, winning.. | Fishback, [Janniro's daughter] Janniro and Hamill celebrate their BIGTIME Speedway trophies and a BIG purse! | |
Results:
Heat 1: Billy Janniro, Bryan Yarrow, Tim Gomez, Jeremy Parsons
Heat 2: Greg Hooten, Eddie Castro, Chris Kerr, Charlie Venegas
Heat 3: Jimmy Fishback, Michael Raines, Bryce Starks
Heat 4: Billy Hamill, Aaron Fox, Russell Green, Dave Fonts
Heat 5: Janniro, Hooten Jr., Fonts, Starks
Heat 6: Fishback, Fox, Yarrow, Kerr
Heat 7: Hamill, Raines, Gomez, Castro
Heat 8: Venegas, Parsons, Green
Heat 9: Kerr, Janniro, Green, Raines
Heat 10: Hooten Jr., Hamill, Yarrow
Heat 11: Venegas, Starks, Fox, Gomez
Heat 12: Fishback, Castro, Fonts, Parsons
Heat 13: Janniro, Castro, Fox
Heat 14: Yarrow, Venegas, Raines, Fonts
Heat 15: Fishback, Hooten Jr., Gomez, Green
Heat 16: Hamill, Kerr, Starks, Parsons
Heat 17: Janniro, Hamill, Venegas, Fishback
Heat 18: Castro, Starks, Yarrow, Green
Heat 19: Kerr, Gomez, Fonts
Heat 19: Fox, Hooten Jr., Raines
Dash for Cash: Hamill, Fishback, Janniro, Hooten Jr.
Main: Janniro, Hamill, Fishback, Hooten Jr., Chris Kerr (penalty line)
What a great motorcycle weekend! Starting with HOOTERS in Rancho Cordova on Thursday night, where a large Big Time Speedway banner greeted everyone entering the restaurant and National Champion Billy Janniro's bike was on display inside once you walked in. Proudly displaying the Copart / Hooters front number plate that all the Elite riders bikes wore during the "OUTLAW" National. The New Zealand GP playing on the flat screen TV and Happy Hour pricing for anyone associated with speedway till 11:00. Great start!
Awesome weather on Friday as rider practice started @ 4:30 - 5:30, followed by Rider and Crew Chief introductions done by none other than "Crazy" Chris Ackerman and then a nice tribute to our Grand Marshal and 2012 Honoree - Mr. RC Jones of SpeedwayBikes.com. Air Force Color Guards carried our nations flags as the National Anthem was song by local artist. RC along with referee Steve Lucero got the first race underway and it was none stop action from there on out. A little extra excitement was thrown in after heat 16 - Da$h for Ca$h fun race with the top 4 guys in points at that point in the program. Billy Hamill, Billy Janniro, Jimmy Fishback and Greg Hooten all went after that $500.00 cash 1st place money and 1 extra point! Billy Hamill came away with the win in that one. A few more heats and then came the 5 man main. Billy Hamill, Billy Janniro, Jimmy Fishback, Greg Hooten and Chris Kerr. Janniro came away with the win and the Big Cash purse for that one and the first winner of the Hang'em "Outlaw" National here at Prairie City. It was a great night of racing by all ... some crazy crashes by all. Many new fans coming up from the motocross track to see speedway racing for the first time!!
Saturday morning Billy Hamill's Jr. Speedway Academy took place for a handful of lucky young riders and then it was off to the 44th annual Dirt Diggers North AMA HANGTOWN MX Classic where most of the speedway riders went to watch the best motorcross riders in the country do battle!
It was an Awesome weekend, thanks to all the riders, fans, sponsors and good speedway people that came to see what all the excitements about at Big Time Speedway. We are only just getting started! Professional Speedway ... DOING IT RIGHT!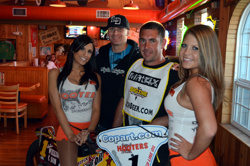 The Hooters Girls with Jeremy Parsons and Billy Janniro the night before the race.