Action Park Speedway
Greene, New York
Action Park - Green, NY USA - September 5, 2009
By Jason Bonsignore - Eastern Speedway Promotions
BULLY DOG US Open Speedway Championships Round 1
Hedden Hammers Em at Bully Dog US Open Round 1
Photo of Tommy Hedden by Jody Garris
The track at Action Park East in Greene, NY was in superb shape for Round One of the Bully Dog US Open Speedway Championships and the outside was heavy enough that Californian Tommy Hedden rode a 22 inch rear wheel with much success most of the evening.
Three-time and defending Champion, Shawn McConnell, of Brea, CA opened things up with a win over Mark "Battlescar" Bradley, Ray Barondick and Josh Carr in that order. Hedden won quite easily in the next ride over Warren Diem, who took second, Mikey Buman, who was third, and Jesse Diem. Jerry "Buford" Harman was the next winner in a tough match over Tuff McBride. Dave Clark was third and Cole Farwell fourth. Defending East Coast Champion, Adam "The Missile" Mittl, closed the first round with a victory. In second was Corey Brookes with Shawn "Steamboat" Engel third and Russ "Doctor Dirt" Cornell fourth.
Hedden defeated Mittl in round two with W. Diem beating McBride in another strong match. Buman scored a win over Brookes and McConnell scored three points with Harman second.
Warren Diem stayed hot in the begriming of the third series as he won against McConnell. Hedden remained unbeaten on his 22 when he ran away from Harman. Clark took his first three points by holding off J. Diem in a good race and Buman and Mittl could not get by McBride in the last outing of that round.
Mikey Buman got off on the right foot after intermission when he handed Harman a loss. Mittl took a big win from McConnell next. Hedden and McBride then had one of the best races of the night when they were so close for four laps that McBride's front wheel was actually touching Hedden's rear numerous times. Hedden came out on top. W. Diem won handily over Clark to end the heats.
Engel was awarded the win in the D-final as three other riders had dropped out with mechanical issues or injury.
The evenings C-final was won by Brookes with J. Diem second, Barondick third and Cornell fourth.
Adam Mittl was leading the B-final for three laps but hit a hole in turn two and drifted way wide on the last lap. At this stage Buman caught up to him heading into turn three and bumped Mittl off his line. Mittl went down and Buman went on for the checkered flag. Harman inherited second and Clark third.
The night's Bully Dog A-final meant the meeting of the top dogs for evening. Hedden had gate one, W. Diem had two, McConnell was in three and McBride off four. Two riders went down in turn one which brought back a restart. Hedden made no mistakes on the second try as he spun away from the field on his MXRC/NGK Plugs/Justice Bros/Warnock JAWA to take the overall. McConnell worked his up into second finally with Diem third and McBride lost to a bike problem.
A Final
1. Tommy Hedden
2. Shawn McConnell
3. Warren Diem
4. Tuff McBride

B-Final
1. Mikey Buman
2. Jerry Harman
3. Dave Clark
4. Adam Mittl

C-Final
1. Corey Brookes
2. Jesse Diem
3. Ray Barondick
4. Russ Cornell

D-Final
1. Shawn Engel
Mark Bradley DNS
Cole Farwell DNS

Support A
1. Chuck Podany
2. Ray Barondick
3. Dwight Basa
4. Jeff Garlinghouse
5. Mark Bradley

Support B
1. Don Wheeland
2. Bunk Harris
3. Brian Bailey
4. Rob Roberts
5. Vinnie Oliver
6. Henry Calpin DNS

Juniors
1. Roger Roberts
2. Spencer Portararo
3. Zach Peters

ATV AM
1. Brandon Cleveland

ATV PRO
1. Stoney Ray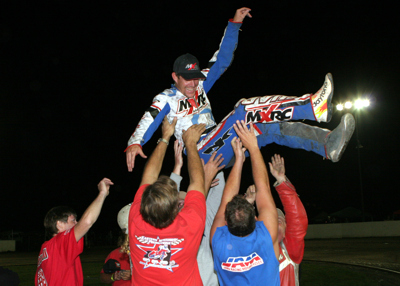 Tommy Hedden
Photo by Jody Garris