2012 California Speedway News - Part 2
June 2012 - December 2012
2012 News & Views - 2012 AMA Speedway News - 2012 Nice People List - 2012 American Team News
2012 California News Part 1 - 2012 California News Part 2 - 2012 General Speedway Column
---
IMS/Pirate Speedway
CANCELLED - RAIN OUT **** Practice to be held on Saturday Dec. 1 at IMS/Pirate Speedway from 10 a.m. to 3 p.m. for information call (714) 255-0088
---
December 29 - Monster Energy World Invitational - Industry Racing


---
Team Racing at IMS / Pirate is back! 8th December!
I'm pleased to announce that I'll be running a team racing event at IMS / Pirate Speedway on 8th December. Format will be the same as the successful events we ran in 2010/11 using the British format.
All Division are welcome but note this is a fun event not a pro event. Unless entries are beyond viability level there won't be purses paid. We need about 30 riders in and committed that show to cover expenses. There will be Junior team event. There will be races for pee wees and minibikes that will run just as individual.
Starts at noon. Prices are $35 to ride, $25 for pit pass, $10 for spectator. No comped' entries. You may contact me to sign up! It was a blast last year and we expect the same this!
Thanks to Mad Dog McConnell and the management team at IMS / Pirate Speedway for allowing this event!
Last years team races at IMS had a Northern California presence and this certainly added to the occasion.

We would like to invite Northern California Division 2, Division 3 and Junior rides to come to IMS Pirate on December 8.

If someone from Northern California could put a team together for this please get in touch with me.
Steve Evans dreamteamspeedway@sbcglobal.net (November 11, 2012)
---
Speedway Bowling Tournament & Rider Points Fund Awards
Concourse Lanes
3364 E. La Palma Ave.
Anaheim, CA 92806



Sunday, December 2nd, 2012
Teams of 4, $100 a team. *shoe rental not included*
*$53 from each team goes directly into riders' point fund*
Bowling: 1-4:00pm
Sign-ups will begin at 12pm.
Bowling will start promptly at 1:00pm.
Each team will bowl 2 consecutive games against themselves. You are bowling for total pins. (Combined from your 2 games) Top 4 scores will move on to bowl a 3rd game, where the top 2 scoring teams will bowl against each other to determine the "Main Event Winner." 3rd and 4th scoring teams will bowl against each other to determine the "Consi Winner."
Rider Points Fund Awards: 4-5:00pm
Although welcome speeches and thank you's for the season may begin while bowling is still finishing, Division 1 riders who scored top 10 in overall points and support riders who scored top 5 for IMS and Costa Mesa will receive their awards and point fund money at 4:00pm.
Please contact Jessi to sign-up for this event! missjessilee@sbcglobal.net (951) 310-2216
Jessi DuBois (November 1, 2012)
---
Practice at IMS / Pirate Speedway
Practice at IMS/ Pirate Speedway this Saturday November 3 from 10-3 p.m.
Open practice $40.00, 2012 IMS license holder $30.00. No charge for mechanic or spectator. Fuel available for $7.00 a gallon.
Please let us know if you are interested. Thanks!
Shawn dogynn@aol.com (October 29, 2012)
---
'The Speedway Masters'
Victorville closes its 2012 season on November 10th with its Track Championship. Races start at 4pm - earlier than usual race time.
After the races we plan an end of year party / awards ceremony at 'Madz Pizza' at around 9pm.
The race will feature championships for Division 1, Support, Juniors, Pee Wee's, and Sidecars.
The plan for Division 1 is to run a 20 heat Championship format (16 riders). Top 3 on points to Main, 4-7 to an LCQ.
We want to pay our HIGHEST EVER purse for this and break the $3,000 mark - we hit $2,700 last year I believe.
To achieve this we are selling Heat Sponsorships at $100 each. LCQ for $200, Main for $300. Title Sponsor of race for $500.
All Stars and Stripes Club Members of any level get 10% off these figures as a thank you.
First heat already sold to RC JONES / SPEEDWAYBIKES.COM
Program will be expanded so if you have a business you will get an ad. Also there will be a sponsors 'Hall of Fame' for those donor fans.
Sign ups are open. Top 10 in Victorville points get an automatic invite - expires on 10/27/10 after which sign ups will be open for ALL.
Let's have a great finale race - a big night at the heart of grass roots racing! Plan to attend. Victorville is only 35 miles north of IMS / Pirate Speedway.
Steve Evans dreamteamspeedway@sbcglobal.net (October 7, 2012)
---
October 20th ... BIG TIME SPEEDWAYS ... SpeedwayFEST @ Prairie City SVRA-OHV Park!
Don't put'em away yet! Close the season out with and enjoy the final scheduled EVENT of our season. ~SPEEDWAYFEST~ "THIS ONES ALL ABOUT HAVING FUN". All classes - all divisions!! $10.00 admission and $25.00 to race. Everyone gets 3 heats and a Main! Elite / Elite plus + (D1) and QUAD payout based on number of entries. Trophies for all other Speedway, Quads and KART participants. Gates, sign ups and tail gating start at NOON - RACES start at 3:00. No ice chest in stands! Come on out and have some FUN!
BIG TIME SPEEDWAY bigtimespeedway@yahoo.com (October 19, 2012)
---
Fast Eddie @ Pomona
What an amazing performance "the old man" and a couple of "the kids" put on as part of the flat-track races Sat. night at the L.A. County Fairgrounds. Now, they kept calling it a "half-mile," but I've been to Oswego Speedway numerous times and they call THAT a "5/8th's," and it would EASILY fit inside the confines of Pomona, so let's just call it a legitimate 5/8th's, too. I clocked the Harleys and other bikes (including a Duck and a KTM!) in their 2nd heat at a 30.80, but I got Eddie at a 30.71! So do the math: he was ripping! And this on a bike with no tranny or rear suspension or, of course, brakes! I'm just glad all 3 of them survived, as ANY m/c incident on a track this big is never "minor." Well done, "Mr. Outside," well done!
Left Coast Tim (October 15, 2012)
---
FaceBook Photos of Pomona from Howie Zechner
---
Press Release - American Eagles Speedway 2013
The Speedway season of 2012 has seen a lot of ups & downs, but surely more ups. The division one class is getting a bit more tight as some of the younger riders are getting faster, while the veterans are still using their tricks. There is something special happening with American Speedway and it just might be back on the rise. Surely, there are a lot of good things to come as promoters have been doing a fantastic job of hosting races on a weekly basis. The junior program is also becoming real strong as the Billy Hamill Speedway Academy step in and introduce young kids to the sport. In the next decade, there will be some special things to look out for, and that is a promise.
Further along, there have been American Speedway touring teams that have traveled throughout the UK and other parts of Europe, all with one goal in mind; make speedway a career. From 2005, a team of seven riders have been taken to England to race against some of the lower division British League race teams, twice a year. This movement has helped American racers bridge that gap from small race tracks to some of the larger race tracks that Europe has. There have been a few riders that worked hard and have earned contracts in the Elite and Premier leagues. The touring teams have developed a foundation in which riders are able to experience racing overseas & just how competitive to the sport really is.
Plans for the 2013 season will have the same concept in mind, only with younger riders that are looking to develop their skills and earn contracts in the British League. The team will consist of seven riders who have gained enough experience in the states and will now look forward to testing their skills against some higher levels of Speedway racing. With less then eight months until the tour begins, the American Eagles Speedway team will be working hard to prepare for the trip. The oldest rider confirmed for April so far is John Marquez, at age 26. The youngest is Rocco Scopellite, at age 16, then three other riders in between. All confirmed riders so far have been to England at least once and are ready to move forward with their racing careers. John Marquez, Michael Raines, Aaron Fox, Austin Novratil, and Rocco Scopellite are just five of the seven racers confirmed. There has been a lot of interest and considerations of the remaining two spots, although it is sure they will be a good pick.
Lastly, there is a golf tournament fundraiser event on Sunday, March 24th, 2013, at The Links at Summerly Golf Course located in Lake Elsinore. Several golf tournaments have previously taken place in order to raise money for the AllStar-Kia / PFM Racing team. This is a great opportunity to have some fun and help benefit this race team and their aspirations to make Speedway a career. Be sure to save the date and stay tuned for further updates! Visit us on Facebook on the "American Eagles Speedway Team" group, or try http://www.facebook.com/groups/248067458582964. Most updates posted regularly on this page.
You can contact
Aaron Fox at 951-505-5644 or aafox313@yahoo.com
Gary Gomez at 951-741-4931 or tmgracing@aol.com (October 8th, 2012)
---
Sidecar Nationals - Its gonna a big one!
October 20th is the next SoCal Victorville race date and its going to be a good one!
Mission Motorsports presents the 2012 Sidecar National Championship. There are so far 11 teams signed up, the purse will be over $2,000 and 15 races are planned to decide the title.
Chris Ackerman has been active selling heats to increase the purse - All Mains have been sold and there are some heats left at $50 a pop. Thanks to All Star Kia for coming on board with the A Main. If you would like to sponsor a heat email Chris at signifydesigns@yahoo.com
I have long advocated that the Sidecars are worthy of being show headliners and now they have the #s to back this up. In these days of an overloaded schedules for a limited rider pool I hope that the Sidecars get to run as headliners more in 2013.
Also lets not forget the Clubman Nationals on the same race card - The junior classes look very healthy with NorCal riders bolstering both the 250s and 200s. There are also National titles on offer for Division2, Division3 and PeeWee's - all great fun and all great looking on 2013 sponsor resume sheets!
Races start at 6pm. You also should mark down the 'Speedway Masters Track Championship' on November 10th. This race will start at 4pm and we hope to have a $3,000+ Division 1 purse. The race will feature Ricky Wells, coming back from a fabulous UK season. If we can get a 16 rider program we will run this race using the traditional 16 rider 20 heat championship format - likely we'll also run an LCQ and Main so the big guns get to duke it out for the Gold on the countries fastest 1/8 mile speedway track.
Admittedly 2012 has been a hard year for Victorville - we are very proud that despite many reasons not to, we kept going and ran all of our races. We are not in this for the money and sometimes it gets very tough and expensive to do this. But with the big 3 tracks now all done with their season we can run 2 big events and end our season on a high!
Come out and see the races!
Steve Evans dreamteamspeedway@sbcglobal.net (October 7, 2012)

---
IMS out of business – Here come the Pirate's
First the bad news: At tonight's Western States Championship Final pre-race riders meeting promoter Shawn McConnell announced that Inland Motorsport Speedway (IMS) would go out of business and that this race would be the companies last Speedway event.
Now the good news: At tonight's Western States Championship Final pre-race riders meeting promoter Shawn McConnell announced that a new company would promote Speedway at the current IMS site. He then handed stickers to everyone in the pits that say " Coming Soon - Pirate Speedway – San Bernardino.
Pirate Speedway and the new promotion details were not discussed but it was confirmed that Shawn McConnell and a yet unnamed person would be partners in the new company. Discussions with Shawn and Robyn alike were very positive reading the new venture.
"The New York promotion really keeps me busy IMS half owner Jason Bonsignore told me." The time to properly promote IMS just did not exist for me. Shawn is a dear friend and I believe this new company will be a good move for him and Speedway.
Speedway racing at the San Bernardino Orange Show has a long history. It is pleasing to know that the tradition will continue in 2013.
Howie Zechner howie@razvideo (October 6, 2012)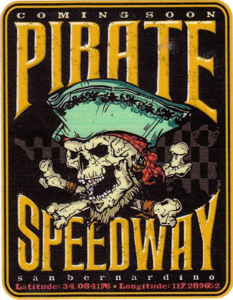 ---
Junior Speedway Fun Day at IMS October 20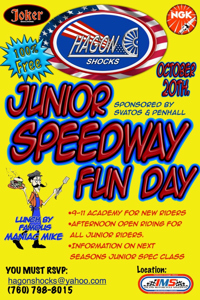 You Must RSVP hagonshocks@yahoo.com
---
FOR IMMEDIATE RELEASE
Howie Zechner howie@razvideo
Speedway at October 13th Pomona 1/2 mile Law Tigers AMA Flat Track Finals
A special Speedway Motorcycle heat has been added to the upcoming October 13th AMA Flat Track Finals.
---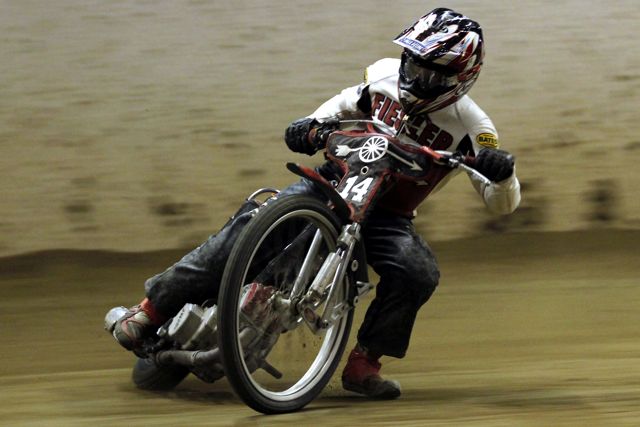 "Speedway is really exciting" Pomona promoter Chris Morgan relayed. "I believe our Class C Flat Track fans will really enjoy this exposure to Class A racing."
"It's a big honor" Industry Racing Press Officer Harald Zechner said. "Speedway is the kind of sport you only have to see once and then your hooked. There will only be one heat but that's all it takes to make a lifelong fan."
"Run it" yelled Speedway racer "Fast" Eddie Castro. "I love big tracks and can't wait show the crowd what we can do." A top rider #14 Castro has been named as one of the Speedway racers for this special heat.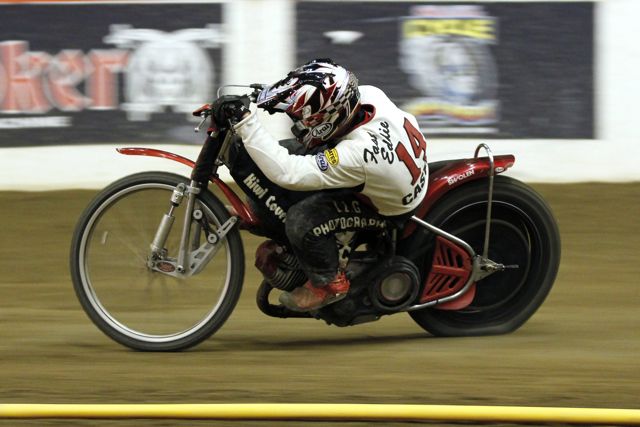 So what is Speedway? Well much like our brothers in Class C racing its a oval dirt track where riders and machines line up at a starting line. The tapes go up and it's a drag race to the first turn and then a wrestling match of slides, pushes and bumps till the laps run out. Main difference - Class A Speedway chassis are very light, motor displacement is 500cc and the185 pound 80 HP bikes have no brakes.
---
2012 AMA Under 21 US National Champion Gino Manzares to race Saturdays Special Speedway Motorcycle heat on Pomona 1/2 mile.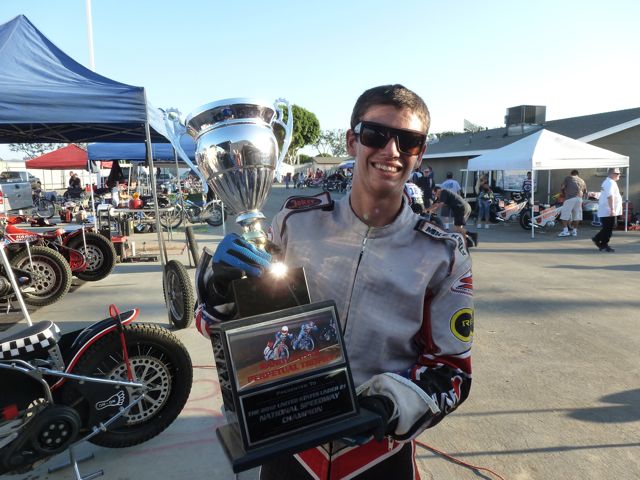 I knew he was in Utah and wasn't scheduled back till the following week. Still he's one of the best. I had to call and ask him. Gino it's me Howie "want to ride at the big AMA race this Saturday?"
"This Saturdays Law Tigers AMA Flat Track Finals? A Speedway motorcycle heat? On that giant dirt 1/2 mile track"? Oh yea it took me about a second to say "I'm in" answered the U-21 National Champion.
"I love long track racing" the "G-Man" boasted. "The Isle of Wight in England was a big track as was Rivne in the Ukraine for the first round of the 2012 FIM Team Speedway Under 21 World Championships. My longest track was the 800 meter Woodstock Park Raceway in NSW Australia. I'm really excited about racing on the big Pomona 1/2 mile. Holding it wide open with no brakes. We live for this stuff you know." No doubt. Gino Manzares has come a long way since winning the California Long Track Championship 2nd Division Main at the PAS I promoted in 2009.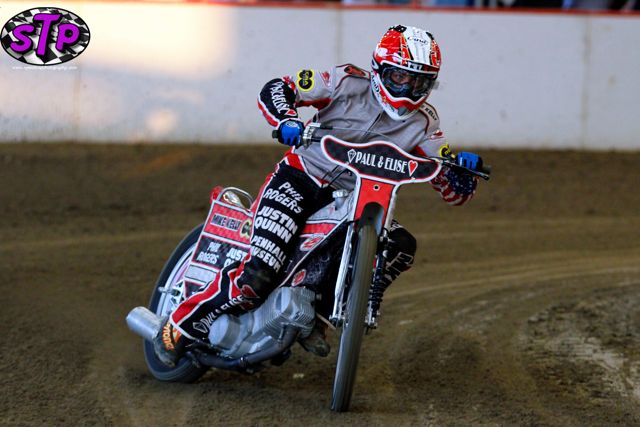 ---
Run regularly at Ascot in Gardena CA 1/2 mile Speedway motorcycle racing was a Agajanian staple. It's only fitting they should run on the night when JC Agajanian is Grand Marshal.
Presented locally by Glendale Harley Davidson and Pomona Valley Harley Davidson the October 13th Law Tigers AMA Flat Track Finals is the final round on the AMA Grand National Championship Series. Harley Davidson riders Jared Mees and Jake Johnson are a close first and second in the championship and the Law Tigers AMA Flat Track Finals will decide the champion.
Included free to all fans in attendance,:
Southern California's own "Rockabilly" band "The Loveless"
5:30 pm - The rider paddock area opens. Meet the riders and see the racing bikes before they race.
5:45 pm - Motorcycle Racing Legends Autograph Meet & Greet, featuring some of the sports biggest stars.
Motorcycle vendors and bike displays.
Spectator gates open at 4 p.m. Racing starts at 7 pm
The October 13th Law Tigers AMA Flat Track Finals. Tickets and information are available online at www.flattrackfinals.com or by calling the Flat Track Finals ticket line at 888-718-4253.
Howie Zechner howie@razvideo (October 5, 2012)
---
Aaron Fox to Race Olympique
Very pleased to announce Aaron Fox will be joining a now long list of unattached American riders who have raced in the prestigious Olympique at Wolverhampton. The race date is October 16 and features a 20 heat 16 man format.
The field will include Gothenberg GP winner Freddie Lindgren, Tai Woffinden and likely Chris Harris. Riders are handicapped based on previous results - In 2010 Tyson Burmeister was involved in an epic duel with Chris Harris whilst Eddie Castro wowed the crowd by taking Tai Woffinden out wide. Some of the other USA riders in recent years were Ryan Fisher, Scott Brant, Shaun Harmatiuk, Jimmy Fishback, Kenny Ingalls and Austin Novratil.
Steve Evans dreamteamspeedway@sbcglobal.net (September 30, 2012)
---
September 29, 2012 Speedway Racing in Las Vegas

September 29, 2012 Speedway Racing in Las Vegas. Saturday Night the gates open at 6:00pm. The P51 group of Tom and Mason start playing at 6:300PM . Opening ceremony at 7:30 PM. First race 8:00 PM.
The new Cinder and clay racing surface is prepared by Bruce Whiteford Grading & Paving Inc. of Las Vegas. This is a big M/C weekend to attend Speedway Motorcycle Racing during BIKEFEST XII WEEK beginning Thursday thru Sunday at the CASHMAN CONVENTION CENTER.
A $10,000 cash prize payout POKER RUN is listed on BIKEFEST 12 Las Vegas web site along with the other events including SPEEDWAY RACING at Sin City Speedway LV at the Las Vegas Sport Center out side Arena. Discount Coupons can be printed Sin City Speedway LV.com. Also available at the T-shirt venders at Cashman Convention Center, Motorcycle dealers in Vegas. Advance ticket sales At Carter Powersports, Las Vegas Harley-Davidson, Red Rock Harley-Davidson, Henderson Harley-Davidson. A Wet T-shirt contest Friday Night at Las Vegas H-D and bands playing most of the day on Saturday.
Sunday after the closing of the convention center there is a huge Party with three bands playing starts at 3:00pm with BBQ and Drinks and lots of fun I'm sure.
Need a place to stay with good prices? Call (702) 407-5300 tell them the discount CODE of Sin City Speedway LV.com and receive a suite with 2 Queen beds up to 3 guests for 54.99 plus tax . The Crestwood Suites is located at 7260 Las Vegas Blvd on the west side of the street. These are weekday rates that are good for this weekend if you say the code. *************************** For Rider Sig"
Sammy Tanner (September 20, 2012)
---
A National Stew - This Saturday September 22, 2012
Its that time again. We're all hungry for it. The flavor, body and smell that tells you the feast you've been longing for all year is here. And when its done and consumed it leaves you full. Satisfied. Content.
Now how is this mixture of sound and action made that excites and tantalizes so many? Well much like Colonel Sanders Kentucky fried chicken recipe its a closely guarded family secret that only a few know and even fewer can prepare. Still I've seen the recipe and will risk the consequences of making it public.
Like all great recipes its all about ingredients and preparation.
Lets start with what your cooking it in. It has to be the right size and shape. In this case a oval 220" long by 121"wide. Take tons of DG. Mix with water and stir. Build a base. Let the sun bake it. Then add more DG, water, pack and drag. Bake till its hard on the bottom but fluffy on the top. Take white lime and decorate with a starting line and boxes. Add garnish for a proper presentation.
Using only the best ingredients put in twenty riders. A World Champion, several National and State Champions, some Gold winners and overseas sensations. Throw in some young talent and mix with a twenty race format. Drain and serve the top four in a final four lap mix.
When properly executed this feast will fill the bellies of the eight thousand plus in attendance. They will marvel, cheer, and yell their praises of thanks. Their need for speed will be fulfilled.
The United States Speedway National Championship. This Saturday September 22, 2012. The Costa Mesa Fairgrounds. Gates open at 6pm. First race 7:30.
Come join the feast. Bring a friend. There's plenty to go around.
More information at: http://www.costamesaspeedway.net/
Howie Zechner howie@razvideo.com (September 17, 2012)
---
Monster Energy Title Sponsor at US Speedway National Championship
Speedway, 500cc alcohol fueled motors developing 85hp in a very lightweight frames racing on a short dirt oval with no brakes. Total weight 185LBS + rider. Sure what could possibly go wrong there!
"It's totally insane this year," stated 2nd generation promoter and former 2-Time National Champion Brad Oxley. "With sponsorship from Monster Energy and Performance Machine our Twenty Two Thousand Dollar + purse is the largest we have had in decades" "It will mean hard racing. Please keep your kids away from the crash wall".
With the 2013 #1 plate and tile on the line all the best will be there? 3-Time and defending Champion Billy Janniro, World Champion Billy Hamill, 2012/13 Ice Champion Charlie Venegas, the newly crowned Under 21 National Champion Gino Manzares, 3-Time gold winner Bobby Schwartz, 3-Time National winner Mike Faria, Chris Kerr, Tommy Hedden, Jimmy Fishback and the list goes on and it's just as impressive.
Lets face facts. This is the US Speedway National and that means it doesn't matter who you are. It's just too strong a field to take any race for granted. Every rider there can win the gold.
The United States Speedway National Championship is Americas most sought after title. Well attended by riders and spectators alike it is the event of the season.
So be there. This Saturday September 22, 2012 – Costa Mesa Fairgrounds. Gates open at 6pm. First race 7:30
More information at: http://www.costamesaspeedway.net/
Howie Zechner howie@razvideo.com (September 16, 2012)
---
Billy Janniro racing Costa Mesa this Saturday – Harley 2 night

Many things are a sign of the times. Flowers in the spring, swallows returning to Capistrano, Janniro showing up at "The Bullring" the last race before the US National Championship.

Not a regular on the So Cal racing scene Janniro likes to come to terms with the track and competitors before the big race. His take no prisoners style thrills the crowd and scares the wits out of all those that will race against him. For Bill J its a sociological thing. He normally goes home with the money.

Oh Yea he's a shrewd one that three time and current National Champion of ours. He knows with that number 1 on his back he needs every edge.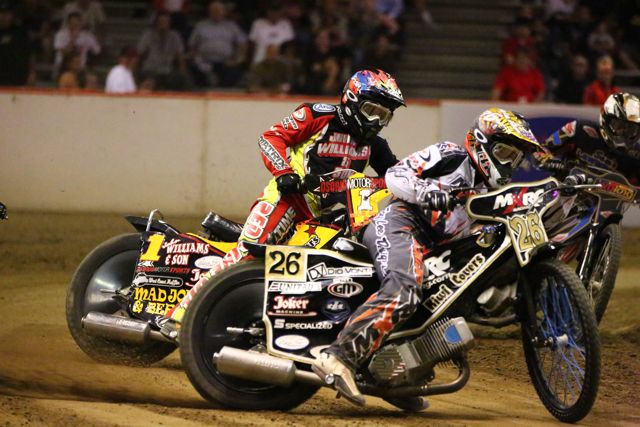 Still the only edge may not be the one he wants. Charlie 'The Edge" Venegas beat him in heat 14 at Industry last week and swears to do it again. Then there's the Hamill factor. This Saturday or at the September 22 National two weeks from now #1 Billy Janniro will have his hands full. Everyone is gunning for this job.
Congratulations Billy J on your third California State title. Watching you is poetry in motion. Still we don't cotton to you northerns coming down south an taken our gold hear. :-) More on Billy Janniro at ../rw/ubill_ja.htm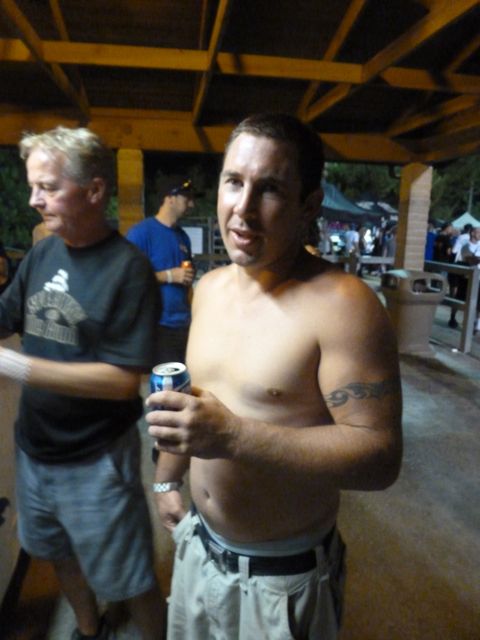 So come boo or cheer for Billy and all those men in their flyin machines. This Saturday September 8th. The Costa Mesa Fairgrounds. A full program of Speedway Motorcycles, Sidecars and those crazy Harley's and Choppers awaits. Gates open 6pm, 1st race at 7:30.
Yea life is good. Think I'll Join Billy in a beer.
Howie
Pictures courtesy Albert Wong and Harald Zechner
Howie howie@razvideo.com (September 6, 2012)
---
News & Views - A blink of an eye. The 2012 California State Speedway Championship
---
Harley Night – A Costa Mesa Tradition
Speedway Motorcycles and Sidecars are back when racing returns to the "Bullring" this Saturday. And they brought their popular stepchild counterpart those crazy Harley's and Choppers.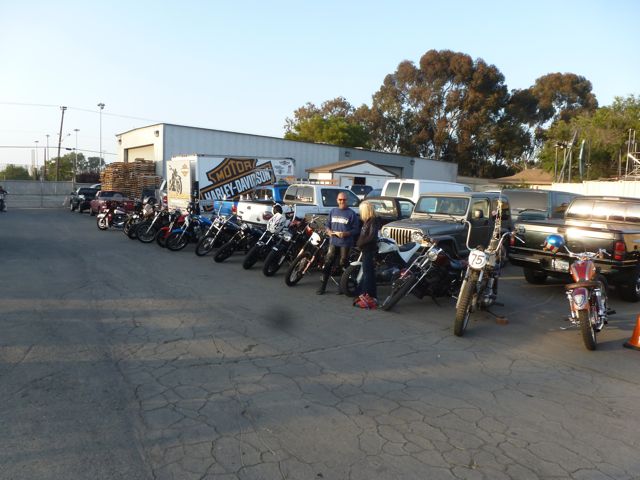 Hello, did I say Harley's and Choppers? Yea its true and a show not to be missed. Matter of fact because its so popular this Saturdays Harley Night is the 2nd one this year. "We've had great spectator attendance, participant entrees and sponsorship. Companies like Performance Machine www.performancemachine.com and Jim Specialties really stepping up to the plate. I'm really thinking about adding a 3rd Harley Night to out 2013 race schedule" track promoter Brad Oxley told me.
I must concur. Harley Night #1 on May 19 was outstanding. Horny Guy, Blue Haired Dude, The Mailman, Taxi Driver and about 20 others raced and crashed and drove the crowd wild in a series of heat races and a main.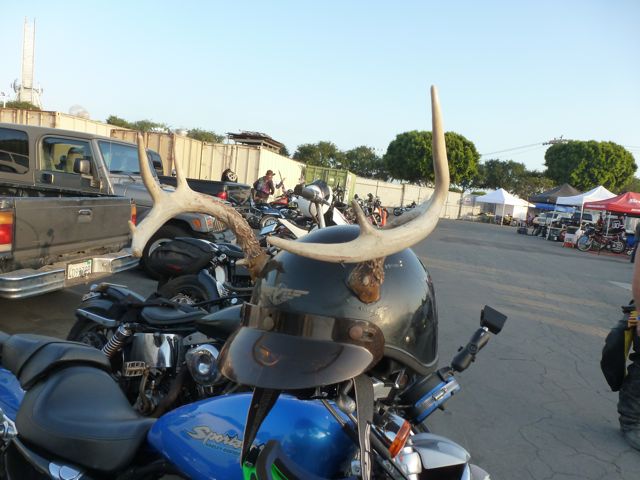 Now we know the beauty and grace of a Speedway Bike or Sidecar doing it's thing in a full power full lock slide. A thing of beauty for sure. Well welcome to the Twilight Zone. Get those kids away from the crash wall because bizarro racing is about to begin.
The rules are simple. American made, must be street licensed, you must wear something that passes for a helmet. That's it! Amount of cylinders and engine size? Who cares. Horsepower? Don't matter.
It starts with about 40 of these dudes on Harleys. Some on rat bikes, some racers, some $35K + show machines and everything in between. They do a parade lap early in the show "and the crowd goes crazy" as track announcer Terry "Ike" Clanton would say. There's just something special about these big monsters on this small dirt oval.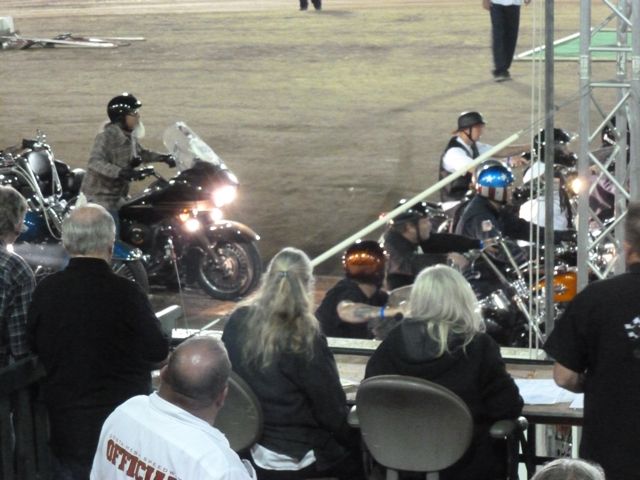 You have to see it to believe it and luckily you can because it happens this Saturday September 8th at the Costa Mesa Fairgrounds. Gates open 6pm, 1st race at 7:30.
Speedway Motorcycles, Sidecars, Harley's and Choppers. A great night of fun and action from International Speedway http://www.costamesaspeedway.net/ - facebook Costa Mesa Speedway.
Next event - The 44th U.S. National Speedway Championship, September 22.
Wait till you here. Well maybe that's for next time.
Howie howie@razvideo.com (September 5, 2012)
---
Victorville
Come on over to the Fairgrounds for Racing in Victorville for a Labor Day Spectacular!! Print this ad out for $2.00 off admission!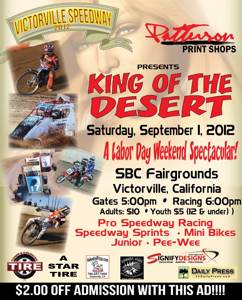 ---
California State Speedway Championship
The 2012 California State Speedway Championship - August 29 - The Grand Arena - Americas Best - $5,000.00 purse
The 37th running of the California State Speedway Championship will be at The Grand Arena this Wednesday August 29th. http://industryracing.com
2012 National and California State Speedway Champion #1 Billy Janniro will do battle with the likes of four time California State winner #9 "Flying" Mike Faria, the 2012 Under 21 U.S. National Champion Gino Manzares, last years High Point rider Jimmy "The Animal" Fishback, former City of Industry Track Champion Tommy Hedden, Captain America Bobby Schwartz a two time previous winner of this title, 2012 ICE Champion Charlie "The Edge" Venegas will join a field of Americas best Speedway riders on the Industry Racing 1/8 mile dirt track.
The Journey Tribute band starts at 6pm, there is Great Food at reasonable prices, Two full bars, and lots of HD monitors so you never miss the action or replay. Admission only $10, Students & Seniors $5. Kids under 12 free. So come have some fun. 1st Race at 7:30
The first 250 race spectators will receive a Free Racing Mascot Pin. Well made it's already a much sought after collectors item.
"Speedway Motorcycle Racing has surpassed our wildest exppetations and the Industry Hills Expo Center is totally committed to a 2013 season" comented Operations Manager Carol Perez. "Some off season pratice dates, a winter race series and some special events are also being finalized."
More information at http://industryracing.com
Wednesdays race will be the final event of the 2012 Industry Racing "Lucky 13" season. See you there.
More information contact Howie Zechner or howie@industryracing.com
---
Victorville 2013 and Beyond
Earlier this year I decided that I will be retiring from promoting at Victorville at the end of 2012. Its been an amazing 8 seasons and close to 100 races by the time this year draws to a close.
The decision was made based on the sheer workload involved in the SWC and Team USA, along with some potential new projects that are very exciting. Any thoughts of Team USA being a seasonal gig were dispelled in the 2 weeks since I have been back from Europe - the sheer buzz created by the SWC has meant there have been reaches from 4 different countries to bring a Team USA test match side to them either in the winter or spring. Nothing definite but some very interesting reaches all the same.
As far as Victorville goes I wanted my intentions known early so that any interested party who would like to take it on could contact me. There is a very good blueprint written that when a little time is dedicated to it (something I haven't had in the past 2 seasons) you can have a viable race track and fun part time business. Promoting at VV is minimal outlay as costs are shared with John Aden. It won't make you rich and equally it shouldn't make you bankrupt.
The track has been key in developing many new D1 riders and was the first place that Ricky Wells and many others rode a 500.
The track isn't closing - I won't let that happen. But I do want to ensure its in good hands so please contact me off list if you have interest. You also have a huge local asset in Chris Ackerman who is excellent with designs, radio and marketing. I will also be willing to stay connected in an advisory role as needed.
Please get in touch if you are serious and have interest.
Steve Evans dreamteamspeedway@sbcglobal.net (July 26, 2012)
---
Scott's Headers and Mufflers Night 2012 : This Friday at IMS
Inland Motorcycle Speedway located at The National Orange Show Fairgrounds in San Bernardino, will stage race 12 of the 2012 season this Friday night July 27th. Scott's Headers and Mufflers will be the sponsor for a fun filled night of Speedway Motorcycle Racing.
Scott's Night has become a Fan favorite, and this will be the firms fourth consecutive year of staging the event.
Join "The Torch" for the IMS pre-race Show from approx 7:20 to 7:50 pm,this takes place in he main grandstand, interviews of fans, riders, special guests, and re caps of past weeks results. Then the mic is turned over to The Legend of speedway announcing at IMS _ Bruce Flanders , for the Nights Racing...
Kendal Solak will make her third straight appearance at IMS... To sing the National Anthem... This Singer/Actress will be a Senior at Beaumont High School this year.
After the races, the pits are opened to the fans, to see their favorite riders.
Free for all the fans... In Concert... In the Pit area... " RudeBoy "... One of the Top Inland Empire based Bands. Will crank it up here at IMS... The band will also headline the finale at the Beaumont Concert Series in August...
Then... The Prestigious " Torch " Award will be given to the " Scratch " Main event winner... The award is a carbon fibre style automatic welding helmet by HTP Welders, Custom pinstriped and flamed by highly acclaimed Stan Howton... The award commemorates IMS's original Opening Night in June of 1975, in which Scott Read was an original Opening Night rider.
Previous 'Torch Award" Winners: 2009 Tommy Hedden... 2010 Billy Janniro... 2011 Mike Faria... 2012 to be determined...
Don't miss the largest autograph session of the year, in the Scott's pit area... Slated to sign autographs for the fans are... Shawn the Mad Dog McConnell... Jimmy The Little Animal Fishback... Josh Larsen... The Scratch Main Event Winner... Scott the Torch Read and his Vintage 1975 IMS photos...
On display in the Scott's pits... The Vintage Speedway Machine of the " Hicks Family " A JAP (John Alfred Prestwich) see what riders rode in the days before Jawa laydowns during the late 60's early 1970's... "The Rocketeer" Funny car of Alex and Jim Barrett... This car runs on the Nostalgia Funny car circuit, and has delighted race fans with their Long Smokey Burn Outs... Along side the Rocketeer will be ... The #23 Sprint car of John Bellegante, driver is Greg Alexander, this privateer racing team set fast time and sat on the pole against the top sprint car teams in the country, at Perris auto speedway... Both of these cars equipped by Scott's Headers and Mufflers... Of course Scott's builds headers and mufflers for speedway bikes too !...
Join us this Friday Night at IMS, for a fun filled Family Night...
Torch Redlew migtig06@yahoo.com (July 24, 2012)
---
Race Postponed at Sin City Speedway
Race postponed at Sin City Speedway
For immediate release:
July 20, 2012
The race on July 28th at Sin City Speedway has been postponed until August 25th . Sorry for any inconvenience!
For further information:
Contact: Sammy Tanner sammy.tanner@att.net
1 (909) 350-2727
1 (562) 572-7889
Sammy Tanner
Management Sin City Speedway (July 21, 2012)

---
Perris - July 28th - Cancelled
July 28th - Perris Speedway... cancelled. Due to other events scheduled on the day and lack of rider signups, we won't have enough to make a show. If anyone is interested in putting together enough riders to run a practice... let us know. Enjoy your summer!
Carrie Hancock chancockspeedwaypromotions@gmail.com (July 21, 2012)
---
JC Masters Funeral Information
Many speedway riders and fans will be attending JC Masters Funeral. Here is the information about it.
Viewing on Monday 7/23 from 4 pm - 8 pm.
Funeral on Tuesday 7/24 at 10 am.
Heritage-Dilday Memorial Service
17911 Beach Blvd.
Huntington Beach, CA, 92647
telephone (714) 842-7771
---
Fast Fridays Speedway- Friday July 20
A message From Fast Fridays Speedway About this Friday night July 20
Today we meet with the Cal Fire officials here at Auburn's fairgrounds and with there assistants we have been assured that Fast Fridays will indeed take place this Friday night.
After having to cancel last Friday's events at Fast Fridays Motorcycle Speedway due to the Robbers Fire that has now consumed over 2500 acres in the Auburn Area. Our speedway and the entire fairgrounds has become the staging and recovery site for the fire fighters. I must say it was a bit touch and go as far as this Friday. The upcoming Friday evening will be the very popular North Vs South Challenge one of Fast Fridays biggest and most popular events and we are relieved that we will be able to stage this exciting race.
We are in full corporation with the efforts and need to give a special thank you to the Cal Fire officials that will be helping make this Friday nights events a success: Battalion Chief Jeff Brand, Carmel Mitchell, Pete Daley and Jim Crawford all of Cal Fire.
We also wish all the fire fighters the best of luck and best wishes to the hundreds of folks that are today hoping for some relief to what has been a scary realty of living in the mountains of California
David Joiner
Fast Fridays Motorcycle Speedway
Auburn, California
fastfriday@aol.com
+01 530 878-7223 (RACE) (July 17, 2012)
---
Fast Fridays July 13 Cancelled
Sorry, we will need to cancel tonight's (July 13) events at Fast Fridays Motorcycle Speedway Auburn, California
The fire near Colfax California has grown so has the need to reinforce the personal and equipment that is needed to wage the war on this out of control fire that is in the North fork of the American River canyon between Colfax and Foresthill. This morning its reached 1500 Acers and is only 10% contained and getting worse
Fast Fridays Speedway is now being used as a fire personal camp and the parking lot is the staging area for arriving equipment and personal. It seems a bit like a war zone and of course Fast Fridays and its fans should be in full corporation with the efforts.
Our thoughts go out to the folks that are facing hot windy conditions and the possibility that they could lose homes and property in our community. Fast Fridays family and supporters wish them and all the firefighters the best of luck in the next few day.
David Joiner
Fast Fridays Motorcycle Speedway
Auburn, California fastfriday@aol.com +01 530 878-7223 (RACE) (July 13, 2012)
---
Victorville July 21st - Nick Varner Memorial Meeting
It's 4 weeks away but with the busy racing schedule and 6 venues down south to choose from, I wanted to remind / let people know that we are very priviliged on July 21st to be staging the Nick Varner Memorial meeting, one year after his passing.
We have been in touch with Nick's mother about this event - we obviously want to make it special and emphasize the juniors, though ALL divisions will be in attendence. Due to running with the cars we do have limits on the number of riders we can put on the program - usually to be honest this is not an issue but on a night like this we could fill up, so sign up early please. One very nice touch will be a special '333 Last of the Mohicans' race. It will feature 4 riders and will be over 3 3 lap races.
We'll say more on this event closer to the time, but I did want to let you all know that it was coming up so those who wanted to support it and pay tribute could plan their summer time.
Steve Evans dreamteamspeedway@sbcglobal.net (June 24, 2012)
---
Riders needed for Las Vegas 30th June!
Riders needed for next Saturday! All Divisions will run if their are enough riders per class! D1 purse will be $3,000, as last time paid on the night after the races done! Please call, text, email, facebook or tweet if you want to ride!
Steve Evans dreamteamspeedway@sbcglobal.net (June 23, 2012)
---
Big Time Pro Am July 7th
Bill Hamill Speedway Clinic July 8th
"HOW" do you get invited to the Inaugural WEST COAST MUFFLER PRO~AM. Anyone can participate in this event. Only the ELITE plus+ rides are by invitation only. All other divisions: PREMIER (D2), NATIONAL (D3) YOUTH (200 & 250) - Peewee's and "NEW" 40 plus division are open to anyone wishing to participate.
"Entries limited" everyone's guaranteed 3 heat races, plus top 4 in each class to a main event. Peewee's, everyone rides main event. Trophy's and Awards to everyone!
Cost - $55.00 (All except Peewee's) includes, 1 crew member, awards, souvenir race bib, 3 heats + main for top 4 in each division.
Peewee's - $30.00 includes 1 Parent/Crew member, awards, and 3 heats and all ride their main.
Spectators - Adult $12.00 ~ Juniors (13-17) $8.00 ~ Kids $5.00 under the age of 6 "FREE". Parking $5.00
Advance ticket sales: www.bigtimespeedway.com. For more info call 925-786-3263 or bigtimespeedway@aol.com