Champion Speedway
344 East River Drive
OWEGO, NEW YORK 13827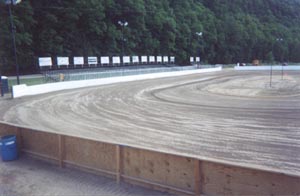 Directions: Take exit 64 off NYS 17 to end of Route 434.
Ticket Prices: Only $10.00 (Adults), $3.00 (ages 7-12), 6 and under are FREE! (*Denotes Special Events Prices)
Gates Open at 5pm, qualifying at 6pm, Racing at 7 pm.
Parking and Programs FREE!
(Any scheduled Saturday events that are rained off, that Sunday will be the rain date with a start time of 6 pm.)
Mailing Address: 2152 Edgemere Drive, Rochester, NY 14612
Information: (607) 687-7819 or (585) 723-9746
Website: www.jbrspeedway.com
Check out more New York Speedway at Batavia Motor Speedway and Action Park
2007 SCHEDULE
Providing we can arrange several more sponsors for 2007, it looks promising that Champion Speedway will re-open with the following schedule.
MAY 26 Grand Reopening
JUNE 9 Speedway Joe Night
JUNE 23 Omar Lightner Cup
JULY 15 (SUNDAY) US OPEN CHAMPIONSHIP FINAL (Round 5)
JULY 22 (SUNDAY)
AUGUST 11 Legends Night/Hank Bassett Cup
AUGUST 25 Jim Hesmer Memorial
SEPTEMBER 16 (Tentative)
MOTOCROSS & BMX BACK IN 2007
Motocross and BMX will return to Champion in 2007.Information regarding these two tracks will be announced soon.
---
JBR ANNOUNCES SWITCH TO SATURDAY NIGHTS
(April 21, 2005)
JBR is pleased to announce the tentative 2005 Champion Speedway schedule and a move back to Saturday Nights for speedway at the historic venue.
All events are planned for Saturday evenings with the exception of the final two meetings which will be rounds 3 and 6 of The US Open Speedway Championships and will take place on the last Sunday in August and first Sunday in September. JBR had a great amount of success running Saturday Night Speedway at Champion from 1997-2002 and feels that a move back will help to increase attendance again and make it easier on out of town riders.
The move comes at the right time with the announced closing of Champion's Saturday night competition, Tioga Motorsports Park, and JBR's decision to rent out it's other facility, Action Park East. JBR is confident that a non-conflicting probable 11 event schedule that will mesh perfectly with the Champion Schedule will be released shortly by Donavon Dorsey for Action Park East.
This is great news for East Coast Fans and Racers!!
Several more exciting announcements will be coming soon!!
Thank You,
Jason Bonsignore
2005 SPEEDWAY SCHEDULE (tentative)
30th Anniversary Year
| | |
| --- | --- |
| May 28 | East Coast Spring Classic/Patrick Ahlund Trophy |
| June 11 | Harley Night |
| June 25 * | NY State Championship |
| July 16 * | Freestyle Jump Night |
| July 30 | Omar Lightner Cup |
| August 13 | Legends/Hank Bassett Cup Night - RAINED OUT! |
| August 27 * | US Open Round 2-To be held in Shartlesville, PA |
| August 28 * | U.S. Open Speedway Championships Round 3 |
| Sept 4 * | U.S. Open Speedway Championships Grand Finale Round 6 |
| Sept 5 | U.S. Open Raindate |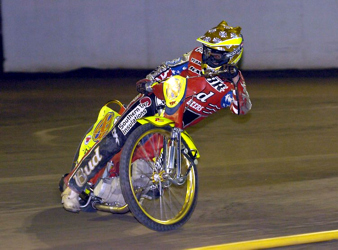 4 time Champion Speedway Track Champ and 2004 US Open Speedway Champion Tom "Gator" Sephton
The legendary Kelly "Jellyman" Moran leads Multi-time Dirt and ICE Champion George "Lazorbeam" Lazor and Keith Hawkins
Our Thanks to these Sponsors...
ALLAN HARMON
BOB'S HONDA
BRANT ENGINEERING
BROOME TIOGA SPORTS CENTER
BUDGET FENCE
CODY RACING
D.A.R.E. PROGRAM
DON'S AUTO PARTS
HOWARD JOHNSON HOTEL OF VESTAL
LA SPECIALTIES
K & R CYCLE SALVAGE
LANE'S YAMAHA
NJK LEATHERS
PROGRESSIVE SUSPENSION
RACE TOOLS
RICK'S SERVICE CENTER
SCOTT SMITH & SONS
SILENT SPORT
SNAP-ON TOOLS
SOUTHERN TIER INSULATIONS
TECH AUTO SOUND
TIME WARNER CABLE
TRACKSIDE PRODUCTS
WILLIAMSON HONDA
PETE ATWATER ENTERPRISES
VERIZON WIRELESS PHONES
CARRIAGE AUTO CENTER
BECK'S TIOGA TOWING
DARLING TAX SERVICE
MAC TOOLS - DOUG HOWELL
THE TRACKSIDE LOUNGE
NICK'S GARAGE
SPEEDWAYBIKES.COM
WORKS ENDURO RIDER
2004 Race Events
May 30 Speedway
June 13 Speedway
June 27 Omar Lightner Cup
July 18 Scott Smith & Sons Legends of Speedway/Hank Bassett Cup
August 1 Big Air Extreme Freestyle Motocross Jumpers
August 15 Harley Night
August 29 Speedway
September 5 US Open Speedway Championships Finale Round 3
September 6 Rain date
2002 Race Events
May 26 - East Coast Spring Classic Series: Round 2
June 2 - Omar Lightner Cup/D.A.R.E. Night
June 9 - Speedway
June 16 - Father's Day Special
June 23 - Speedway
June 30 - * Freestyle Motocross Jumpers
July 7 - Speedway
July 14 - Scott Smith & Sons Legends Night/Hank Bassett Cup/Golden Greats Match Races
July 21 - RSC Trike Shop Night/Celebrity Challenge
July 26 - Speedway
August 4 - * Freestyle Motocross Jumpers
August 11 - Southern Tier Harley Night
August 18 - Speedway
August 25 - * Best Pairs Championship/Golden Greats Match Races
September 1 - * U.S. Open Speedway Championship: Round 2 2001 Race Events
May 27 - Spring Classic
June 2 - Season Opener: Omar Lightner Trophy / D.A.R.E. Night June 16 - RSC Trike Shop Celebrity Challenge Night...
PLUS: Billy Hamill appearance!
July 14 - Legends of Speedway / Hank Bassett Cup...
PLUS: Greg Hancock appearance!
July 20 - King of U.S. Speedway Series: Round I*
July 21 - King of U.S. Speedway Series: Round II*
July 28 - Southern Tier Harley Night...
Ride in on a motorcycle and pay only $4.00 admission!
August 4 - Speedway at Champion!
August 11 - Speedway at Champion!
August 18 - Race Tools / Silent Sport Best Pairs Championship
August 24 - U.S. Open Series: Round I* (Friday)
August 25 - U.S. Open Series: Round II* (Saturday)
---
2000 Race Events
May 28 Spring Classic
June 10 Season Opener/Omar Lightner Trophy
June 24
July 8
July 22 Legends of Speedway/Hank Bassett Cup
Aug. 12 USA vs. Canada Team Racing
Aug. 13
Aug. 18 US Open Speedway Championships Qualifier
Aug. 19 US Open Speedway Championships Final

---
1999 Race Events
June 19 Opening Night
June 26 Legends/Hank Bassett Cup
July 10, Southern Tier Harley Night, Scratch & Handicap
July 17 AMA National Qualifier
July 24
Aug. 7 Team Racing
Aug. 20 AMA US Open Speedway Championships Qualifier
Aug. 21 AMA US Open Speedway Championships Final
Aug. 22 RAIN DATE (Sunday)

---
1998 Race Events
Read the THREE reports from the Opening Night!
Larry McBride, Kim Gregory, and Jody Garris!
June 27
July 11 North East Qualifier
July 25 Old timers Night
August 8 USA vs. Canada,
August 22
Saturday August 29 AMA Open Invitational Qualifier
Sunday August 30 AMA Open Invitational
---
1997 Race Events
Newsletter
July 19 Grand Reunion of Champion Speedway
August 2
August 9 Speedway Racing
August 16 Canada vs. USA Team Racing