Fast Fridays Speedway
Gold Country Fairgrounds
1273 High Street
Auburn, California
Fast Fridays Track Championship
Fast Friday's Motorcycle Speedway, Gold Country Fairgrounds
Gold Country Fairgrounds
Venegas Triumphs in Track Championship
By Michael Kirby (Story & Photos)
AUBURN, CALIFORNIA, September 8, 2017
YouTube Video - by Anthony Bernardi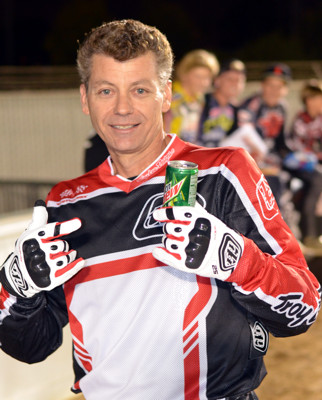 Just has he predicted Charlie Venegas has come on strong at the end of the season winning two of the last three scratch main events and Friday night winning the coveted 2017 Fast Fridays Motorcycle Speedway Division I track championship. With determination and skillful riding Venegas was perfect winning all five of his rounds out of all gates. He gated well in all his starts and rode all night as the skilled veteran that he is. Slow for the early part of this season and nursing a shoulder injury Venegas picked up speed as the season progressed and within the last month proved that he should never be counted out of any competition.
The top 16 Division I riders determined by season points were put into five-four race rounds going against everyone once. The winner of each heat received three points, second place two points; third place one point and fourth place received no points. After three rounds Venegas and Bryan Yarrow were tied with three first place finishes and nine points, the only riders still undefeated.
In the fourth round Venegas and Yarrow met and Venegas held on for the win, with Yarrow dropping one point with a second place finish. In the fifth round Venegas faced probably his toughest race going against seven time national champion Billy Janniro. Janniro entered the race with nine points with Venegas coming into the race with 12 points and needing a second place finish or better to win the championship. A bad heat and a third finish would put him even with Yarrow and Tommy Hedden who ended the night each tied with 13 points.
Out of gate three Venegas got another good gate and took good position inside, but Luke Becker wobbled in turn one and went down requiring a restart. Becker was unable to start again and Venegas, Janniro and Blake Borello lined up again. Out of the gate again as he had done all night Venegas got a quick start and took the inside again. Janniro normally can take most riders on the outside which he tried with Venegas but tonight was Venegas' night. He was just too strong and increased his lead to the finish line. Janniro was second and Borello was third.
When the dust settled and the tally added Venegas was the overall winner with a perfect 15 points and Yarrow and Hedden were tied for second and third with 13 points. "What can I say, one hundred and thirty five percent this week with a little bit of luck and riding well here toward the end of the season helped," Venegas said. "Janniro had a rough night, Yarrow (Bryan) had a great night, and the way the bike was set up we gated well everywhere," he said. Yarrow and Hedden faced off in the run-off for second and third which looked to be close until Hedden had a mechanical problem that left him nearly a half lap behind Yarrow. Yarrow took second, Hedden was third and Janniro was fourth with 11 points.
The Division II Fast Fridays Track Championship was won by Shawn Eldredge. The veteran of 23 years of speedway racing finally knocked off a track championship. "I have been racing her for 20 years and never won the track championship here, I can scratch that off my bucket list now," Eldredge said. "I worked all week on the starts, because this was all scratch racing for us," he said. The Division II and Division III championships were decided by the top eight riders in each division racing in two heat races. The first and second place finishers transferred to a main with the winner taking all. Eldredge won his heat race and transferred to the main and remained undefeated for the evening winning the championship. Eldredge faced Matt King, Lawrence McNutt and Nick Dion. Dion gave chase but fell in his efforts. King finished second, McNutt was third and Dion fourth.
Roseville's Casey Cornilsen won the Division III main event. Cornilsen has been a consistent podium finisher all season and finished first in track points. Cornilsen and Aaron Sorani battled a little in the championship race exchanging leads a couple of times but Cornilsen prevailed at the finish line. Sorani was second, Ray Holt Jr. Jr. was third and Tim Dion was fourth.
This coming week on Saturday September 16 Fast Friday's will host the final round in the four round series of the 2017 AMA Speedway National Championship. Gunning for his eighth national championship and leading by just four points Billy Janniro will be on his game hungry for his record tying championship. Again the sixteen top riders along with two reserves will vie for the top prizes of the season. Remember this race and the final two races of the 2017 Fast Friday's season will be on Saturday nights.
Fast Fridays Motorcycle Speedway Track Championship 9-8-17
Division I
1-Charlie Venegas 15
2-Bryan Yarrow 13 (run-off)
3-Tommy Hedden 13 (run-off)
4-Billy Janniro 11
5-Luke Becker 10
6-Bart Bast 10
7-Ryan Bast 9
8-Russell Green 8
9-Louie Mersaroli 8
10-Daniel Faria 6
11-Kurtis Hamill 6
12-Jeremy Estes 4
13-Blake Borello 3
14-Eddie Marsalla 2
15-Shawn Eldredge 1
16-Nick Dion 1
Division II
1-Shawn Eldredge 2-Matt King 3-Lawrence McNutt 4-Nick Dion
Division III
1-Casey Cornilsen 2-Aaron Sorani 3-Ray Holt Jr. Jr. 4-Tim Dion
Photos By Michael Kirby
| | |
| --- | --- |
| | Ready to celebrate their championship finishes Charlie Venegas (center) first place, Bryan Yarrow (left) second place and Tommy Hedden (right) third place are set to pop open the champagne following a great night of racing. |
| | Undefeated Friday night Charlie Venegas won the Fast Fridays Motorcycle Speedway track championship. |
| | Charlie Venegas (left) would not be denied Friday night. On fire, Venegas won every race he was in on his way to the championship. Here Venegas goes against Bart Bast (right) in a heat race. |
| | Newcastle's Shawn Eldredge won the Division II Fast Friday's Track Championship. |
| | Roseville's Casey Cornilsen won the Division III Fast Friday's Track Championship. |
| | Shawn Eldredge (left) and Casey Cornilsen (right) on the winner's podium. Eldredge won the D II track championship and Cornilsen won the D III track championship. |