2010 Champion Speedway
Race Results
Champion Speedway
Owego, New York
Larry McBride Memorial Champion Speedway
McBride wins one for Dad!
By: Jason Bonsignore
Photo by: John Zachary
Champion Owego, New York, USA - June 12, 2010
Eastern Speedway Promotions
For the past several years Champion Speedway has played host to The Larry McBride Memorial event to pay tribute to and remember Larry McBride, who is the father of Speedway greats, Tuff and Lenny McBride, and was a longtime track worker and videographer. The race always brings out a top field of riders and fans and this year was no different. The program always features scratch and handicap racing and it provides an exciting format.

The handicap heats began with Mikey Buman taking a win all the way from the 50 yard marker. Dee Holden was second with Andy Crawford third, Don Wheeland fourth and Dave Clark fifth. This was followed up with Casey Donholt beating Craig Estelle, Shawn Engel, Jeff Garlinghouse and Josh Carr in that order. Next it was Brian Hollenbeck and Tuff McBride going one two with Lee Bailey, who had just returned from retirement, taking third and Brian Bailey fourth. Jerry Harman closed out the round with a victory over Adam Mittl. Ray Barondick was third and Russ Cornell fourth with Dwight Basa fifth.

Handicap semi number one saw Buman again come out on top. Harman was second for a transfer along with third placed Estelle. Fourth went to Donholt with Barondick fifth and Holden sixth. McBride was the first to the checkered flag in the second semi with Bailey just behind in second. Brian Hollenbeck and Mittl had a great drag race for third with it appearing to be a tie. Behind them was Engel.

Estelle was able to win his scratch ride in a fine ride over Buman who would end up second. Clark was third with Barondick fourth. Donholt and Harman transferred from the next heat with a one-two punch and Basa and Crawford both DNF'ed. Mittl made a nice start to win the next outing over Bailey who continued to be strong. Third was Carr, fourth Cornell. McBride could not be held back and concluded things with a win over Hollenbeck, Engel and Garlinghouse.

McBride kept getting hotter as the night went on and won the first scratch semi against Donholt who took second. Harman and Bailey would end up in the last chance. Mittl and Hollenbeck would take the second semi in that order with third going to Buman and last to Estelle.

Buman gated strongly to win the last chance with Estelle in hot pursuit. Harman would get third and Bailey last.

Donholt was not to be denied in the scratch final and outgated the competition on his ALL BALLS Racing Jawa. He rode a nice tight inside line for four laps with Mittl on him like a shadow to take his third McBride Memorial scratch win in a row. McBride was third, Hollenbeck fourth and Buman fifth.

In the handicap feature it was only fitting that McBride passed everyone from the 50 yard line in six laps to claim it for his Dad on his JBR/Polito/Justice Bros/Silco/NGK/Oury Jawa. Harman was second with Buman, Mittl, Estelle, and Bailey after.
Larry McBride Memorial
Scratch Main
1. Casey Donholt
2. Adam Mittl
3. Tuff McBride
4. Brian Hollenbeck
5. Mikey Buman

Last Chance
1. Mikey Buman
2. Craig Estelle
3. Jerry Harman
4. Lee Bailey

Handicap Main
1. Tuff McBride
2. Jerry Harman
3. Mikey Buman
4. Adam Mittl
5. Craig Estelle
6. Lee Bailey

Support
1. Cole Farwell
2. Don Wheeland
3. Brian Bailey
4. Ray Barondick
5. Dee Holden
6. Zach Peters

Junior Speedway
1. Dakota Crone
2. Spencer Portararo

Dirt Bike
1. Dylan Hawk
2. John Eleven
3. Roger Roberts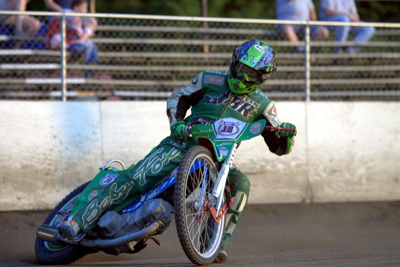 Tuff McBride Photo by: John Zachary