Champion Speedway
Owego, New York
Champion - Owego, New York - August 23, 2009
By Jason Bonsignore - Eastern Speedway Promotions
New York State Championship
Mittl takes NY State Championship for second year in a row!
Photo of Adam Mittl by Michelle Mullen
Round two of the New York State Championship was re-scheduled for August 23rd at Champion Speedway after being rained off earlier in the year and the new date looked to be in jeopardy early on as clouds threatened.
A scratch and handicap program was run but only the scratch portion of the night would count towards the overall State scores.
Mikey Buman opened up the handicap heats with a win from second placed Casey Donholt. Jerry "Buford" Harman was third with Cole Farwell fourth and Dwight Basa fifth. Dave Clark won the next race with Adam "The Missile" Mittl second. Shawn "Steamboat" Engel was third, Bunk Harris was fourth and Chuck Podany fifth. Tuff McBride won his heat from the 50 yard line as he weaved through Corey Brookes, who took second, Jeff "Jammin" Garlinghouse who was third, Dee Holden who was fourth and Russ "Doctor Dirt" Cornell who was fifth.
Farwell was fast and won the first semi with Mittl in second and Engel in third for transfers to the final. Holden would end up fourth with Donholt in last. The second semifinal had Brookes take it home from the 40 yard marker with Harman second and Buman third. McBride would have to pull back with a knee injury and managed fourth. Harris was fifth and Garlinghouse sixth.
Mittl won his scratch heat with Brookes just behind him. First and second in the other heat were Donholt and Clark.
Just prior to the scratch semifinals it began to pour. The track became very muddy but the riders soldiered on and put a good show together. Donholt won the first semi and Harman was right on his tail for second and a trip to the final. Brookes was third, Buman fourth. Mittl put a 22" rear wheel on a rode the wheels off to win the other semi over Dave Clark. Cornell was third and McBride was out with injury.
Buman won a slick and muddy last chance with Cornell second and Brookes third.
In the scratch main Mittl powered his Bully Dog Racing/Oury Grip/NGK Plugs/Red Line JAWA into the lead from gate three into the lead. He rode off with the victory and the overall NY State Championship Title for the second year in a row. Second place was Clark with Buman third, Harman fourth and Donholt fifth.
Farwell came from the 20 yard line in the handicap feature to put six smooth laps together for the checkered flag. Harman was runner-up with Buman third. Mittl was fourth, Brookes was fifth and Engel sixth.
The US Open Championships at Action Park and Champion Speedway are September 5th and 6th.
Overall State Champion
Adam Mittl
Scratch Main
1. Adam Mittl
2. Dave Clark
3. Mikey Buman
4. Jerry Harman
5. Casey Donholt
Last Chance
1. Mikey Buman
2. Russ Cornell
3. Corey Brookes
Handicap Main
1. Cole Farwell
2. Jerry Harman
3. Mikey Buman
4. Adam Mittl
5. Corey Brookes
6. Shawn Engel DNS
Support A
Overall State Champion
Dwight Basa
1. Cole Farwell
2. Jeff Garlinghouse
3. Dwight Basa
4. Chuck Podany
Support B
Overall State Champion
1. Henry Calpin
2. Bunk Harris
Am ATV

Overall State Champion
Rodney Barton Jr.
Pro ATV
Overall State Champion
Steve Kappler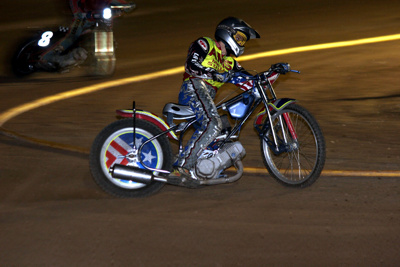 Adam Mittl
Photo by Michelle Mullen