2017 American Speedway World Cup Team News
Team USA's Historic Qualification!
Last night (July 1) was a fantastic landmark for American speedway. A very young team including three rookie riders outdid the more experienced Czech team to make it to the race off and a top seven world ranking for 2017.
Lance King provides unbelievable leadership and guidance for these riders. For someone who has been away from the sport for so long it is fantastic to have a man of his abilities at the forefront of the program.
Last night was great for the riders and essentially every single person who has done something positive for American speedway in the recent past can take pride that they played a part in this.
The team is now preparing to go to Poland for the race off.
Unfortunately the FIM Prize money for going to this next stage is almost minimal. Take a look over the flyer (on the left) and if you can provide any help to these young riders it is very much appreciated!
It's been wonderful reading all of the positive social media from around the world regarding last night. The riders were prepared with top equipment and the warm up matches and testing helped tremendously. We now go on to a fantastic venue to continue this remarkable adventure!
From the riders, crew, Lance King and myself we thank everyone for the amazing support!
TEAM USA INVITES NEW PARTNERS FOR ITS 2020 VISION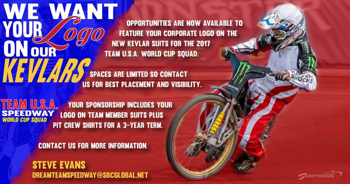 Team USA is inviting businesses to join in partnership as it builds for the future. The 2017 team will feature many of the up and coming Young Guns, including three pre World Cup warm up events designed to give the squad vital development in bridging the gap to World Championship racing.
Part of the initiative involves brand new designed team suits that will take the team through the next three seasons. Unlike previous years, the team will have open places on the race suits where businesses can have their logo on display on every single riders suit.
This will be visible on the worldwide TV coverage, as well as Speedway press and through team website and social media channels.
Team Manager Lance King said about the initiative, "The team is essentially owned by American Speedway and its fans and by giving businesses the opportunity to support us and get exposure, we are opening up a new avenue to bring the entire USA Speedway community on board."
Interested businesses are encouraged to contact team coordinator Steve Evans at (310) 309 9418 or dreamteamspeedway@sbcglobal.net.
Team USA travels to the UK on June 22nd in preparation for the 2017 World Cup Round at Kings Lynn on July 1st. Warm up matches are scheduled on June 26th at Kent Kings and June 27th at Isle of Wight Warriors with one more to be added.
TEAM USA NAMES SEVEN INVITED YOUNGSTERS
BROC NICOL TO RACE UNDER 21 WORLD QUALIFIER
Team USA has invited seven of its best young prospects to partake in its pre World Cup European training camp and warm up matches.
Gino Manzares with two years of British League experience is the first invitee. Manzares has raced for Team USA in three World Cup campaigns, his highlight being a 9 point haul and defeat of double World Champion Tai Woffinden at Kings Lynn in 2014.
AMA ranked #2 rider Max Ruml is the second rider to have been offered a place in the warm up matches. Ruml featured in both 2014 and 2015 campaigns. He scored four points in his World Cup debut in 2014.
Luke Becker and Broc Nicol, both who rode in the 2016 World Cup Race Off at Belle Vue are the next two riders offered a place. Becker briefly stunned the Manchester crowd with a breathtaking sweep by Niels Kristen Iversen in his third ride. Nicol is basing himself in Europe for the 2017 season to take his career to the next level.
Nicol, in addition, has been selected as the USA nominee in the 2017 Under 21 Individual Championship. He races a semi final in Italy on May 20th and a top 4 finish will put him in the three round World Championship Series.
The final three places have been offered to riders who have yet to race for Team USA. Dillon Ruml, the younger brother of Max roared to a sensational National #3 ranking last year in just his second year of adult competition. Gage Geist, the fast starting protégé of 1981 and 1982 World Champion Bruce Penhall is the next invited rider. Rounding out the talented list of riders is Kurtis Hamill, son of 1986 World Champion Billy Hamill. The ultra professional young Hamill is making his own mark on the revived American domestic scene.
Ricky Wells will not be riding in the warm up matches due to his racing schedule but has firmly expressed his desire to team management to be involved in the SWC team.
Team Manager Lance King enthused, "I'm excited that we can offer these young riders this opportunity. This is the start of our campaign to get the USA team back on the podium of WTC. The World Cup European training camp and warm up matches are not solely to get the riders used to the big tracks but everything as a whole, racing as a team, traveling as a team, working on the bikes together, eating different European foods, etc….. I want to expose them to what it is like racing in Europe on a weekly basis. In the end it all comes around to the WTC and I can't think of a better way to prepare than this… GO USA."
Broc Nicol, when asked to comment on his selection for the World Under 21 Championship said, "I can't even start to tell you how pumped I am to have gotten the call to compete in the U21 FIM World Championship. It's a huge deal for me and has always been a dream of mine, well it's always been a dream/goal of mine to win it but getting the spot to compete in it is a start. I envision it almost everyday. I have worked my tail off to get an opportunity like this and I am going to keep putting in the work and dedication it takes to take it to the next level. That's why I am over here traveling Europe trying to do everything I can to improve myself as a rider and be the best rider I can possibly be. But I am super excited for U21 World Championship, all I can think about is getting as many laps, open meetings, and experience as I can, so by the time the U21 comes around it will show. But these opportunities I have been given this year have been a chance in a lifetime and I'm going to push myself 110% to take it to the next level and improve as much as possible. "Don't wish for it, Work for it."
The Young Americans will race at Kent on Monday 26th June with two more dates to be added ahead of the World Cup Round at Kings Lynn on July 1st.
TEAM USA PRESS RELEASE – KING "BRING ON THE YOUNGSTERS!"
Team USA is set to give its young rider base a dream opportunity as they aim to be fully prepared for World Cup action at Kings Lynn on July 1st.
Aside from the action of the competition itself, the USA team are planning to take in 2-3 warm up events at UK based tracks ahead of the SWC race, allowing them to get acclimatized to the bigger tracks, UK conditions and equipment.
With the new rule allowing the Under 21 reserve to get called into action during the World Cup round, the need to develop the young talented US based riders into racers who can compete at the highest level becomes more essential than ever. Around half a dozen of the USA's most talented youngsters have been invited to partake in the training camp and races that will proceed the World Cup races.
The young squad plan to travel to the UK around 10 days ahead of the Kings Lynn showdown with Great Britain, Australia and Czech Republic. The first Pre-SWC race is scheduled against the Kent Kings on Monday June 26th, with further dates expected shortly.
Team manager Lance King enthused, "2017 is the beginning of the chance of a lifetime for these youngsters. With only one American in the British League currently, we have to work on the talent of the US based riders. There are several of our US based Americans who are at or close to League racing standard right now. We feel our plans for 2017 will enable them to contribute more in the SWC events, as well readying those who wish to pursue full time racing in Europe. This is part of our five year plan to have a team that can challenge for a World Cup Gold medal. Kings Lynn is going to be tough as all of the other teams are very good, and given our logistical barriers of equipment, distance and US track sizes, this will get us as ready and competitive as we can be."
In addition to four starting riders and an Under 21 reserve, one other squad member will be allowed to partake in practice at the SWC events. A top 3 finish at Kings Lynn will get the Americans into the Race off or finals on 7 and 8 July at Leszno, Poland.
Nice and tidy.