2001 North America Speedway History
Part 1
2001 North America Speedway History - Part 2
December 9, 2001
Here is the report on the 5th Annual Brighton Bonanza that was posted on the Coventry Motor Speedway Webpage:

Bobby Schwartz and Shawn McConnell retained the Brighton Bonanza Pairs event, beating off the challenge of fellow countrymen Brent Werner and Eric Carrillo in the final. Billy Janniro scored eight points in his pairing with Ryan Fisher, with two wins, a second place and a last in his four outings.

Qualifying Heats (scoring 3-2-1-0)
USA - Brent Werner (8) & Eric Carrillo (10) 18
USA - Bobby Schwartz (5) & Shawn McConnell (10) 15
England - Paul Hurry (9) & Malcolm Simmons (5) 14
England - Simon Stead (3) & Kelvin Tatum (11) 14
Poland - Slawomir Drabik (9) & Robert Dados (4) 13
Great Britain/Finland - David Meldrum (6) & Joonas Kylmakorpi (7) 13
USA - Billy Janniro (8) & Ryan Fisher (3) 11
Sweden - Daniel Davidsson (2) & Jonas Davidsson (6) 8
Poland - Artur Pietrzyk (4) & Adam Skornicki (3) 7
Germany/Poland - Peppi Rudolph (5) & Krzyzstof Kasprzak (1) 6

Semi-Finals (scoring 4-3-2-0)
1: Hurry, Carrillo, Werner, Simmons
2: Tatum, McConnell, Schwartz, Stead

Final (scoring 4-3-2-0)
McConnell, Schwartz, Werner, Carrillo

Billy Janniro finished third in tonight's Brighton Bonanza individual event - but was upstaged by Californian buddy Ryan Fisher. Fisher, rumoured to be a target of the Whale Toyota Bees for the 2002 season, took the trophy when he saw off the challenge of Paul Hurry and Janniro in the final. Janniro had finished joint top of the qualifying scorers with Hurry.

Qualifying scores
Brent Werner 9
Artur Pietrzyk 1
Kelvin Tatum 5
Peppi Rudolph 2
David Meldrum 6
Slawomir Drabik 4
Joonas Davidsson 6
Bobby Schwartz 6
Robert Dados 2
Simon Stead 8
Malcolm Simmons 5
Ryan Fisher 8
Adam Skornicki 6
Seemond Stephens 7
Paul Hurry 11
Eric Carrillo 4
Daniel Davidsson 4
Billy Janniro 11
Joonas Kylmakorpi 5
Shawn McConnell 6

Semi-finals 1: Hurry, Fisher, Werner, Schwartz 2: McConnell, Janniro, Stead, Stephens

Final Fisher, Hurry, Janniro, McConnell (fell)
---
November 4, 2001
According to the British Speedway Promoter's Association website (http://www.british-speedway.co.uk), Ryan Fisher and Billy Janniro have signed to participate in the annual Brighton Bonanza on December 9. The Brighton Bonanza is an indoor meeting held in England. Both riders figure to do well considering the size of the track. Last year, American veterans Bobby Schwartz and Shawn McConnell appeared at the event.
---
October 27, 2001
The Fall Classic at Costa Mesa on November 10 will feature several special guests. At the top of the list are former World Champions Greg Hancock and Billy Hamill who return to the track where they cut their teeth as juniors two decades ago. This will be the first appearance at Costa Mesa for either rider in several years.
Joining Hancock and Hamill at the Fall Classic will be Poland's Bartek Bardecki, who was very impressive in his debut at the world famous track in August. Joining Bardecki will be fellow countryman Dariusz Sledz. England's Andy Smith will also be competing at the Fall Classic. Smith has competed in the Grand Prix and just booked his spot in the 2002 Grand Prix after qualifying via the Grand Prix Challenge two weeks ago. Rounding out the international field will be David Meldrum. Although Meldrum hasn't raced at Costa Mesa, he has competed in the United States before, having competed in the ICE series as well as the winter series in San Bernardino last year.
---
Results from USA vs. The World -> USA vs. The World
Fast Fridays has announced some team information about the Nov 2 meet: USA vs. The World.
The World Team:
Robert Nagy H
Andy Smith GB
Armando Castagna I
Bartek Bardecki PL
Jackheim Kugelmann D
Scott Nicholls GB

Scott Nicholls and Andy Smith both qualified for Speedway's 2002 Grand Prix series.

Fast Fridays is still working on the US team.
---
Polish Power Comes to Frozen Ocean
(October 28, 2001) The 2001 East Coast speedway season began back in April with a team of New York riders touring Poland for two weeks, so it was only fitting that the season should wrap up with a reciprocal visit of a Polish squad to New York.
The Polish team consisted of riders from Second Division team Lubleski Klub Zuzlowy (LKZ). Jurek Mordel, Jaroslaw Brus, Darek Stenka, Bartek Brzozowski and Marcin Kondratowicz made up the visitor's roster.
The tour was organized and presented by the Northeast Speedway Racing Association (NSRA) and the first stop on the schedule was Frozen Ocean Motorsports Complex in Auburn, New York.
Binghamton's Tom Burge, a past U.S. Open champion and a mainstay of New York speedway for years, has been one of the late-season standouts this year. At Frozen Ocean, he continued to showcase his speedway mastery with a number of outstanding heat races.
In his first race of the afternoon, Burge faced off with Polish ace Bartek Brzozowski and used a tight, on-the-pipe line to pass and then hold off the Polish gunslinger for the win. However, LKZ captain Jurek Mordel returned the favor in a later heat, passing Burge on the outside for a win.
The most spectacular heat race of the evening found Joe Greene facing off with Chris Strong and Brzozowski. Greene and Brzozowski diced for the lead for two laps, with each rider testing inside and outside lines. Heading into turn two on the third lap, Brzozowski went extremely wide and couldn't save it. He rocketed off the track through an open chute gate and bounced wildly into the weeds. He managed to turn himself around out in the rough and re-entered the track through the same open gate, but by then Greene had the win well in hand.
Burge's evening finally came to an end with a mechanical failure and by then, the Division I top guns had emerged. Craig Estelle, Cam Rafferty, David Oakden and Jurek Mordel would make up the Division I main. Estelle started in post number four, with Mordel alongside in three and Oakden in the number two slot; Rafferty broke from the rail. Estelle took the early lead but was under immediate pressure from Rafferty. Estelle was drawing consistent speed from the track, while Rafferty only found bursts of acceleration on the slick Frozen Ocean clay and couldn't seem to string them together into one steady run. At the checkers, it was Estelle, Rafferty, Mordel and Oakden.
The Division II main consisted of Josh Carr, Lee Bailey, Dave Smith and Russ Cornell. Carr nailed the holeshot and the field fell into a processional behind him, with Carr winning, Bailey second, Cornell third and Smith fourth.
In the Division III main, Mike Rought cut an alert gate and looked like he had it in the bag, but his low-side crash in turn three of lap two enabled Dave Clark to take the lead and the win, followed by Jerry Grenga and Mike Williams.
RESULTS
Division I main: 1. Craig Estelle; 2. Cam Rafferty; 3. Jurek Mordel; 4. David Oakden.
Division II main: 1. Josh Carr; 2. Lee Bailey; 3. Russ Cornell; 4. Dave Smith.
Division III main: 1. Dave Clark; 2. Jerry Grenga; 3. Mike Williams; 4. Mike Rought.
Division I main start at Frozen Ocean. Left to right: Craig Estelle, Jurek Mordel,
David Oakden, Cam Rafferty.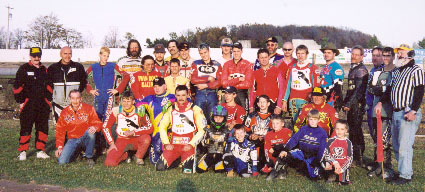 Rogue's gallery at Frozen Ocean. Poland's Bartek Brzozowski is front row, second from
left. Jurek Mordel is front row, fourth from left. Darek Stenka is standing, sixth from right.
---
Rafferty Ramps It Up at Square Deal
(October 28, 2001)The September 22 speedway program at Square Deal Raceway was one of those nights where you knew something hairy was going to happen, you just didn't know when.
Cam Rafferty, New York's most promising young speedway talent, was right in the thick of things all night. Despite crashing heavily in a later handicap heat, Rafferty was perfect through his first four heats of the evening, setting him up for what turned out to be one of this season's most memorable main events. More on that in a moment.
The biggest player over the course of the evening was the racing surface itself. About 30 minutes into the program, an odd patch of moisture developed at the apex of turn two and began wreaking havoc with anyone who came near it.
The fans began to sense something was up when Craig Estelle faced off with Tom Burge, David Oakden and Joe Greene in an early heat. As the field headed into turn two immediately after the start, the usually sure-footed Estelle was suddenly launched into the weeds on the outside of the back straightaway. He saved it, re-entered the track at full speed, and stayed in the hunt by passing Greene to salvage third.
If the top guys are having trouble with the track, you can be sure the support riders will be in way over their heads. Sure enough, one of the most spectactular races of the night was a support heat featuring Dave Clark, Heber Belles, Tony Manx and Duane Smith. Clark, on a borrowed bike, looked like a rodeo rider on a spooked colt as he and Manx diced back and forth for the lead. Clark struggled with the unfamilar machinery, but the Jawa finally got the better of him, hooked up uncontrollably and sent Clark convulsing into a hideous tank slapper.
The Division I main event featured David Oakden in post one, Rafferty next to him in two, Tom Sephton in three and Tom Burge -- who has been taking everyone to school this season -- on the outside in four. Rafferty cut a clean gate and it looked like a main event win would be wrapped and delivered.
But coming out of turn three with two laps in the books, all hell broke loose. Rafferty parked it and Sephton, running in second, never had a chance. He swerved slightly to miss Rafferty, and in the absence of an outside crashwall, launched off the outer lip of turn four. Completely airborne, Sephton sailed at least 20 feet down the embankment on the backside of the turn and crash-landed in the weeds, escaping with only a broken wrist and a seriously bruised arm and ribs. A single-file restart was ordered and Rafferty emerged victorious, followed by David Oakden in second and Tom Burge in third.
Joel Parsons won the Support main, with Brian Hollenbeck second and Duane Smith third.
Casey Donholt was the standout winner of the evening's junior division, followed by Jordan Greene and Mike Buman, Jr.
Results
Division I main: 1. Cam Rafferty; 2. David Oakden; 3. Tom Burge; 4. Tom Sephton (dnf)
Support main: 1. Joel Parsons; 2. Brian Hollenbeck; 3. Duane Smith; 4. Alex Heath (dnf)
Juniors: 1. Casey Donholt; 2. Jordan Greene; 3. Mike Buman, Jr.
---
Speedway Comes to Frozen Ocean on October 20...Be There!

October 7, 2001 Speedway will return to the famed Frozen Ocean Motosports Complex one-fifth mile clay oval on October 20, 2001.
Gates open at 2:00 pm, sign up takes place at 3:00 pm, practice is at 4:00 pm and racing gets underway at 5:00 pm sharp!
ADMISSION IS ONLY $8.00 for this event, and kids under 8 are free! No glass bottles, please.
For more information, call Frozen Ocean Motosports Complex at (315) 784-5517 or (315) 784-5466 or log on to www.frozen-ocean.com.
The track address is: 4415 Vanderstouw Road, Auburn, NY. Directions are listed below:
DIRECTIONS TO FROZEN OCEAN MOTORSPORTS COMPLEX:
From north & west: Exit 40 off NY Thruway at Weedsport. Take Rt. 34 south to Auburn. Left on Rt. 5 & 20. Take 2nd right on Rt. 38A, on east side of Owasco Lake, go 9 mi to Owasco, right on 12 Corners Rd., turn right on Vanderstouw Rd., go up road to track...your're there!
From south: Interstate 81 to exit 12 at Homer, turn right onto Rt. 281, then left on Rt. 90 to Locke. Go right at light onto Rt. 38 north to Moravia. Go right at 4-way stop in Moravia, onto Rt. 38A north, go approx. 6 mi, turn left on 12 Corners Rd, 3 mi north, left on Vanderstouw Rd. ... you're there!
From Ithaca: Take Rt. 38 north to Locke, then to Moravia. At 4-way stop in Moravia, turn right onto Rt. 38 North, go approx. 6 mi, turn left on 12 Corners Rd, go 3 mi north, turn left on Vanderstouw Rd. ... you're there!
From Syracuse: Take Rt. 5 west to Auburn, turn left on Rt. 38A in Auburn, on the east side of Owasco Lake, go 9 mi. south to Owasco, turn right onto 12 Corners Road, turn right on Vanderstouw Rd. ... you're there!
---
September 28, 2001
Three-time U.S. Junior National Champion Ryan Fisher will be competing in the Ladbroke Olympique at Wolverhampton on Monday. Although Fisher competed in Europe twice this year in his quest for the World Under 21 Championship, this will be his first taste of competition in Britain. Fisher, fresh off his third place finish in the AMA National Championship in Auburn last weekend will hope to follow the same path that fellow American Billy Janniro did last year. Janniro competed in the Olympique last year and then signed a British League contract with Coventry in the off-season. This will be an excellent opportunity for Fisher to show the British promoters what he is made of and he will no doubt make a good showing for himself. American Sam Ermolenko will also be competing on Monday.
---
September 28, 2001
2001 Costa Mesa Final Point Standings
Support
131 - David Lynch 134
182 - Rudy Laurer 114
338 - Dave Delbridge 103
165 - Randy Kreps 97
100 - Phil Harmatuik 90

First Division
4 - Josh Larsen 502
3 - Gary Hicks 497
130 - Chris Manchester 476
11 - Bobby Schwartz 471
15 - Dukie Ermolenko 467
12 - Randy DiFrancesco 435
6 - Shawn McConnell 410
9 - Mike Faria 402
36 - Ryan Fisher 400
14 - Eddie Castro 329
56 - Jim Estes 297
216 - Kitt Nay 254
23 - Mark Adams 231

2001 SRA U.S. National Championship Roster (tentative)
1 - Charlie Venegas (2000 National Champion)
3 - Gary Hicks
4 - Josh Larsen
5 - Brad Oxley (1987,1999 National Champion)
6 - Shawn McConnell
9 - Mike Faria
10 - Scott Brant (Wild Card)
11 - Bobby Schwartz
12 - Randy DiFrancesco
14 - Eddie Castro
15 - Dukie Ermolenko
36 - Ryan Fisher
51e - George Lazor (East Coast)
56 - Jim Estes
63n - Bobby Hedden (Northern California)
64e - Gene Bonsignore (East Coast)
75n - Eric Carrillo (Northern California)
87n - Bart Bast (Northern California)
94 - John Cook (Europe)
130 - Chris Manchester
*Participants based on Sourthern California points unless otherwise noted.*
Reserves:
216 - Kitt Nay
23 - Mark Adams
---
AMA National Championship
Summary of results:
National Championship Final
1. Billy Hamill
2. Billy Janniro
3. Ryan Fisher
4. Chris Manchester.

Semi-final
1. Billy Janniro
2. Mike Faria
3. Bart Bast
4. Bobby Hedden

Full report on results page: 2001 AMA Nationals
---
AMA National Championship Line Up

Auburn, CA

- September 21, 2001.

Riders are selected from 3 categories:

AMA European based riders:
Billy Hamill
Greg Hancock
Billy Janniro
John Cook

Riders (6) who qualified via points at Auburn and Cal Expo:
Bart Bast
Bobby Hedden
Eric Carrillo
Tommy Hedden
Mike Faria
Chad Felicio

Wild Cards (6) Southern California:
Chris Manchester
Charles Ermolenko
Josh Larsen
Ryan Fisher
Bobby Schwartz
Charlie Venegas

Rider numbers are:
1. Fisher
2. T. Hedden
3. Faria
4. Larsen
5. Bast
6. Schwartz
7. Manchester
8. Ermolenko
9. Janniro
10. Cook
11. Hancock
12. Hamill
13. Venegas
14. Carrillo
15. B. Hedden
16. Felicio

First round reserves:
Bryan Yarrow
Chris Kerr

The reserves for rounds 2-5 will be selected from the parallel running Young Guns of Speedway Shoot Out Event.

Fast Fridays will also present the YOUNG GUNS OF SPEEDWAY SHOOT OUT that will include our best young speedway racers.

Line up for this is:
Bryan Yarrow
Chris Kerr
Ivan Sevart
JJ Martynse

A heat will be run after each National Championship round and riders will score 3,2,1 and 0 for forth.
After 1st round, 1st and 2nd in each heat will be reserve riders for the following National Championship round.

See you all there!

---
September 17, 2001
The decision by both Southern California promoters to go ahead with racing this week proved to be a good one. In the wake of the tragedy on the East Coast this past week, people were looking for a diversion...something to cheer for. Although most of the sports in North America decided to postpone or cancel their events, speedway pressed on anyway. Based on the attendance at both tracks, the fans showed that they were seeking what President George W. Bush was asking for. For the United States to return to normal. To speedway fans in Southern California, normal is attending the races on Wednesday and/or Saturday. Both tracks held stirring tributes to the victims. Arrowhead Motor Speedway saw the fans and riders singing the National Championship in unison, while Costa Mesa was witness to the playing of "America the Beautiful" and "I'm Proud to be an American". Hats off to both promoters for making the bold decision to continue with their scheduled events.
---
September 17, 2001
Dukie Ermolenko will have a Speedway Academy Sunday, September 23, 2001 at Competition Park in San Jacinto, California. The Academy will be from 9:30 a.m. to 2:00 p.m. For information, call (714) 956-1044 or fax (562) 602-1870.
---
August 16, 2001
More race dates seems to be the theme for 2001. Both tracks in Southern California have to decided to make their 2001 seasons longer than originally planned. San Bernardino added two weeks to the end of it's schedule with the possibility of a November race while Costa Mesa has added the Fall Classic on November 10. The fact that promoters are confident enough to add dates to their calendar is a positive sign about the growing strength of Southern California speedway. Just one year ago the talk was doom and gloom as the one existing track was on the brink of extinction. Now, we have two thriving tracks with enough fans to warrant an extension of the schedule. Hats must go off to the Oxley family and to Charlie Venegas for providing Southern California with two viable venues.
Arrowhead Speedway in San Bernardino opened with much anticipation this year as Southern California has been without a second track for several years. A.M.S. has enjoyed much success in both rider turnout and fan attendance. The stands have been full with many more standing for the past two months. The crowds have been very enthusiastic as many of the hardcores have returned. Having the best speedway announcer in the world, Bruce Flanders, to entertain them has helped as well. Equally impressive has been the number and diversity of the riders who have raced at San Bernardino. There have been 11 Northern California riders who have traveled to race on Wednesday Nights. The most frequent visitors have been Matt Browne and Jonathan Curry, who have each made four trips. In addition, Billy Janniro (who would make 12 NorCal visitors) has competed twice and Billy Hamill is scheduled to appear on August 25. Arrowhead has experienced an international flavor with England's Andrew Silver competing twice and with Poland's Bartek Bardecki joining Hamill on the guest list for the 25th. Arrowhead has also inspired Charlie Cooley, Bill Ewing, and Tom Norris to dust off their skidshoes and re-join the speedway fraternity.
There have been a number of riders who have shown significant improvement this year. Kitt Nay has broken through and established himself as a full-time First Division rider and has solidified that status by winning two Handicap Mains. Bobby Krips, who is new to speedway in 2001, has established himself in First Division and has Handicap Main and Scratch Consolation victories to his credit. 18 year old Shaun Harmatiuk has made several Handicap Mains and even a Scratch Main in 2001. Mark Adams won his first Handicap Main a couple weeks back and has found San Bernardino to be much to his liking. Other riders who have been making strides this year are Jeff Blaydes, Rick Valdez, Billy Braden, and Scott Tidwell.
I would also like to wish a speedy recovery to the riders who fallen victim to injuries: Andy Northrup (motocross injury), John Stunkard (non-speedway injury), Richard Jones, Danny Holt, Paul Hitchcock, Johnny Lupo, Danny Perkins, and to my cousin, Wesley Mounts.
Speaking of injured riders, Charlie Venegas has turned some laps the last two weeks at Arrowhead. He has ridden behind the Juniors as a way to gauge the stability of his injured leg. He has steadily gotten faster and less passsive with each lap. Venegas hasn't pinpointed an exact return date, however, he is planning on defending his National Championship
---
August 16, 2001
Next week will bring two very significant guests to Arrowhead Motor Speedway in San Bernardino. 1996 World Champion Billy Hamill will make his first appearance at the track. This will be Hamill's first appearance in Southern California in several years and he is looking forward to putting on a show for his hometown fans. Hamill is one of a handful of riders who competed at the original San Bernardino track which closed in 1987.
Also making an appearance next week is Polish rider Bartlomiej "Bartek" Bardecki. Bardecki is in the United States for four weeks and has made an impressive showing at Auburn the past two weeks. After riding at Auburn this Friday, Bardecki will travel to Costa Mesa for Saturday's race, then stay in Southern California and compete at Arrowhead on Wednesday. Bardecki rides for Czestochowa in the Polish Extra League.
Things have been going well enough at San Bernardino that promoter Charlie Venegas has decided to extend the season. The previous season finale was scheduled for August 29, but Venegas was happy with the size of the crowds and the rider turnout and decided to extend the season to September 12. There has even been talk of having a race or two in November again.
Speaking of November races, Costa Mesa as added the "Fall Classic" to their 2001 schedule. The Fall Classic is scheduled for November 10 and will feature speedway and sidecars. Was it just a year ago that Costa Mesa's future was in doubt? Now they are ADDING races to their schedule.
Gary Hicks is the points leader at both Southern California tracks, however Hicks missed last night's race at San Bernardino and had a dismal showing last Saturday night at Costa Mesa. Perhaps this is the result of his crash in last week's Scratch Main at San Bernardino. This has been a good year for Hicks. In addition to leading the points standings, he has won the Olympique, the Jack Milne Cup, and the King of Speedway. Will he finally win his first National Championship?
Another rider who has taken home his share of hardware is Josh Larsen. Larsen has won two of the most prestiguous non-National events on the calendar. He won the Costa Mesa 25 Lap Classic and the Fair Derby in consecutive weeks. Last year's number two is looking to move one step up the podium.
Although Hicks leads the points at San Bernardino, Ryan Fisher has been dominating the scratch side of the program, taking home five Scratch Main Events.

Gary Roberts - groberts@iee.org
---
Date: Fri, 3 Aug 2001
New Division One Rider at Fast Fridays.
Ladies and Gentlemen:
Prepare yourselves for the appearance of a Brand New Division One rider tonight at Fast Fridays!!!
Bartlomiej Bardecki will be making his first US appearance, amply assistance by no less than John Cook as his mechanic.
23 year old Bartlomiej is from Poland and is visiting the US for four weeks and wants to get a few rides in while he is here.
Back home in Poland, this year he has been riding in the top Elite League, having moved up at the end of last season from the Polish Premier League.
His background is VERY impressive. In 1997 he was European Under 19 Champion, and an Under 21 World Finalist. Last year he was the fourth highest ranked rider in the Polish Premier League.
I met him on Wednesday night when he and John Cook were setting up his machine for tonight's event. John has known him a couple of years, from when he rode as reserve on the Polish Elite team that John was riding for. His English is good, he's a nice guy and he is very fast. The only thing he has no experience of, is riding on small tracks. His experience has all been on Polish quarter mile tracks. So his first challenge is to master the small track and the close competition.
Don't expect him to come out and win everything on his first appearance. Most of his Division One top competitors will have upward of a decade more experience on the Auburn track than he has. But I expect to see him make a lot of progress over the next 4 weeks.
Why is John Cook not racing? He is saving himself for the Intercontinental Final, in Sweden, the weekend after next. I say, Good Luck, Cooky!
To me this is another of those little signs I keep getting that American Speedway is seen by people in Europe as something not to be ignored. If we can send over 3 World Champs in one decade, we must be doing something right over here. Don't be surprised if you see more European riders coming over here to take a look!
Gary Roberts - groberts@ix.netcom.com
---
May 16, 2001
One very positive thing that I've seen so far this season is the abundance of sponsors who have made their presence felt this year. There are many riders, from First Division to Support Division who seem to be flying the names and logos of sponsors on their suits. This is a positive trend that I hope will continue for a long time. As I had mentioned in the Southern California new column, Mike Faria has received a new sponsor who has provided Faria with a new Jawa and a new suit. This means that Faria will be at Costa Mesa EVERY Saturday as opposed to occasionally. Chris Manchester has landed a similar sponsor as well. Chris moved to Reno, Nevada in the off-season. Now, instead of Southern California losing a top rider, it has actually gained a rider. Manchester and Faria fly in from Reno each Saturday. Manchester has secured sponsorship for his flight tickets, but Faria is still seeking a sponsor for his flights. I must mention a special thank you on behalf of all Southern California speedway fans to Kymber and Jim Estes who take the time and effort to pick up Faria and Manchester from the airport, take them to the track, give them a place to stay on Saturday night, and then get up at the crack of dawn to take them to the airport. That's what speedway is all about.
One significant new sponsor to speedway is 180 Energy Drink, sponsors of Josh Larsen. 180 is made by Anheuser Busch and is Larsen's primary sponsor. Larsen's bright suit is a carbon copy of the 180 can.(Check the picture by clicking the link on Larsen's name.) They made their presence known on opening night by passing out free samples of their drink to fans near the main entrance. Involvement from major corporations is what this sport needs to grow and 180's involvement will help significantly.

Its great to see the riders get some financial support for their cause. More involvement from sponsors keeps the riders' personal costs down and makes it easier to compete from a financial standpoint, which in turn, allows them to concentrate more on their racing. I know it isn't easy to find sponsors, but if you knock on enough doors, then eventually some of them will open.

Hopefully, the sight of all these sponsors on the riders suits and bikes will inspire more sponsors to follow suit. Another way that would help is if the announcer would announce a rider's sponsors as they introduce the rider. I know that the rider can provide the list to the announcer, but to me that is the announcer's job. I remember when a rider's name would automatically carry an association with a sponsor. Mike Bast and Justice Brothers, Alan Christian and STP, or Bruce Penhall and Off Shore Clothing. That needs to be a part of speedway again. After all, can we really think of Jeff Gordon without thinking of Dupont?
One more quick note regarding sponsorship. 17 year old Shaun Harmatiuk is featured in the 2001 Justice Brothers calendar. He is the featured racer for the month of February. Congratulations to Shaun on joining a fraternity that includes Mike Bast, Ivan Mauger, Ole Olsen, Bill Cody, and more.
---
May 16, 2001
Only eight more days and counting! We are just over a week away from Opening Night at San Bernardino. Charlie Venegas has put in a lot of work building the race track. The track will be located on the east side of the stock car stadium at the Orange Show Fairgrounds. For information, click on San Bernardino.

One month into the season and the dominant rider at this point of the season is easily Chris Manchester. After winning the Handicap Main on Opening Night, he has won three consecutive Scratch Mains. He has also qualified for all eight main events during the season.

Last week, the pits at Costa Mesa looked more like a triage center. There were several injuries throughout the evening. As I mentioned in the race report, Bobby Simons was injured in his Scratch Heat when a turn two pile up caused him to hit the wall. Simons was transported as well as Kerry Conner, who fell in the Support B Consolation. Also suffering an injury was Mark Adams, who hit the turn four wall. I must also mentioned that Doug Lupo was injured on May 5th and had to be carried off on a stretcher. I would like to wish a speedy recovery to all of these riders and any others I may not have mentioned.

Ryan Fisher will not be at Auburn or Costa Mesa this weekend he will be flying to England to prepare for the first round of the World Under 21 Qualifier. Greg Hancock has arranged for Ryan to practice at a couple tracks in England and will provide Ryan with a bike. Ryan will be competing in Pfaffenhofen, Germany on May 27.

Billy Janniro will also be competing in a first round qualifier on the 27th, but his will be in Peterborough, England.

Its great to see so many new riders this season. There are at least 10 new riders that I've seen so far. It is good to see the interest in speedway expanding.

There are also many new bikes in the pits as well. Many riders, First Division and Support, have fortified their efforts with brand new speedway bikes.

The early part of the season also brings riders in new suits. Many riders have new looks this year.

The changes at Costa Mesa are great. The changes begin before you enter the arena. The ticket booths have been moved over by the pits as well as the main entrance. You will then notice that a section of the turn one grandstands has been removed, creating a patio/beer garden area for people to hang out and still watch the races. The Blues & Brews is open before, during, and after the races with a live band as well as food and beverages. There are also several new vendors at the facility. If you haven't been to Costa Mesa this year, you should go check it out.

Another obvious difference is the track itself. There has been more dirt on the track this year and it has paid off with better racing. There has been a lot more outside passing this year.

There has been a change to the Costa Mesa schedule. A second freestyle motorcycle jump night has been added for June 2. This has pushed the Jack Milne Cup, originally scheduled for that night, to June 9. Having a second jump night is a great addition to the schedule. The jump nights have always been succesful as it is always standing room only. Adding a second jump night last year didn't hurt the attendance for either evening. If you plan on going, make sure you go early. Keep in mind, with the Support Heats at 6:30 now, you would still get to see racing. To see the complete 2001 Costa Mesa Calendar, click on Costa Mesa.

One quick note, there will be no racing at Costa Mesa on Saturday, May 26 due to the Memorial Day Holiday Weekend.
---
The dark clouds that surrounded the future of Costa Mesa Speedway last year have disappeared and there will be speedway at the World Famous "Bullring" in 2001!
Costa Mesa has opted not to join the AMA this year, but will still host the National Championship as it has every year since 1969. International Speedway has been the only promoters Costa Mesa has ever known and that continuity has benefited riders and fans for over 30 years. Costa Mesa has been the breeding ground for all of America's World Champions in the last 20 years as Bruce Penhall, Sam Ermolenko, Billy Hamill, and Greg Hancock all cut their teeth at the Orange County Fairgrounds.
2001 has also brought the prospect of a second Southern California track as National Champion Charlie Venegas plans on promoting races on the site of the original San Bernardino track.
---
2000 World Speedway Grand Prix on Speedvision
I've listed the television schedule for the races. All times that I listed are Pacific, it is shown on the East Coast about the same time, check your local listings.

Tuesday, January 16:
                       Swedish GP    10:00 am Pacific
                       Polish GP      7:00 pm Pacific
                       Polish GP     11:00 pm Pacific

Tuesday, January 23:
                       Polish GP     10:00 am Pacific

Tuesday, January 30:
                       Czech GP       9:00 am Pacific
                       British GP     5:00 pm Pacific
                       British GP     9:00 pm Pacific

Tuesday, February 6:
                       British GP     9:00 am Pacific
                       Danish GP      5:00 pm Pacific
                       Danish GP      9:00 pm Pacific

Tuesday, February 13:
                       Danish GP      9:00 am Pacific
                       GP of Europe   5:00 pm Pacific
                       GP of Europe   9:00 pm Pacific

Tuesday, February 20:
                       GP of Europe    9:00 am Pacific