2001 East Coast Speedway News
Polish Power Comes to Frozen Ocean
The 2001 East Coast speedway season began back in April with a team of New York riders touring Poland for two weeks, so it was only fitting that the season should wrap up with a reciprocal visit of a Polish squad to New York.
The Polish team consisted of riders from Second Division team Lubleski Klub Zuzlowy (LKZ). Jurek Mordel, Jaroslaw Brus, Darek Stenka, Bartek Brzozowski and Marcin Kondratowicz made up the visitor's roster.
The tour was organized and presented by the Northeast Speedway Racing Association (NSRA) and the first stop on the schedule was Frozen Ocean Motorsports Complex in Auburn, New York.
Binghamton's Tom Burge, a past U.S. Open champion and a mainstay of New York speedway for years, has been one of the late-season standouts this year. At Frozen Ocean, he continued to showcase his speedway mastery with a number of outstanding heat races.
In his first race of the afternoon, Burge faced off with Polish ace Bartek Brzozowski and used a tight, on-the-pipe line to pass and then hold off the Polish gunslinger for the win. However, LKZ captain Jurek Mordel returned the favor in a later heat, passing Burge on the outside for a win.
The most spectacular heat race of the evening found Joe Greene facing off with Chris Strong and Brzozowski. Greene and Brzozowski diced for the lead for two laps, with each rider testing inside and outside lines. Heading into turn two on the third lap, Brzozowski went extremely wide and couldn't save it. He rocketed off the track through an open chute gate and bounced wildly into the weeds. He managed to turn himself around out in the rough and re-entered the track through the same open gate, but by then Greene had the win well in hand.
Burge's evening finally came to an end with a mechanical failure and by then, the Division I top guns had emerged. Craig Estelle, Cam Rafferty, David Oakden and Jurek Mordel would make up the Division I main. Estelle started in post number four, with Mordel alongside in three and Oakden in the number two slot; Rafferty broke from the rail. Estelle took the early lead but was under immediate pressure from Rafferty. Estelle was drawing consistent speed from the track, while Rafferty only found bursts of acceleration on the slick Frozen Ocean clay and couldn't seem to string them together into one steady run. At the checkers, it was Estelle, Rafferty, Mordel and Oakden.
The Division II main consisted of Josh Carr, Lee Bailey, Dave Smith and Russ Cornell. Carr nailed the holeshot and the field fell into a processional behind him, with Carr winning, Bailey second, Cornell third and Smith fourth.
In the Division III main, Mike Rought cut an alert gate and looked like he had it in the bag, but his low-side crash in turn three of lap two enabled Dave Clark to take the lead and the win, followed by Jerry Grenga and Mike Williams.
RESULTS
Division I main: 1. Craig Estelle; 2. Cam Rafferty; 3. Jurek Mordel; 4. David Oakden.
Division II main: 1. Josh Carr; 2. Lee Bailey; 3. Russ Cornell; 4. Dave Smith.
Division III main: 1. Dave Clark; 2. Jerry Grenga; 3. Mike Williams; 4. Mike Rought.
Division I main start at Frozen Ocean. Left to right: Craig Estelle, Jurek Mordel,
David Oakden, Cam Rafferty.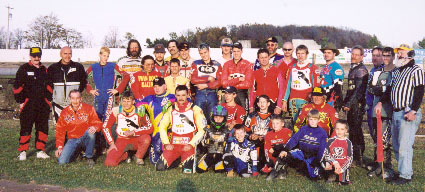 Rogue's gallery at Frozen Ocean. Poland's Bartek Brzozowski is front row,
second from left. Jurek Mordel is front row, fourth from left. Darek Stenka is 
standing, sixth from right.
Rafferty Ramps It Up at Square Deal
(October 28, 2001)The September 22 speedway program at Square Deal Raceway was one of those nights where you knew something hairy was going to happen, you just didn't know when.
Cam Rafferty, New York's most promising young speedway talent, was right in the thick of things all night. Despite crashing heavily in a later handicap heat, Rafferty was perfect through his first four heats of the evening, setting him up for what turned out to be one of this season's most memorable main events. More on that in a moment.
The biggest player over the course of the evening was the racing surface itself. About 30 minutes into the program, an odd patch of moisture developed at the apex of turn two and began wreaking havoc with anyone who came near it. 
The fans began to sense something was up when Craig Estelle faced off with Tom Burge, David Oakden and Joe Greene in an early heat. As the field headed into turn two immediately after the start, the usually sure-footed Estelle was suddenly launched into the weeds on the outside of the back straightaway. He saved it, re-entered the track at full speed, and stayed in the hunt by passing Greene to salvage third.
If the top guys are having trouble with the track, you can be sure the support riders will be in way over their heads. Sure enough, one of the most spectacular races of the night was a support heat featuring Dave Clark, Heber Belles, Tony Manx and Duane Smith. Clark, on a borrowed bike, looked like a rodeo rider on a spooked colt as he and Manx diced back and forth for the lead. Clark struggled with the unfamiliar machinery, but the Jawa finally got the better of him, hooked up uncontrollably and sent Clark convulsing into a hideous tank slapper.
The Division I main event featured David Oakden in post one, Rafferty next to him in two, Tom Sephton in three and Tom Burge -- who has been taking everyone to school this season -- on the outside in four. Rafferty cut a clean gate and it looked like a main event win would be wrapped and delivered.
But coming out of turn three with two laps in the books, all hell broke loose. Rafferty parked it and Sephton, running in second, never had a chance. He swerved slightly to miss Rafferty, and in the absence of an outside crash wall, launched off the outer lip of turn four. Completely airborne, Sephton sailed at least 20 feet down the embankment on the backside of the turn and crash-landed in the weeds, escaping with only a broken wrist and a seriously bruised arm and ribs. A single-file restart was ordered and Rafferty emerged victorious, followed by David Oakden in second and Tom Burge in third.
Joel Parsons won the Support main, with Brian Hollenbeck second and Duane Smith third.
Casey Donholt was the standout winner of the evening's junior division, followed by Jordan Greene and Mike Buman, Jr.
RESULTS
Division I main: 1. Cam Rafferty; 2. David Oakden; 3. Tom Burge; 4. Tom Sephton (dnf)
Support main: 1. Joel Parsons; 2. Brian Hollenbeck; 3. Duane Smith; 4. Alex Heath (dnf)
Juniors: 1. Casey Donholt; 2. Jordan Greene; 3. Mike Buman, Jr.
Speedway Comes to Frozen Ocean on October 20...Be There!
October 7, 2001 Speedway will return to the famed Frozen Ocean Motosports Complex one-fifth mile clay oval on October 20, 2001.
Gates open at 2:00 pm, sign up takes place at 3:00 pm, practice is at 4:00 pm and racing gets underway at 5:00 pm sharp!
ADMISSION IS ONLY $8.00 for this event, and kids under 8 are free! No glass bottles, please.
For more information, call Frozen Ocean Motosports Complex at (315) 784-5517 or (315) 784-5466 or log on to www.frozen-ocean.com.
The track address is: 4415 Vanderstouw Road, Auburn, NY. Directions are listed below:
DIRECTIONS TO FROZEN OCEAN MOTORSPORTS COMPLEX:
From north & west: Exit 40 off NY Thruway at Weedsport. Take Rt. 34 south to Auburn. Left on Rt. 5 & 20. Take 2nd right on Rt. 38A, on east side of Owasco Lake, go 9 mi to Owasco, right on 12 Corners Rd., turn right on Vanderstouw Rd., go up road to track ... you're there!
From south: Interstate 81 to exit 12 at Homer, turn right onto Rt. 281, then left on Rt. 90 to Locke. Go right at light onto Rt. 38 north to Moravia. Go right at 4-way stop in Moravia, onto Rt. 38A north, go approx. 6 mi, turn left on 12 Corners Rd, 3 mi north, left on Vanderstouw Rd. ... you're there!
From Ithaca: Take Rt. 38 north to Locke, then to Moravia. At 4-way stop in Moravia, turn right onto Rt. 38 North, go approx. 6 mi, turn left on 12 Corners Rd, go 3 mi north, turn left on Vanderstouw Rd. ... you're there!
From Syracuse: Take Rt. 5 west to Auburn, turn left on Rt. 38A in Auburn, on the east side of Owasco Lake, go 9 mi. south to Owasco, turn right onto 12 Corners Road, turn right on Vanderstouw Rd. ... you're there!
Sisemore Sizzles Again, Successfully Defends U.S. Open Title at Owego
(August 24-25, 2001)
Earlier this summer, a truckload of Californian speedway stars dominated the proceedings at the AMA King of U.S. Speedway series at Champion Speedway in Owego. This time, only Jim Sisemore and Ryan Fisher represented the Golden State. But at the 2001 U.S. Open, two aces beat a full house of East Coasters.
In the final round, Fisher repeatedly blew the doors off his eastern rivals with perfect gates, while defending U.S. Open champ Sisemore used his familiarity with Champion to exploit any mistake made by the locals.
In his first heat of the finals, Sisemore squared off against veteran Bruce Nelson, the always- dangerous Jerry Harman, Jr., and rising Division I star Jeremy Parsons. Parsons took the early lead with Sisemore tracking him like bloodhound. It's hard to be patient in a four-lap speedway race, but Sisemore got what he was looking for: In turn two of the final lap, Parsons went slightly wide, Sisemore seized the moment and was gone, taking the win and making a statement.
While veteran local stars like George Lazor, Frank Watson and Gene Bonsignore all put in smooth, consistent rides in their final round heats, it was clear they didn't have the sheer grunt necessary to match the Californians. New Yorker Tom Burge was riding with all-out aggression and looked like a dark horse contender for the main event, but he couldn't amass quite enough points to make the big dance.
As the main event approached, it looked like just about the only one who could really run with Sisemore and Fisher was "Cowboy" John Cook, by now a familiar face to Northeast speedway fans. Cook was in fine fettle, cutting perfect gates to rack up heat wins while entertaining the crowd.
Meanwhile, 2001 Division I track champion Tom Sephton was having an off night. When he needed points the most, it was Sephton's misfortune to find himself up against Quebec's Nick Fafard, whose time on the I.C.E. circuit has given him newfound confidence in tight quarters.
In one of the last heat races of the finals, Fafard lined up with Bruce Nelson to his inside and Sephton on his outside. On cue, Sephton rocketed to the lead with Fafard glued to his rear wheel. At this point, Fafard achieved what many thought impossible: Taking the lead after a Sephton holeshot. Tracking out of turn four after one lap, Sephton took a slightly wide line and Fafard muscled through coolly on the inside and then stayed on the lead for the win.
The U.S. Open main event had Fisher in post one, Sisemore next to him in two, Cook in three, Gene Bonsignore in four and Nick Fafard all the way outside in the five hole. Cook cut the gate perfectly, the tapes missing his visor by a hair's breadth. Sisemore and Fisher were soon in hot pursuit, but Cook was golden, riding a smooth, mistake-free line. At the checkers, it was Cook, Sisemore and Fisher, with Fafard a well-fought fourth and Bonsignore fifth.
2001 U.S. Open Two-day cumulative point totals:
1. Jim Sisemore, 47; 2. Ryan Fisher, 44; 3. John Cook, 40; 4. Tom Burge, 33; 5. Tom Sephton, 31; 6. Nick Fafard, 30; 7. Gene Bonsignore, Jeremy Parsons, 29; 8. Jason Bonsignore, George Lazor, 22; 9. Bruce Nelson, 18; 10. Craig Lane, 16; 11. Cam Rafferty, 14; 12. Frank Watson, Jerry Harman, Jr., 10; 13. David Oakden, Ted Fey, 8; 14. Joel Monell, 6; 15. Casey Franic, 4; 16. Gaetan Carignan, 3.
North Carolina Rocks! Speedway Bikes Light Up Hammer Down Raceway on Labor Day
(September 10, 2001)What can we say except, "North Carolina rocks!" The hospitality and good spirit at Hammer Down Raceway on September 1 were the result of event organizer Ronny Kemp and his support staff from Cape Fear Harley-Davidson, the NSRA and Dennis Thurlow Racing, as well as all of the talented competitors who made the haul to the Tarheel State on Labor Day weekend.
As NASCAR staged a rumble of its own a few miles down the road at Darlington, motorcycle racing history was being made at Hammer Down Raceway in Red Springs, North Carolina.
The inaugural Mid-Atlantic Speedway Championship on Labor Day weekend brought speedway racing to the Carolinas for the first time ever. Sponsorship, purse money and organizational support from Cape Fear Harley-Davidson, Dennis Thurlow Racing and H.O.G. attracted riders from New York, Indiana, and California to Hammer Down, a one-fifth mile jewel south of Fayetteville, NC. Event organizer Ronny Kemp brought in Fast Fridays referee John Grant to oversee the proceedings, while Gary Densford handled the announcer's chores.
Early heat action included a number of crashes as the riders worked to dial in the sand and clay mix of Hammer Down's slightly banked strip. The track was very fair, however, with plenty of traction all the way from the pole to the far outside and multiple racing lines.
Standout performers early on included Jerry Harman, Jr., whose "master of disaster" style kept the crowd on its feet; Californian Scott Brant, and New Yorkers Craig Estelle and Chris Strong. The early heats also made it clear that New York's "Smokin' " David Oakden had brought his A game to the Tarheel State.
A four-man support class made up of Alex Heath, Dave Clark, Joe Grey and Dave Sharpe provided some of the most entertaining racing of the evening, with each member of the quartet winning, crashing spectacularly, making a hair-raising pass at least once during the night. Clark, in particular, won over the locals with his gutsy racing. Heath, this writer's choice for the Most Improved Rider on the East Coast this year, is ready to step up to the Division II ranks and shed his moniker of "The Hazard".
As the main events approached, Strong, Oakden, Estelle and Brant emerged as the top Division I contenders. Estelle and Brant had both tallied perfect scores leading up to a later heat race that turned out to be the show-stopper of the evening. With Estelle in the Number One gate, Brant next to him in the two hole, and Ted Fey and Indiana's Tommy Hensler rounding out the field, Estelle nailed the holeshot. However, Brant stayed right on Estelle's rear wheel, and made a beautiful low pass to take the lead on lap two. But Brant found too much traction on the back straightaway, hooked up and wheelied, allowing Estelle to briefly reclaim the lead. Estelle went a bit wide on the next turn as the cool-as-ice Brant surged to the lead once again and held Estelle safe for the win.
Division I riders qualified for the program's four main events based on their overall points, with the lowest point scorers into a D main, the next highest group of point scorers into the C main and so forth. 
Veteran speedway campaigner Joe Greene was plagued by crashes all night and the bad mojo put a hurt on him once again in the D main. Despite cutting an alert gate and taking the early lead, Greene suffered a low-side wipeout in the second lap, opening the door for Brian Hollenbeck to take the win, with Jim Fey second.
A picture of restraint in each of his qualifying heats, Bruce "The Mongoose" Nelson poured on the steam when it counted in the C main. Nelson faced off against Russ Cornell, Ted Fey and Lee Bailey and smoked 'em all at the gate. He rode a smooth, defensive line to take the win, with Fey second, Cornell third and Bailey fourth after crashing in the second lap.
Jerry Harman, Jr.'s night came to a fitting climax in the B main, where he was joined by Joel Monell, Josh Carr and Tommy Hensler. Breaking alertly, Harman took the lead but a momentary brain fade allowed Hensler to surge to the front. Riding like a man possessed on a borrowed GM, Harman kept Hensler in his gun sights and found some extra grunt with one lap to go to make a crowd-pleasing pass on the front straightaway to reclaim first place. Harman won and after Hensler crashed in turn four heading for the checkered flag, it was Josh Carr second and Monell third.
They wowed the crowd all night, but the support division was hard pressed to top their earlier heat performances and the Support main was a fairly straightforward affair. Alex Heath took the lead early and held it, followed by Joe Gray, Dave Clark and Dave Sharpe.
That left the Division I A main as the evening's grand finale, and the four riders who qualified - Estelle, Brant, Strong and Oakden - didn't disappoint. A gate malfunction brought back the field for a restart, which found Estelle in gate one, Oakden in two, Strong (riding an older upright) in three and Brant on the outside in four. Estelle took the holeshot by a whisker; Brant followed in second, pushing and probing for any chink in the leader's armor. Brant tried everything and may have been compromised by what appeared to be an engine or battery box malfunction in lap three. Ultimately, Estelle had the winning line, with Brant a hard-earned second, Oakden third and Strong fourth.
Competitive racing, perfect track conditions and a well-organized program: Motorcycle racing fans in the Carolinas hit the trifecta on Labor Day weekend.
RESULTS
Division I A Main: 1. Craig Estelle; 2. Scott Brant; 3. David Oakden; 4. Chris Strong
Division I B Main: 1. Jerry Harman, Jr.; 2. Josh Carr; 3. Joel Monell; 4. Tommy Hensler
Division I C Main: 1. Bruce Nelson; 2. Ted Fey; 3. Russ Cornell; 4. Lee Bailey 
Division I D Main: 1. Brian Hollenbeck; 2. Jim Fey; 3. Joe Greene
Support Main: 1. Alex Heath; Joe Grey; 3. Dave Clark; 4. Dave Sharpe
Support Dash for Cash: 1. Joe Grey; 2. Dave Sharpe; 3. Dave Clark; 4. Alex Heath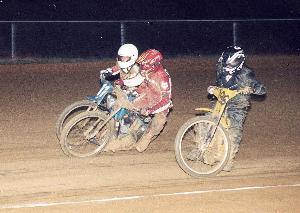 Alex Heath (r.) slides low while Dave Clark (c.) and 
Joe Grey tangle on the outside. Photo by Trey Vinson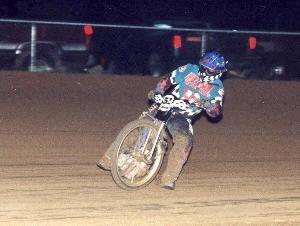 Craig Estelle found the Hammer Down strip to his 
liking, winning it all in the A main. Photo by Trey Vinson

Californian Scott Brant was a picture of consistency
all night, just coming up short in the A Main.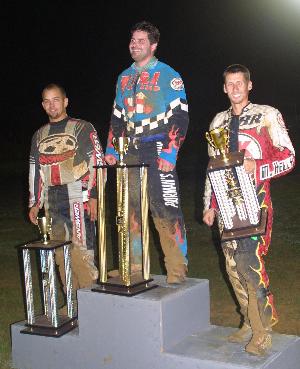 Brant (l.), Estelle (c.) and David Oakden gave the crowd
something to cheer about in the A main. Photo by Trey Vinson
Race Report from August 17 Square Deal / NSRA Quarter Mile Event
(August 27, 2001) The August 17 program was the second of the summer at SDR and it drew a healthy complement of riders and a packed grandstand. Fans and riders alike were treated to a tightly-paced and well-organized program, thanks to efforts of Tim Mathewson, Bill Senn, Gary Parsons, Don Hawkins and SDR track prep guru "Spud" Williams.
Early action saw visiting Californian Charles "Dukie" Ermolenko establishing his credentials, despite the best efforts of Binghamton's Cam Rafferty, who gave the Californian all he could handle in a later heat. Vestal, New York's Tom Sephton and SDR local Craig Estelle also banged handlebars in a pair of closely-fought prelims.
While crowd-pleasing action was expected from the top guns, some of the evening's best racing came from the supporting cast. Division II stalwarts Joel Parsons and Russ Cornell hooked up in a ding-dong front-end battle in an early heat, until Parsons made a bold dive underneath Cornell on turn four of the final lap to win it. Another Division II rider, Chris Strong, provided the evening's most memorable action. Strong milked every ounce of speed from his bike on the straights and seemed to find the fastest lines through the turns. Despite a low-side crash in a later heat while jousting with "Flyin" Brian Hollenbeck, another young star on the rise, Strong had the traction, drive and courage to execute several flawless passes throughout the evening.
The Division Three main event found Josh Carr, Lee Bailey, Dave Sharpe and Jerry "The Gorilla" Grenga at the tapes. Bailey went down in turn three of lap one and was able to remount, but by then it was a processional to the finish, with Carr winning, Sharpe second, and Grenga third.
Joel Parsons, Joe Greene, Chris Strong and Brian Hollenbeck faced the starter in the Division II main. Hollenbeck cut an alert gate and took the lead heading out of turn two, as Strong and Greene battled for second. Strong finally prevailed, but had no time or real estate left for a run at Hollenbeck, who took a well-deserved checkered flag, followed by Strong, Greene and Parsons.
The Division I main had Craig Estelle breaking outside from post four, Ermolenko next to him in three, Sephton in the two hole and Argentina's Carlos Villar on the rail. The field hit turn one together, but as they exited turn two, Sephton edged away as Estelle tried every trick in his bag to catch him. Villar continued to have trouble, parking briefly in turn three on lap two. At the checkers, it was Sephton with the win, Estelle in hot pursuit, Ermolenko third and Villar fourth.
RESULTS
Division I Main: 1. Tom Sephton; 2. Craig Estelle; 3. Dukie Ermolenko; 4. Carlos Villar
Division II Main: 1. Brian Hollenbeck; 2. Chris Strong; 3. Joe Greene; 4. Joel Parsons
Division III Main: 1. Josh Carr; 2. Dave Sharpe; 3. Jerry Grenga; 4. Lee Bailey
Juniors: 1. Casey Donholt; 2. Jordan Greene
ABOVE: Tom Sephton (left) mixed it up with local hero Craig Estelle
in a number of early heats before winning the DI main.
Joel Monell, under the SDR lights. Photo by Wendy Post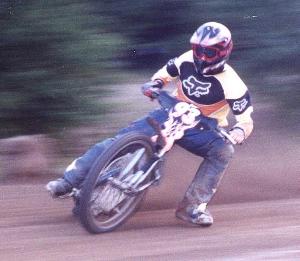 ABOVE: Chris Strong had his mojo working but couldn't 
catch Brian Hollenbeck in the DII main.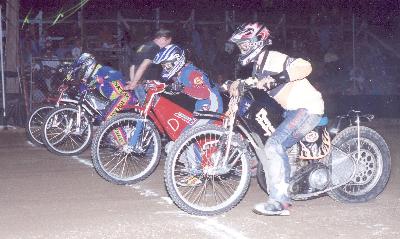 Division II main: (r. to l.) Hollenbeck, Strong, Joel Parsons, Joe Greene.
Major Speedway Event Slated for Fayetteville, North Carolina
(July 25, 2001)Cape Fear Harley-Davidson, H.O.G. and Dennis Thurlow Racing will host the inaugural Mid-Atlantic Motorcycle Speedway Extravaganza this Labor Day Weekend, August 31 & September 1, at Hammer Down Raceway, just outside Fayetteville, North Carolina. Well-known East Coast speedway rider Ronny Kemp is acting as event organizer, with input from the NSRA.
A $2,500 purse is in place, Fast Friday's John Grant is scheduled to fly in from California to referee and support classes will be offered. Practice is scheduled for Friday, August 31 with racing at 8:00 p.m. on Saturday, September 1. Rain date is September 2. A free pig and turkey roast will be provided and free camping is available at the track.
This is an historic opportunity to showcase speedway racing in the heartland of American motorsports and to make contacts with potential sponsors.
For complete details and rider sign-up information. Or call Ronny Kemp at: (919) 380-9720 or (919) 244-1029. E-mail: kempronny@hotmail.com.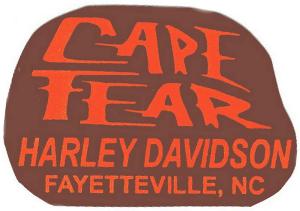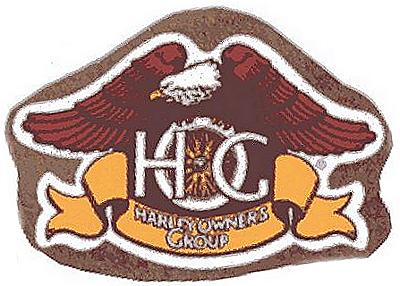 Gary Hicks Crowned King of U.S. Speedway
(July 23, 2001)Champion Speedway in Owego, New York was ground zero of North American speedway for two days, July 20 and 21, as the A.M.A. King of U.S. Speedways series blasted off. The brainchild of Champion owner-promoter Jason Bonsignore, the King of U.S. Speedway Series may be the precursor to a much-anticipated U.S. Grand Prix Series making stops in Auburn, Owego and Costa Mesa.
The inaugural A.M.A. King of U.S. Speedway Series pitted a West Coast team against an East Coast All-Star squad. The California side featured Hicks, Brad Oxley, Josh Larsen, Randy DiFrancesco, Bobby Schwartz, Shawn McConnell, Mike Faria, Chris Manchester, Bobby Hedden, Dukie Ermolenko, Ryan Fisher and John Cook. West Coast support rider Mark Hitchcock also made the trip. Defending their local turf were top East Coasters Craig Estelle, Craig Lane, Tom Sephton, Cam Rafferty, Frank Watson, George Lazor, Gene Bonsignore and Jason Bonsignore.
During Round One (Friday) the Champion racing strip came up dry and dusty. Riders had to contend with a one-line groove, which inhibited overtaking. Josh Larsen (1st), Gary Hicks (2nd) and Dukie Ermolenko (3rd) were the podium finishers in the Round One final.
A near-capacity crowd filled newly-renovated Champion Speedway for Round Two on Saturday evening and they were greeted with a considerably wetter track, but the one-line blues persisted. The name of the game continued to be cut an alert gate, nail a holeshot and protect the low line. Hicks (1st), Larsen (2nd) and John Cook (3rd) occupied the podium in Saturday's A.M.A. King of U.S. Speedway final.
Watch the upcoming issues of Cycle News and East Coast Speedway News for more in-depth coverage. Complete semi, final and overall point results are included below.
RESULTS
ROUND ONE (July 20)
FIRST SEMI: 1. Dukie Ermolenko (Jaw); 2. Randy DiFrancesco (Jaw); 3. Brad Oxley (Wes); 4. Shawn McConnell (Jaw); 5. Mike Faria (GM).
SECOND SEMI: 1. Ryan Fisher (Jaw); 2. Bobby Schwartz (Jaw); 3. John Cook (Jaw); 4. Chris Manchester (Jaw); 5. George Lazor (Jaw).
LCQ: 1. Brad Oxley (Wes); 2. John Cook (Jaw); 3. Randy DiFrancesco(Jaw); 4. Bobby Schwartz (Jaw).
MAIN: 1. Josh Larsen (Jaw); 2. Gary Hicks (GM); 3. Dukie Ermolenko (Jaw); 4. Brad Oxley (Wes); 5. Ryan Fisher (Jaw).
ROUND TWO (July 21)
FIRST SEMI: 1. Josh Larsen (Jaw); 2. John Cook (Jaw); 3. Tom Sephton (Jaw); Mike Faria (GM), dnf; Shawn McConnell (Jaw), dnf.
SECOND SEMI: 1. Bobby Schwartz (Jaw); 2. Dukie Ermolenko (Jaw); 3. Brad Oxley (Wes); 4. Randy DiFrancesco (Jaw); 5. Bobby Hedden (Jaw).
LCQ: 1. John Cook (Jaw); 2. Tom Sephton (Jaw); 3. Brad Oxley (Wes); 4. Dukie Ermolenko (Jaw).
MAIN (A.M.A. KING OF U.S. SPEEDWAY): 1. Gary Hicks (GM); 2. Josh Larsen (Jaw); 3. John Cook (Jaw); 4. Ryan Fisher (Jaw); 5. Bobby Schwartz (Jaw).
OVERALL POINTS: 1. Gary Hicks, 21; 2. Josh Larsen, 20; 3. Bobby Schwartz, 19; 4. (TIE) Shawn McConnell, 18 / Dukie Ermolenko, 18 / Ryan Fisher, 18; 5. (TIE) Brad Oxley, 16 / John Cook, 16; 6. Mike Faria, 14; 7. (TIE) Tom Sephton, 13 / Chris Manchester, 13; 8. Randy DiFrancesco, 12; 9. Bobby Hedden, 11; 10. (TIE) George Lazor, 7 / Craig Lane, 7; 11. Gene Bonsignore, 5; 12. Jason Bonsignore, 4; 13. (TIE) Frank Watson, 3 / Craig Estelle, 3 / Cam Rafferty, 3.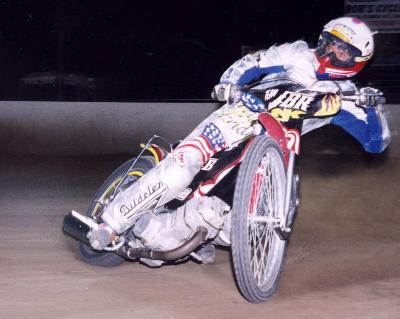 Honorary New Yorker John Cook (above) finished third in the Saturday
A.M.A. King of U.S. Speedway main.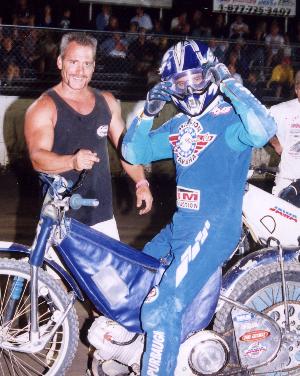 Gary Hicks and pit man Blaine Madrigal (left) prepare to
push off before the Round Two final.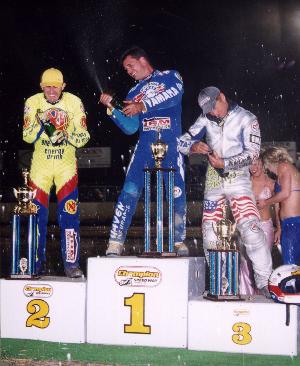 Gary Hicks (center), Josh Larsen (left) and
John Cook share the spoils of victory.
Next Square Deal / NSRA Quarter-Mile Event Set for August 17
(July 25, 2001)After a successful inaugural effort, the Square Deal Riders / NSRA joint venture is presenting its next quarter-mile speedway program at the Square Deal Raceway in Harpursville, New York on August 17.
Gates open at 3:00 p.m., practice starts at 5:30 p.m. and racing gets underway at 7:00 p.m. sharp. Admission is only $8.00 and no glass bottles are allowed on the grounds.
DIRECTIONS: Take I-88 to exit 5, to Route 5 east one-half mile , then left on Spear Road to Allen Road past the railroad tracks on left.
For more information, call: (607) 687-3458 or (607) 693-2634 day of race.
Riders Needed for August 11 Boulder (Colorado) County Fair Show
(July 24, 2001)Chuck Johansen contacted us about a week ago to ask for help rallying Division One and Division Two riders to race at the Boulder County Fair in Colorado. The race will take place in Longmont, Colorado on August 11.
Johansen explained, "This is a critical time for Colorado speedway. If this show is a success, we will be given the opportunity to race at the fairgrounds on a regular basis next year."
Great American Speedway Productions (GASP) will pay tow money to and from Colorado in order to draw riders. A specific purse amount has not been nailed down yet, but organizers expect a crowd of approximately 5,000 based on past fairground attendance records. Half the gate will go to GASP for expenses and purse.
PLEASE CALL CHUCK JOHANSEN AS SOON AS POSSIBLE!
Chuck's number is: (303) 587-2986
Or call Kevin Laird at: (303) 452-9233
Riders must be registered by July 25. $50 is required to secure a spot, $100 will be returned to riders at the gate.
Results from the Square Deal Riders / NSRA Quarter Mile Event
Square Deal Raceway, Harpursville, NY
July 7, 2001
(July 12, 2001) Results and race report contributed by Tim Mathewson
Division I
1. Carlos Villar (Argentina) 15 points (perfect score)
2. Craig Estelle (Windsor, NY) 10 points (won run-off to main)
3. Cam Rafferty (Binghamton, NY) 11 points
4. Jeremy Parsons (Binghamton, NY) 11 points
5. Ronny Kemp (Concord, NC) 10 points
6. Jerry Harman, Jr. (Newark Valley, NY) 10 points
7. Nick Fafard (Quebec, Canada) 8 points
8. Rick Sherwood (Endicott, NY) 7 points
9. Chris Strong (Binghamton, NY) 6 points
10. Gaetan Carignan (Quebec, Canada) 1 points
11. Ted Fey (Vestal, NY) 0 points
We ran a five-round, 12-man format with one short heat. The top four on points went to the main. There were three riders tied at 10 points who ran off for the last spot in the main. Craig Estelle took the initial lead from gate four in the main but Carlos Villar ended up going past on the second lap.
Division II
1. Chris Strong 9 points
2. Joel Parsons (Vestal, NY)8 points
3. Casey Casselbury (Newark Valley, NY) 6 points
4. Brian Hollenbeck (Owego, NY) 5 points
5. Joe Greene (Binghamton, NY) 4 points
6. Kendall Brookes (Appalachian, NY) 3 points
7. Jim Fey (Vestal, NY) 0 points
Ran an 8-man, three-round format in Division II with one short heat. The top four on points went to the main. Chris Strong made an awesome outside move on Joel Parsons on the third lap that brought the crowd to its feet. Even the support guys had a blast on this track!
Division III
1. Dave Sharpe (Oceanside, NY) 9 points
2. Jerry Grenga (Marcellus, NY) 5 points
3. Dave Clark (Newark Valley, NY) 5 points
4. Dave Richards (Newark Valley, NY) 5 points
5. Duane Smith (Elbridge, NY) 5 points (lost run-off to main)
6. Lee Bailey (Endicott, NY) 3 points (tie)
Jay Casselbury (Newark Valley, NY) 3 points (tie)
7. Josh Carr (Johnson City, NY) 1 point
Ran a full three-round, eight-man format in Division III. Four riders had to run off for three spots in the main. There was a gruesome crash coming into turn three on the second lap of the main involving Richards and Clark. The only casualties were the bikes. Clark restarted but Richards did not. 
Overall, it was an excellent evening of racing. We started early, ran 32 events and were done by 9:30 p.m. The racing was top-notch with very few "processionals". The races were not as close as on a short track, but the field was seldom spread out more than one straight. Considering that this was the first race on a "long track" for most riders, I think things went extremely well. The formats were pre-determined and riders simply drew a number when they signed up. After the riders' divisions were determined, we simply took the lowest number for that division and placed that rider in the number one spot and so on. There was no picking and choosing as to who rode against whom. If you ended up racing the same guy more than once it was a matter of chance, period.
Canadian Promoter Buddy Ford Announces One-Mile Speedway Event
(July 12, 2001)Promoter Buddy Ford will stage a one-mile speedway event on Sunday, August 19. The race will be run at a 7/8 mile horse track and the speedway class will compete for a $1,500 purse, with $500 going to the winner. For more information, e-mail Buddy Ford at cmrcquebec@videotron.ca. The race is open to Division I riders.
Champion Speedway Issues Revised 2001 Schedule
(June 30, 2001)Champion Speedway in Owego, NY has released a revised schedule for the 2001 season. New dates on August 4 and August 11 have been added. The Silent Sport / Race Tools Best Pairs Night has been rescheduled for August 18, and the 2001 U.S. Open Championship Series has been rescheduled for the weekend of August 24-26.
Speedway Bikes Rock Laconia Bike Week
(June 18, 2001)The New Hampshire woods echoed with the roar of speedway bikes on Thursday, June 14, as an international group of speedway riders did battle on the one-fifth mile flat track oval at Jolly Roger Moto-Sports Park.
A total of 18 speedway riders from the U.S., Canada and Argentina put on a show for the Laconia Bike Week crowd attending Jolly Roger's traditional Bike Week short track showcase. Craig Estelle was the star of the evening, winning a number of flat track events and taking the Division One speedway main event as well. Argentina's Carlos Villar was an impressive addition to the speedway card, and finished second to Estelle in the main. Jeremy Parsons and Joel Monell rounded out the DI main event finishers.
In the Division Two main, it was Ted Fey all the way. Fey, who admitted that he loves a blue groove track like Jolly Roger's, was in control all night. Quebec's Michel Lemay finished second in the DII main, followed by fellow Canadian Claude Bergeron and Kendall Brookes.
Four Division III riders - Brian Hollenbeck, Alex Heath, Dave Richards, and Dave Sharpe - made the trip to New Hampshire and provided some of the best racing action of the evening. Brian Hollenbeck consistently cut alert gates and won every DIII heat race, with Heath, Richards and Sharpe swapping seconds, thirds and fourths. In the main, Hollenbeck was away first again and lead throughout only to crash in the final lap. The final order of finish in the main was further scrambled by another last lap crash involving Heath and Richards.
With a brother vs. brother match race staged by Jeremy and Joel Parsons, a speedway bikes versus flat trackers demo and the flashy riding of Villar, the Jolly Roger crowd enjoyed a first-class speedway show.
SpeedwayBikes.Com would like to thank ALL of the riders who made the trek to Jolly Roger for what we hope will be an annual date on the East Coast speedway calendar.
RIDERS IN ATTENDANCE. . . Jolly Roger Moto-Sports Park, June 14 (Laconia Bike Week, 2001)
Division I: Craig Estelle, Gaetan Carignan, Jerry Harman, Jr., Joel Monell, Joel Parsons, Jeremy Parsons, Rick Sherwood, Carlos Villar
Division II: Claude Bergeron, Kendall Brookes, Ted Fey, Jim Fey, Michel Lemay, Chris Strong
Division III: Brian Hollenbeck, Alex Heath, Dave Richards, Dave Sharpe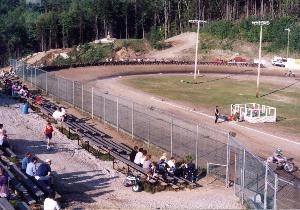 ABOVE: Overview of grandstands, turn three and four at Jolly Roger.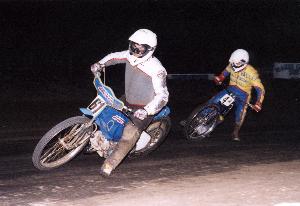 Dave Sharpe (left) and Dave Richards mix it up in the Division III main.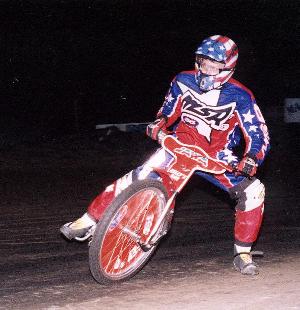 ABOVE: Ted Fey dominated the Division II action at Jolly Roger.
Argentina's Carlos Villar slidin' sideways in the Division I main event.
St. Alex Speedway (Quebec, Canada) Will Host June 30 Event
(June 10, 2001) Michel Lemay's St. Alex Speedway will host a speedway event on Saturday, June 30, 2001. Racing starts at 6:30 p.m. Speedway, quad and 50cc pee-wee classes will be run. The track is in a beautiful part of the Quebec woods famous for trout fishing, and the race meeting itself is held in conjunction with the local "Speckled Trout Festival."
For more information, call Michel Lemay at: (819) 265-2238. Use the link above to the St. Alex speedway page for directions to the track.
Champion Kicks Off 2001 Season
(June 2, 2001)It was deja vu all over again for New York speedway fans: The first event of the season at Champion Speedway in Owego, another dominating performance by Tom Sephton.
After the official 2001 season opener was rained off on May 27, speedway returned to the New York racing scene on June 2. And just as he did last year in the season opener, Sephton brought his "A game" to the historic western New York oval. One key difference between previous years and this season was a completely renovated and reconfigured Champion Speedway. Owner-promoter Jason Bonsignore has spared no expense rebuilding the track, adding a new scoring tower, lights, rest rooms, headquarters building, replacing the crash wall and creating a slightly wider and longer racing strip.
While Sephton was the star of the show, there were plenty of outstanding performances by other racers. Division One riders Bruce Nelson and Craig Lane, in particular, provided fans with high drama throughout the evening. In an early scratch qualifying event, Lane, Nelson, Jason Bonsignore and Sephton squared off. Lane pushed Sephton wide to take the lead, but Sephton dug in and returned the favor on the second lap. As Nelson, Lane and Bonsignore battled for position behind Sephton, Nelson took out Lane completely on lap three. No call came from the referee, setting the stage for a Lane-Nelson rematch later in the evening.
In the meantime, fans were treated to outstanding performances in all divisions. Veteran Mike Robinson, in particular, looked sharp in his return to racing and hasn't lost a step; Craig Estelle, the former Grand National flat tracker, pulled off several heart-stopping inside passes in his qualifying heats; and 15-year-old "Flyin' " Brian Hollenbeck looked considerably stronger with maturity and continues to build on his natural riding talent. Another highlight of the evening was the presence of Drew Smith, a top-ranked ISDE competitor who has expanded his repertoire to include speedway. Smith looked comfortable and aggressive on a speedway machine; New York speedway fans will look forward to seeing more of the enduro ace throughout the season.
The Nelson vs. Lane Show, however, was what kept the fans on their feet. The duo returned for Round Two in the evening's last chance qualifier, joined by "Mean" Gene Bonsignore. After a clean start, it was apparent that "take no prisoners" would be the theme. Mere inches separated the two riders as Lane and Nelson made repeated contact throughout the four laps. As they roared out of turn four for the checkered flag, the two tangled and stayed together, locked handlebar to handlebar. Lane broke free and prevailed for the win as the crowd roared its approval.
It was a hard act to follow, but the night clearly belonged to Sephton. In the Division One scratch main, Sephton lined up with Lane, Craig Estelle, Cam "The Kid" Rafferty and Jason Bonsignore. Sephton cut one of his trademark rocket-sled gates and was gone, leaving Estelle to apply his best Grand National race riding moves to earn second place. Rafferty rounded out the top three.
The Division I handicap main had Jerry Harman, Jr. and Mike Robinson lined up at short yardage, Craig Estelle and Craig Lane at the 20-yard line and Sephton and Rafferty parked halfway to Binghamton in Champion's unique "moon chute". After a clean start and two laps in the books, Rafferty went down hard but was able to make the restart. Sephton took the lead after two laps for the win, followed by Jerry Harman, Jr. and Craig Estelle.
In the Division II (Support A) main, it was Joel Parsons claiming the win, followed by Drew Smith and Howie "The Hammer" Oakden. The Division III (Support B) main was won by Keith Hawkins. Alex "The Hazard" Heath raced well for second place, with Brian Hollenbeck placing third.
RESULTS
Division I scratch main: 1. Tom Sephton; 2. Craig Estelle; 3. Cam Rafferty; 4. Jason Bonsignore; 5. Craig Lane
Division I handicap main: 1. Tom Sephton; 2. Jerry Harman, Jr.; 3. Craig Estelle; 4. Craig Lane; 5. Cam Rafferty; 6. Mike Robinson
Division II (Support A) main: 1. Joel Parsons; 2. Drew Smith; 3. Howie Oakden; 4. Jay Stalma; 5. Dale Anderson; 6. Chris Strong; 7. Joe Greene
Division III (Support B) main: 1. Keith Hawkins; 2. Alex Heath; 3. Brian Hollenbeck; 4. Jerry Grenga; 5. Duane Smith; 6. Jim Hass
Juniors (Division I): 1. Casey Donholt; 2. Dhip; 3. Jordan Greene Juniors (Division II): 1. Casey Donholt; 2. Mike Buman, Jr.; 3. Nick Lazor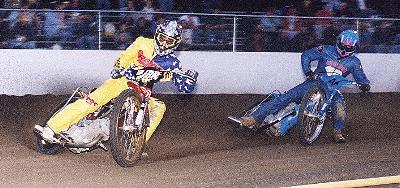 ABOVE: Tom Sephton leads Joel Monell on his way 
to a Omar Lightner / D.A.R.E. Night sweep June 2.

As usual, Craig Estelle was in top form, with podium 
finishes in both the scratch and handicap mains.

Veteran New York speedway ace Mike Robinson hasn't lost a step.
Speedway Roars into Georgia
(April 28, 2001) Speedway and vintage flat track show in late March at Rutledge Speedway (Rutledge, GA) was a rousing success, according to a number of riders in attendance. Attracted nearly 15 speedway riders from the Northeast and a crowd of close to 500 spectators.
Speedway veteran Dave Richards drove down from Newark Valley, New York and told www.speedwaybikes.com that Rutledge Speedway, which is part of the Cowboys in the Country entertainment complex, was perfectly suited for speedway. The surface effectively handled the recent rain, Richards said, and he added that the track's lighting was superb.
We hope to see more events at Rutledge and to spread the gospel of speedway south of the Mason-Dixon line.
Following are action shots from the March 31 event...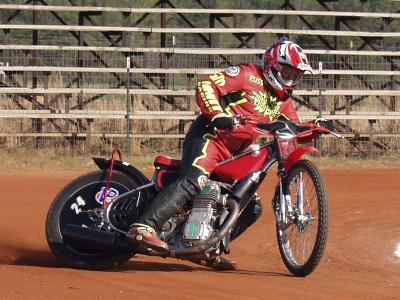 ABOVE: Russ Cornell learning to love that red Georgia clay.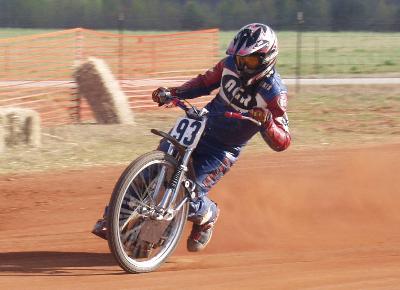 ABOVE: Chris Strong applies some body english.
Where are those Cycle News photographers when you need 'em!
The Latest News from Poland
(April 10, 2001)Once again, thanks to the tireless efforts of Marian Czarnecki, we can bring you photos of the NSRA team in action at Lublin on April 8. Shown below, these photos were taken by Maciej Maj. Our thanks to both Mr. Maj and Marian for relaying these photos to www.speedwaybikes.com.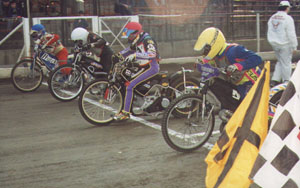 ABOVE: (Right to left) Joel Parsons, Rick Sherwood and Bruce Nelson line up for the start.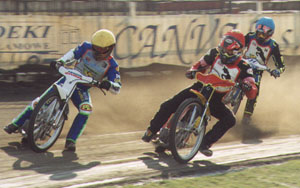 ABOVE: Kenny Pieper (left) takes an outside line at Lublin.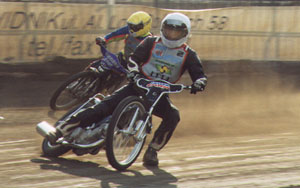 ABOVE: Bruce Nelson - "The Mongoose" looking smooth.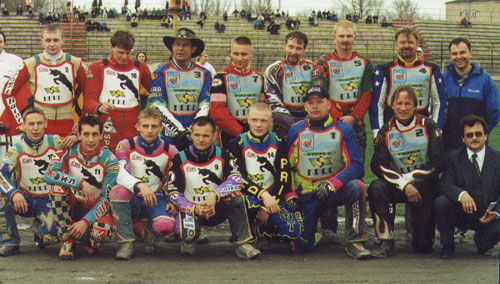 ABOVE: The NSRA Team with riders from host squad LKZ Lublin.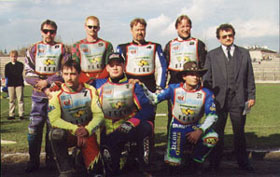 The NSRA Team: (standing, l-r) Fred Legault, Rick
Sherwood, Chuck Johansen, Bruce Nelson,
Mr. Jacek Ziolkowski of LKZ Lublin. Front (l-r):
unidentified, Joel Parsons, Kenny Pieper.
(April 8, 2001)The latest race results from the NSRA team's race meeting with the LKZ Lublin team:

On Saturday, April 7, the final point tally was LKZ Lublin, 58; NSRA Team, 30. Ken Pieper was once again the star performer for the NSRA team with nine points. Fellow Coloradan Chuck Johansen scored three points and Canada's Fred LeGault scored five points. Joel Parsons scored one point and Bruce Nelson scored three points. Rick Sherwood experienced bike problems and was scoreless, while the LKZ rider (Mordel) competing as a guest on the NSRA team added nine more points to the tally. Estimated attendance was 1,000.
The two teams were back at it the next day. On Sunday, April 8, the final score was LKZ Lublin 66; NSRA Team, 24. Ken Pieper was top scorer for the NSRA with five points, while Bruce Nelson and Fred Legault both chipped in three apiece. Chuck Johansen and Rick Sherwood each scored two points and Joel Parsons added one point. The LKZ guest rider (Fekete of Hungary) added eight points. The estimated attendance was 800.
Observers at this event reportedly were impressed with the good sportsmanship shown by the NSRA riders even after losing. One Polish speedway sources said that he wished the local Polish riders could learn some of the positive attitude shown by the NSRA squad. The Poles, he noted, are angry even when they win, while the NSRA riders were upbeat in defeat.
Next up: The final race meeting of the 2001 NSRA Polish Tour, in Warsaw.
(April 5, 2001) Received an update from NSRA member Marian Czarnecki today that the NSRA team is now in the winner's circle! In the match against the ZKS Krosno team on April 5, Colorado's Ken Pieper had a win and Rick Sherwood scored two second-place finishes.
(April 4, 2001) Race results and news (some good, some bad) from the NSRA's Polish tour team have been trickling in to www.speedwaybikes.com "through the grapevine". Here's what we've heard so far from a variety of sources: 
Upon arrival in Poland on March 20, the weather was a mixture of snow and rain which persisted for several days. Once the weather cleared up, the team was able to get out and get in some real practice time. Host club LKZ Lublin has provided not one but two interpreters who have been taking team members on sight-seeing tours on the days they're not racing or practicing.
Which brings us to the racing: At the race meeting at Krakow, Kelvin Herrala had a bad crash and reportedly broke his arm. There was also some concern that he may have broken a leg, but it was determined that his leg was just badly bruised. So Herrala has been sidelined, and we'll try to update his situation as soon as we have more information.
We've also just learned that Bruce Nelson suffered a concussion after hooking up and hitting the wall today (April 4) during practice in Krasno. 
On a more positive note, while the NSRA Team hasn't exactly been smoking the competition, they have been scoring a few points here and there. It was reported that Colorado's Ken Pieper had two third-place finishes recently, and that Rick "Flywheel" Sherwood also brought home two third-place finishes. It may not be Hamill and Hancock in the GP, but the NSRA team is putting up some numbers! We've also heard that the Poles have been favorably impressed with the riding ability of Sherwood and Canada's Fred Legault.
We'll try to update this report as soon as we have more information.
(April 10, 2001) Greg Comstock checked in with SpeedwayBikes.Com recently with the following update on the state of speedway in the Midwest:
The I Slide Speedway Speedway School is scheduled for Saturday, May 12 at Hi-Go Raceway in Cecil, Wisconsin, 15 minutes west of Green Bay. The school fee is $295 for all gear (excluding helmet) and bike. If you bring your own bike, the fee is only $95. A blackboard session commences at 10 am, with track sessions from 11:30 am to 4:00 pm. Interested riders should contact Greg Comstock at speedway75@yahoo.com or call him at (920) 682-8115.
Speedway is happening in Wisconsin, at Hi-Go Raceway, with racing scheduled twice a month. Hi-Go is a 250-meter clay kart track and Comstock reports that the speedway bikes will be running with Hi-Go's kart program on Sunday afternoons. The schedule is still tentative at this point, but opening day is definitely set for May 20. A practice session is scheduled at Hi-Go on April 21, with a rain date of April 22.
Speedway practice sessions are held every Sunday at the Jules Kart Raceway in Wilmington, Illinois. Fee is only $20 and the facility features a nice bar and good food. (Note: the track will be closed April 22.)
The Midwest Speedway Riders Association, Inc. (MSRA) is a non-profit Wisconsin corporation dedicated to the growth and development of speedway in the Midwest. The I Slide Speedway School is a division of the MSRA. Comstock says that some of the projects the MSRA is working on include: building a rider base large enough to support a regular full program, finding suitable tracks for speedway racing, and showcasing the sport of speedway at trade shows, races and swap meets.
It looks like a new track may be under construction in Indianapolis. Comstock reports that they'll be "moving dirt next week" (April 16-23) and that Brad Oxley is flying in to supervise earth moving and construction. For more information on this promising development, contact Jon Ard at jonnyspeedway@aol.com
(March 21, 2001) Gary Densford brought his I.C.E. tour to the friendly confines of the Utica Memorial Coliseum on March 21 and Canada's Nick Fafard found the 5,000-seat hockey arena very much to his liking. Fafard was relaxed and fast all night, winning the main and showcasing the ice-racing skills he's sharpened as a result of two years on the I.C.E. circuit.
England's Anthony Barlow finished second in the evening's main event.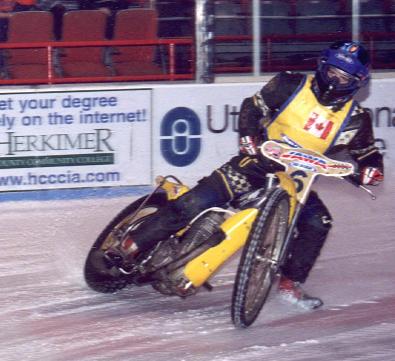 Main event winner Nick Fafard
Vestal, New York native Tom "The Gater" Sephton was also competing, but looked a bit rusty and admitted that he hadn't logged much time riding his speedway bike on the ice this winter.
Canada's Michel Lemay made the drive down from his base in Quebec and showed his usual pedal-to-the-metal racing style. Lemay carried the Canadian flag in the rider's introduction procession, then gave the crowd the crash of the night, losing it in turn three and sliding like a human slap shot, finally crashing into the boards at warp speed. The affable Quebecer shook it off and returned in his next heat to the cheers of a crowd estimated at over 4,000.

Main event runner-up Anthony Barlow 
(February 18, 2001)Team JBR principal Jason Bonsignore is in the final stages of closing the purchase of the property on which New Champion Speedway (Owego, NY) is located. Bonsignore will be issuing a press release upon completion of the sale outlining his capital improvement plans for the western New York facility. Initial reports indicate that a new crash wall, enhanced lighting and expanded grandstands will be part of Bonsignore's improvements.
ICB (February 18, 2001) Top New Yorkers Tommy "The Gater" Sephton (below, right) and Cam Rafferty (below, left) staged a raiding party north of the border on September 3, 2000 to take the Canadian Best Pairs championship at Paris Speedway. The duo just missed winning the Canadian Best Pairs title last year. Finishing second was the pair of Jeff Orosz & Fred LeGault, followed by Craig Estelle & Joel Monell; Nick Fafard & Guy Fafard; Joel Parsons & John Mercier; Casey Franic & Joe Heye; Bruce Nelson & Jeremy Musson, and Gary Hesmer & Jeremy Parsons.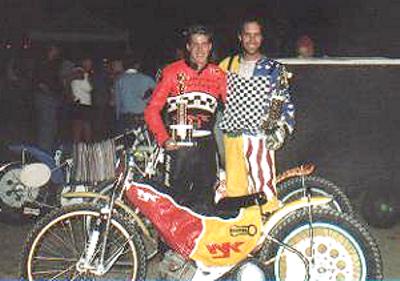 Other Americans competing at Paris over the course of the summer 2000 racing season included Dave Smith, Kendall Brookes, Joe & Jordan Greene, Jim Hass, Joel Parsons, Dale Anderson, Chris Strong and Morgan Hedrick. (Thanks to Gail Rafferty for the photo!) -- ICB