2010 Speedway Long Track National Championship Series - Part 1
An eighteen rider field from Illinois, Indiana, Michigan, New York, Ohio, Pennsylvania and Ontario Canada will assemble on May 29th at the Stark County Fairgrounds in Canton, Ohio in pursuit of the #1 Plate representing the Speedway Long Track National Championship and the $5,000 series purse.The second and final round of the series will be presented by the Bike Days Motorcycle Club at the Fulton County Fairgrounds in Wauseon, Ohio on Friday, July 16.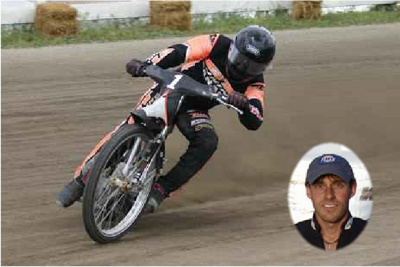 Jeff Orosz
National #1-Racing #1
Caisterville, OntarioCanada
Age: 40 Yrs. Racing Speedway: 18
Sponsors:GT Tuning Canada
Titles:2007, 2008, 2009 Speedway Long Track National Champion
Photo courtesy of Art Leasure
Canadian Speedway specialist Jeff Orosz is the current Long Track National Champion and has won the Long Track National Championship the last three years.
The motorcycles used for speedway are not remotely like any machine you will ever see on the roads. They have acceleration on par with a Formula One racing car, but rather surprisingly have NO BRAKES, rear suspension or gears. For the technically minded, the engines are 500cc single cylinder four valve, four strokes with air cooling. Methanol is used instead of gasoline to enable them to run at very high compression ratios.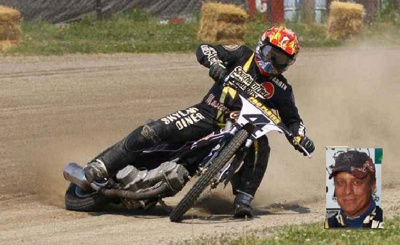 Warren Diem
National #2-Racing #4
Gap, Pennsylvania
Age: 50 Yrs. Racing Speedway: 30+
Sponsors:M.R.T., Motion Pro, RK Chains, Wiseco, Cometic, Arai Helmets,
Mothers, Maxima Oil, Metro, K&N Filters, Dons Kawasaki, Oury Grips, Pit Posse
Titles:7 time NY State Champion, 1990 USA Ice Champion, 1990 World Ice Champion
Photo courtesy of Motolenz.
The Speedway Long Track races consist of six riders racing four laps from a clutch start. The riders start off racing three rounds of heat races.The first round of heat races are randomly drawn.During the second and third rounds of heats, the riders are grouped in each heat based on the points they earned from their previous heat finish. Points are totaled after the nine heats.The top six riders are seated directly into the Semifinals.
The remaining 12 riders go to the Last Chance Qualifying (LCQ) round which consists of two 6 man races.The top three from each will transfer to the Semifinals.
Chad Rall
National #3-Racing #52x
Mansfield, Ohio
Age: 22 Yrs. Racing Speedway: 11
Sponsors:Breece H-D, Alva Lee Racing
Titles:Ohio State Champion '08 &' 09
Photo courtesy of Motolenz.
The 1st, 2nd and 3rd place riders from each of the Semifinals transfer to the A Main.
The 4th, 5th and 6th place riders from each of the Semifinals transfer to the B Main.
The remaining six riders go to the C Main.
The 2010 Champion will emerge from final finish points earned at each race, and will win the lion's share of the $5,000 purse.In case of a tie, the winner is the rider with the better finishing position in Round 2.
Chad Rall #52 (Mansfield) gets the hole shot with Warren Diem #4 (Gap, PA) in close pursuit as the eventual winner Jeff Orosz #1 (Ontario, Canada) motor goes away in the second round of heats at the 2009 Speedway Long Track National Championship during Bike Days in Canton, Ohio over Memorial Weekend.
Photo courtesy of Motolenz.
This is the eighth year for the Bike Days event that has featured Speedway Long Track Championships and Half Mile Flat Track Motorcycle Racing.There is plenty of excitement and nostalgia for the fans, including the People's Choice Cool Bike Contest, Trials Exhibition, a two day Indoor and Outdoor Swap Meet, Live Music, Food & Drink, and the Miller Lite Beer Garden.
Gates open 10 am, Heat races 1:00 pm and Opening Ceremony is at 3:30 pm.The 2010 Pro Football Hall of Fame Enshrinee Festival Queen Alex Worstell will sing the National Anthem and the Invocation is by Bill Goebel, of the First Baptist Church of Jackson.Bike Days emcee - Brian Fowler of www.brianandjoeshow.com will be hosting contests, giving away prizes and announcing Bike Days events along with race track announcer Bob Sigler, of Ohio Outlaw Motorsports.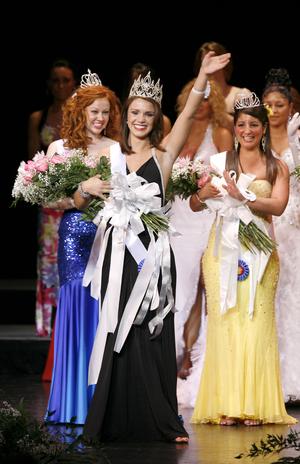 Opening Ceremony on Saturday will feature HOF Queen Alex Worstell singing the National Anthem.
Canton Rep Photo

Sponsors of the event include:Freedom Harley-Davidson, Miller Lite Racing - Barnett, Dixie Int., Kames Sports, KK M-C Supply, Moose Racing, PJ's Fabricating and Wiseco.

Enjoy this local family friendly event at affordable prices.General admission is still only $10 for adults each day, kids ages 6-12 $5 and 5 and under are Free. No charge for parking and there is VIP M-C Parking.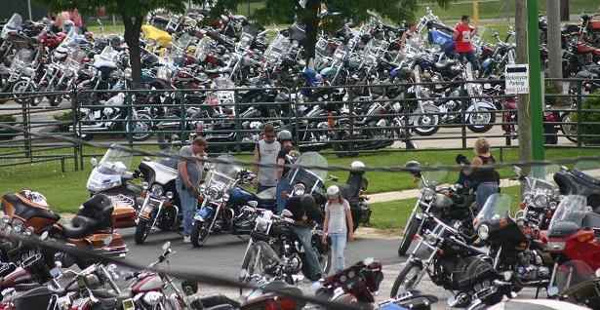 Ride your Motorcycle to Bike Days and receive VIP parking.
Photo courtesy of Art Leasure

Event Location:
Stark County Fairgrounds
305 Wertz Ave. NW
Canton, OH44708
FOR MORE INFORMATION CONTACT:
Scotty Brown (330) 837-5694
www.bikedays.com
BIKE DAYS
Canton - May 29 & 30, 2010
Wauseon - July 16, 2010