1997 North America Speedway History
Honda Speedway Motor
From Paul at: WeeLarry@aol.com
I thought I might let you all know about a report in this weeks Motorcycle News regarding a test of a Honda Dominator/SLR 650 engine in a speedway chassis.
The bike (which looked a real lash up in the picture) has apparently been tested by Neil Collins and Robbie Kessler in the land of the permanent guest (you KNOW I'm only joking Webbo!). Both apparently really enjoyed the bike which uses a standard Honda motor which still runs on petrol and which apparently will only cost 400UKP for the engine and fitting kit.
More about this in the speedway mail Nov. 19, 20, and 22.
See the photo of the engine on the Exeter Speedway site by Chris Byles.
While you are there, look at Steven Byles as he begins to learn to ride.

Are Suzuki, Yamaha, Kawasaki, and Harley-Davidson soon to follow?
( Harley had two speedway bikes built out of half of a 1000cc Sportster motor in the 1980's )
---
Are there any western Canada riders or ex-riders that are interested in riding some events in the spring and summer? I am attempting to get enough riders to have a couple events in Spokane, Washington. We have an awesome track that is currently used for flat track. It is 1/5 mile with slight banking but I have ridden a few times and it is speedway friendly. - Trevor "Mr. Clean" Reynolds
E-mail: Trevor_Reynolds@gstworld.net
---
Ivan Mauger's 1997 Canadian Airlines Golden Helmet Series
Canadian Chris Slabon and Colorado's Bucky Blair did well in Australia's Speedway!
The report is in from the Nov. 1st Round 7 in the Ivan Mauger's Series Page

Photo: Bucky and his dad with Ivan Mauger (center) - by Kim Gregory at the '97 Canadian National
---
Possum Cove Speedway in Lake Charles, Louisiana
Fall Rally October 24-25-26 RESULTS and race photos.
---
1997 Coors Light United States National Championship
Mike Faria won it!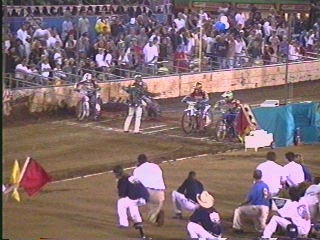 Mike Faria, congratulations on a superb job. You are the man!!! - Travis MacDonald

Watch the REAL video of the final on your computer
( from Raz Video ) on the RAZ VIDEO site,
or here, right now!
---

1997 World Speedway Championships
Americans Greg Hancock, and Billy Hamill take first and second. See the report in the mail list.
---
This site now includes 14 new action photos from Welland by Willy - Photographer / Painter
---
IMI Motorsports Complex Speedway Championship
October 4th, 1997
---
From: Mark Lawton,
On behalf of Greg and his fiancée, I have written, and am hosting a new WWW site to celebrate his success. They will take over the site in the near (!) future when we have helped them buy a decent machine, etc. It incorporates his fan club details, a couple of decent photos and has official merchandise for sale. I am sure that he would be grateful for any comments concerning his achievements and I will be happy to pass them on to him.
I have put links to his new site on my Wolves pages (Is that wise?) and have listed the address below.
Greg Hancock's site: http://www.marklawt.demon.co.uk/greg/
Mark Lawton e-mail: mark@marklawt.demon.co.uk
Web Site URL: http://www.marklawt.demon.co.uk/Wolves
---
Charlie Venegas won the 1997 California State Champion
Louis Kossuth is the new Fast Friday's Track Champion
Eris Carrillo won the Fast Friday's Junior Track Championship
1997 photos from California Championship / National Junior Championship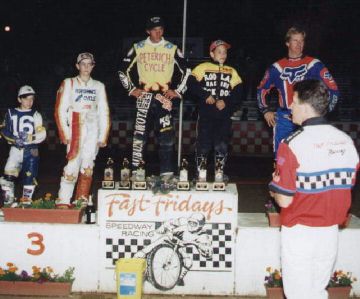 ---
Len Dillon won both the Eagle's Nest and the Paris Speedway Track Championships.
---
C.C. Speedway in Quebec had to cancel the Quebec Championships due to rain, and will NOT be run in September.
---
Fast Fridays annual Civil War. As in 1996, the North won.
---
Results and points totals for the USA National Championship Series are in after the final round at Dixon Speedway
---
Rider points are in for Northwest Speedway (Aug. 15th,'97)
---
Jeff Orosz wins the
1997 CANADIAN NATIONAL SPEEDWAY CHAMPIONSHIP
---
Champion Speedway in Owego New York REOPENED
Results: July 19th, August 2nd, 16th
Larry McBride has a video for sale of the entire reunion event for $20 US. Including shipping.
"From the opening ceremonies, interviews with several riders, the introductions of the riders, past and present, all the celebrates, and most importantly each and every race of the event."
E-mail: mcbride70@juno.com Phone: 1 (607) 723-2387
ALSO Aug. 9th and 16th videos are available now!
---
From: Gary Roberts.
"Other good news from this end (California) is that Victorville Speedway started up again last Friday (July 4,'97). I am still trying to track down the results."

---
(July '97) From: speedray@kansas.net
I found a group doing short track races in Norfolk, Nebraska that would be interested in running a class for speedway if we could get riders to come out. I have been to the track and run some laps on my Jawa. It is a kart track that they rent out once a month to run their short track races. It is supposed to be 1/7 of a mile but seems smaller than that to me. It is fairly smooth and has a slight bank in the turns. It seems to stay pretty tacky for night races.

They run once a month April through September. The next race is July 26.

Several people at the track have expressed interest in getting a speedway bike. This is a great opportunity for anyone in this part of the country who's ever wanted to do speedway to come on out and give it a try. None of us here is very experienced, we can all learn it together and have some fun in the meantime. If anyone wants more information they can email me or call (913)776-4583. Ask for Ray
---
(July 1) - Chris Hesmer, Canada's number 2 rider, has broken his knee at a family party and will not be racing for the rest of the season. He has recently got E-mail, so send him a note to tell him about all the great racing he is missing! hesmer@worldchat.com
---
Live Speedway Chat
On the EDINBURGH MONARCHS HOME PAGE EVERY TUESDAY AT 6.30 pm BST ( 12:30am Eastern in Canada & USA )
---
West USA Riders! See the new rider photos! Gary Roberts has sent in over 40 pictures in the last few weeks.
---
(June, 97) The opening day (next Sunday, June 29 ) for Eagle's Nest has been downgraded from a race, to an 'Open House'.
We worked very hard this weekend on getting the boards up, but still will not have that job done until next Sat. The grandstand hill may not be leveled in time for Sunday, and there are some changes to the drainage of the track we have to make before we can count on it reliably ( it has been very wet these last few weeks, slowing construction ). We will be adding a small pond to the infield, and a shallow ditch around the inside of the track.

The 'Open House' will be a practice day and a chance for some of the motocross riders to see what it is like. There has been some strong interest in some of the riders there.
---
(June, 97)

Mike Faria wins the American Final over Bobby Schwartz

1997 Photo from Gary Roberts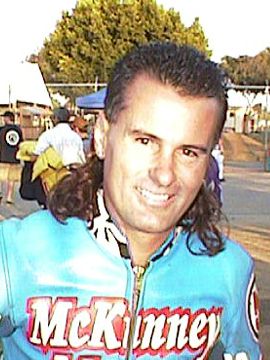 ---
(June, 97) From Howie at Raz Video:
- Latest gossip, the Victorville small track lease was purchased for $35,000 by Bill Cody, Randy Skinner & Goat Brecker. Racing is to start next month on Friday nights. Bill told me he would be a hands off promoter with Goat running the show. Goat (I hope that's how you spell it) will run the track. Other latest gossip, RAZ Video has put together a cable deal that will start showing the entire night of speedway from Costa Mesa on one of our LA cable stations.
---
RACE CANCELLED - June 7, 1997 - C.C. Speedway Quebec, Canada
Due to high water levels. No re-schedule date set yet.
1997 World Junior Speedway Championships
Buck Blair, (left) representing the USA, finished 13th at PARDUBICE, Czech Republic, May 5th.

Chris Slabon is representing Canada this year and finished 14th at LUDWIGSLUST, Germany, also on May 5th.

See the full report in the speedway mail.
---
Canadian Speedway is participating with the RCMP Racing Against Drugs program (RAD) - a program directed to Canadian youth, promoting racing as a "natural high" alternative to drug use. From May 12-16, the RCMP will invite 4-5,000 young people from grades 3-6 to participate in a RAD program at the Western Fairgrounds in London.

The show will be open to the public ONLY on Tuesday, 6pm - 9pm
CASCAR, the Canadian Association for Stock Car Automobile Racing, Ford of Canada and Snap-On also support the RAD program.

Come on out and time your starts on a speedway bike in our booth!
We will be using:

Software for practicing your starts! NEW Version 2.0

Contact: Constable John Henderson (519) 640-7352
---
USA National Championship Series
Qualifier May 17, Costa Mesa
Qualifier May 30, Paso Robles
Qualifier June 6, Aurburn - Fast Fridays
Qualifier July 26, Dixon
USA National Championship Oct. 4, Costa Mesa
Fast Fridays will also be promoting the Dixon track so I will assume they will update you, if not drop them a line and wake them up. Dixon is on Interstate 80 about 40 miles East of Sacramento and 60 miles West of San Francisco.
- RC Jones - Rc_Jones99@yahoo.com
I Love Technology

PS: I took a few laps last weekend on a speedway bike (Jawa) just to put it in perspective... boy do those guys make it look easy....
---
Check out the COOL T-SHIRTS available from the new Costa Mesa Web Site!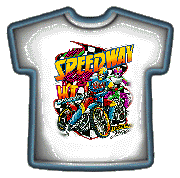 ---
Champion Speedway in Owego New York has REOPENED!
( Check out 'twenty years ago today' - 1977 Schwartz wins U.S. Open at Champion Speedway ) "I never thought I could beat these guys."
The track will be available for practice sessions starting in early May '97! - Jason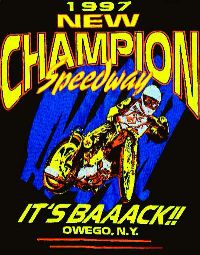 ---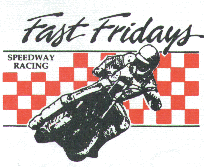 1997 Race Schedule and photos
have arrived from Fast Fridays, and Fairgrounds Raceway.
---
NEW - Possum Cove Speedway in Lake Charles, Louisiana
Fonthill Speedway Promotion (Canada) - From Andy Harris
The 'Round Boys' bar, Saturday April 12th, will be a fantastic event. I've put lots of work into it and already have 70 draw prizes and I'm expecting another 30 before the night. From 2pm to 7pm there will be several speedway bikes in the bar ( including the new Junior Class bikes ) and kids will be able to sit on them, and wear helmets, jackets etc. ( bring your cameras! ). 7 to 8 we will clear out and the blues band "The Descendants" will play until 2 am. I'm hoping to see 500 to 1000 people through the bar all day.
The 'Round Boys' bar is on Merritville highway, just west of highway 20. The best way for you may be to pick up hwy. 20 from Hamilton, and head towards Clares/Welland. Pass 'Clair's Cycle' motorcycle shop, continue on through Fonthill and at the major intersection at Merittville (Seminuks gas bar on left, Esso gas bar on right and Tim Hortons also) turn right. The bar is about 30 seconds along Merritville highway on the left.
---
'97 Election results from the Canadian Speedway Racing Association -
Ian March re-elected as president, Chris Howes - vice president, Stan Bradbury - secretary, Duncan Luke - treasurer, Chris Temple and Kevin Robillard as directors.
Dave Havil ( 519 571-0877 ) has Paris Speedway Jackets for sale at $35.
---
From: Mike Kelly - K & M Racing, Inc. - e-mail: mgkelly@concentric.net
Robin Nicolaides and I (Northwest Speedway) attended a "Speedway Promoters Meeting" meeting in Fresno, CA February 1st coordinated by Bill Boyce AMA, along with Brad Oxley and Gary Hicks (Costa Mesa Speedway), Dave and Mark Joiner (Fast Fridays Speedway), John Vandermeuler and Eric Montgomery - (Fairgrounds Raceway) also there was George Rich, Hank Gendusa, (Bill Cody and father. A great meeting! I must say I am happy to see some of the future plans for Speedway on the West Coast for 1997 -- a National Champion Qualifying Series... and am also glad to be a part of those plans in the future. I will up date you as soon as plans have been finalized.
---
A lot of people ask "where can I get videos of speedway in North America?". Here is one location on line - at Cycle News. Gary Roberts says: "RAZ Video has the USA National on tape at $30.00. You may want to call them at (818) 449 1175 as they have a list of events on video and do three tapes for the price of two type deals."
---
Chris Campos has done an interview with current Speedway World Champion Billy Hammil for the internet. The interview is on Chris's Argo Racing web site - Thursday Feb. 13,'97
---
For those in Mississauga, Ontario, you can see an TV interview with Canadian speedway stars Thursday Feb. 13 at 7:30PM on "Plugged In" - Rogers Cable 10
---
Jan. 28,'97 - Charlie Ermolenko (714-952-4628) ( rode for Glasgow, Wolves, Tigers, Middlesbrough, Belle Vue in '95, Invaders, Long Eaton in '96, broke leg in Germany Pairs Event May 1,'96, younger brother of Sam Ermolenko ), is in the states for awhile and is setting up some schooling for $100 for a full day at Ken Mealy's ranch. He will be setting them up until about mid Feb. when he heads back to for Europe.
Ken Maely
8580 Bedford Motorway
Corona, Ca 91719
909-277-8989
Fax-277-0410
From Chris Campos ( ccampos@concentric.net )
---
Results are in from the 1997 Colorado State Ice Speedway Championship - Rainbow Falls
See I.C.E. Awards page for previous Championships
---
Phil Collins Speedway School - at Fairgrounds Raceway
on Sat. Jan. 11th 1997
call John VanderMeulen at (805) 937-8584 for more information
---
See the 'Races' page for race dates for these and other tracks.
1997 Schedule is now in for Oregon.
Ice racing in Colorado in 1997 - Rainbow Falls
NEW TRACK for Canada in 1997 - Eagle's Nest Raceway
(prevoiusly only motocross) is now adding a speedway track.