2008 USA Speedway History
Northern California
2008 Results for Auburn, Red Bluff and Golden Gate are here !
Motorcycle tracks ideal for locals - Napa Valley Register Article
---
There are a couple of events next weekend.
First there is a Vintage Bike Show at Fuddruckers Restaurant at 5495 Sunrise Blvd in Citrus Heights from 9am to 1pm. Bring your vintage bike to show. For more information call Joe Augustine at 916 402 1174.
---
Red Bluff Speedway
Races at Tehama County Fairgrounds in Red Bluff will be headliner for Friday night, September 26, 2008.
Races start at 7:30. Juniors thru D-1 races.
Contact Scott @ 530-526-0609 for rider information and sign- ups.
---
Red Bluff Speedway
Wednesday September 10, 2008
Races at Tehama County Fairgrounds in Red Bluff will be headliner for Friday night, September 26, 2008.
Races start at 7:30. Juniors thru D-1 races.
Contact Scott @ 530-526-0609 for rider information and sign- ups.
---
Xtreme Speedway Series 2009
Monday September 8, 2008
STA Promotions is proud to announce the first annual Xtreme Speedway Series coming in 2009. The series will be run on both the East and West Coasts, with the top riders in points from both East and West meeting in the series grand final in November 2009. We have worked long and hard on this series that will not only bring the best American Speedway riders together from both coasts and the mid-west but will also aide in growing this great sport by holding West Coast qualifying rounds through out the Northwest starting in Boise, Idaho - Redmond, Oregon.

The Series will finish in Chandler, Arizona for the finals with a couple of California qualifiers in between. We have already gotten great response from the northwest in both locations and we anticipate great attendance as well. At this time we will have 4 qualifying rounds on each coast and may add a 5th round for the west coast riders.
Riders will qualify for the finals by competing in "all" qualifiers on their perspective coast, qualifiers are open to all D-1 riders that are able and willing to make a commitment to the series. We went to great lengths to make sure that we did not step on anyone's schedule and the riders could attend the far away races by holding them on 3 day holiday weekends to minimize missed work. Riders can use the sign up sheet on the riders page of the website More info on this series as well as schedule can be found at www.xtremespeedwayseries.com

We are also working on the STA Jr. Speedway Program and Fund, more info can be found on the Xtreme Speedway Series website @ www.xtremespeedwayseries.com/JRprogram.html
---
Report from the USA Speedway Board of directors meeting
Auburn, California, July 26, 2008
To: Promoters, Racers, Supporters and USA Speedway members
From: David Joiner, USA Speedway
As Co-Chairman of the USA Speedway board I will be making a report to the speedway community on some important things we are working on for the betterment of speedway motorcycle racing in America.
One of the most important things that we are working on is the newly created rider point fund. The USA Speedway Board will finance the funds from the membership and sanction fees collected through the 2008 speedway season. We project, and with your help, will exceed $4000 to $5000 that will be returned to USA Speedway racers. We are currently working on two prototypes that in the next few weeks will be reviewed, prodded, and poked so we can decide how the distribution will occur. We can tell you that your participation at AMA/USA Speedway tracks will become very important. This should encourage riders to consider racing at our tracks. The more you race at USA Speedway tracks the more points fund money you will get. It's that simple.
As a USA Speedway member you now benefit from USA Speedway helping to organize promotions. Members get an organized rule book, a USA Speedway shirt, a USA Speedway sticker and now a point fund. Now it time to get everybody involved. If your mechanic needs a USA Speedway supporter card, please get him signed up. Remember, the more members we have the better the point fund will be. Heck, sign up your dog or even your pet alligator. Remember, the Board will be returning all USA Speedway profits back to the riders of USA Speedway tracks
Current USA Speedway Board workings:
Improving our web site, usaspeedway.org
Train and license USA Speedway officials
Increase USA Speedway's communication both publicly and with its members and supporters
Organize yearly free awards BBQ
Upcoming various USA Speedway elections
I for one am very pleased how USA Speedway seems to be flourishing. I know the entire board is pleased to serve the members and hope you are more satisfied being a USA Speedway supporter.
Thank you!
David Joiner
USA Speedway Board of Directors Co-Chairman
fastfriday@aol.com
---
Red Bluff was canceled on July 12.
---
Golden Gate Motor Speedway
Golden Gate Motor Speedway will open July 26, promoted by first division speedway rider Charlie Venegas.
It will be in the Solano County Fairgrounds in Vallejo.
Scheduled events are:
July 26 Season opener and kids night
Aug 2 Red Line Oil night
Aug 9 Jack Milne Tribute night
Aug 16 Street bike night
Aug 23 Wine Cup (all scratch racing)
Aug 30 Military night
Sept 6 Season Final Championship
See you at the races
-Gary Roberts - groberts@iee.org
---
Red Bluff Speedway
Red Bluff Speedway is excited to host its first event May 17th at the Tehama District Fairground in Red Bluff, CA.
Red Bluff is a small town that hosts many events. We have the National Drag Boats on Memorial day weekend. We also have one of the world largest 3 day Rodeos in April. We have Extreme Motocross events and also the Outlaw Carts.
Speedway will be an excellent fit.
Directions to Red Bluff (Tehama District Fairgrounds)
From Sacramento:
Take I-5 North to Red Bluff. Take the 2nd Red Bluff exit towards Susanville/Chico. Make a right off the exit and go through 2 stop lights. Go about 1/2 mile and you can not miss it on your left.
We hope to see you there.
If you have any questions please call Scott at (530) 526-0609
Saturday May 17 event:
Gates open 6.30, tapes go up at 8.00.
It will be a championship format program.
Scheduled riders:
Rich Mignano, Jay Ricketts, Danny Faria, Richard Fehrman, Ronny Woodsford, Rob Christian, Vince Bertolucci, Matt Drury, Brian Leventon, Tor Lovlien, Danny Turner, Doug Geist, Kjell Lovlien, Lenny Bourassa, Johnny Frank, Clark Caravella, Tyler Hansen, Mark Leggara, Greg Lovlien, Robert Mellor.
---
There will be a NCSRA Committee meeting April 10, 2008 @ 7:00pm at Denny's on Indian Hill in New Castle.
We would like anyone interested in serving on the board or a committee please come and get acquainted. The meeting will be an informal gathering to discuss current affairs and forming the Board. The season is picking up quickly and the calendars are filling up. The promoters at the Red Bluff Track has announced they have been given the green light from the Fair Board and the Sound Level Test has passed with a specific muffler. They have a date of May 17, 2008 at their SEASON OPENER with follow up dates of May 21st and June 14 for a three round series. For more information about those races you can talk to John Cook at the sign-up/swap meet on April 12th at Fast Fridays Track in Auburn.
If you think you can make the April 10th meeting, please email to Kris Ingalls. So I can get a head count.
Thanks for all your support and Stay Sideways!!
NCSRA Committee
---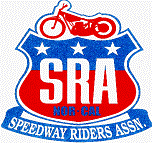 14 Mar 2008
Ladies and Gentlemen:
A few weeks ago, we sent out a note which outlined some of the things that the Northern California Speedway Riders Association Committee has been working on. We are now ready to invite you to another meeting at Lou LaBonte's Restaurant in Auburn , to tell you about the next steps. It will take place next Saturday, March 22 @ 9am. Please come join us and find out about our new track and all our other plans we have for the future of Northern California Speedway.
Early on, we identified that for the sport to take off, it is essential that we have a practice track. We announced our goal to find one in the area. We are now pleased to announce that the track has been identified and will be available for a practice session the following weekend, on Sunday, March 30. Come along on March 22, find out where the track is and hear John Cook tell you all about it.
We all know that the only sure way to develop top riders is to catch them young and train them properly. This means getting more kids into Youth Speedway. We now have a plan to make that happen. Again, we will tell you all about that at the meeting.
For those riders who want to go a bit faster, there is an opportunity to ride on a long track, if there is sufficient interest. Details will be available at the meeting.
We want to maintain the strong interest that Northern California has for Speedway and we need a strong membership in our club. At the meeting you will be able to sign up as a member and it will cost you absolutely nothing. Membership is open to everyone with an interest in the sport. At this time, there will be no membership fees. How can this be done? Come to the meeting and find out.
We have developed a set of bylaws which describe how we have set up a structure with a board of directors who will manage the club. Think about who you would like to direct the future of our club. At our meeting you will have the chance to elect a board and they will take over the future management of the club.
Mark your calendars for March 22 @ 9:00am, Lou Labonte's in Auburn as the date you won't want to miss. And please tell anyone you know that has an interest in speedway to do the same.
Stay sideways!!
NCSRA committee
---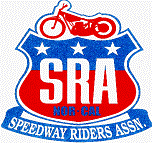 February 26, 2008
Ladies and Gentlemen:

Last fall we sent out an invitation to those of you who might be interested in forming a Speedway Club. Those of you who attended the original meeting back in December will remember John Cook talking of his vision of how such a club might benefit the sport of speedway. At that meeting a small group volunteered to form an organizational committee and we think you will be pleased to know that things are moving right along.
After several meetings and a zillion e-mails we are proud to report the following achievements:
We have adopted the name the "Northern California Speedway Riders Association" – or "Nor Cal SRA" as we think it will be more commonly known.
We have designed and adopted a club logo.
We have developed and adopted the following mission statement:
"To increase knowledge and promotion of the sport of speedway, locally, nationally, and internationally, while providing practice facilities to encourage, develop, and increase safety for youth and adult speedway riders."
We are happy to report the following ongoing activities:
We have identified a primary need for a practice track and are actively working on 5 different possible locations (we have already reviewed and rejected 2 possible sites).
We have one volunteer developing a set of by-laws
We have one volunteer researching insurance options
We have two volunteers researching track days, at least one of which DEFINITELY WILL take place before the start of the 2008 season
We are working with a new promoter who wants to put on several Saturday night
Speedway events this summer at the fairgrounds in Red Bluff. This looks to be a "done deal"!
John Cook will be hosting a Speedway Swap Meet on the weekend of April 12.
John is also planning to hold a Speedway School before the start of the 2008 season
If it sounds like we have been busy… you would be right! We intend to have the club structure and by-laws knocked out, a practice track site determined, at least one club "track day" planned and lots of other neat stuff done before the new Speedway season starts in May. You can help move all these good things forward by volunteering to help. If you can spare a few hours a week to help us work on all of these worthy projects just drop an e-mail to Kris Ingalls.
We intend to have a general meeting before the new season starts to fill you all in on the exciting projects that are in the works. Till then… think "sideways"!
---
NOTE: Ivan Mauger's training school that was scheduled for Auburn has been cancelled.