2006 USA Speedway History
Northern California
Northern California Division 1 rider, Matt Browne, will be missing from the regular line up at Fast Fridays next season.
The reason is that he has found himself a place on a team in Sweden. Matt has signed up with Team Bikab, Smederna's Allsvenskan Team. He will be moving there in February and will start with a week long training camp at the end of February or early March. If you want to send him an e-mail to congratulate him, his e-mail address is mbrowne29@yahoo.com
Matt recognizes gratitude to the Dream Team for getting him started in England and to Greg Hancock for helping him get his foot in the door in Sweden.
---
6 times World Champion, Ivan Mauger will be holding a training session at Auburn, the weekend of April 7, 2007.
---
For the second consecutive year the USA Speedway team suffered a defeat at Fast Fridays, by a World team. The US team put on a noble fight, and took a one point lead at one stage, but at the end of the night the score was a conclusive 86 points to 64.
---
This Friday, October 27 Fast Fridays European style team speedway racing will come to Auburn when Fast Fridays host the annual USA vs The World Speedway team racing.
The World Team is headed by none less than current World Champion, Jason Crump. Crump made his debut appearance here last year and was untouchable. In the British League he rides for Belle Vue, where he had the highest points average in the Elite League. Joining Crump is fellow Australian Steve Johnston . A multi-time member of the World team, Johnston rode this season for Arena Essex. The third member of the team is again no stranger. Armando Castagna, a former Grand Prix racer, has been the top Italian speedway rider for two decades. His former team in the UK was Reading. Another former Grand Prix racer is in number 4 position, Sweden 's Brian Karger rode for many years for Swindon in the British League. These four riders have decades of experience of racing at the top level. The remaining two members of the team are youngsters, both tipped as stars of tomorrow. Reigning Swedish U21 champion, Jonas Davidsson comes in as number 5. He rides for Poole Speedway. Making up the 6th place in the team is his older brother, Daniel, who also rode for Poole this year.
The USA team comprises the riders we have seen here most weeks this season, with plenty of Gold Country Fairgrounds race track experience. Reno 's Mike Faria will ride in the number 1 slot. Faria has had yet another outstanding season, ending up with a third place in the 2006 AMA National Championship behind former World Champions Hamill and Hancock. Partnering Faria is Auburn 's own Bart Bast, whose record of successes at Auburn over the past two decades is unequalled. His performance in the AMA National Championship demonstrates his recovery from early season injuries. Rider number 3, Tommy Hedden has had his best season ever and will be partnered by his old brother Bobby. Bobby retired in 2005 after a serious back injury, but is coming back to race just one more time. He feels that racing at this level of competition is the safest for his last final Speedway racing appearance. Riding as number 5 is San Bernardino rider, Charlie Venegas, another rider coming off an outstanding season, winning the SRA National Championship, one round of the AMA National Championship, the Auburn track championship, the list goes one. Partnering Venegas is Colorado native Buck Blair, who has had increasing success at Auburn this year.
The 2006 World Team is one of the strongest to come to Auburn , with all 6 riders being Elite League riders in the UK . These riders are well practiced at team racing, where as the US riders are more familiar with individual format. Last year Crump spearheaded the world team to victory. There are no weak links on either team. Crump will clearly be setting the pace and looking for another World team victory. The US team, which is stronger than last year, will be seeking revenge.
Tickets are available from Fast Fridays Speedway at (530) 878-7223. Gates open at 6.30 pm and racing starts at 8.00 pm.
---
6 times World Champion, Ivan Mauger will be holding a training session at Auburn, the weekend of April 7, 2007. It will be a 8 hour class and the cost is $225.
I attended a school he gave last year and recommend it strongly as a way of improving your riding, your preparation, your attitude and your general success in the sport in one day.
We have the information with full details of the classHERE, to apply for the class. Gary Roberts
---
On Monday night Matt Browne's shop was robbed. He has been riding overseas and was not at home. There have been workers at the house doing a remodel.
When they found the door open Monday morning, they called Mike Browne (Matt's dad) and the police.
We won't know all of the smaller items missing until Matt returns home, but he lost his new 2006 Kawasaki KXF450, a 2003 Honda CRF450, a 1987 Honda Z50, and worst of all, Mike's restored ESO speedway bike.
Please if someone in the speedway community hears of an oilless framed ESO/JAWA two-valve turning up please contact Matt at mbrowne29@yahoo.com or Mike at MBrowne@dragbike.com.
They are offering a reward for the return of part or all of the bike. No questions asked. (Wednesday October 4th, 2006)
---
October 7- Greg Hancock AMA National Champ again !
September 8- Bryan Yarrow Fast Friday's Golden Speedway Cup.
September 1- AMA / USA Speedway National Series - Round 2
August 25th- Charlie Venegas Auburn Track Champ / Ricky Felicio 2006 National Youth Champ!
August 18th- Mike Faria doubles up with wins in both mains!
August 11th- Tommy Hedden Scratch Main Winner!
Gary Roberts writes about Northern California Speedway!
August 4th- Alex Marcucci takes Handicap Main.
July 28- 25 Laps no problem for Buck Blair.
July 21- North Victors 6th in a row!
July 14- Faria doubles up with wins in both mains!
---
Motorcycles to race at Fair
Opening two nights are scheduled
By GARY TRAYNHAM/Democrat Sports Editor
Speedway motorcycle racing, which has been stalled in the pits by neighborhood opposition, has been scheduled two nights at the Yolo County Fair in August. The speedway will be staged the opening two nights, Wednesday and Thursday, of the fair, followed by a Bull-O-Rama on Friday and demolition derbies on Saturday and Sunday.
Fair director Lonnie Wunder wanted to begin speedway racing in April and hold 25 weeks of Saturday night racing but that has been blocked by neighbors objecting to the noise.
Currently, a starting time for the motorcycle season has not been set because of the objections. Wunder said the speedway oval will have little effect on the other arena events during the fair. His crew will use a concrete barrier on the outside in front of the bleachers and move dirt over the track. "They'll be running on four inches of dirt," Wunder says of the destruction derby. "When it's done, we will put the dirt back in the middle. We have plenty of dirt to bring in. It's like they do at Cal Expo. It takes a little bit of dirt and manpower. "People won't see much change. I don't see any major change at all. It might be a little different on the sides and ends, but I don't think that will be a big deal."
Wunder was hopeful the speedway racing would generate significant income for the fair. Nearby residents have staunchly contended the fair board has not complied with its request for an environmental review, and that has been deterred by the cost. That has left the two sides at an impasse.
Destruction derby general admission tickets go on sale this month at the fair office. Tickets are $15.
Jim Wilson, spokesman for nearby Leisureville, said, "The ball's in their court. The fair board said they'd do it. We're not the only people concerned. It's all the other residents of this area."
Speedway promoter Steve Stasiefski has worked on different mufflers on the motorcycles to lower the sound in hopes of alleviating the concerns of the nearby residents. But a meeting with residents soon after never materialized. Stasiefski is hopeful that Woodland can join with Auburn racing, which is held on Fridays, to attract the best riders from Southern California. He has even brought in top riders to test the new mufflers and believes the noise has been significantly decreased. "I don't know what else I can do than what I'm doing right now," Stasiefski said. Without the environmental review, the neighbors aren't budging.
I figured this would be a welcomed update for a lot of California local Speedway riders. Although Speedway is a new event to the fair, the demolition derby which is held every year always sells out well ahead of time so I'm sure we will be able to expect a GREAT turnout for both nights of racing.
---
July 7- Venegas and Hedden take mains!
June 30- Bryan Yarrow wins again!
June 23- Mike Faria cruises to scratch main!
June 16- Charlie Venegas wins scratch main!
June 9- Bryan Yarrow on top!
June 2- Charlie Venegas is the Scratch Main Winner.
May 26- Bart Bast return to the top tonight!
May 19 was one of only a few nights in over 30 years when Auburn was rained out... I can think of only one other myself!
May 12 in Auburn hasMike Faria returning to form in the Scratch Main.
Auburn's Openersee's Bryan Yarrow overcome 3 restarts to pick up the Scratch Main.
---
Another bump in the road for Woodland
Another "jump" in the road! Though my racing background was in motocross, and I'm use to bumps and jumps, I never expected this. The Yolo County Fair Board has been contacted by a Sacramento law firm representing the Leisureville Mobile Home Park, a residential area located next to the fairgrounds. Residents are concerned about "noise" impacts created, not just from the motorcycles, but the PA system and the additional traffic that the event will create. Even though we have fully complied with the California Environmental Quality Act (CEQA) and filed a Negative Declaration which was approved by the Governor's Office of Planning and Research and the State Clearinghouse, attorney Whit Manley called the analysis sketchy because the fairs environmental analyses were based on events that happened in the past when there weren't residential units near the fair.

A negative declaration is a document that states upon completion of an initial study, that there is no substantial evidence that the project may have a significant effect on the environment.

Currently more environmental studies may need to be done and we are having someone else evaluate the data and then the board will attempt to redo the negative declaration environmental report. The "flaws" are currently being review by a Southern California based firm as we speak. At this time we don't know when we will be able to start our season, but either way, in the case of a lawsuit we want to be prepared. A lot on time and money have been spent on building this track and it looks like "we may need to back up a little bit until we go forward," we are going forward. Please continue to bear with us through these growing pains and BEST OF LUCK to all riders and promoters with the start of the 2006 season -- getting under way this weekend.
Steve Stasiefski
So.NOR-Cal
Promotions
---
Weather forces Woodland opener to MAY 6th!
Well, after 2 days of sunshine, things are starting to dry up quit nicely and the track looks great. Pictures will be posted on the website tomorrow!
Yesterday (April 18 or so) we assessed the toll that the rain has taken on the ARENA. We discover that we have a problem with our lighting system, a short somewhere in the 30 year old wiring which is going to require about 300 feet of new wire to be installed. (trenching, new conduit and wire). We are starting the repairs as we speak, but with rain once again in this weekends forecast we are not sure we will be able to get this task completed in time.
With that, once again we sorry to announce we are going to reschedule our INAUGURAL OPEN DAY of fun activities and Night of action packed RACING @ the ARENA. May 6th will be the day. We will have an early afternoon practice for all riders signed up followed by a good old fashion BBQ.
Once again, sorry for the delays and thanks for being understanding.
PS: We hope To add on the rescheduled dates to the end of the schedule
So.NOR-Cal's websitewww.sncspeedway.com will be updated and don't hesitate to call if you have any question. 925-786-3263 / 818-399-4348.
---
So.NOR-Cal Promotions Website is up and running and full of exciting information on what's happening with Northern California Newest Racing Venue!
Check out the : - Breaking News & Interviews - the Track - Map & Directions - Rider Sign-up - Newsletter Sign-up - Sponsors (more to come)
OPENING DAY - April 15th: Tax Relief - Fireman/Law Enforcement Day antique fire engine display -
LIVE MUSIC & more @ the ARENA - Woodland, CA.
---
Further press releases will be issued, please monitor So.Nor-Cal Promotions web site.
So.NOR-Cal Promotions is thrilled to be bringing the original extreme sport of Motorcycle Speedway Racing to the Yolo County Fairground in the beautiful Historic Town of Woodland, California.
My name is Steve Stasiefski and I'm the promoter of Northern California's newest speedway racing venue and want to personally welcome you to our first news letter and our Inaugural upcoming action packed season of racing @ the ARENA - named for the stadium that it will be held in. I have been in and around the motorcycle industry most of my life and have enjoyed watching all types of motorcycle racing all over the world and plan on bringing and using that experience to make this the No. 1 track in California, possibly in the USA, not only for the riders, but for the customers - the fans!
With Californians rich history of this exciting sport and the worlds best fans, we believe that this is going to be " The place to be on Saturday nights ." Being sanctioned by the AMA - American Motorcyclist Association, we will attract Californians fastest and most talented professional riders. With a program designed to accommodate all levels of riders, we hope to help grow the sport and give riders plenty of opportunities that they may not of had before.
Pee Wee's and Juniors will be a regular part of our weekly programs. This very exciting fast paced racing under the lights at night in the ARENA adds to the atmosphere and puts you right on top of the action. Add the smell of the alcohol fuel and - that's what makes Speedway Motorcycle Racing exciting, and like no other form of racing. Winning is seldom decided until the checkered flag. From the singing of the national anthem to the final checkered flag, there is never a dull moment. Sound extreme enough for you! Hope so see you there - bring the family, a friend or meet a new friend there. Stay tuned for more info in our next newsletter. See you there!
---
Steve Stasiefski of So.NOR-Cal Promotions sent in some photos of the So,NOR-Cal Promotions float that was entered in the Woodland parade.
It was a huge success, being the 43rd year of running. There were 105 entries and an estimated 35,000+ spectators. The procession lasted 3 1/2 hours. The crowd loved the Speedway bikes and the riders on their float.
So.NOR-Cal received 2nd place in the car/motorcycle category - only to be beaten by the US Air Force entry.
Riders on the float were:
# 8 Bryan Yarrow # 40 Tommy Hedden # 110 Jon Stasiefski # 112 Devin Defreece and 3 little Heddens.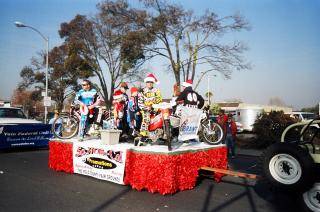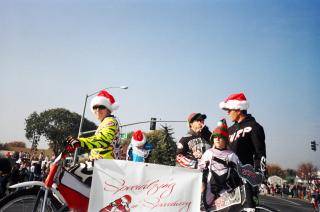 ---
So.NOR-Cal will be promoting the new speedway track at Woodland, CA, just north of Sacramento, at the start of the 2006 season, running every Saturday night, throughout the summer.
So. NOR – Cal promotions promoter, Steve Stasiefski is pleased to announce that Northern California will have a new Speedway Motorcycle RACING venue in 2006.
AMA sanctioned Professional, Amateur, Youth and Pee Wee speedway RACING is scheduled to run every SATURDAY NIGHT – ALL SUMMER LONG @ the ARENA - Yolo County Fair grounds in Woodland, California. Woodland is located 15 miles north/west of Sacramento with easy freeway access.
Action starts with a first LOOK at this state of the art newly built 1/10 mile decomposed granite track that features banked turns, safety fence in the corners with a practice on April 8th.
Track also features full sprinkler system with built in drainage to handle the Northern California climate, large pit area with workbenches and 110v power outlets and a rider's dressing room. The well-lit ARENA seats 3000+ Fans comfortably and has 2 concession stands, modern rest rooms and a KIDS area.
Ride your motorcycle to the ARENA and park for "FREE" in a designated secured parking lot. Show your AMA membership card at the gate and receive discounts for the evening's event.
Stay tune for more information and our web site that will be up the 1st of the year. In the mean time if you would like more info or questions about sponsorship opportunities – e-mail us at sncspeedway@aol.com - Looking forward to an excited action packed season!
Gary Roberts - groberts@iee.org